Welcome to the Institute of American Indian Arts (IAIA) Office of Admissions. We are excited that you are exploring IAIA's programs for your educational journey. IAIA is the only four-year degree fine arts institution in the world devoted to contemporary Native American and Alaskan Native arts. As such, we dedicate ourselves, our curriculum, our facilities, and our energy to preparing our students for success and leadership, which reflects Native cultures and values. As one of 37 tribal colleges located in the United States, we are accredited by the Higher Learning Commission (HLC) and IAIA is a member of the American Indian Higher Education Consortium (AIHEC).
Mission
"To empower creativity and leadership in Native Arts and cultures through higher education, life-long learning, and outreach." At IAIA our mission is more than a statement, it is the on-going objective of our highly talented and dedicated faculty and staff.
Adrianna Tso
Adrianna Tso is Diné (Navajo) and Chiricahua Apache from Window Rock, AZ, located on the Navajo Nation. She has spent most of her life in a small community called Tohlakai right outside of Gallup, NM. She transferred from Pacific University Oregon in 2018 to Fort Lewis College and graduated with a Bachelor of Arts in business administration with a minor in data analytics. While in college, Tso was involved in student affairs and enjoyed connecting with students to help guide them on their next steps post high school. She believes IAIA has an amazing atmosphere and holds space for students to expand their creativity and explore all mediums of art. Tso is excited to be a part of the IAIA community and looks forward to meeting with those who are interested in applying.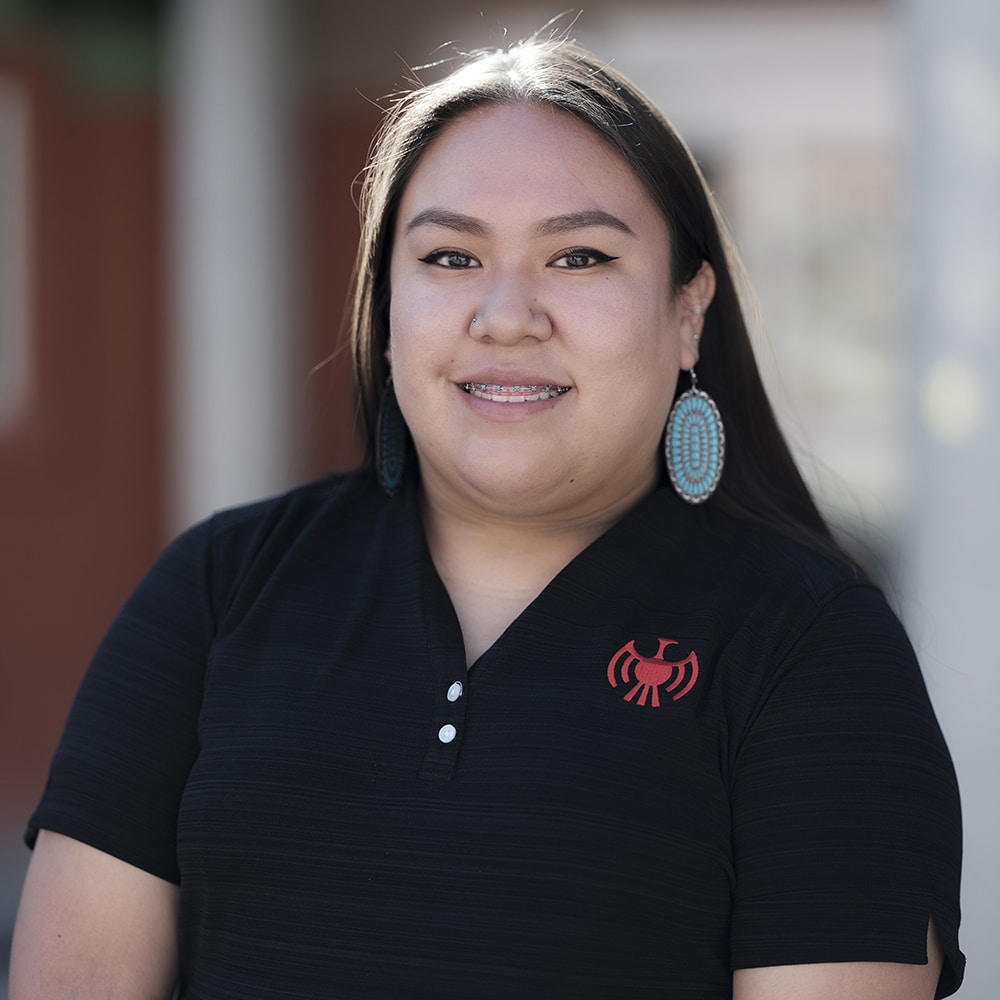 Adrianna Tso
(Navajo/Chiricahua Apache)
About IAIA
The Institute of American Indian Arts (IAIA) offers undergraduate degrees in Studio Arts, Creative Writing, Cinematic Arts and Technology, Indigenous Liberal Studies, and Museum Studies—a minor in Performing Arts, an MFA in Creative Writing, along with certificates in Business and Entrepreneurship, Museum Studies, and Native American Art History. IAIA is the only college in the nation dedicated to the study of contemporary Native arts. The school serves 517 full time equivalent (FTE) Native and non-Native American college students from across the globe. IAIA is accredited by the Higher Learning Commission.
For over 50 years, IAIA has played a key role in the direction and shape of Native expression. With an Internationally-acclaimed college, museum, and tribal support resource through our Land Grant programs, IAIA is dedicated to the study and advancement of Native arts and cultures, and committed to student achievement and the preservation and progress of their communities.