IAIA A-i-R: Youngbird, Craig, and Worl—Open Studios
Wed, April 10, 2019, 9:00 am

–

11:00 am

|

Free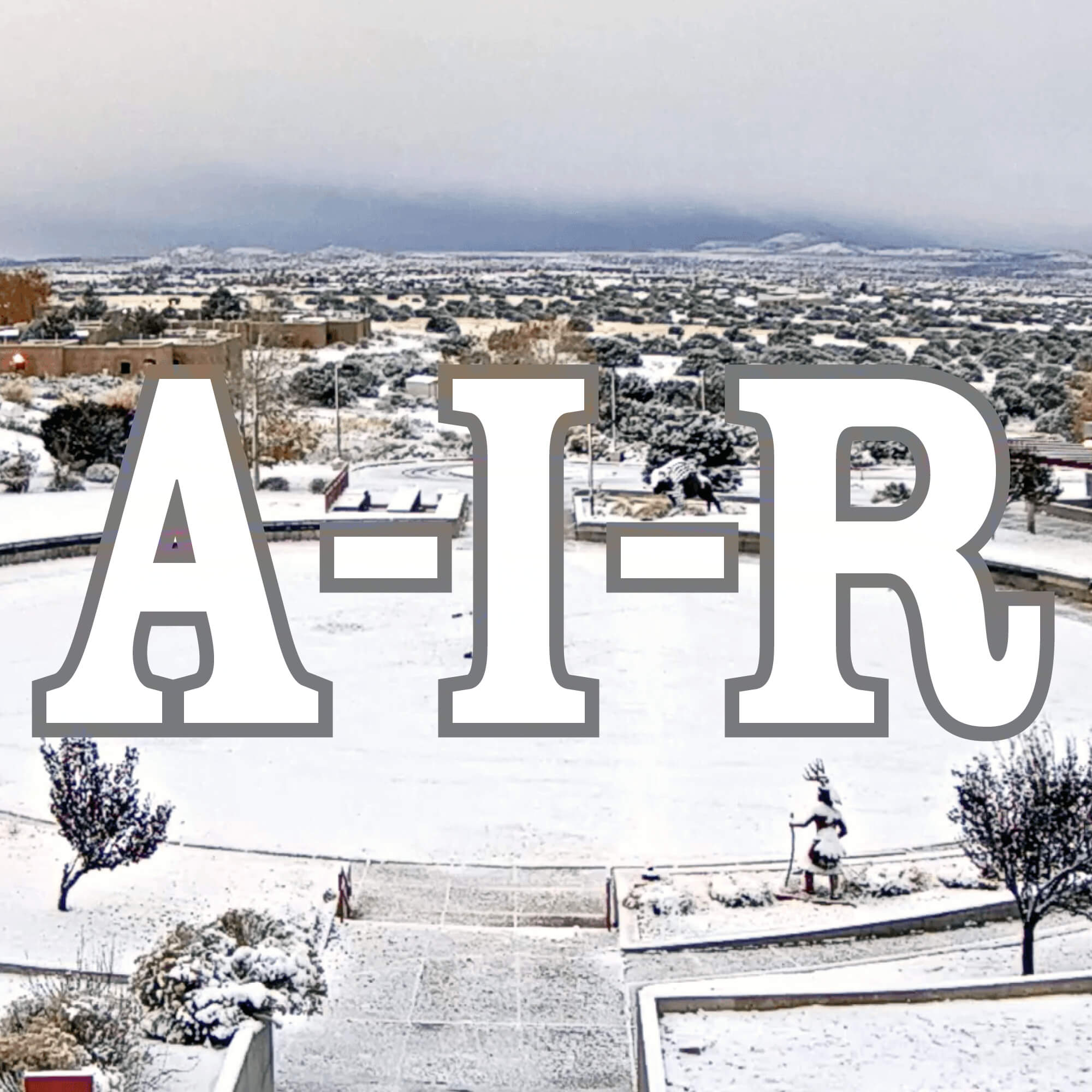 Join IAIA Artist-in-Residence (A-i-R) artists Laura Youngbird, Jordan Ann Craig, and Rico Lanáat' Worl in the Academic Building on the IAIA campus from 3:00 pm–5:00 pm for tours of the artists' studio spaces. Free and open to the public.
Laura Youngbird
March 20, 2019–April 10, 2019
Laura Youngbird (Minnesota Chippewa Grand Portage Band) is primarily a printmaker. She works in series and has several going at once. Starting with a background of monotype ink wash with stencils, dyed paper and collage, she creates multi-layered mixed-media prints. She incorporates dress patterns, other transparent papers, old prints and then draws, paints or prints additional imagery over these complex surfaces.
The themes in her work originate from experiences of her family, particularly her grandmother, at boarding schools and the issues around their assimilation into non-Indian culture. Youngbird, who serves on the local Murdered and Missing Indigenous Woman Task Force, has been addressing the epidemic in her work. Her work has been exhibited locally and regionally and she taught art at Circle of Nations School, an off-reservation boarding school in Wahpeton, North Dakota for 17 years, as an Artist-in-Resident for the North Dakota Council on the Arts (1992–2003) and for the Fargo Public Schools. In addition to printmaking, she has also studied pottery. She was awarded a Jerome Fellowship in 2003 to work and study with master potter, Richard Bresnahan, at St. John's University, Minnesota.  She also received two Artist Initiative Grants in 2009 and 2011 from the Minnesota State Arts Board.
Youngbird completed her BS, BFA with a minor in American Indian Studies, and MA from Minnesota State University Moorhead. As an undergraduate she worked in the Archeology department as a lab and field assistant. She is currently the Director of Native American Art Programs at Plains Art Museum in Fargo ND, the only accredited Art Museum in the state of North Dakota. The permanent collection focuses on contemporary art, approximately twenty-five percent of which is Native American work.
Jordan Ann Craig
March 25, 2019–April 25, 2019
Jordan Ann Craig (Northern Cheyenne) is an artist based in Oakland, California. As a painter and printmaker, she creates intricate patterns, peculiar geometries, and unique artist books. She draws inspiration from Indigenous textiles and pottery, Aboriginal paintings, and landscapes. She studied Studio Art and Psychology at Dartmouth College and graduated with High Honors in 2015. Craig continues her art practice by participating in residency and fellowship programs, giving artist talks and exhibiting her work nationally and internationally.
In 2017, she was awarded the H. Allen Brook's Travelling Fellowship to complete artist residencies in communal print shops across Europe. Moreover, she has done artist residencies at Kala Art Institute, Cork Printmakers, AGA Lab, Scuola Internazionale di Grafica Venezia, and the School For Advanced Research (SAR). As the 2018 Eric and Barbara Dobkin Fellow at SAR, Craig studied Southwestern Native American pottery, and produced twelve large paintings examining and recontextualizing Pueblo Pottery design. She has been recently interviewed by The Pasatiempo Magazine, SAR NOW, The Dartmouth newspaper, Dartmouth Alumni Magazine and Native America Calling podcast. Her latest artist residency brought her to London where she printed textiles at East London Printmakers.
Rico Lanáat' Worl
March 25, 2019–April 25, 2019
Rico Lanáat' Worl (Tlingit/Athabacan) resides in Juneau, Alaska, and he is a designer whose work explores living with traditional values as a modern person. He works to be engaged in community with the goal of strengthening the ability of diverse people and their greater communities. Worl designs a variety of products including skateboards, playing cards, and jewelry and he is the founder of Trickster Company, a design company promoting innovative Indigenous design.
The end goal for his work is to simply, represent—represent his hometown, his tribe, his family,—represent the idea that Indigeneity is not something of the past, but is here today, and was here all along—"we never stopped being Indigenous even for a minute." In this residency he hopes to work on creating a new set of repeating patterns to be hand-printed then produced into further art pieces. It will likely be a print at first then made into fabrics for various apparel. The theme of the patterns examines space exploration, floral environments, and the spirit world. In his extra time he plans on working in the IAIA Fabrication Lab to learn more about 3D modeling.
Partially funded by the City of Santa Fe Arts Commission and the 1% Lodgers Tax.