IAIA A-i-R: Jacobs, Shackleford, Tafoya, and Wilson—Welcome Dinner and Studio Tour
Tue, September 6, 2022, 5:00 pm

–

7:00 pm

|

Free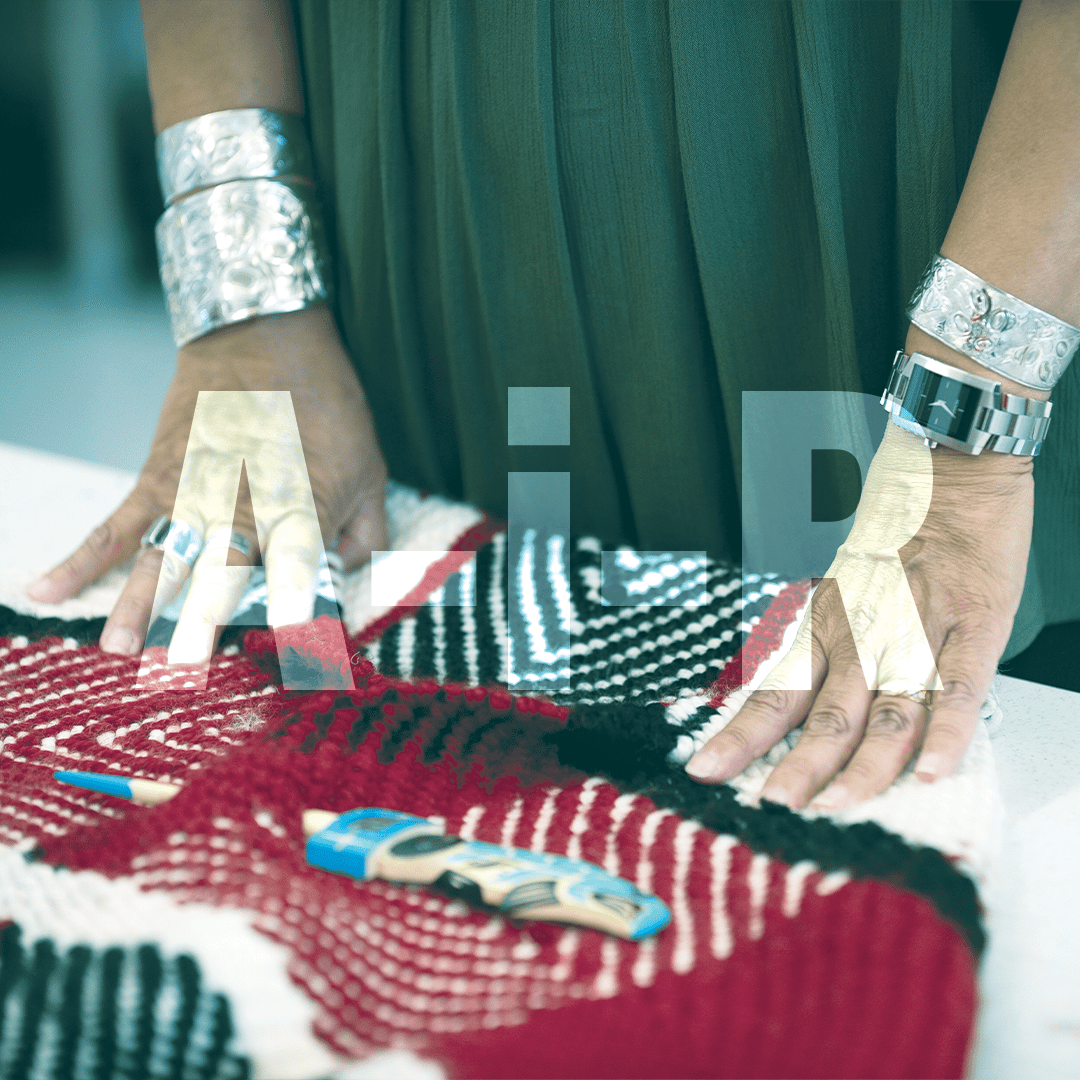 Join IAIA Artist-in-Residence (A-i-R) artists for a free dinner in the Academic Building on the IAIA campus from 5:00–5:45 pm, followed by a tour of the artist's studio space from 5:45–7:00 pm. The locations of each artist will be Margaret Jacobs (Akwesasne Mohawk) in the Jewelry Studio, Academic Building, Tanni' (Tyra Shackleford) (Chickasaw) in the Artist-in-Residence Studio, Academic Building, Skye Tafoya (Eastern Band Cherokee and Santa Clara Pueblo) in the Printmaking Studio, Academic Building, and Holly Wilson (Delaware Nation and Cherokee Nation) in the Allan Houser Haozous Sculpture and Foundry Building. Free and open to the public.
For more information, contact Daina Warren at daina.warren@iaia.edu or Erin Cooper at erin.cooper@iaia.edu.
Margaret Jacobs
September 2–30, 2022
Margaret Jacobs (Akwesasne Mohawk) is an award-winning sculptor and metalsmith based in Salem, NY. Working in various metal fabrication techniques, including powder coating to add color, her sculptural pieces often intermingle steel, recycled materials, and organic elements such as antler, horn, and shell. Through her artistic praxis, she explores the tensions and harmonies between the natural and manufactured, cycles of growth and decay, and narratives of personal, familial, and cultural significance. Her work has been exhibited at galleries and museums throughout the United States, including a recent solo exhibition, Steel Medicine, at the Boise Art Museum in Boise, ID. In 2021 she was featured among "10 Emerging New England Artists" in Art New England magazine. In 2015 she was named as one of "11 Native American Artists Whose Work Redefines What It Means to be American" in Mic and received a Native American Residency Fellowship from the Harpo Foundation.
Tanni' (Tyra Shackleford)
September 2–18, 2022
Tyra Shackleford, also known as Tanni' (Chickasaw), is a textile artist based in Ada, OK. Drawing inspiration from her Indigenous roots, Tanni' employs various ancient handweaving techniques in creating wearable art made from natural and manufactured materials. Each piece tells a unique story derived from Chickasaw oral histories to contemporary social issues. She primarily works in finger weaving and sprang and incorporates sewing, quillwork, beadwork, and jewelry making into her praxis. Tanni' hopes her work will inspire younger generations to keep traditional techniques alive.
Rhiannon Skye Tafoya
September 2–30, 2022
Rhiannon Skye Tafoya (Eastern Band Cherokee and Santa Clara Pueblo) '13 employs printmaking, digital design, and basketry techniques in creating her artist's books, prints, and paper weavings. Her tribal heritage is manifested in her two- and three-dimensional artworks that range in size from a few inches to a few feet. She is inspired by her family history of basketry and observing her father and maternal grandmother weave baskets from red willow, honeysuckle vine, and white oak. While her inspiration comes, in part, from Cherokee traditions, her artworks are decidedly contemporary, featuring sharp lines and bold colors. Tafoya creates to preserve, archive, and share personal and familial stories, Indigenous cultural teachings, and the Cherokee language. Her work is housed in many special collections, including the US Library of Congress, the Met library, and Self-Help Graphics.
Holly Wilson
September 2–30, 2022
Award-winning mixed-media artist Holly Wilson (Delaware Nation and Cherokee Nation) creates narrative sculptures and installations which find figures in environments composed of organic and manmade materials. She refers to her figures as "storytellers" who relate surrealistic visions of personal and familial narratives. Wilson's artworks are layered with materials and meaning, combining bronze and clay sculpture, painting, encaustic, and photography. Her work has been exhibited in museums around the United States, including the Crystal Bridges Museum of Art in Bentonville, AR, and the IAIA Museum of Contemporary Native Art in Santa Fe, NM. She has won numerous awards, grants, and fellowships, including a 2017 SWAIA Discovery Fellowship from the Santa Fe Indian Market and a 2015 Eiteljorg Fellowship from the Eiteljorg Museum of American Indians and Western Art.
If you are an individual with a disability in need of any type of auxiliary aid or service to attend this event, please contact IAIA's ADA Office at least seven calendar days prior to the event or as soon as possible at adaoffice@iaia.edu or (505) 424-5707.