IAIA A-i-R: Erin Gingrich and Nakkita Trimble—Open Studio
Wed, October 19, 2016, 3:00 pm

–

5:00 pm

|

Free
Event Navigation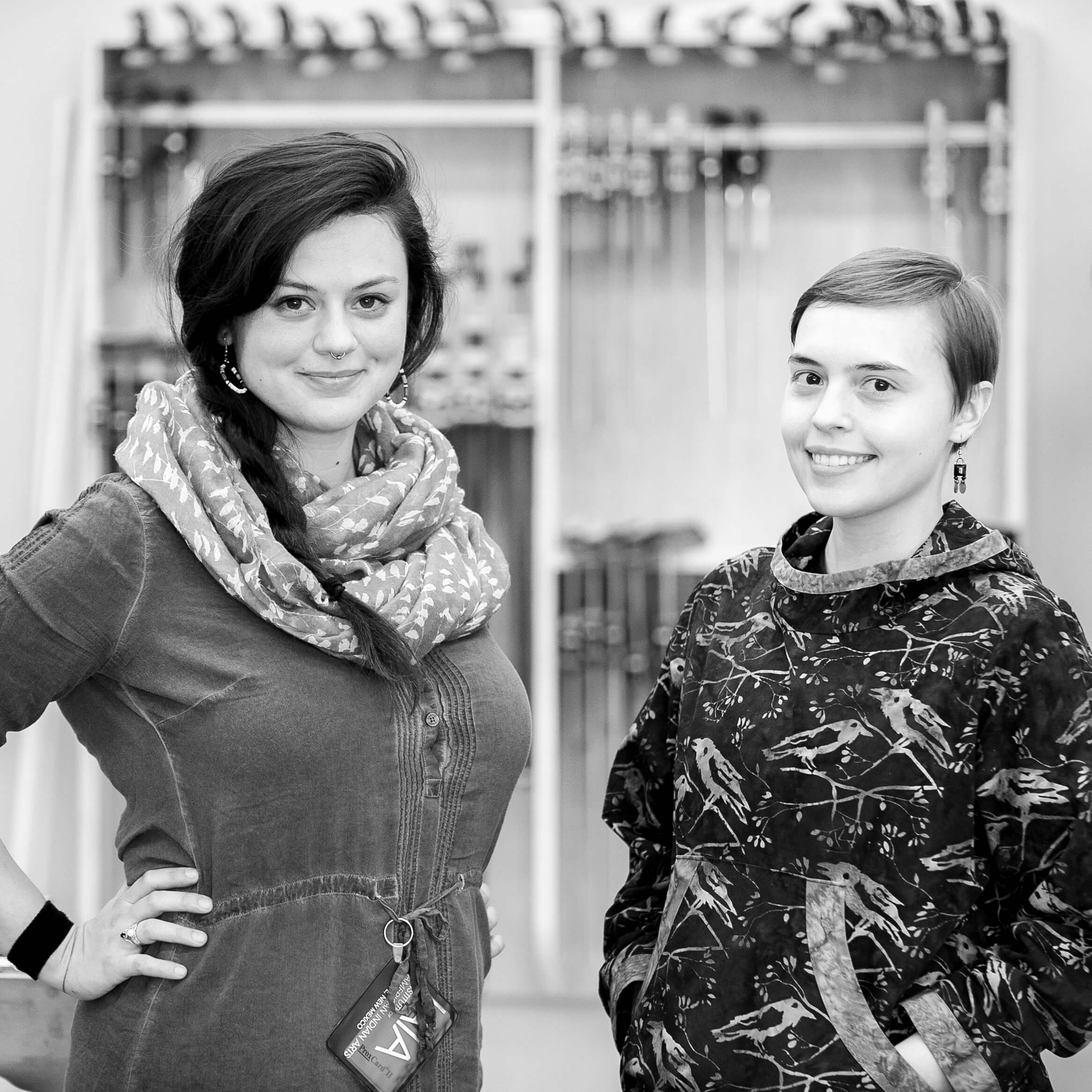 Please join our current IAIA Artist-in-Residence (A-i-R) artists Erin Gingrich and Nakkita Trimble on Wednesday, October 19, from 3-5:00 pm for an open studio session. Stop by their studios to see what they've been working on while here at IAIA. Studio visits take place at the Allan Houser Sculpture and Foundry Building and the A-i-R Studio in the Academic Building.
Free and open to the public—refreshments served.
Erin Gingrich
Erin Gingrich (Nome Eskimo Community) is an Alaska Native artist whose sculptures and mask forms are composed of wood, paint, and beads. This combination of artistic skills and elements comes from the diverse cultural and environmental influences that surround her. Because of the wealth of artistic, cultural and natural environments that she grew up in, she fostered an interest in both science and art. The particular boreal, coastal, and tundra ecosystems of Alaska, and the relationships between humans and wildlife are examined through the sculptural and mask forms that portray animals, plants, and natural resources that are vital to subsistence living and arctic life. These portrayals aim to represent these important natural resources as they are seen to Alaskan Native peoples, that these resources are gifts. This collection of influences, experiences, and beliefs all aided Erin in the development of her artistic style and skills.
After graduating from Interior Distance Education of Alaska in 2008, Gingrich attended the University of Alaska Fairbanks from where she graduated with a Bachelor of Fine Arts degree in 2014 with concentration in Native art and painting. She now resides in Anchorage Alaska and where she continues to carve, paint, draw, and bead from her small home studio.
Nakkita Trimble
Nakkita Trimble, Nakkita Trimblehl waý, ii Algaxhl Gwilks-ḵ'alt'amtkwhl wam aluugigadiý. Ksim Ganada ńiiý, ii Gingolx wil ẃitgwiý. Nisga'ahl nooý, ii Tlingithl nigwoodiý. Rose (Gurney) hl wahl agwii-nits'iits'iý, ii Christopher Trimblehl wahl agwii-niye'eý.
My name is Nakkita Trimble. My Nisga'a name is Speaking Through Art. I am from Wilps Axdii Wil Luugooda, The House that is Never Empty. I am Frog clan and maternally from Gingolx, British Columbia. Maternally I am Nisga'a, and Paternally I am Tlingit. My great grandparent's names are Rose (Gurney) and Christopher Trimble. My great grandparents were one of two of the last arranged marriages from my village. I am a descendant of a royal bloodline and my goal is to re-connect the history of this bloodline, as it is being lost.
Christopher's mother, Ellen Jane Trimble, was a Tlingit Wolf. Nakkita Trimble states, "Through my ancestors I am re-connecting the Nisga'a and Tlingit marital and family ties. I am currently trying to find which village Ellen's family came from. My family tree and connection to identity are the seeds of the work I create."
Erin Gingrich and Nakkita Trimble will be in residence October 7–November 4, 2016.