Painting and Driving: Axle Contemporary in Conversation with Steven Yazzie
Sat, August 17, 2019, 10:30 am

–

11:30 am

|

Free
Event Navigation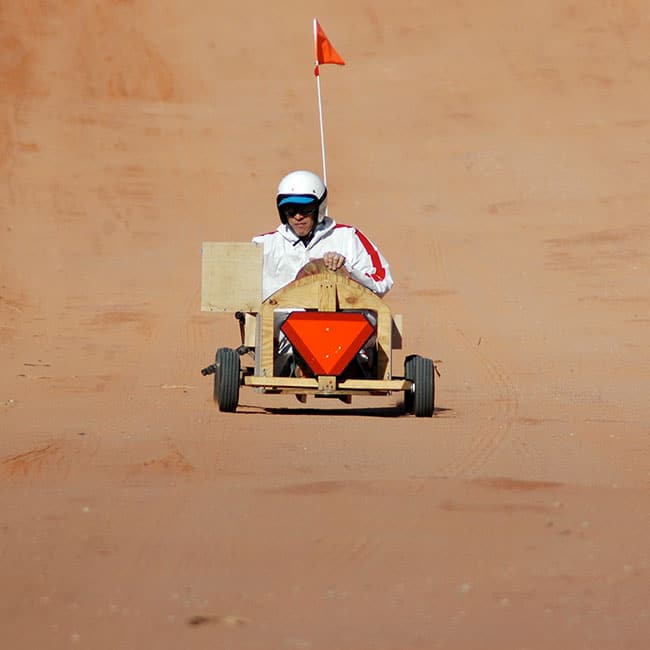 Matthew Chase-Daniel from Axle Contemporary mobile gallery will interview Steven Yazzie (Navajo) about his Drawing and Driving performances including his recent further development of this body of work, Steven Yazzie's customized a recumbent bicycle for his Painting and Driving project with local artists and IAIA art students.
About Drawing and Driving
In February 2019, artist Steven Yazzie (Navajo/Laguna Pueblo) led a group of artists in an IAIA Museum of Contemporary Native Arts' (MoCNA) art-making workshop, using his custom-built Drawing and Driving recumbent bicycle, which is part of the museum's Art for New Understanding: Native Perspectives, 1950s to Now exhibition. Participants included IAIA art students and local artists invited by Santa Fe's mobile community artspace, Axle Contemporary. MoCNA's goal for this program was to engage and connect both students and the Santa Fe art community with the exhibition and Yazzie's art practice. Under Yazzie's direction, each artist draws or paints while driving the vehicle, adding a performative and community-based element to Yazzie's project. After the artworks were completed by the group, the vehicle was installed in the exhibition during its run at MoCNA. Due to great success, Axle Contemporary and Yazzie will invite more local artists to draw and drive for the project this summer. The collection of small drawings and paintings will be exhibited work in the Axle Contemporary mobile exhibition space from late July through August 18, 2019. The mobile exhibition space will be located at MoCNA's Allan Houser Art Park from August 15–18, 2019.
Artists include Steven J. Yazzie (Navajo/Laguna Pueblo), Robyn Tsinnajinnie (Navajo), Gregory Ballenger (Navajo), Nicola Heindl, Timothy Nero, David Leigh, Susan York, Andrea Isabel Vargas, Rose Simpson (Santa Clara Pueblo), Shakti Kroopkin, Rita Bard, Andrew Fearnside, Erika Wanenmacher, Jeff Benham, Jason Garcia (Santa Clara Pueblo), Eliza Naranjo Morse (Santa Clara Pueblo), Jerry Wellman, and Matthew Chase-Daniel.
"Drawing and Driving was conceived while on an artist residency at the famed Skowhegan School of Painting and Sculpture in 2006. The experimental project became a way for me to redefine my relationship to landscape by essentially drawing what I was seeing, while simultaneously attempting to control a descending gravity powered vehicle. The drawing vehicle became a simulated version of how I often experience the outdoors (from a perspective of a moving vehicle), which touches on the notion of technology and the speed of a contemporary life. While there are references to absurdist movements of the past, the act of drawing and driving ultimately became a true point of contact between the natural world and the man-made one—the drawings could in a sense be created by both myself and the moving ground below me."—Steven J. Yazzie (Navajo/Laguna Pueblo)
The exhibition in presented in partnership with Axle Contemporary.