IAIA MFA Quarterly, Volume IV, July 2019
The Institute of American Indian Arts has played a key role in the direction and shape of Native expression for over 50 years. The IAIA Low Residency MFA in Creative Writing, now in its sixth year, is expanding on this legacy, graduating successful writers who are making distinct contributions to the body of Native American and world literatures.
This fourth issue of the IAIA MFA Quarterly, to be published four times a year, highlights the publications and writing-related news from our MFA community. Read more to find out how the IAIA MFA students and alumni are transforming the literary landscape.

The MFA Quarterly Journal is published October 15, January 15, April 15, and July 15 of every year. Students, alumni, and faculty mentors: please send any news, photos, links, or updates to mfa@iaia.edu.
The IAIA MFA in Creative Writing program would like to congratulate Joy Harjo, IAIA alumna and poet who has been so generous in her support of our writing community, on being appointed U.S. Poet Laureate!
The MFA CW Program congratulates the graduates of the Class of 2019!
Douglas Suano Bootes (Saponi)—Poetry, Ian James Geronimo—Fiction, Chelsea Elizabeth Grogan (Comanche)—Fiction, Rebecca Annabelle Johnson—Fiction, Anthony Joseph Pandola—Creative Nonfiction, Carey Louise Powers—Poetry, Jonathan William Sims (Pueblo of Acoma)—Screenwriting, Tyler Blue Tarpalechee (Mvskoke)—Fiction, Natasha Norma Terry (Diné)—Fiction, Amy A White (Anishinaabeg)—Fiction, and Wakaya Tonubee Wellls (Choctaw)—Fiction
"The Institute of American Indian Arts places priority on Indigenous worldviews in a contemporary context and attempts to locate its curriculum within that field of knowledge. The low-residency program is a place for writers to find community and be encouraged by writers producing serious work."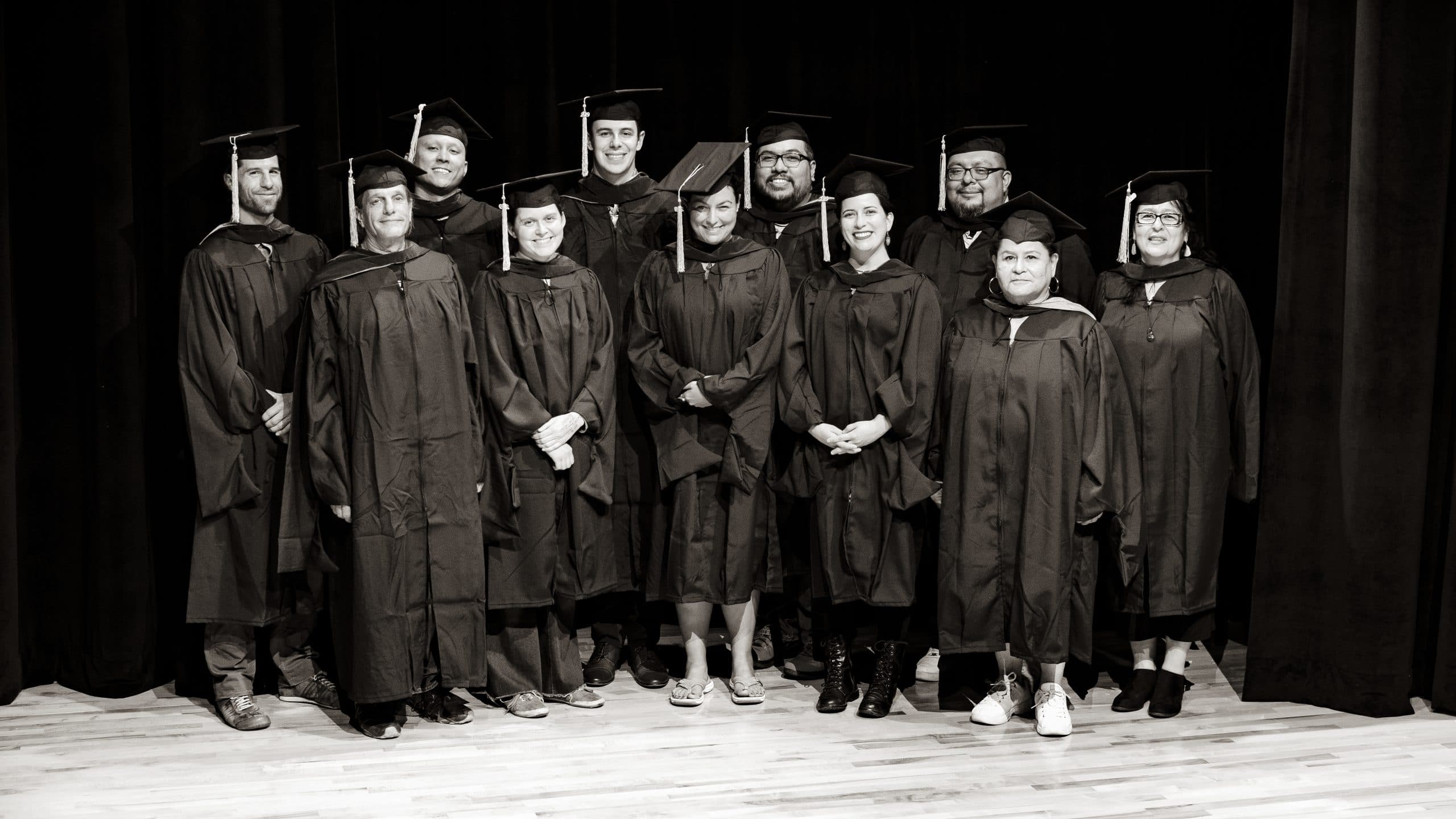 News from MFA Alumni
Blue Tarpalechee (Muscogee Creek) ('19), selected for the National Book Critics Circle Emerging Critics Fellowship. Over the course of the one-year fellowship, the class of 2019 emerging critics will receive support and mentorship from the NBCC community, including opportunities to partake in ongoing conversations about the craft of reviewing in the ever-changing publishing landscape. Blue will also begin the PhD program at University of Oklahoma in Fall 2019.
Carey Powers ('19) partnered with the Santa Fe Public Schools' Native American Student Services Program (NASS) to run a month-long series of poetry/art workshops for youth, grades 1–7. Carey's outreach work was supported by an IAIA grant and the MFA CW's new outreach initiative. The workshops prioritized the work of native poets, while inviting poets to attend as visiting artists. The intent of the workshops was to provide an introduction to poetic craft while supporting an environment of artistic freedom and whole-person wellness. The workshops focused on weekly themes of "Community Weaving," "Embodying Poetry," and "Poetry in Earth."
Amy White ('19), was a Fellow at the Banff Centre for the Arts Residency this May 2019.
Rowena Alegría ('18) was named the Jack Jones Literary Arts 2019 Victor LaValle Fellow and will attend the third annual JJLA writing retreat at Immaculate Heart of Mary Retreat Center in Santa Fe, NM, this fall. The two-week retreat is open exclusively to women of color writers and nonbinary writers of color.
Anna Osceola Nelson (Crow Tribe of Indians of Montana) ('18) will be traveling to New York City this July to work with Sesame Studios, a production of Sesame Street.
David Tromblay ('18) will study for the PhD in English at Oklahoma State University focusing on Creative Writing (Fiction), to begin in Fall 2019.
David Heska Wanbli Weiden (Sicangu Lakota) ('18) received the 2019 IAIA Tin House Summer Workshop Scholarship. At Tin House, he'll workshop with Terese Marie Mailhot. He was in residence at the Ragdale Foundation in June and July, making final edits to his novel. He presented on the panel "Question of Justice" at the PEN America World Voices Festival in New York.
Joaquin Zihuatenejo ('18) was named finalist for the 2019 International Latino Book Awards for Poetry for his book, Arsonist. The awards ceremony will take place on September 21, 2019 at the Los Angeles City College.
Ruby Hansen Murray (Osage) ('17) writes about the Banff Center for the Arts, MFA Mentor Eden Robinson, and Indigenous Canadian literature in Osage News, June 2019.
Angela C. Trudell Vasquez ('17), whose debut poetry chapbook, In Light, Always Light, was published in May 2019 from Finishing Line Press, launches her official book tour with the following events:
David Lindblom ('16) is tenure track at Northern New Mexico College where he teaches filmmaking and screenwriting. David has been accepted into the Santa Fe Art Institute's 2020 Residency, themed on the subject of Labor, where he will explore aspects of his IAIA final presentation about the early 1900s filmmaker Romaine Fielding. Fielding produced a film in Las Vegas, NM in 1913 about a monumental battle between Labor and Capital that would have pre-dated and rivaled "Birth of a Nation." Unfortunately, his feature length film was destroyed in a fire before release.
David is cinematographer and editor for filmed elements for a one woman play written and performed by Bridget Kelly. These elements will resurrect the ghost of Sarah Bernhardt who will then interact on stage with a character named Sophie who is struggling to complete her dissertation and straighten out her life. The play will be performed in the United Solo Festival on Theater Row in New York Nov. 9th, 2019.
He continues work on his script aiming for epic bidding wars.
Ursula Pike ('16) is the winner in the memoir category for the Writer's League of Texas Manuscript contest for her manuscript, House, Mississippi. Ursula's memoir, An Indian Among Los Indios (working title), will be published by Heyday Books in late 2020. Ursula writes, "I chose Heyday because a couple of Native authors recommended them to me. Heyday published Debrorah Miranda's Bad Indians which was one of the most important books I read during my time at IAIA."
News from MFA Students
Zoe Johnson's (Anishinaabe [Sault Ste Marie Chippewa]) short story, "The Meantime," was recently shortlisted for PRISM International's 2019 Jacob Zilber Prize for Short Fiction. "The Meantime" was also a finalist for the Lascaux Review's 2018 Prize in Short Fiction and will be published in the upcoming 2019 Lascaux Prize Anthology.
"This was a story that I brought to workshop during my first residency and it wouldn't be the story it is without the feedback, advice, and really overwhelming support of Pam Houston, my workshop mates, and fellow MFA folks in general."—Zoe Johnson
Elee Kraljii Gardiner (Poetry, Second Year) published a poem ("Exorcise") in PRISM International's Ruin issue, spring 2019, and has an omnibus book review forthcoming at the end of July at prismInternational.ca.
In May, Elee read at Simon Fraser University's Lunch Poems series with Kwantlen spoken word poet Joseph Dandurand and read at the launch of Matt Rader's fourth poetry collection, Visual Inspection (Harbour Publishing 2019).
In June, she participated in the Congress of Humanities and Social Sciences 2019, Vancouver, by sitting on a panel for the anthology Memory (Peter Wall Centre, 2018) and reading at the "Alt-Congress" offsite event.
A poem, "Honey Lemonade," was set to music and recorded by the NYC band, Your Fragile Mind, and she is recording two poems for the Ice Theatre of New York to use for figure skating choreography.
Ryan Redcorn (Osage) (Screenwriting, Second Year) with Migizi Pensoneau (Ponca-Ojibwe) ('16 MFA Alum and current Screenwriting Mentor) and Justin Gauthier's ('17 MFA Alum) Between Two Knees, a play written by the 1491s comedy troupe (Sterlin Harjo (Seminole/Muskogee), Dallas Goldtooth (Mdewakanton Dakota-Diné), Bobby Wilson (Sisseton-Wahpeton), and IAIA MFA alumni, Ryan Redcorn and Migizi Pensoneau) is performing its World Premier at the Oregon Shakespeare Festival from April 3–Oct 27, 2019. The play was co-commissioned by the Oregon Shakespeare Festival's American Revolutions Program and New Native Theater. Read more about this play at The Clyde Fitch Report and Oregon Shakespeare Festival.
Chandre Szafran is a Fellow this summer at the Northwoods Writers Conference.
News from MFA Mentors
Cherie Dimaline (Georgian Bay Métis) will executive produce and write the first season of the TV adaptation of her novel, The Marrow Thieves.
Chip Livingston's (Creek) new poem "San Vitalis of Fetishes" in the 2019 issue of Fourteen Hills, The San Francisco State University Review. Chip's additional publications include:
Poems:
"Los Santos de la Republica," "Memorial Day, Williamsburg," and "San Cono" were published in the Spring 2019 issue of Hairstreak Butterfly Review.
"52 Hawks," "Finding Love In Chelsea", "Guzzling Hafiz" and "June 26, 2015" were published in the anthology Stonewall's Legacy, 2019.
"The Saints of the Republic" will be featured poem on Lambda Literary Poetry Spotlight, 2019.
"52 Hawks" will be published in the anthology Take A Stand: Art Against Hate, 2019.
Cedar Sigo's Book Review "Courting the Immortals in Royals" will be published in Transmotion Journal, 2019.
Santee Frazier's (Cherokee) new book of poetry, AURUM, will be released this Fall from University of Arizona Press.
Jennifer Foerster's (Muscogee (Creek) Nation of Oklahoma) poetry appears on the 5th Floor of the parking garage of the San Francisco Museum of Modern Art (SFMOMA), as part of an installation project in partnership with Open Space, SFMOMA's interdisciplinary commissioning platform.
News from MFA Staff
Santee Frazier (Cherokee) began as the new Director of the MFA in Creative Writing program on May 13, 2019. Former Interim Director, Jennifer Foerster (Muscogee (Creek) Nation of Oklahoma) continues as MFA Mentor in Poetry and will serve as MFA in Creative Writing Chair.
IAIA hired its new MFA in Creative Writing Program Assistant, Melissa Brown. Melissa Brown received her Bachelor of Arts in Filmmaking from the School of Visual Arts, NYC where she was awarded the SVA President's Outstanding Film and Video Award and was the first woman to win the Best Director award for her thesis film.
She has wide ranging film production experience and varied skills in administration and management. Her resume includes work as an Assistant to Faculty Chairs at several art universities and Miramax Films as well as the Walt Disney Company.
Her passion for story, film, writing and photography has led her to produce several of her own short films, create a daily blog of poetry and photography, and become a voiceover artist. She is currently polishing her first feature-length screenplay.
An artist with a keen sense of adventure, Melissa moved to Santa Fe from Brooklyn, NY three years ago and could not be happier to have found her way to IAIA and to the MFA Creative Writing Program.
About The Low Residency MFA in Creative Writing
The Institute of American Indian Arts' (IAIA) MFA in Creative Writing is a two-year, low residency program that welcomes and celebrates diversity while emphasizing the importance of Native writers giving voice to the Native experience.
Our program is unique among low-residency MFA programs in Creative Writing, as we maintain a strong base in IAIA's mission "to empower creativity and leadership in Native arts and cultures through higher education, lifelong learning, and outreach." The program and the literature we read carries a distinct Native American and First Nations emphasis. The majority of our faculty are established Native American or First Nations authors.
The program offers one-on-one mentorships with faculty who specialize in multiple genres, including screenwriting, poetry, creative non-fiction, and fiction. Students gather twice a year on the IAIA campus in Santa Fe, NM for an intensive week of workshops, lectures, and readings with prominent Native and non-Native faculty and visiting writers.
The program's goal is to graduate strong writers with a choice of career paths, who can make a difference in their field through their writing and for the betterment of their communities.