IAIA MFA Quarterly, Volume V, January 2020
The Institute of American Indian Arts has played a key role in the direction and shape of Native expression for over 50 years. The IAIA Low Residency MFA in Creative Writing, now in its seventh year, is expanding on this legacy, graduating successful writers who are making distinct contributions to the body of Native American and world literatures.
This fifth issue of the IAIA MFA Quarterly, to be published four times a year, highlights the publications and writing-related news from our MFA community. Read more to find out how the IAIA MFA students and alumni are transforming the literary landscape.

The MFA Quarterly Journal is published October 15, January 15, April 15, and July 15 of every year. Students, alumni, and faculty mentors: please send any news, photos, links, or updates to
mfa@iaia.edu
.
The 2020 Winter MFA Creative Writing Residency, held from January 4 to January 11, was a great success. The nightly Winter Reading Series featured the Visiting Writers Rion Amilcar Scott, Tiffany Midge, and Lehua M. Taitano.
"The Institute of American Indian Arts places priority on Indigenous worldviews in a contemporary context and attempts to locate its curriculum within that field of knowledge. The low-residency program is a place for writers to find community and be encouraged by writers producing serious work."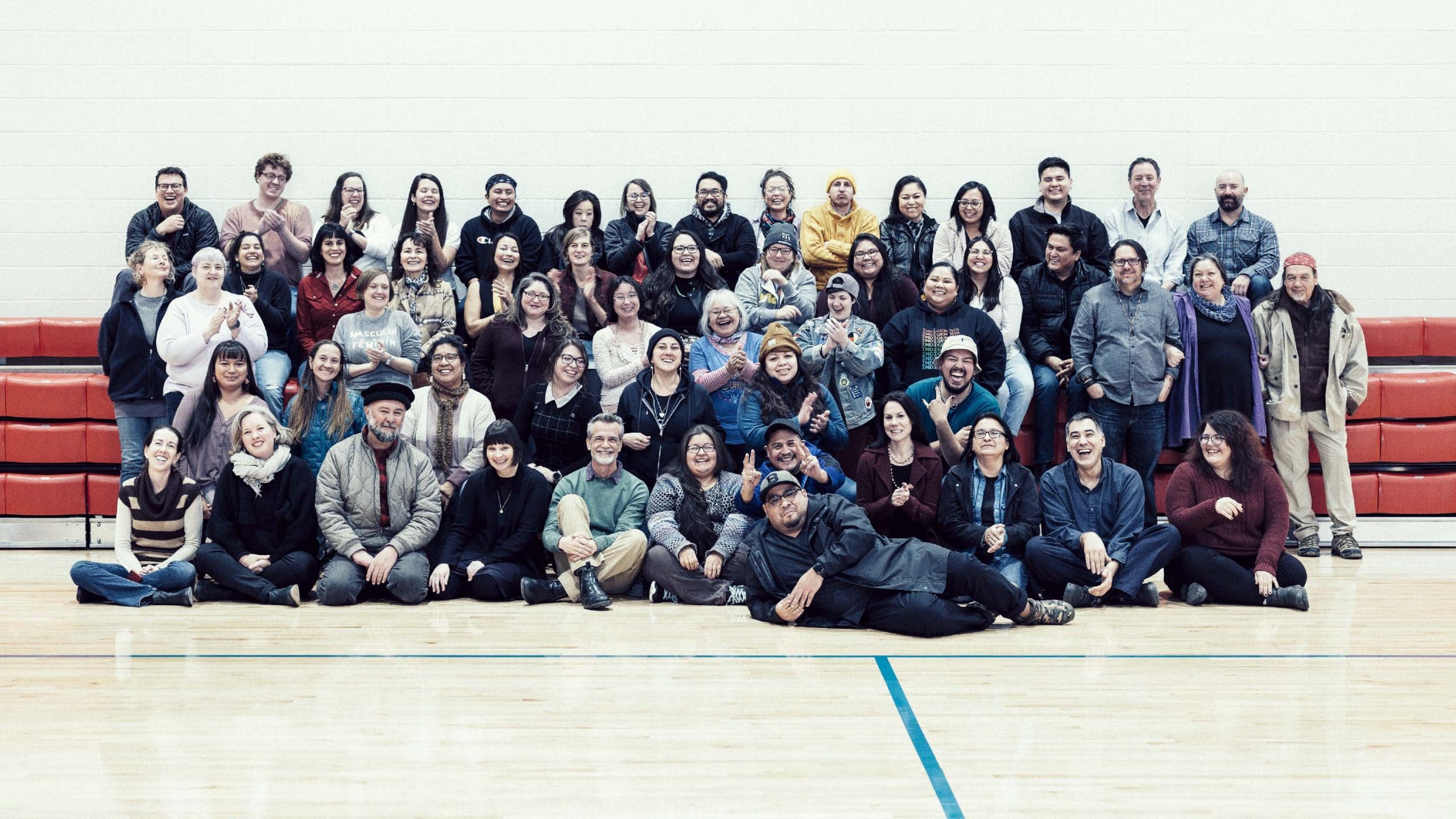 News from MFA Alumni
MFA Alumna Byron F. Aspaas ('15), David Heska Wanbli Weiden ('18), Manny Loley ('18), and Crisosto Apache ('15) read with Stephen Graham Jones and Erika T. Wurth at Denver's BookBar, At the Inkwell! Series, on September 14.
Amy White ('19) attended a 6-week residency at the Banff Centre in the Writers Studio in May and June 2019.
Two MFA alumna, Jake Skeets ('16) and Rowena Alegría ('18), are featured in the September/October issue of Poets & Writers magazine.
You can read more from
Jake Skeets
('16) and his newly released debut collection,
Eyes Bottle Dark with a Mouthful of Flowers
(Milkweed Press, 2019), on
The Rumpus
,
AZ Daily Sun
,
Poets.org
, and
Thin Air
.
Lemanuel Loley ('18) and Jake Skeets ('16) read at Woodland Pattern Book Center on September 26, with Jake Skeets offering the craft talk, "Poem as Field—Understanding Energy in Poetry," at Special Collections at UWM Libraries.
Tim Carrier Dorsey ('15) has published three new poems in the Fall 2019 issue of West Branch.
Featured in the Prairie Schooner Anthology of Contemporary Sports Writing, Bodies Built for Game, edited by Natalie Diaz, are MFA Mentors Toni Jensen, Chip Livingston, Tommy Orange, and James Stevens, along with MFA Alumna Joaquin Zihuatenejo ('17), William Bearheart ('16), Chee Brossy ('16), and Trevino Brings Plenty ('18).
Kyce Bello ('17) published three poems in the online journal, Terrain.org.
Kyce Bello's debut collection, Refugia, was the inaugural winter of the Test Site Poetry Series and was released in September 2019 from the University of Nevada Press.
Rebecca Reuter ('18) attended the Vermont Studio Center for a four-week residency in November.
Milissa Kingbird's ('16) poem "How to Speak" is published in the Rumpus, November 30, 2019.
Terese Mailhot ('16) interviews Alicia Elliott and Arielle Twist for the Pacific Standard: 'Indigenous Writing is Going to Continue to Set the Bar for Literary Excellence.'.
Terese Mailhot's award-winning Heartberries has also been shortlisted for the Edna Staebler Award for Creative Non-Fiction.
Jake Skeets ('17) is reviewed in the Santa Fe Reporter's Reading in the Arroyo: An Occasional Column About Books, for his work Eyes Bottle Dark with a Mouthful of Flowers.
Dennis Staples ('18) novel, This Town Sleeps, is being released in March 2020 from Counterpoint Press.
This Town Sleeps is listed on Electric Literature as one of the "20 most anticipated debuts of early 2020."
Staples's "The One You Feed," a dark fantasy story heavily influenced by the Missing & Murdered Indigenous Women coalition & the conversations around it, will be published in Nightmare Magazine.
Angela C. Trudell Vasquez ('17) has been appointed poet laureate of Madison, Wisconsin, and is the first Latina to hold the position. Read about her appointment here:
Angela Vasquez's poem, "What and That" was nominated for Orison Anthology by South Florida Poetry Journal.
David Heska Wanbli Weiden ('18) is the author of the novel Winter Counts (Ecco/HarperCollins, forthcoming 2020) and the children's book Spotted Tail (Reycraft, 2019). David's story, "Carlisle Longings," is published in Shenandoah.
His essay, "How Much Indian Are You," is shortlisted for the Briarpatch Writing in the Margins contest.
Weiden will be attending the Vermont Studio Center for a four-week residency in the Spring.
News from MFA Students
Vivian Carroll (Cherokee) (Poetry, Second Year) and Max Early (Laguna Pueblo) (Poetry, Second Year) were winners of an essay contest, among other IAIA students, to visit Washington D.C. to attend the National Museum of the American Indian Suzan Shown Harjo Symposium. Vivian and Max also attended the Inaugural Reading of the new U.S. Poet Laureate, Joy Harjo.
Vivian Carroll writes of her experience, "The spiritual impact and historic pride I experienced draping an honor blanket around the strong shoulders of Suzan Shown Harjo, plus the bonus of witnessing Joy Harjo's Library of Congress reading, are forever moments, lightyear's brighter, than my D.C. essay hoped for."
Max Early writes, "Back in April, I wrote an essay proposal about attending the Suzan Shown Harjo Symposium. My proposal stated that by attending the symposium, it would encourage my own future endeavors in writing poetry with political themes. What better way to learn about the infrastructure of tribal advocacy than to witness the accomplishments of an influential leader such as Suzan Shown Harjo. Plus, one day I have the obligation to my Laguna Pueblo community to run for tribal office."
Max Early's poem, "Channel Surfing," was published online with Zocalo Public Square on Sept. 13, 2019.
Elee Kraljii Gardiner (Poetry, Second Year) founded a reading series, The Whole Cloth, an uncut reading of an entire book of poetry inaugurating with Sherwin Bitsui and Dissolve (Copper Canyon) Jan 29 in Vancouver at Green College at University of British Columbia.
Elee is reading with Sherwin Bitsui at Hugo House in Seattle on Jan 31 at 7pm.
Gardiner's book, Trauma Head, was named (with Layli Long Soldier's Whereas) as a Best Book of 2019 by England's The White Review.
CBC just rebroadcast an interview from Jan 20, 2019 about Trauma Head.
Zoё Johnson's (Anishinaabe [Sault Ste Marie]) (Fiction, Second Year) poem "genderf*ck" was published in Plentitude Magazine. Two of Zoë's poems, "Where I'm From" and "On Trauma" were named finalists in Public Poetry's 2019 ENOUGH Contest. The anthology, ENOUGH, a collection of the finalist poems, is now available.
Shin Yu Pai (Creative Nonfiction, First Year) performed a video and poetry/performance art piece for Ampersand Live!, a showcase curated by indie musician Tomo Nakayama for Forterra. The program was recorded and broadcast on KUOW radio.
Her poem "on the grounds of the Tsubaki Shinto shrine" was featured on the Washington Poetic Routes website.
Her essay "Gyotaku" was published by KUOW and performed live for their podcast The Wild.
In October, she served as the Poet-in-Residence for Seattle Review of Books, which published her poems Virga, In the Garden of Danny Woo, Chiang-Kai Shek Boneyard, and White Savior Industrial Complex.
She was featured in Seattle Magazine's Seattle Fall Arts Preview.
Roanna Shebala (Diné) (Poetry, First Year) is the feature poet for Chatter Sunday on March 1, 2020, at 10:30am.
Sunday mornings 50 weeks a year welcoming, invigorating, eccentric—performances take place at Las Puertas at 1512 First Street NW in Albuquerque. Chatter Sunday weaves together traditional and contemporary classical music in often surprising programs that include a reading by our poet/speaker of the morning and a two-minute celebration of silence.
$16 regular admission ($20 at the door), $9 under-30 and students, $5 under-13, purchase tickets online.
Shebala was a feature poet for the Emerging Dine Writers Institute Reading, which was hosted by NAU's Book Festival in September 2019.
Shebala's poem, "MMIW Pocahontas," was published in The Rumpus for Native American Heritage Month.
News from MFA Mentors
Marie-Helene Bertino's third book, Parakeet, a novel about an uncanny brown bride dealing with the trauma of family on the eve of her wedding, will be published on June 2, 2020, from FSG. Bertino will be the Kittredge Visiting Writer at University of Montana in Spring 2020.
Kimberly Blaeser (Anishinaabe, White Earth Nation) released her latest book of poetry, Copper Yearning, with Holy Cow! Press (2019) in November. Visit www.kblaeser.org/books/ for more information.
Copper Yearning was listed as one of The Best Native Books of 2019 on Tribal College Journal.
Blaeser's recent publications include:
"Flights," Thanku: Poems of Gratitude, edited by Miranda Paul (Minneapolis: Lerner Publishing, forthcoming 2019) 5. Print.
"Of Nalusachito and the Course of Rivers." Louis Owens: Writing Land and Legacy.Ed. Joe Lockard & A. Robert Lee.Albuquerque: U of New Mexico Press, 2019. 293-94. Print.
"Oology" and "Ikwe-niimi: Dancing Resistance," Poetry Hall: Chinese and English Bilingual Journal. Vol. 2. No. 2, June 2019. 110-11. Print.
Collaborative Poem & Feature (Kimberly Blaeser & Margaret Noodin), "Taproot," Underbelly. Issue 6, Spring 2019. Web.
Photo "Mystique of Small," Peninsula Pulse, Hal Prize 2019, Vol. 25, Issue 31, 2019. 15.
"Rosettta Stone" and "To Feast on Story." Yellow Medicine Review: Language & Identity/Body & Borders. Ed. Angie Trudell Vasquez and Millissa Kingbird. Spring 2019. 32-33. Print.
"Sights of Removal." Fact, Fiction, Fabrication: Truth or Lies in Art and Literature. Vassar Review. Issue 4. 2019. 5-9. Print.
"Verse Drama Two: Surveyor, 1849." Fact, Fiction, Fabrication: Truth or Lies in Art or Literature. Vassar Review. Issue 4. 2019. 82. Print.
Two Poems: "Rosetta Stone, Two" and "The Dignity of Gestures" and One Picto-Poem: "Eloquence of Aki," About Place Journal: Dignity as an Endangered Species in the 21st Century, ed. Pam Uschuk, Cindy Fuhrman, & Maggie Miller, May 2019. Web.
Three Collaborative Poems (Kimberly Blaeser and Amber Blaeser-Wardzala), "4 Years, 471 Miles Later," "Choose a Side in the War," and "The Timbre of Astral Voices." Jet Fuel Review. No. 17, 2019. Web.
Kimberly Blaeser has been named one of the seven Wisconsin Academy of Sciences, Arts and Letters Fellows for 2020. The award celebration will take place on April 17 at the Wisconsin Historical Society in Madison. Blaeser is also a Featured Poet for the Split This Rock 2020 Poetry Festival, March 26–28, Washington DC.
MFA Mentor Cherie Dimaline (Georgian Bay Métis) has released her second novel, Empire of the Wild, from Penguin Random House Canada.
"From the author of the YA-crossover hit The Marrow Thieves, a propulsive, stunning and sensuous novel inspired by the traditional Métis story of the Rogarou—a werewolf-like creature that haunts the roads and woods of Métis communities. A messed-up, grown-up, Little Red Riding Hood."—Penguin Random House
The latest book from former IAIA MFA Director, Jon Davis, An Amiable Reception for the Acrobat, will be released from Grid Books this Fall.
"In Acrobat, Jon Davis, poet of jazz, blues and misery, of daughters and horses, of regret, asks the questions we've been avoiding. What if we were wrong about art's humanitarian potential? What if all this time we should have been feeling instead of naming? What do we do with the dawning realization that the apocalypse, by comparison, turns out to be the easier choice? This is the work of a great, and largely unsung American poet at his most relentless, at his most and least wise; it is a map to hold in our hands as we fly off the end of the world."—Pam Houston, author of Deep Creek: Finding Hope in the High Country
Jennifer Foerster (Mvskoke) will be a Visiting Writer at the Vermont Studio Center, reading on February 6. She is also reading at Woodland Pattern Bookstore in Milwaukee on February 26.
Santee Frazier (Cherokee), IAIA MFA in Creative Writing Director, releases his second book Aurum from the University of Arizona Press.
"Aurum is a trove of sensations. These poems leap in the mind with a mix of acuity and wildness. Santee Frazier's verbal intensities radiate from a deeply meditative marrow. His poems feel simultaneously allegorical and personal, relaxed and rigorous. Technical mastery is tethered to soul. Each time I read this book, I am more amazed."—Terrance Hayes
Brandon Hobson's (Cherokee) new novel, The Removed, will be published by Ecco/Harper Collins early 2021.
Tommy Orange (Cheyenne and Arapaho), is winner of an American Book Award for There, There.
Watch Tommy Orange interviewed with Seth Meyers on NBC's Late Night with Seth Meyers.
Read an interview with Tommy Orange on World Literature Today: "Resisting the Violence through Writing: A Conversation with Tommy Orange" by Heather J. Shotton.
Read James Stevens (Akwesasne Mohawk) interviewed by poet Prageeta Sharma in BOMB (Sept 17, 2019).
David Treuer (Ojibwe) has been listed in the 2019 National Book Awards Longlist: Nonfiction for his seventh book, The Heartbeat of Wounded Knee. The Heartbeat of Wounded Knee was listed as one of The Best Native Books of 2019 on Tribal College Journal.
About The Low Residency MFA in Creative Writing
The Institute of American Indian Arts' (IAIA) MFA in Creative Writing is a two-year, low residency program that welcomes and celebrates diversity while emphasizing the importance of Native writers giving voice to the Native experience.
Our program is unique among low-residency MFA programs in Creative Writing, as we maintain a strong base in IAIA's mission "to empower creativity and leadership in Native arts and cultures through higher education, lifelong learning, and outreach." The program and the literature we read carries a distinct Native American and First Nations emphasis. The majority of our faculty are established Native American or First Nations authors.
The program offers one-on-one mentorships with faculty who specialize in multiple genres, including screenwriting, poetry, creative non-fiction, and fiction. Students gather twice a year on the IAIA campus in Santa Fe, NM for an intensive week of workshops, lectures, and readings with prominent Native and non-Native faculty and visiting writers.
The program's goal is to graduate strong writers with a choice of career paths, who can make a difference in their field through their writing and for the betterment of their communities.