IAIA MFA Quarterly, Volume VI, August 2020
The Institute of American Indian Arts has played a key role in the direction and shape of Native expression for over 50 years. The
IAIA Low Residency MFA in Creative Writing
, now in its seventh year, is expanding on this legacy, graduating successful writers who are making distinct contributions to the body of Native American and world literature.
IAIA's MFA Creative Writing Program is celebrating the graduation of the largest class of writers to date, with 30 students having completed the requirements for the MFA in Creative Writing degree. IAIA moved its commencement ceremony to a Virtual Commencement to be held on August 22, 2020. Our MFA graduates will attend virtually to be conferred their degrees in the company of our keynote speaker and IAIA alum, Joy Harjo, the 23rd—and first Native American—two term Poet Laureate of the United States.
In response to the new circumstances as a result of the pandemic, the 2020 MFA Creative Writing Summer Residency was held completely online. What is normally a concentrated face-to-face experience on campus lasting about a week was expanded from July 6 to July 25. The Summer Reading Series, usually open to the public, has been held virtually and shared recordings offered to the public via online platforms.
As we head into the eighth year of the IAIA MFA in Creative Writing program, we are happy to share some recent news from our current students, alumni, and mentors.
"The Institute of American Indian Arts places priority on Indigenous worldviews in a contemporary context and attempts to locate its curriculum within that field of knowledge. The low-residency program is a place for writers to find community and be encouraged by writers producing serious work."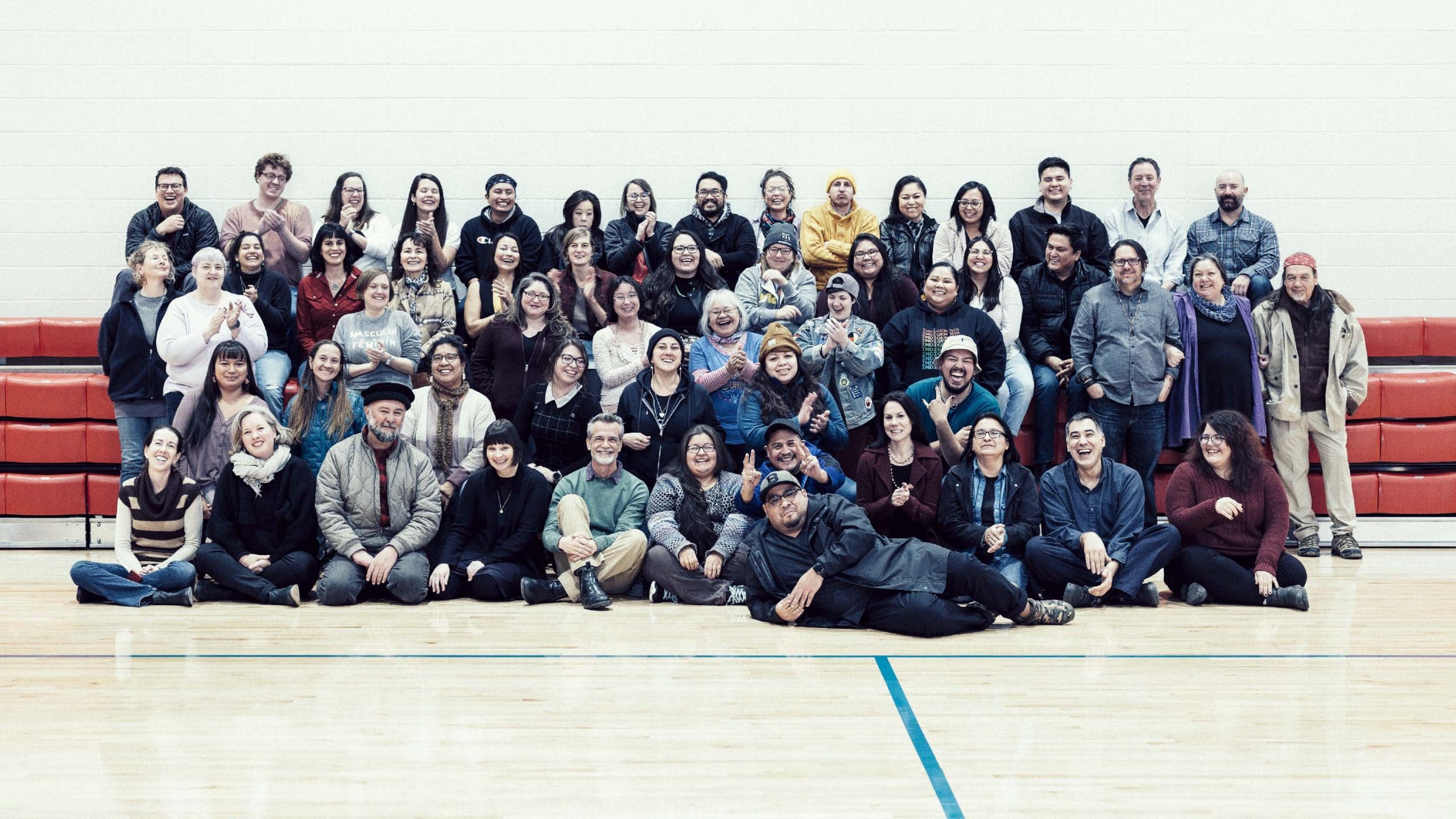 MFA Current Students
Stacie Denetsosie (Fiction, Second Year, Diné/Bitterwater) has had her piece "Dormant" published in George Mason's Literary Journal "Phoebe".
Roanna Shebala (Poetry, Second Year, Diné) taught a Continuing Studies course for IAIA this Summer, Indigenous Spoken Word: Bring Poems to the Stage.
News from MFA Alumni
Recent Graduates Shaina Nez ('20) and Chelsea Hicks ('20) were finalists in the 2020 Eliza So Fellowship and Alumna Ruby Hansen Murray ('17) was a runner-up.
A Diné Writers' Collective Fundraiser for COVID-19 Relief featuring IAIA MFA Alumni, Students, and Faculty, Esther Belin, Sherwin Bitsui, Shaina Nez, Crisosto Apache, Rowie Shebala, Jake Skeets, Manny Loley, Boderra Joe, and Brendan Basham took place June 25–26. The readings were conducted via Zoom and highlighted the Navajo and Hopi Families Relief Fund and the White Mountain Apache Tribe Covid-19 Relief Fund.
Peter Brass ('17) was a featured Artist in the Regina Leader-Post.
Alice Rose Crow ('15) shared her poem "Juneteenth" on KYUK AM.
Carla Crujido ('20) has had her first piece, "The Suitcase," published by "The Ana" out of San Francisco.
Jon Davis and >Kyce Bello ('17) had pieces in Pasatiempo's Poetry of the Pandemic.
Ramona Emerson ('15) was appointed to the state of New Mexico Governor's Council on Film and Media Industries. This appointment runs for one year (January 2020–2021).
Ginger Gaffney ('17) spoke with Carol Boss of KUMN about her memoir Half Broke.
Watch as Gaffney reads from her memoir and has conversation with Pam Houston on Writing for Writers.
Charlotte Gullick ('16) will have an essay, "The Salmon" included in The Best of Brevity: Twenty Groundbreaking Years of Flash Nonfiction due out in November 2020 by Rose Metal Press, edited by Zoe Bossiere and Dinty W. Moore.
Listen to Terese Maillot ('16) in an online conversation at OSU Tulsa Center for Poets and Writers.
Maillot's award-winning memoir Heart Berries was featured in the March issue of Teen Vogue for Women's History Month.
Ruby Hansen Murray ('17) had her piece "Wendover's Ghosts" published in the literary and fine arts online magazine High Desert Journal.
Carol MacLeod ('20) taught a Continuing Studies course for IAIA this Spring called Book Promotion Your Way.
Jake Skeets ('18), author of Eyes Bottle Dark with a Mouthful of Flowers: Poems (Milkweed Press, 2019) wins a Whiting Award for Poetry.
Skeets was named a finalist for the 2020 Lambda Literary Awards.
David Tromblay ('18) has a forthcoming book, As You Were, to be published by Dzanc Books (February 16, 2021), which is available for pre-order at Amazon.
Arianne True ('18) is a 2020–2021 Hugo House Fellow. She is planning to complete an experimental manuscript that asks the reader to engage with the decades-long effects of child abuse and what it means to steal and reclaim bodies. The manuscript is a museum in experimental poems, including galleries, notes from the curatorial staff, and a gift shop.
Angela C. Trudell Vasquez ('17) poet Laureate of Madison, WI, partnered with the Madison Public Library and the Wisconsin Book Festival to celebrate National Poetry Month with a reading by Poets Laureate past and present.
David Heska Wanbli Weiden ('18) is the author of the novel Winter Counts (Ecco/HarperCollins, forthcoming 2020) and the children's book Spotted Tail (Reycraft, 2019). David's story, "Carlisle Longings," is published in Shenandoah.
Spotted Tail won the 2020 Spur Award .
Weiden discusses writing inclusive books for kids with Cynthia Leitich Smith.
MFA Mentor News
Marie-Helene Bertino's third book, PARAKEET, a new novel about an uncanny brown bride dealing with the trauma of family on the eve of her wedding, published by Farrar, Straus and Giroux, launched on June 2, 2020, from FSG.
Bertino was recently featured in New York Times. Also read her Kirkus review.
Sherwin Bitsui (Diné) had an excerpt from his book "Dissolve" spotlighted on madisonpubliclibrary.org.
Bitsui was a Featured Poet in Ucross Spotlight.
Kimberly Blaeser (Anishinaabe/White Earth Nation) was this year's poet-in-residence for The Priory Writers' Retreat, which took place from June 25–28.
Blaeser was also a Featured Poet for Split This Rock Poetry Festival: Poems of Provocation & Witness (March, 2020) in Washington, DC as well as being named one of Wisconsin's 38 Influential Native Americans.
Some of Blaeser's recent publications include the following.
"Balance on the Verge of Vision," featured author in Siwarmayu: Un Río de Colibríes/Siwarmayu: A River of Hummingbirds. Includes poetry and picto-poems in Spanish and English.
"Minobaamadizi," A Plague of Poetry: 50 days of Poems, ed. by Hugh McMillan, Scotland. Thursday, May 28, 2020. Learn more.
"The Way We Love Something Small", Poem-a-Day. Academy of American Poets. April 8, 2020. Learn more.
"On Climbing Petroglyphs" and "Lost Mothers", Rocked by the Waters: Poems of Motherhood, eds. Margaret Hasse and Athena Kildegaard. (Minneapolis: Nodin Press, 2020). Print.
"Eloquence of Earth," Rewilding: Poems for the Environment, ed. Crystal S. Gibbins. (Minneapolis: Flexible Press, 2020.) Print.
"A Cosmology of Nibi: Picto-Poetics and Palimpsest in Anishinaabeg Watery Geographies," Geopoetics in Practice. Ed. Eric Magrane, Craig Santos Perez, et. al., Research in Culture, Space, and Identity Series. New York: Routledge, 2020. Print.
"All, Alone," & "Oh, Sheltering Bodies." "Hope, Anger, Inspiration, & More for Each Day." Black Earth Institute. Learn more.
"A Water Poem for Remembering." Poem of the Week. Split This Rock. The Quarry. March 13, 2020. Learn more.
"A Quest for Universal Suffrage," Project 19: The Poetry. NYC: New York Philharmonic, 2020. Learn more.
"Poem in Hungarian," 2019 április 12/April 22, 2019. Translated by Gábor Gyukics. Deák + Garden: Literary-cultural Portal. May 16, 2020. Learn more.
Interview, "Looking Past The Noise: Poetry As An 'Act Of Attention'" Angela Hugunin With Kimberly Blaeser, Chippewa Valley Writers Guild. Learn more.
Reading for Milwaukee Professional Dimensions "Sacagewea Awards." Learn more.
Split This Rock's virtual poetry reading, "Poems of Provocation and Witness," May 29, 2020. Learn more.
"Writing Poetry During A Pandemic," Morning Show, Wisconsin Public Radio, May 4, 2020. Learn more.
Jennifer Foerster (Mvskoke) published an essay, "Bamewawagezhikaquay: Jane Johnston Schoolcraft's Postpastoral Poetics," in Ecotone, No. 28. March 2020.
Foerster's poems, "From Coosa" are published in The Georgia Review, Spring 2020.
Foerster participated in a Poetry Reading with recent MFACW Graduate Zoë Johnson ('20) at the Woodland Pattern Book Center, Milwaukee, WI as part of a Native Writers in the 21st Century series.
Kelli Jo Ford (Cherokee Nation of Oklahoma) received a stellar review in The New York Times for her debut novel "Crooked Hallelujah." It will be published by Grove Press (July 14, 2020).
Brandon Hobson (Cherokee) has a new novel, The Removed, which will be published by Ecco in February 2021. Hobson also has fiction pieces coming out in American Short Fiction, Conjunctions, and McSweeney's Quarterly.
Pam Houston is publishing a collection of collaborative writings/correspondence with the writer Amy Irvine. Air Mail: Letters of Politics, Pandemics, and Place will be published by Torrey House Press in October 2020.
Toni Jensen's new collection of essays, CARRY: A Memoir of Survival on Stolen Land will be published by Ballantine Books on September 8, 2020.
Jensen was also the recipient of a creative writing fellowship from the National Endowment for the Arts.
Migizi Pensoneau ('16, Ponca/Ojibwe) discusses "Barkskins" on salon.com, and on uproxx.com.
Tommy Orange (Cheyanne) "New Jesus" a story, featured in literary journal, McSweeney's 58: 2040 A.D. on lithub.com.
Orange was a guest at the Kalamazoo Valley Community College's "About Writing" Visiting Writers Series for two events, an on-stage conversation and a reading and on-stage conversation.
David Treuer (Ojibwe) and Layli Long Soldier (Oglala Lakota) are among judges for the 2020 National Book Awards.
About The Low Residency MFA in Creative Writing
The Institute of American Indian Arts' (IAIA) MFA in Creative Writing is a two-year, low residency program that welcomes and celebrates diversity while emphasizing the importance of Native writers giving voice to the Native experience.
Our program is unique among low-residency MFA programs in Creative Writing, as we maintain a strong base in IAIA's mission "to empower creativity and leadership in Native arts and cultures through higher education, lifelong learning, and outreach." The program and the literature we read carries a distinct Native American and First Nations emphasis. The majority of our faculty are established Native American or First Nations authors.
The program offers one-on-one mentorships with faculty who specialize in multiple genres, including screenwriting, poetry, creative non-fiction, and fiction. Students gather twice a year on the IAIA campus in Santa Fe, NM for an intensive week of workshops, lectures, and readings with prominent Native and non-Native faculty and visiting writers.
The program's goal is to graduate strong writers with a choice of career paths, who can make a difference in their field through their writing and for the betterment of their communities.