MoCNA Receives Reader's Choice Award in USA Today 10Best
The Institute of American Indian Arts (IAIA) is pleased to share that USA TODAY 10Best named the
IAIA Museum of Contemporary Native Arts (MoCNA)
number three in the Readers' Choice contest for "Best Art Museum" in the United States. A panel of relevant experts were selected by USA TODAY and partnered with 10Best editors—together they selected the top twenty nominees, and the top ten were determined by popular vote. We thank everyone who believes in MoCNA's mission "to advance contemporary Native art through exhibitions, collections, public programs, and scholarship," and took the time to cast a vote for us.
The top ten winners in the category "Best Art Museum" are as follows:
Booth Western Art Museum—Cartersville, Georgia
Heard Museum—Phoenix, Arizona
IAIA Museum of Contemporary Native Arts—Santa Fe, New Mexico
National Museum of African Art, Smithsonian Institution—Washington, DC
Crystal Bridges Museum of American Art—Bentonville, Arkansas
Detroit Institute of Arts—Detroit, Michigan
The Cleveland Museum of Art—Cleveland, Ohio
Kimbell Art Museum—Fort Worth, Texas
The Art Institute of Chicago—Chicago, Illinois
The Metropolitan Museum of Art, New York—New York, New York
To learn more about the top ten "Best Art Museums," visit USA Today 10Best.
"MoCNA is pleased to be selected as the number three 'Best Art Museum' in the United States by USA Today. As an agent of change and a place of discourse, MoCNA exemplifies the power of museums to bring awareness to issues facing Indigenous Peoples and to challenge misperceptions of contemporary Indigenous arts. To receive this recognition is particularly special, as we are a small dedicated staff working ceaselessly to advance contemporary Indigenous arts and cultures in all we do. Thank you to the committee and to USA Today."
Protocols to Ensure a Safe Visitor Experience
Please self-assess your health before visiting the museum. Are you exhibiting any symptoms of COVID-19 (cough, difficulty breathing, headache, body aches, sore throat, loss of taste and smell, fever, and chills)? Have you been in contact with someone who has tested positive for COVID-19? If you are exhibiting any of these symptoms or have been exposed, please do not visit the museum and reschedule for a later date. If you purchased a ticket online, we will work with you on transferring that ticket to another date or providing you with a refund.
Respect social distancing and ensure everyone's safety by following all signage and directional arrows within each of our gallery spaces. Please respect our max occupancy signs for each gallery space and maintain 6 foot distance or more from other museum guests and staff.
Following New Mexico's public health order and IAIA's guiding principles, all visitors will be required to wear a face covering that covers the nose and mouth while in the museum.
Hand sanitizing stations have been placed throughout the museum for your convenience.
At the moment, no docent-led group tours or school tours will be provided.
Please be respectful of our staff and each other. We are here to ensure a safe space for everyone.
If you have questions, please call (505) 428-5912 or email store@iaia.edu.
Current and Upcoming MoCNA Exhibitions
A listing of current and upcoming exhibitions at the IAIA Museum of Contemporary Native Arts (MoCNA).
List of Events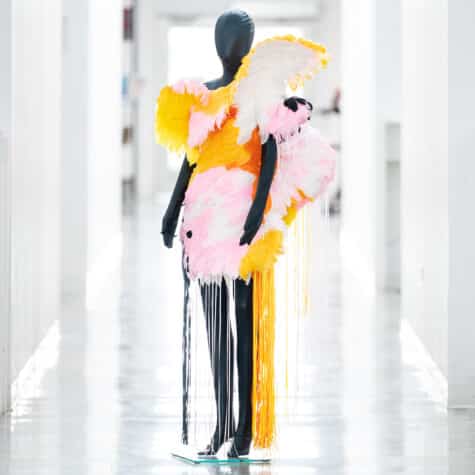 The IAIA 2022–2023 BFA Exhibition: Beyond Reflections recognizes the talent and artistic devotion of the Institute of American Indian Arts (IAIA) Studio Arts BFA students. Presenting a variety of media and motives for their artwork, Beyond Reflections captures the artists' exploration of identity, mental health, social activism, culture, and curiosities of the world around us.
IAIA Museum of Contemporary Native Arts