MoCNA Spring 2020 Exhibitions—Opening Reception
Join us on Thursday, February 13, from 4:30–7 pm for the IAIA Museum of Contemporary Native Arts' (MoCNA) Spring 2020 Exhibitions opening and reception. Exhibitions include G. Peter Jemison: Iroquois Creation Story, Indigenous Futurisms: Transcending Past/Present/Future, and Charlene Teters: Way of Sorrows.
Schedule of Happenings on Feb. 13
4:00 pm: "Huddled Masses" performance participants arrive in the North Courtyard.
5:00 pm: Charlene Teters (Spokane) and other performance participants enter the North Courtyard.
6:00 pm: Kite (Oglala Lakota), and Devin Ronneberg (Native Hawaiian descent) give an artist talk and a performance in the Fritz Scholder Gallery.
6:30 pm: Santiago X (Coushatta/Chamoru) give an artist talk in the Fritz Scholder Gallery.
For more information, please contact Senior Manager of Museum Education Winoka Yepa (Diné) at winoka.yepa@iaia.edu or (505) 482-5907.
List of Events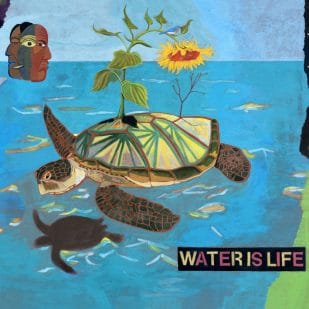 This exhibition features colored pencil drawings and 3-D works by renowned contemporary Native artist G. Peter Jemison (Seneca, Heron Clan) created in preparation for his film Iroquois Creation Story.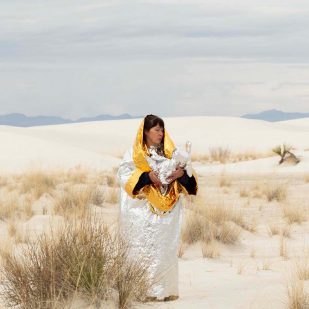 Way of Sorrows, a new installation by Charlene Teters (Spokane), addresses current issues such as forced migrations and the US-Mexico border crises, while asking questions about responsibility and identifying new myths.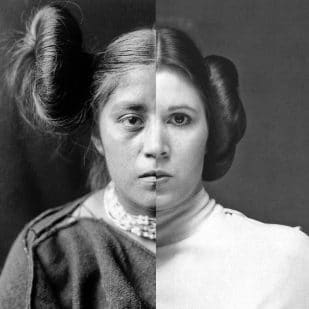 Indigenous Futurisms highlights artworks that present the future from a Native perspective, and illustrates the use of cosmology and science as part of tribal oral history and ways of life.
List of Events