The IAIA Museum of Contemporary Native Arts (MoCNA) is open to the public at a limited capacity as per the Governor's approval. The Museum is open Monday and Wednesdays through Sundays, 10 am–5 pm, and on Sunday from 11 am–4 pm at 75% capacity (maximum 100 individuals at any given time). The Museum remains closed on Tuesdays.
Tickets can be purchased online ahead of entry at www.iaia.edu/product/museum-admission.
Protocols to Ensure a Safe Visitor Experience
Please self-assess your health before visiting the museum. Are you exhibiting any symptoms of COVID-19 (cough, difficulty breathing, headache, body aches, sore throat, loss of taste and smell, fever, and chills)? Have you been in contact with someone who has tested positive for COVID-19? If you are exhibiting any of these symptoms or have been exposed, please do not visit the museum and reschedule for a later date. If you purchased a ticket online, we will work with you on transferring that ticket to another date or providing you with a refund.
Respect social distancing and ensure everyone's safety by following all signage and directional arrows within each of our gallery spaces. Please respect our max occupancy signs for each gallery space and maintain 6 foot distance or more from other museum guests and staff.
Following New Mexico's public health order and IAIA's guiding principles, all visitors will be required to wear a face covering that covers the nose and mouth while in the museum.
Hand sanitizing stations have been placed throughout the museum for your convenience.
At the moment, no docent-led group tours or school tours will be provided.
Please be respectful of our staff and each other. We are here to ensure a safe space for everyone.
If you have questions, please call (505) 428-5912 or email store@iaia.edu.
Current and Upcoming MoCNA Exhibitions
A listing of current and upcoming exhibitions at the IAIA Museum of Contemporary Native Arts (MoCNA).
List of Events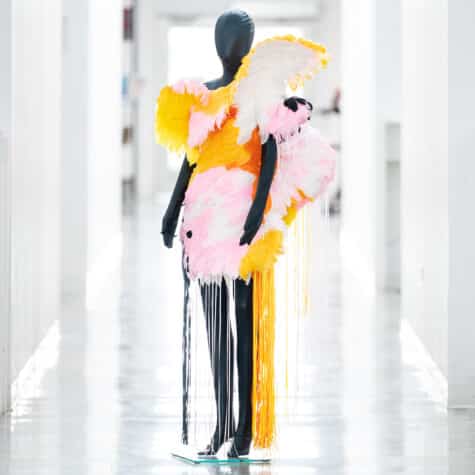 The IAIA 2022–2023 BFA Exhibition: Beyond Reflections recognizes the talent and artistic devotion of the Institute of American Indian Arts (IAIA) Studio Arts BFA students. Presenting a variety of media and motives for their artwork, Beyond Reflections captures the artists' exploration of identity, mental health, social activism, culture, and curiosities of the world around us.
Museum Store Exhibitions
A listing of current exhibitions at the Museum Store.
IAIA Museum of Contemporary Native Arts