The Digital Dome is a unique space to learn new applications for creative expression, scientific and technical exploration, and the merging of art and technology. It is also unique in the world as the only articulating dome which can move 90 degrees and be positioned in multiple locations for different viewing experiences. IAIA has joined the international fulldome consortium to link our programming and knowledge formation with others across the country and the world experimenting in ways in this immersive environment.
The Digital Dome consists of a:
Black box 41′ (width) x 41′ (width) x 31′ (ceiling height)
24′ (width) x 12′ (height) digital dome
Sky-Skan digital system including 6 projectors, 8 computers, and DigitalSky 2 software
The unique vDome interactivity and playback software developed at IAIA on a 12-core Mac tower (for audio) and two high end PC for 4k playback and interactivity using various software like Unity and Resolume
15.1 surround system with Motu 828MK3 30 channel audio interface Tascam DM-3200 mixer for live performance
30 moveable gaming chairs with a total seating of 55 in the dome
Power regulated by Eaton Powerware 9155 UPS
In addition to serving the students, faculty, and staff of the academic programs, the Digital Dome is available for artists, researchers, and/or teams of art technology collaborators. Contact the digital Dome Manager for more information. The Digital Dome along with the IAIA campus offers a host of resources to accommodate your project or event.
Digital Dome Blog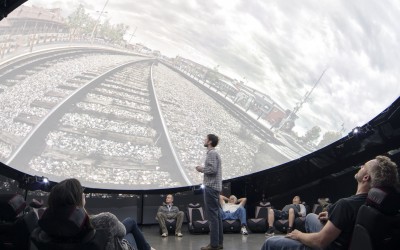 Academics Digital Dome In Spring we started our new monthly series of live musical performances and digital dome events that utilized many of our dome's versatile attributes. The digital dome is unique in that we have infinite control over the flexibility of the...
read more