The IAIA Museum of Contemporary Native Arts (MoCNA) is the country's only museum for exhibiting, collecting and interpreting the most progressive work of contemporary Native artists. MoCNA is dedicated solely to advancing the scholarship, discourse and interpretation of contemporary Native art for regional, national and international audiences. As such, it stewards the National Collection of Contemporary Native Art, 7,500 artworks in all media created in 1962 or later. MoCNA is at the forefront of contemporary Native art presentation and strives to be flexible, foresighted and risk-taking in its exhibitions and programs. MoCNA is located in the heart of downtown Santa Fe, New Mexico.
Current and Upcoming Exhibitions
A listing of current and upcoming exhibitions at the IAIA Museum of Contemporary Native Arts (MoCNA).
List of Events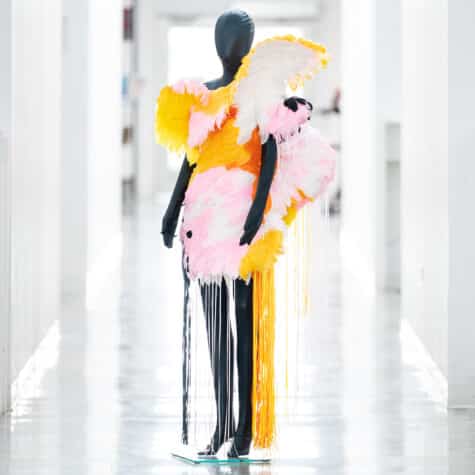 The IAIA 2022–2023 BFA Exhibition: Beyond Reflections recognizes the talent and artistic devotion of the Institute of American Indian Arts (IAIA) Studio Arts BFA students. Presenting a variety of media and motives for their artwork, Beyond Reflections captures the artists' exploration of identity, mental health, social activism, culture, and curiosities of the world around us.
Past Exhibitions
A listing of past exhibitions at the IAIA Museum of Contemporary Native Arts (MoCNA).
List of Events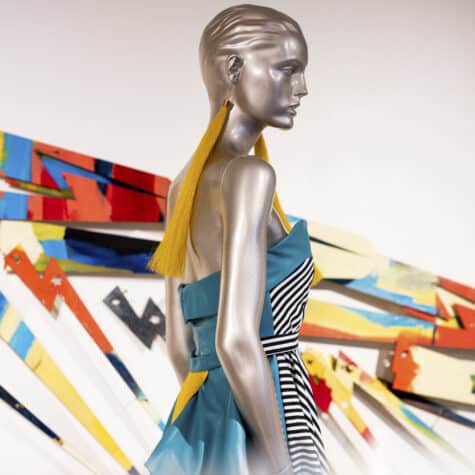 The Art of Indigenous Fashion offers insights into the approaches and perspectives of Indigenous designers beyond the visual and material qualities of their work.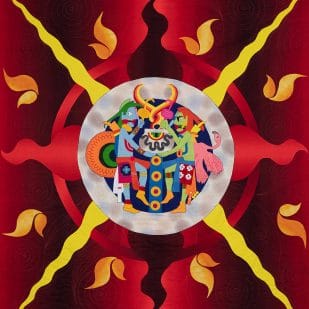 Matrilineal: Legacies of Our Mothers presents the art of three generations of Mvskoke (Creek) mothers and daughters.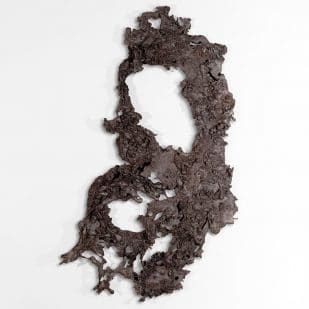 Athena LaTocha (Lakota and Ojibwe) created the works in her Mesabi series on-site at iron deposits in the Mesabi Mountain Range of northern Minnesota, which is known to the local Ojibwe as Misaabe-wajiw."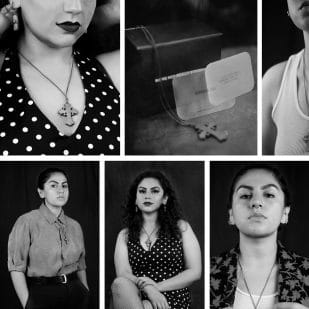 Awakened Dreamscapes is an exhibition of emerging students in the Institute of American Indian Arts' (IAIA) BFA programs.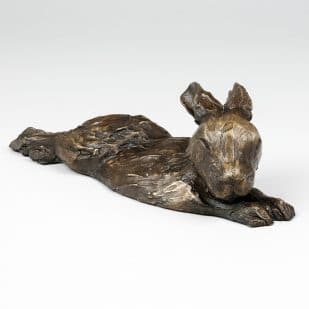 We Went Wild is an exhibition of emerging students in the Institute of American Indian Arts' (IAIA) BFA programs.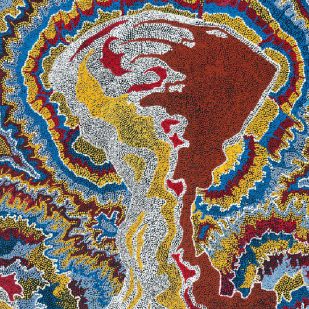 Exposure documents international Indigenous artists' responses to the impacts of nuclear testing, nuclear accidents, and uranium mining on Native peoples and the environment.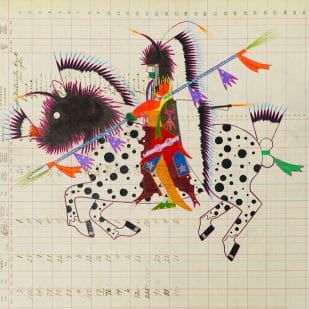 Manifesting Our Destinies highlights artwork that reflects the diverse backgrounds of this year's IAIA graduating BFA students.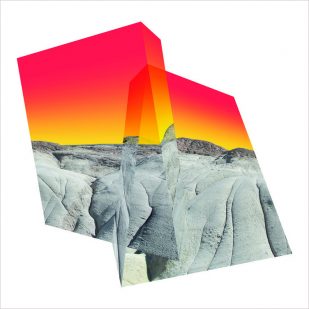 Altered Landscape series are abstract, photography-based works that juxtapose geometric shapes in bright neon colors against black-and-white aerial landscapes from the Four Corners region.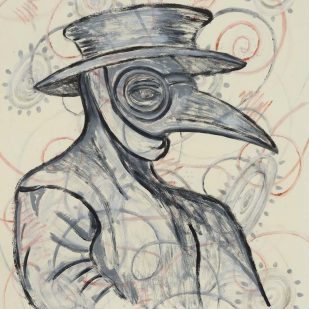 This exhibition gathers together more than sixty years of Linda Lomahaftewa's (Hopi/Choctaw) '65 artistic production.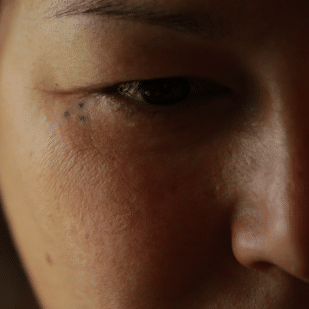 Sisters Rising is the story of six Native American women fighting to restore personal and tribal sovereignty in the face of ongoing sexual violence against Indigenous women in the United States.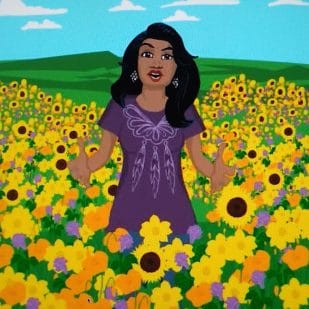 INJUNUITY is an eye-popping, mind-jolting mix of animation, music, and real voices collected from interviews with Native Americans.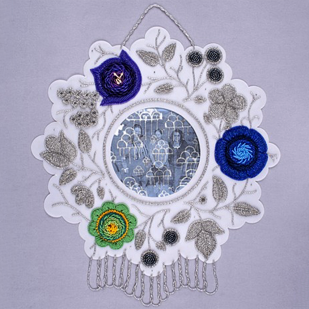 The exhibition FRAMED investigates issues of self-representation and identity and examines the "American Experience" from a Native perspective through mixed media works.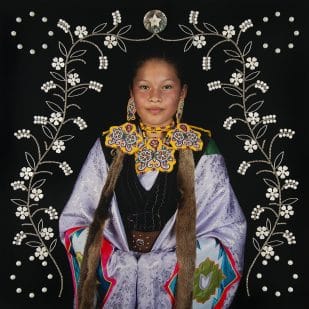 Strong Unrelenting Spirits features new works from Tom Jones' series of portraits that are rooted in his Ho-Chunk identity.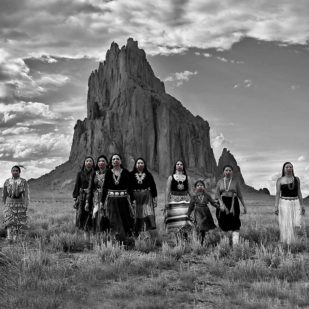 The multimedia art and film exhibition curated by Charmaine Jackson (Diné) features the nationally acclaimed film Somebody's Daughter, and works as part of Defiance of Silence: Missing and Murdered Indigenous Women and Girls.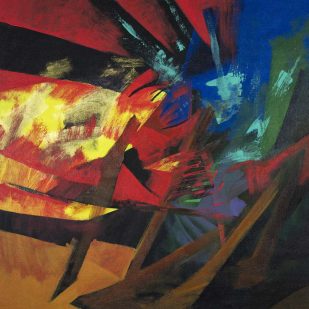 The exhibition tackles a wide variety of topics ranging from the revitalization of tribal regalia and mask making to healing from traumatic events that happened as a result of European colonization.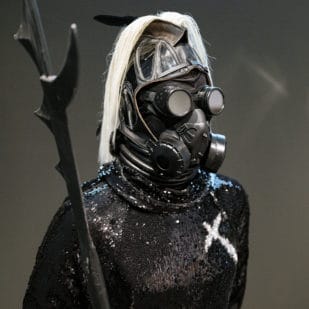 Indigenous Futurisms highlights artworks that present the future from a Native perspective, and illustrates the use of cosmology and science as part of tribal oral history and ways of life.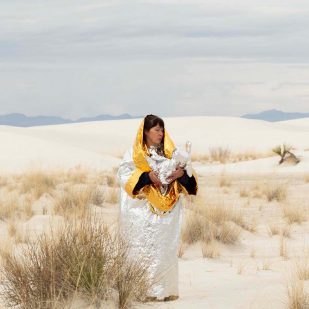 Way of Sorrows, a new installation by Charlene Teters (Spokane), addresses current issues such as forced migrations and the US-Mexico border crises, while asking questions about responsibility and identifying new myths.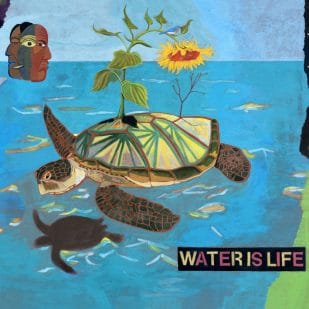 This exhibition features colored pencil drawings and 3-D works by renowned contemporary Native artist G. Peter Jemison (Seneca, Heron Clan) created in preparation for his film Iroquois Creation Story.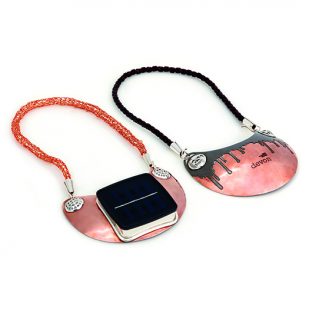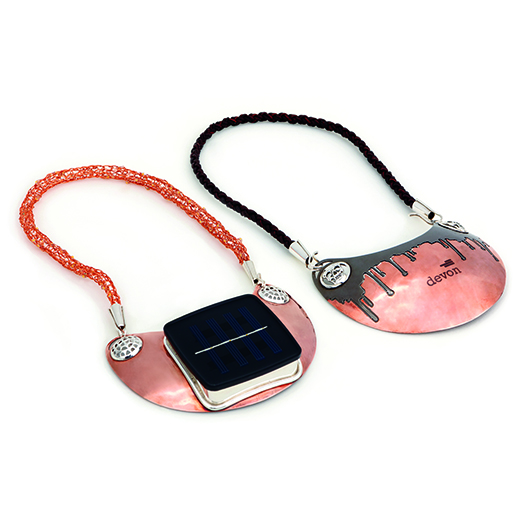 Visual Voices: Contemporary Chickasaw Art presents thought provoking, experimental, and critical works by fifteen established and emerging artists whose art confirms a strong continuation of Chickasaw art practices.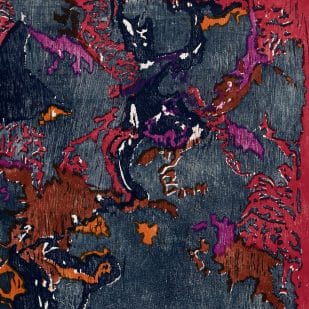 Experimental exPRESSion: Printmaking at IAIA, 1963–1980 features fifty-one recently-acquired works on paper from the Tubis Print Collection.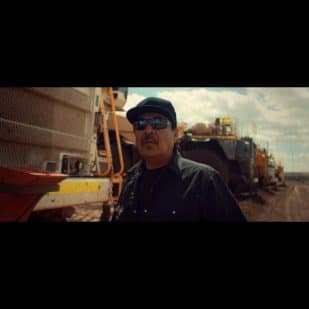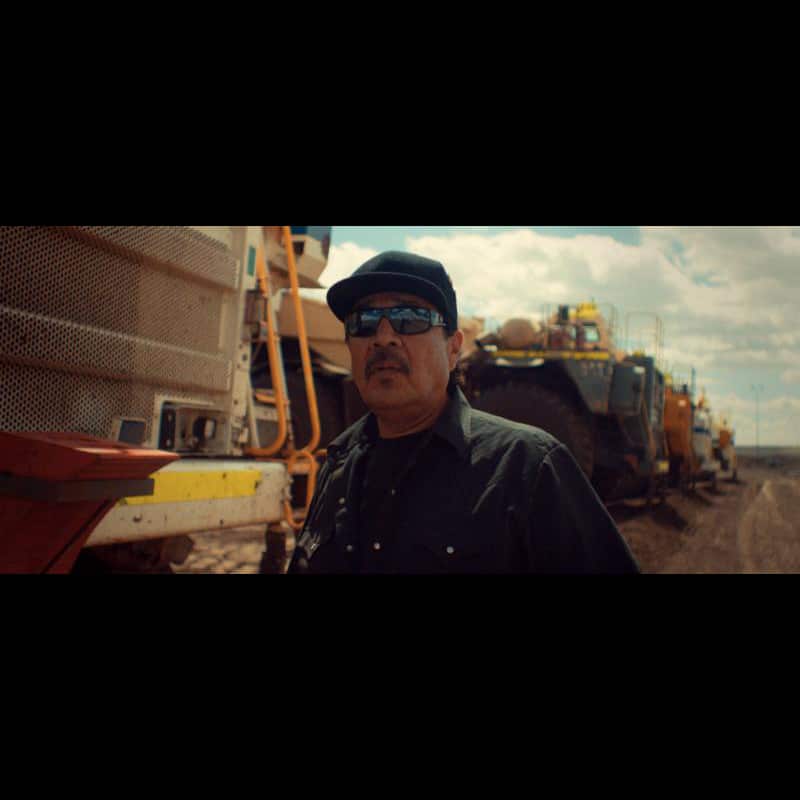 The Blessing is a vital piece of modern Native storytelling. The film has some of the most unique and intimate views of life today on a reservation we've ever seen.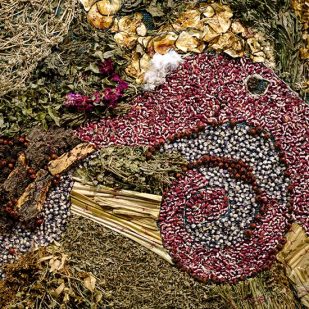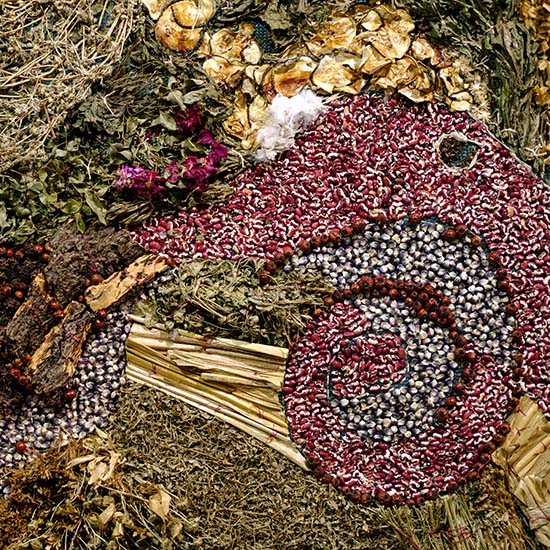 Reconciliation responds to the transformation and last year's ending of "La Entrada" as part of the Santa Fe Fiestas. Recognizing the power of art to open dialogue toward reconciliation, the exhibition will serve as an expression of "post-entrada" creativity in Santa Fe and surrounding communities.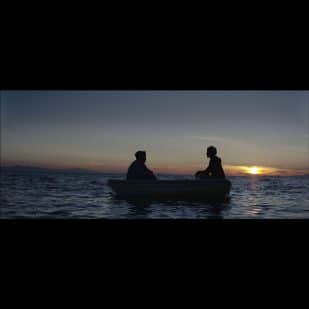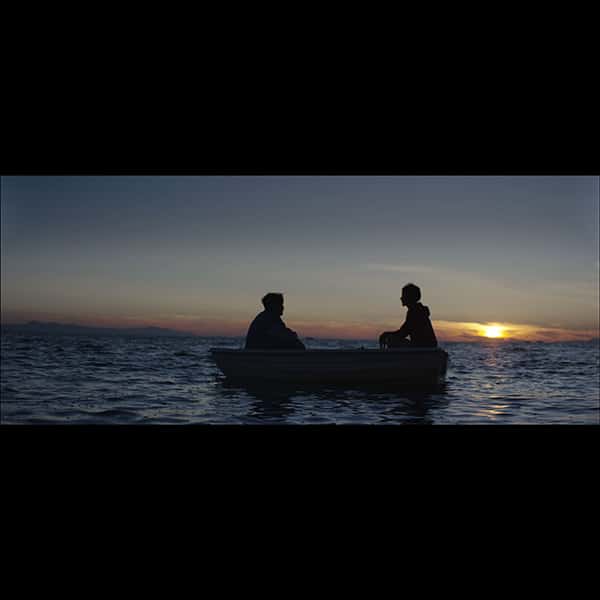 Through video and installation art, this exhibition creates a narrative of visual sovereignty and cultural and intellectual connections with contemporary Sámi, who are Indigenous peoples from parts of Norway, Sweden, and northern Finland.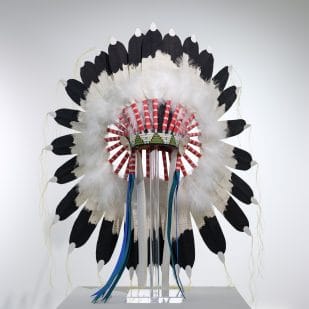 The exhibition examines Dwayne Wilcox's (Oglala Lakota) own lived experience as an artist creating work that is linked to historic forms of narrative communication of his Lakota people and post-modernism in its powerfully ironic stance.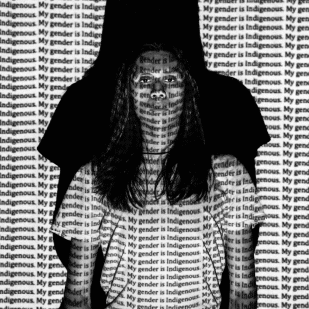 #NoFilter: IAIA 2019 BFA Exhibition showcases the diversity of work being created by IAIA seniors trained in studio and cinematic arts. The selected works by these artists are grounded in ideas of personal, political, social, cultural, or historical import—and reflect an earnest exploration of the artists's chosen media.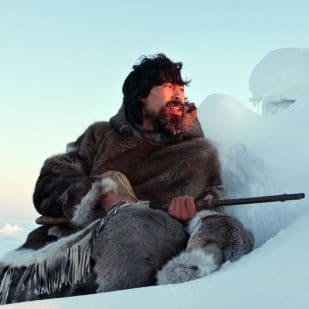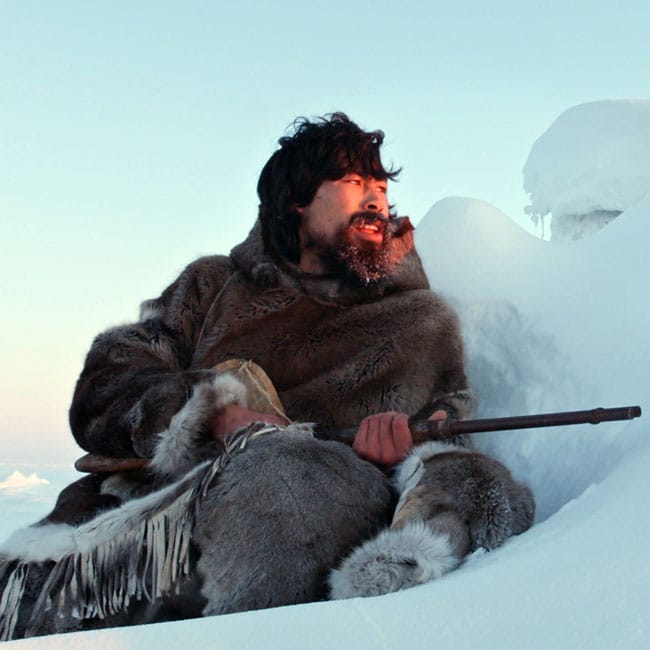 MoCNA presents two feature-length films directed by Zacharias Kunuk, in conjunction with the exhibition Art for a New Understanding: Native Perspectives, 1950 to Now.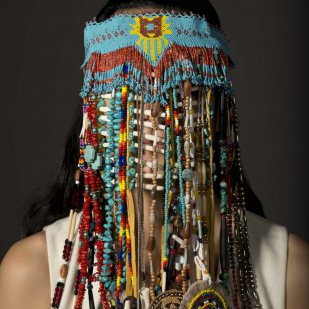 Art for a New Understanding: Native Perspectives, 1950s to Now seeks to expand and reposition art in the U.S. and Canada since 1950. It is the first exhibition to chart the development of contemporary Indigenous art from the United States and Canada.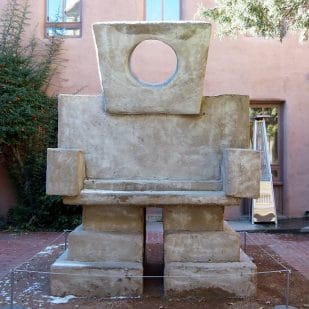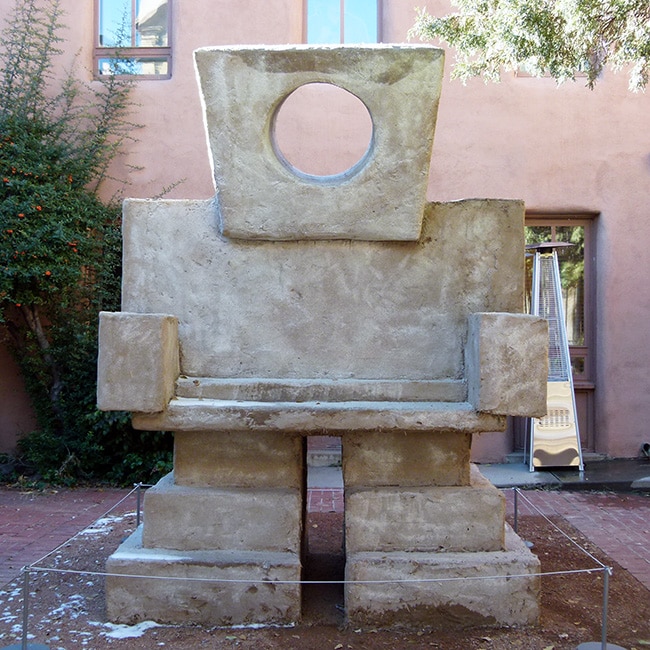 Wayne Nez Gaussoin's (Diné/Picuris Pueblo) Adobobot is a modern modular robot with a Southwestern adobe façade.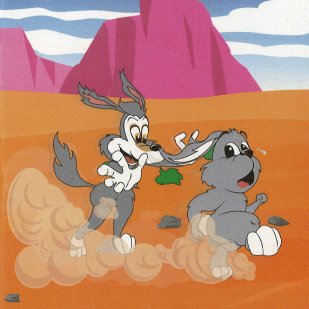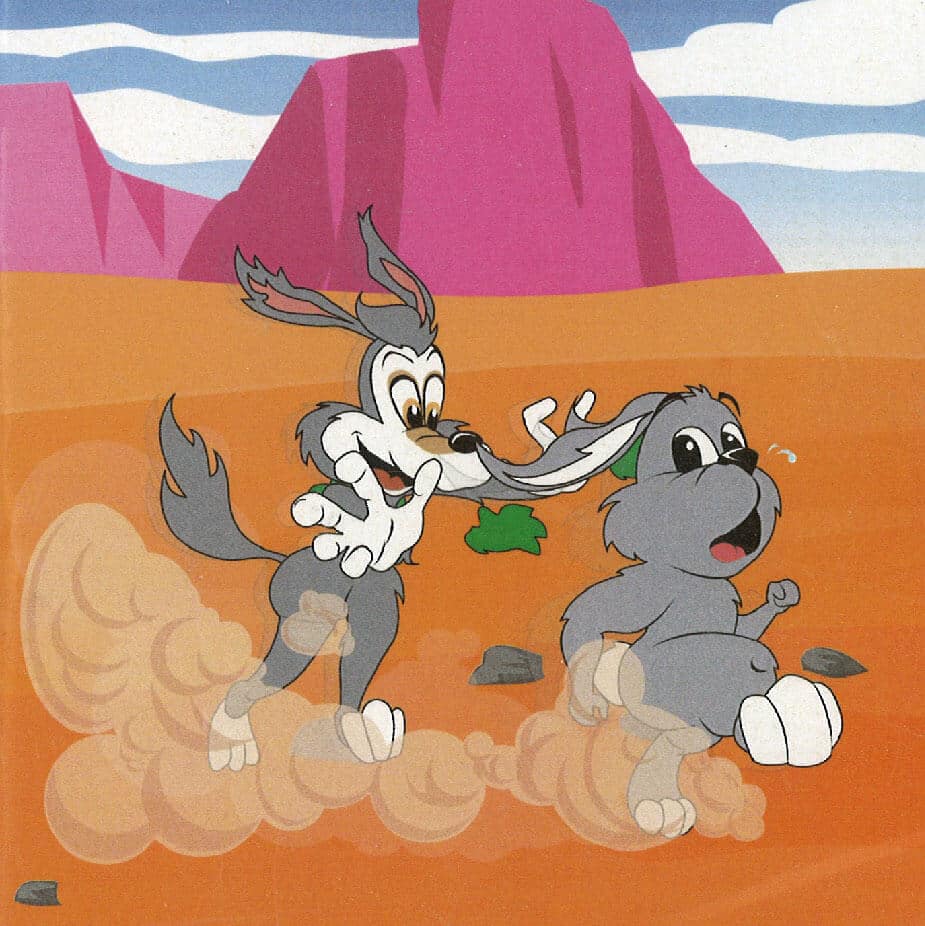 Animation has been a part of everyday life in mainstream America and Native American communities for decades. Contemporary Indigenous artists, animators, actors, directors, producers, and script writers, now more than ever, offer audiences a new angle on Native American culture in developing animation to voice Indigenous narratives both present and traditional.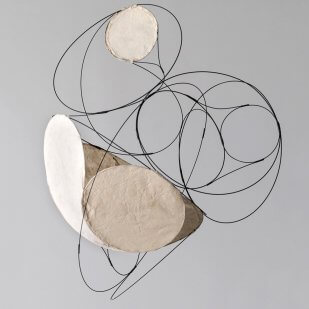 Meeting the Clouds Halfway is a collaboration between Tohono O'odham basket weaver Terrol Dew Johnson and architects Aranda\Lasch (Ben Aranda and Chris Lasch) from Tucson and New York. The exhibition features contemporary basketry and architecture that blend traditional craft with modern design.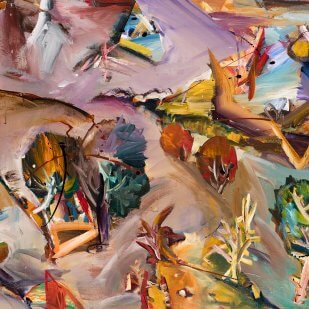 Expanding Horizons highlights new abstract landscapes by Darren Vigil Gray (Jicarilla Apache/Kiowa Apache). The works reflect Gray's personal approach to the subject "landscape," and his spontaneous painting method inspired by abstract expressionism and his inner self.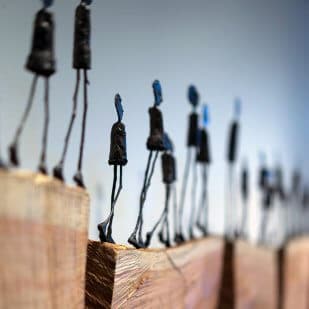 Holly Wilson (Delaware Tribe of Western Oklahoma/Cherokee) presents her new narrative works created in a variety of media including bronze, wood, and encaustic. Her figures serve as her storytellers to the world. They often resemble stick figures or animals with human characteristics.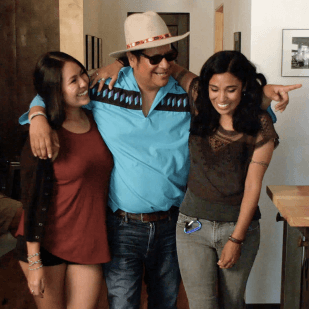 MoCNA is pleased to present six innovative films made by Southwestern based Native American directors and their teams of writers, producers, editors, and actors.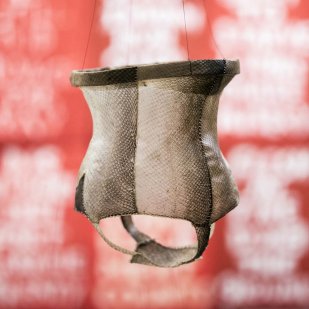 Without Boundaries is an exhibition that grew out of a series of Curated Conversations led by guest curator and artist Sonya Kelliher-Combs at the Anchorage Museum, Anchorage, Alaska. The exhibition features Indigenous leaders in the arts and the work of contemporary artists whose work encourages social action.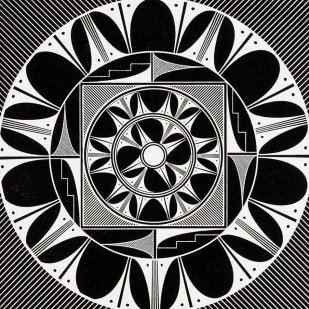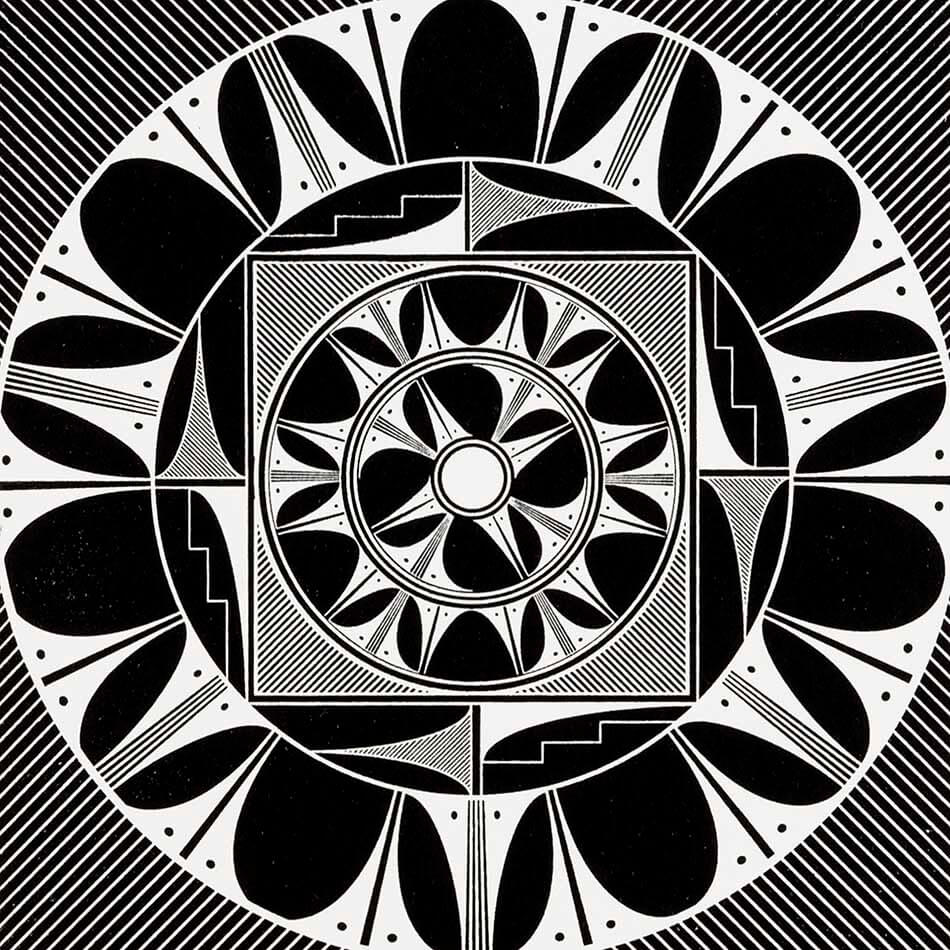 The Institute of America Indian Arts's 2018 BFA thesis exhibition at the IAIA Museum of Contemporary Native Arts showcases the diversity of work created by the artists trained at IAIA.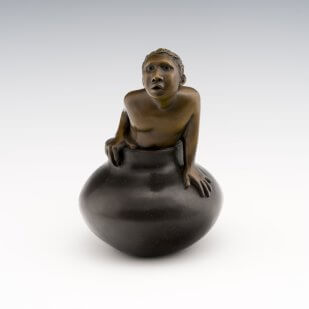 This exhibition highlights works from The Harjo Family Collection. The major art collection was recently donated to the IAIA Museum of Contemporary Native Arts and contains about sixty artworks. These works were purchased or gifted to Suzan Shown Harjo (Cheyenne/Hodulgee Muscogee), an important American Indian activist, lobbyist, policy maker, and 2011 recipient of an IAIA Honorary Doctorate.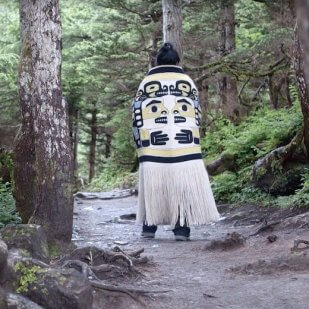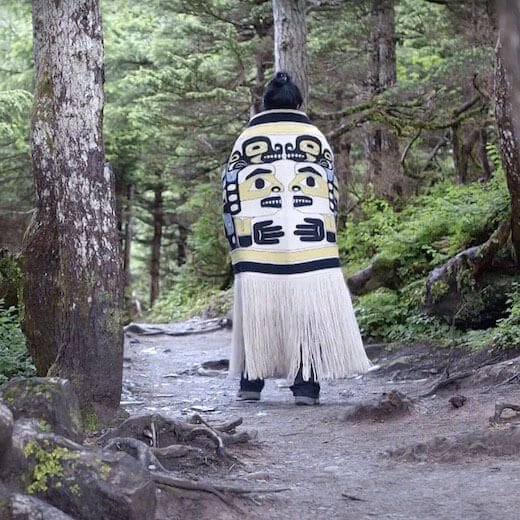 MoCNA is please to collaborate with the University of Alaska Fairbanks (UAF) in the presentation of films that reflect both home-grown cinematic influences in Alaskan film and works generated by UAF students and alumni.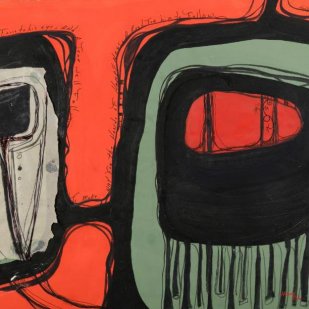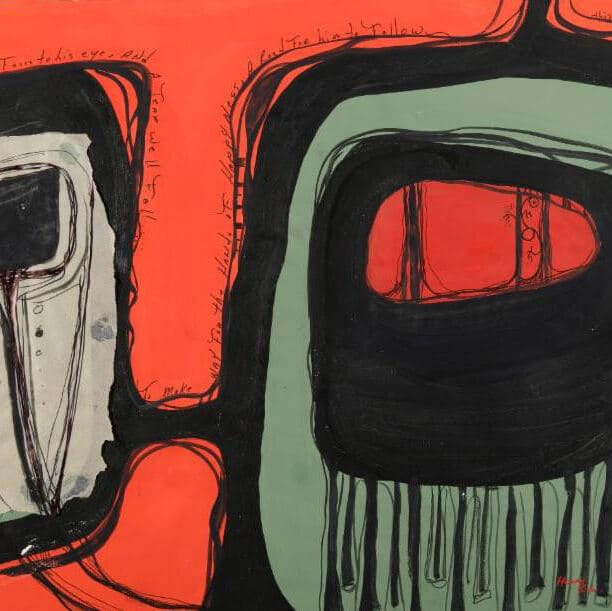 Action Abstraction Redefined features paintings and works on paper from the IAIA Museum of Contemporary Native Arts (MoCNA) permanent collection created in the 1960s and 1970s. The artists in this exhibition challenged stereotypical expectations of Indian art by experimenting with American modern art movements such as Abstract Expressionism, Color Field and Hard-edge Painting combined with art influences from their own cultural heritage.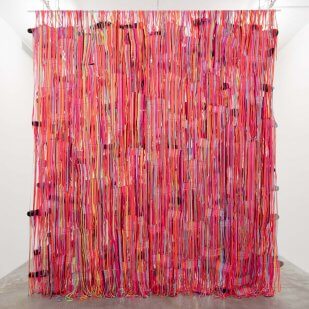 Connective Tissue: New Approaches to Fiber in Contemporary Native Art features contemporary Native American artists who integrate various forms of fiber art media and methods to achieve their visions and to make their statements. They share an interest in the materiality and technique of fiber art.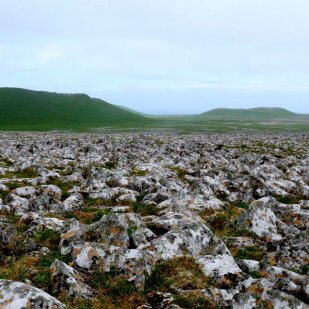 MoCNA is pleased to present the digital works of filmmaker Sky Hopinka (Ho-Chunk Nation of Wisconsin/Pechanga Band of Luiseño Indians). Hopinka's work is both multifaceted conceptually and formally, with involved tiers of images and narratives. Beautiful and mysterious, thick with color and gesture, his films are filled with notions and confluences around tribal identity, language and land.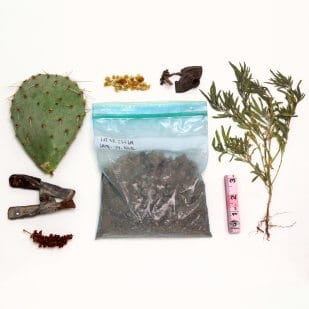 Desert ArtLAB is an interdisciplinary art collaborative, established by museum curator and educator April Bojorquez (Chicana/Rarámuri) and artist and educator Matthew Garcia (Chicano). The collaborative reconceptualizes desert/dryland ecologies not as post-apocalyptic growth of wasteland, but as an ecological opportunity.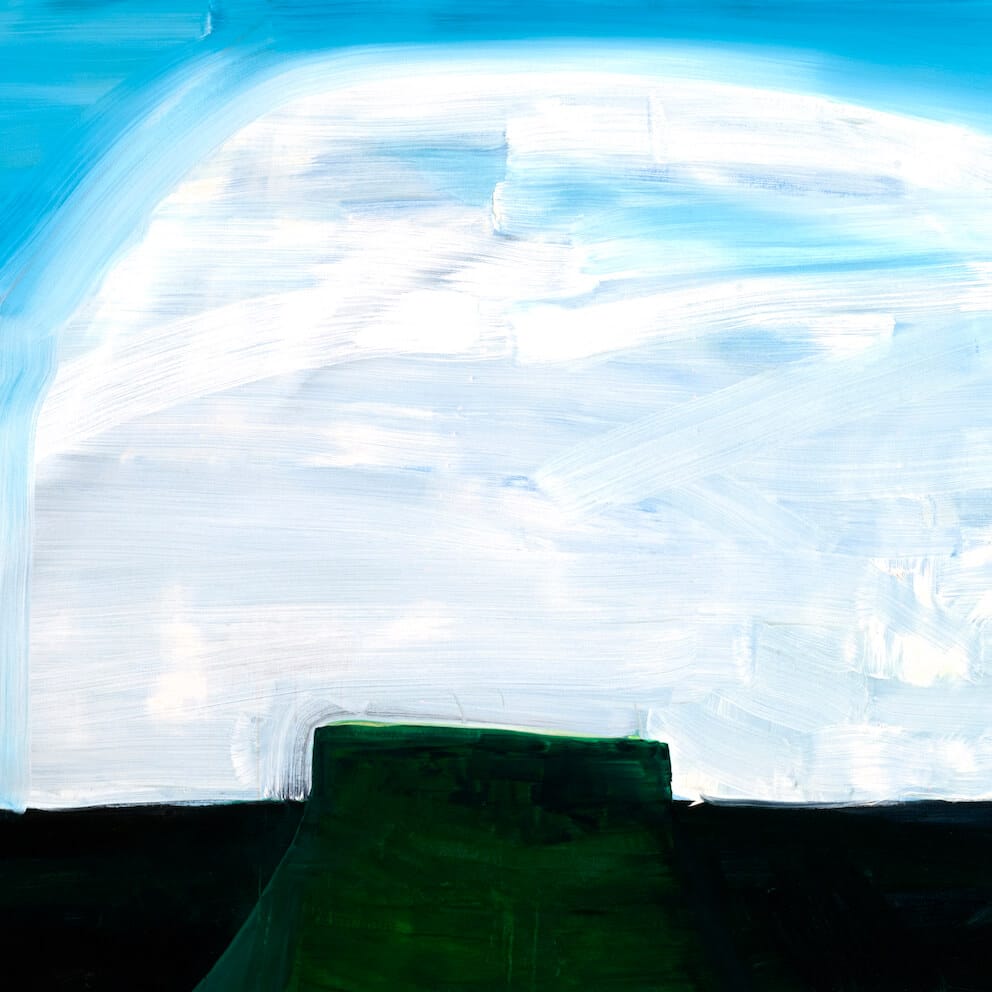 New Acquisitions: 2011–2017 highlights newly acquired work over the past six years from MoCNA's Permanent Collection and demonstrates the museum's commitment to collect works that are visionary and a testament to IAIA's innovative spirit. The selected artworks complement each other through aesthetic, color, and form, but also share an expansive vision collectively.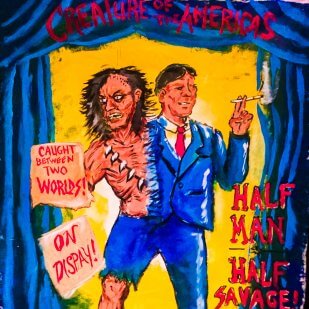 The IAIA Museum of Contemporary Native Arts (MoCNA) presents IN CONCLUSION, a BFA exhibition showcasing the graduating class of 2016–2017. IAIA continually inspires the next generation of Indigenous and non-Indigenous artists alike.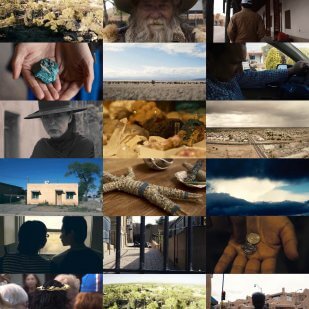 IAIA Museum of Contemporary Native Arts (MoCNA) created a 10-day Social Engagement Art residency program which offers four Native artists a year an opportunity to create socially engaged art. The museum serves as a catalyst for artists to generate community dialogue and dynamic experiences. The MoCNA Social Engagement Residency realizes socially engaged art projects that […]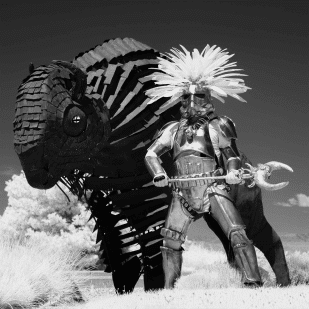 Recent works by IAIA Artist-in-Residence (A-i-R) artists explore current themes and trends in contemporary Native American art, including Indigenous science fiction and visionary Native histories. Several of the works are inspired by Native abstract symbolism of the past and their futuristic aesthetics, while others respond to popular culture and investigate the role of Star Wars™ in […]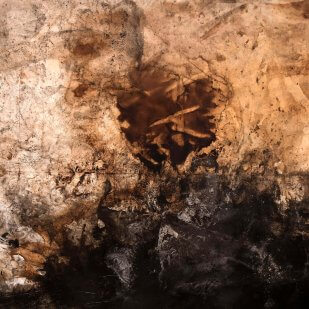 This solo exhibition showcases recent drawings and paintings by artist Athena LaTocha (Hunkpapa Lakota and Ojibwe) based on her recent experiences in Santa Fe. Her contemporary landscape paintings focus on the dynamic gesture and atmosphere that recall nature's powerful forces. LaTocha's unorthodox approach to the subject 'landscape' involves personal memories and the use of unusual […]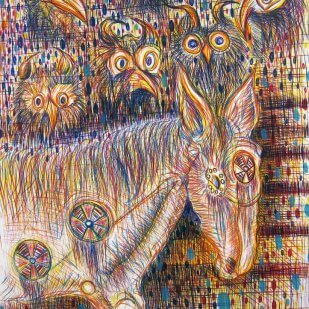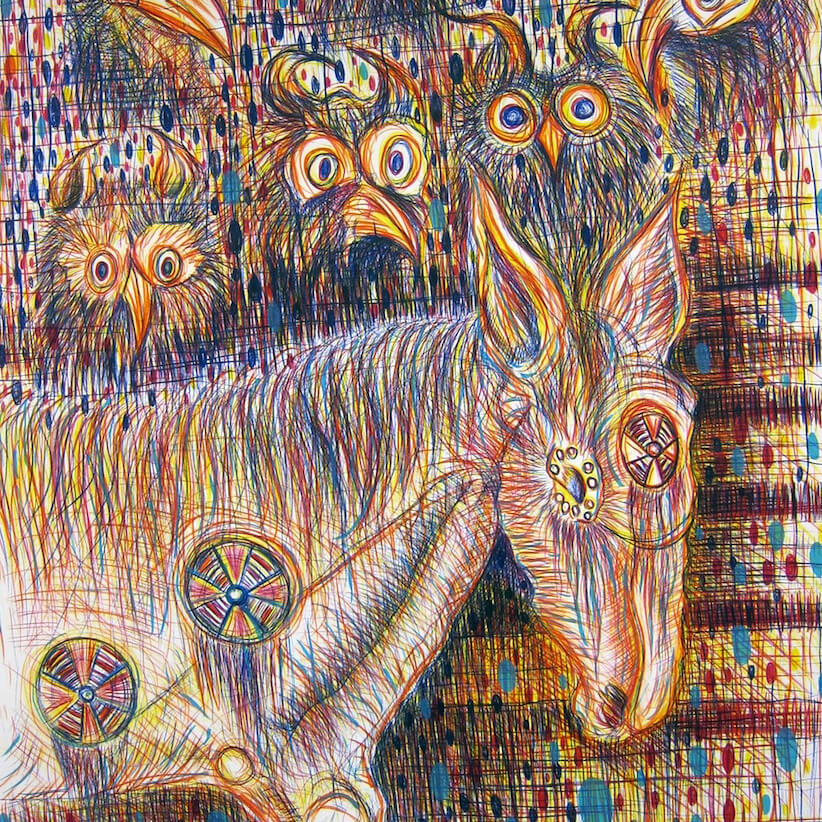 Organized by the International Print Center New York, New Impressions: Experiments in Contemporary Native American Printmaking showcases over forty prints by twelve contemporary Native American printmakers. Grounding their work in the images, textures, and experiences that shaped their lives, artists layer old and new, past and present to explore how the attitudes that informed the […]

This film program features SWAIA's 2016 Indian Market Moving Image Classification X winners. Awards for Narrative Short, Documentary Short, Animation Short, Experimental Short, Music Video, and Youth Winners, recognize dedication and skill in working with new media and innovative art forms while retaining a commitment to traditional creation and technique. Award-winning films will be shown […]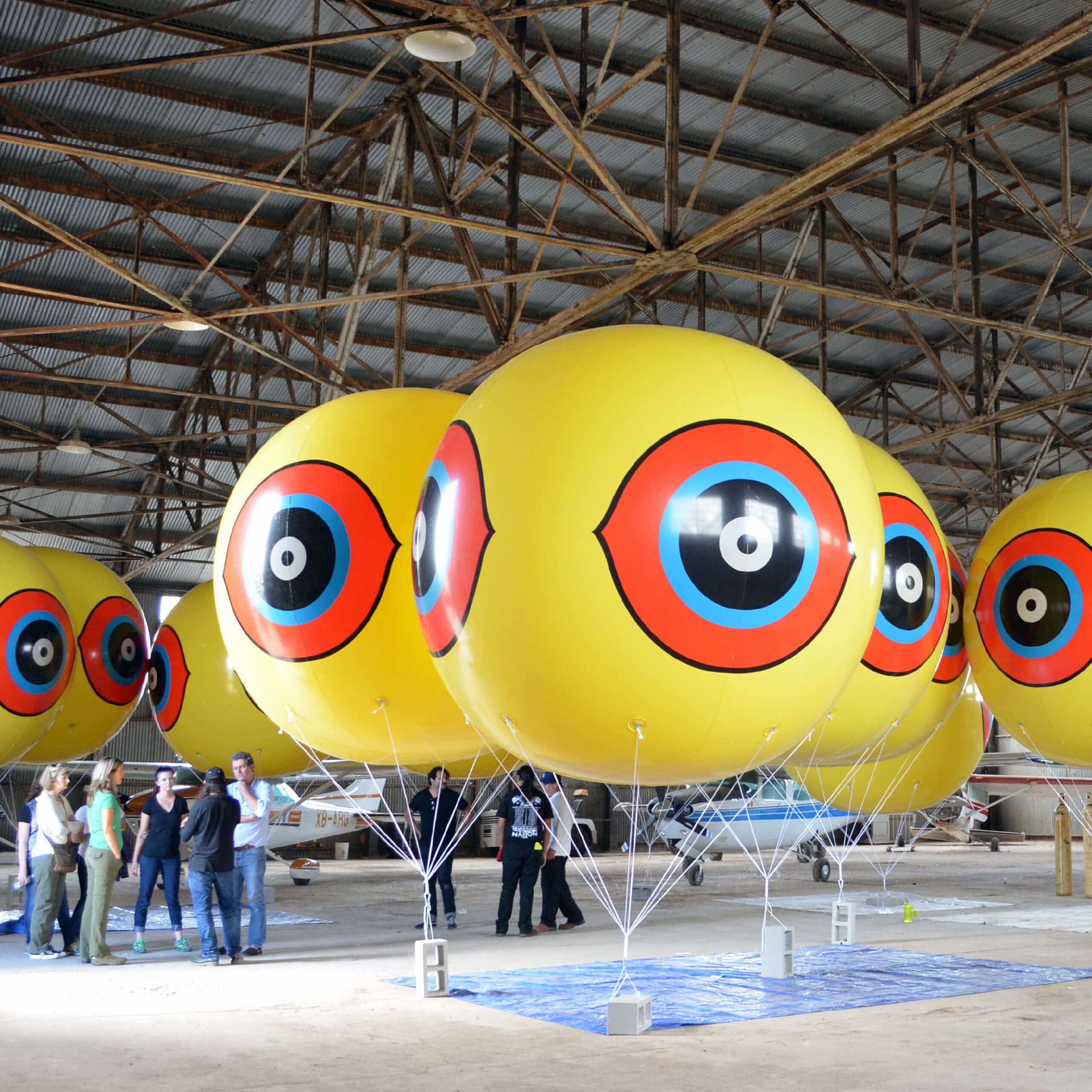 Selected scenes from Moving Mountains (20 minutes), an upcoming feature documentary about The Repellent Fence, a two-mile long ephemeral monument created by Indigenous art collective Postcommodity that spanned the United States and Mexico border for three days in October, 2015. Download and view the .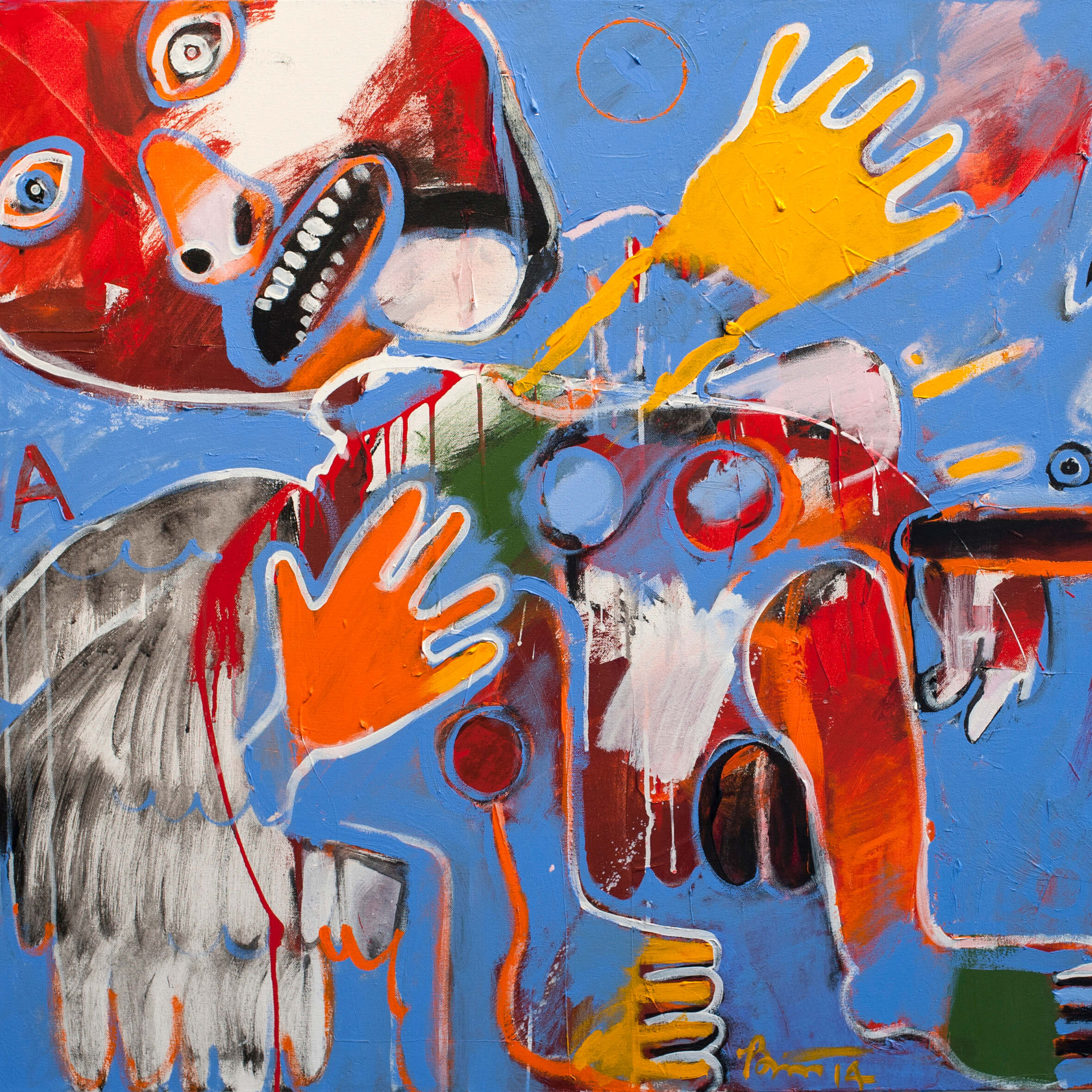 Organized by the Jordan Schnitzer Museum of Art at the University of Oregon, the exhibition represents 40 years of work by the Native American artist. More than 120 paintings, drawings, sculptures, and prints will be on view in "Rick Bartow: Things You Know But Cannot Explain," a major retrospective exhibition organized by the Jordan Schnitzer […]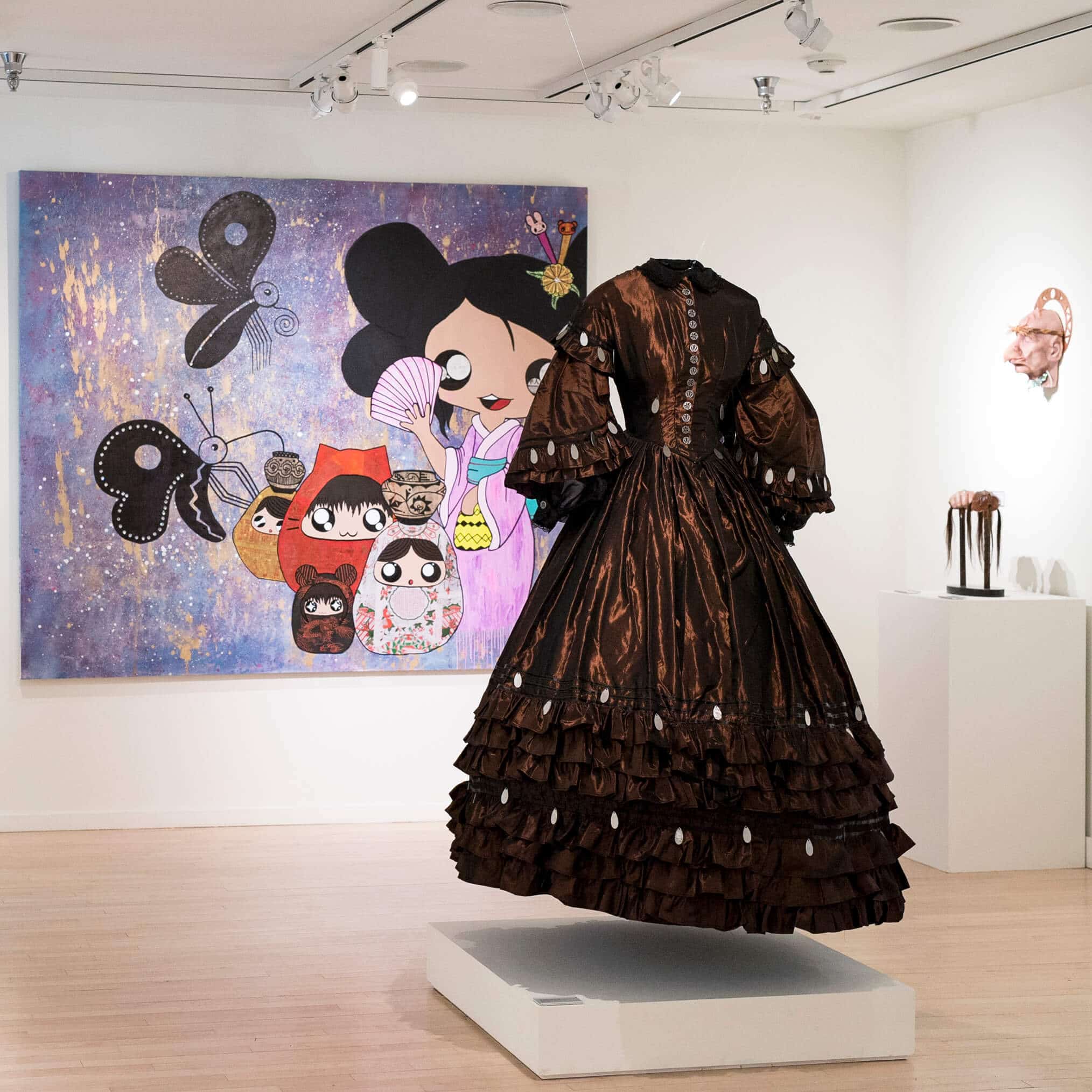 The IAIA Museum of Contemporary Native Arts (MoCNA) is proud to present the IAIA annual BFA graduating student exhibition. This year's exhibition celebrates the class of 2015–2016 and showcases a diversity of styles that combine traditional skill with contemporary vision. These artists represent the future of Native art, charting a path for others to follow. […]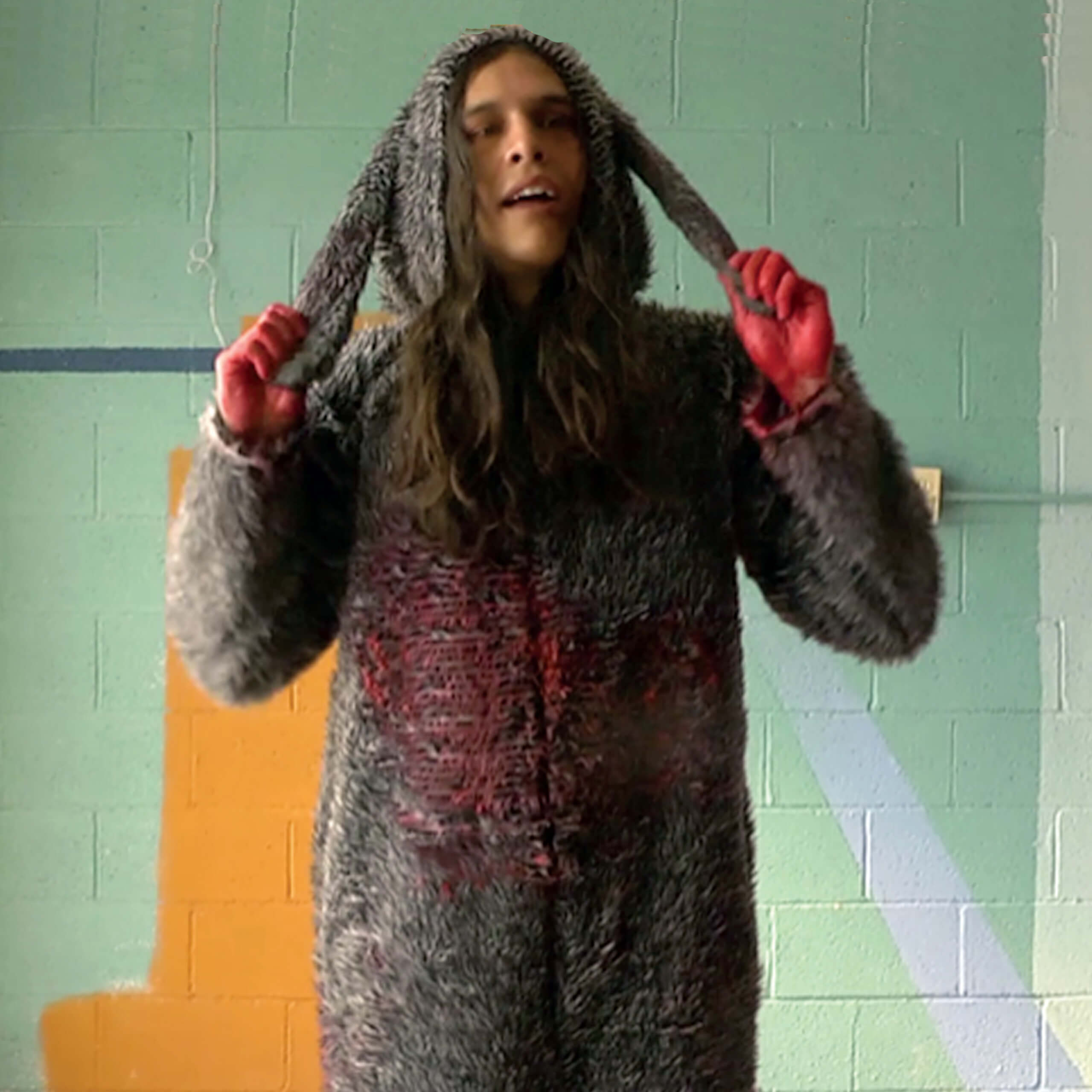 Now in its third year, IAIA's Department of Cinematic Arts is encouraging, training, and inspiring a new generation of Native filmmakers by providing them with the tools and a curriculum founded on the principles of meaningful storytelling, technical proficiency, ethical behavior, and a knowledge of cinematic history and concepts. IAIA is taking a leadership role […]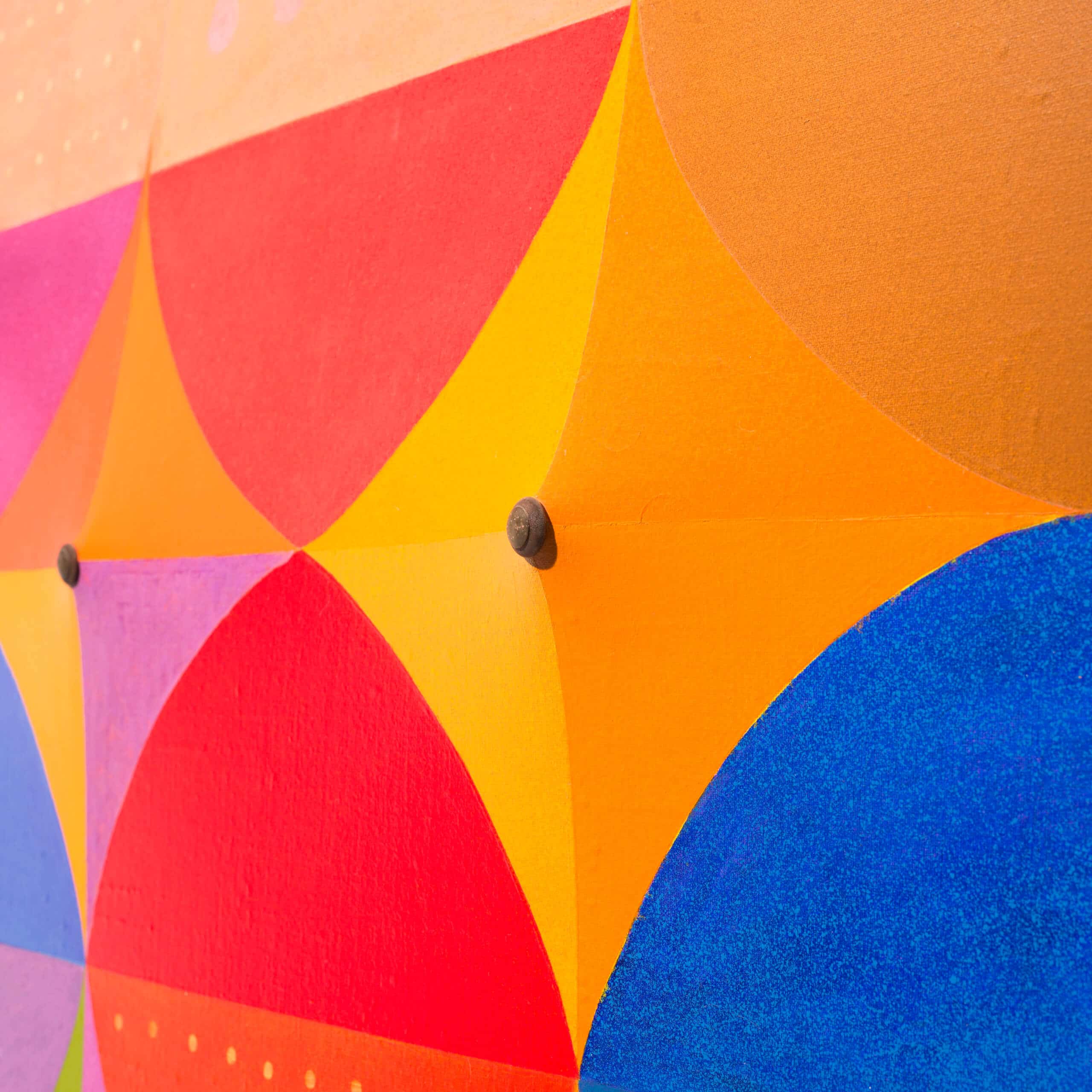 Lloyd Kiva New: Art features nearly thirty paintings by Cherokee artist Lloyd Henri "Kiva" New (1916–2002) completed between 1938–1995. New is best known for fashion design and the development of innovative concepts in cultural based education for Native people. Extravagant handbags, dresses, and modern design are calling cards of New's art career, but his two-dimensional […]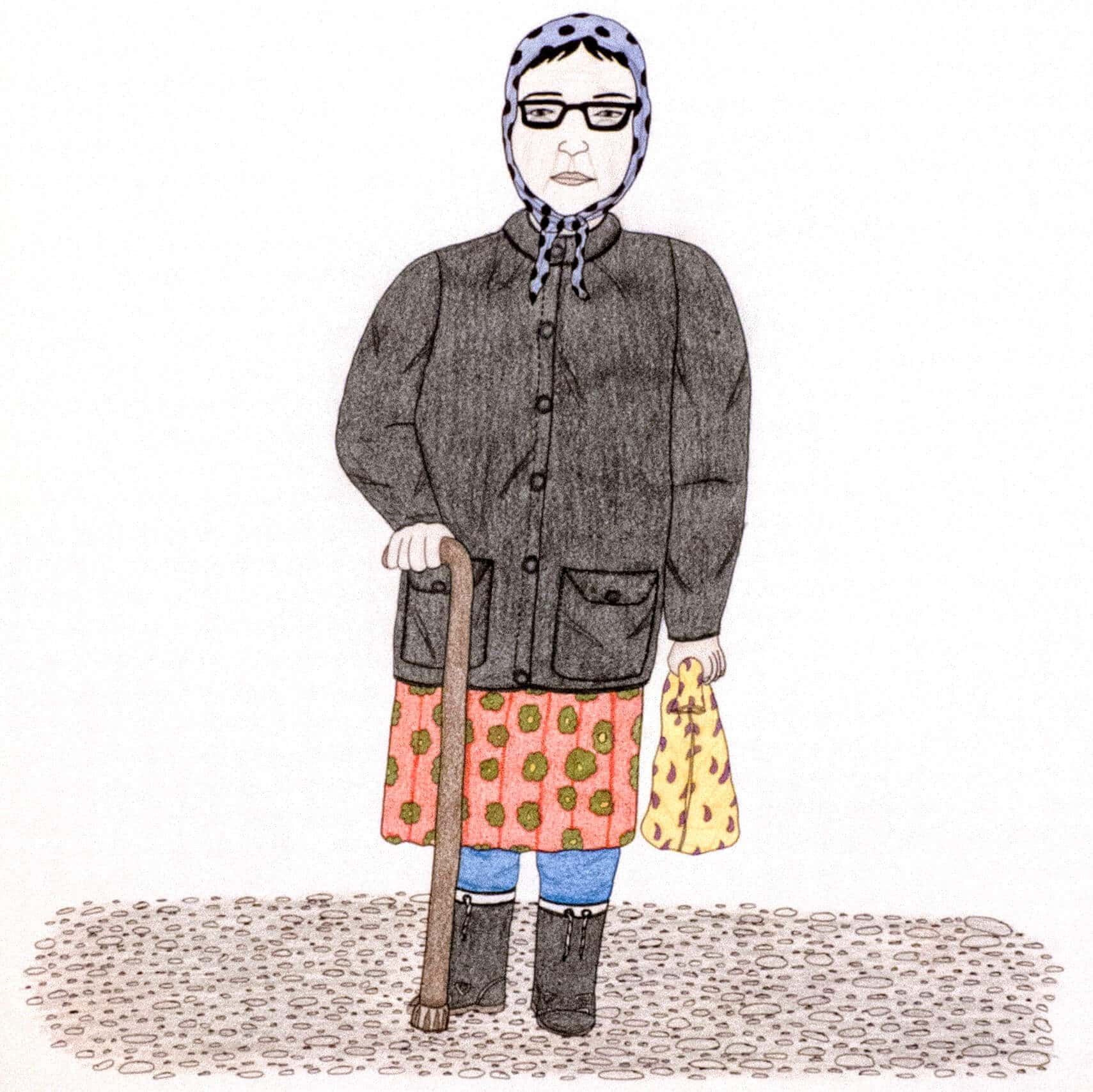 Loosely translated, the Inuktitut word Akunnittinni means "between us." This exhibition chronicles a visual dialogue between an Inuk grandmother, mother, and daughter—Pitseolak Ashoona (1904-1983), Napachie Pootoogook (1938-2002), and Annie Pootoogook (1969- ). Their artworks provide a personal and cultural history of three generations of Inuit women whose art practices included autobiographic narratives and have chronicled […]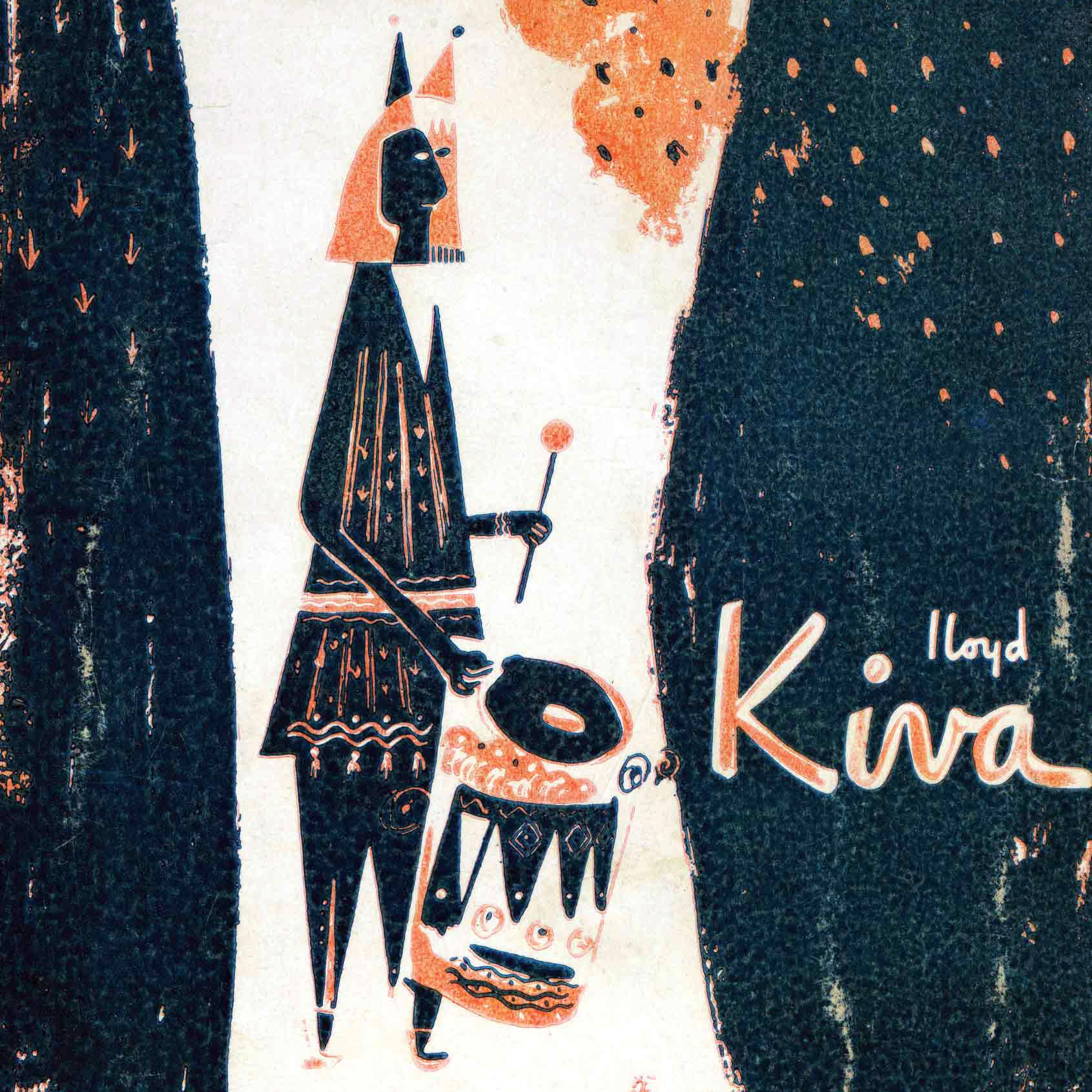 Lloyd Kiva New: Art, Design, and Influence celebrates the work of Cherokee artist and educator Lloyd Henri "Kiva" New (1916-2002). This exhibition observes New's 100th birthday and draws on three major themes of his legacy, each tied to his innovative concepts in Native art and culturally-based education. Lloyd Kiva New: Art, Design, and Influence includes […]

This film program features SWAIA's Indian Market Moving Image Classification X winners. Awards for Animation Short, Documentary Short, Experimental Short, Narrative Short, Music Video, and Youth Short, recognize the artist's dedication and skill in working with new media and innovative art forms while retaining a commitment to traditional creation and technique. 2015 Class X Winners Animated Short How […]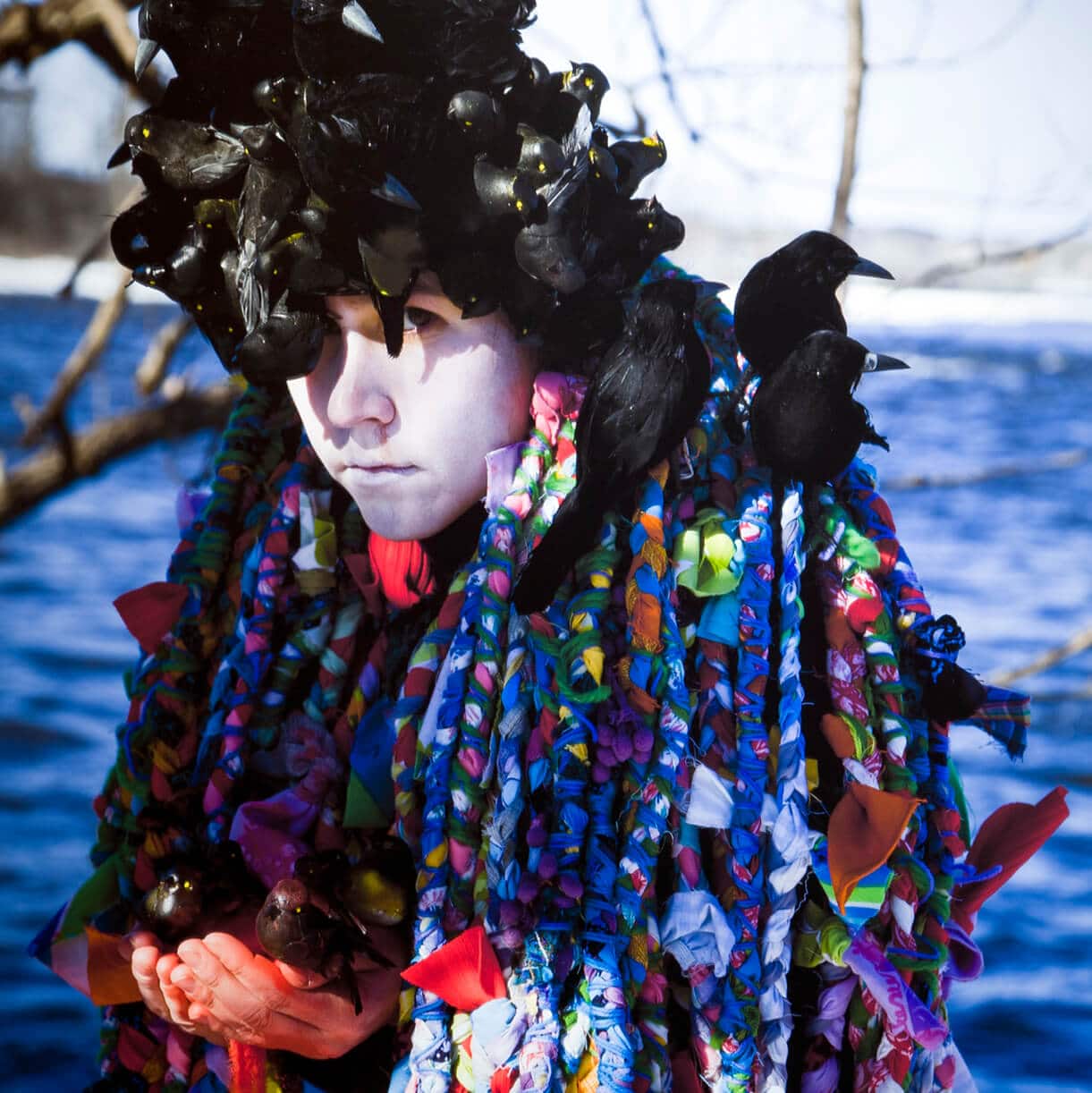 Meryl McMaster's work demonstrates a continually evolving exploration of the artist's own relationship to cultural and familial heritage within the larger framework of historical and contemporary Indigenous identities. As a person with both Indigenous and European familial lineages, McMaster treats identity subjectively, as something that is never complete, always in process, but invariably shaped by […]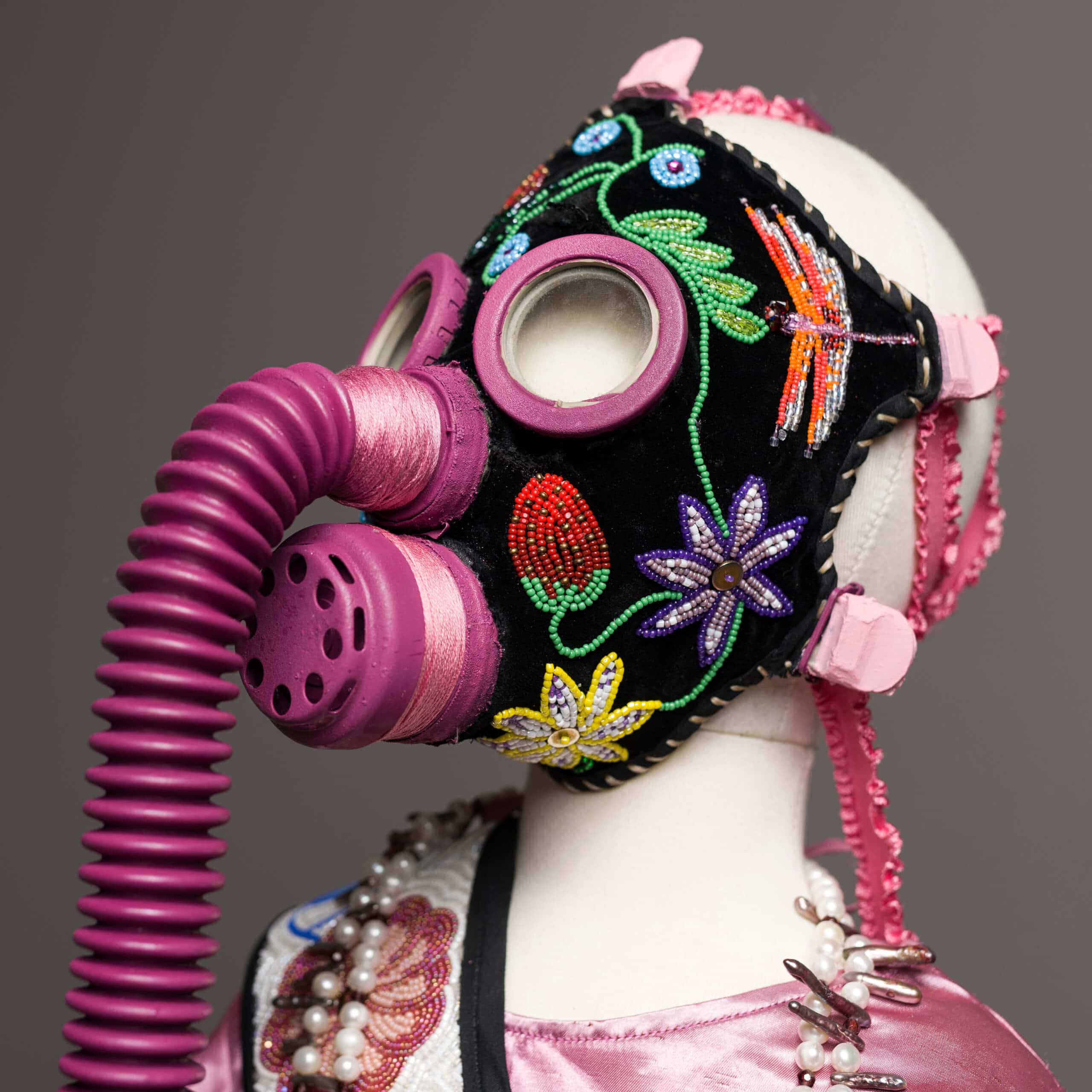 This group exhibition takes the idea of the Apocalypse and reimagines it. The fiction novel by Santa Fe author Cormac McCarthy, The Blood Meridian, which traces the violent journey of a ragtag group of men across the American West and Mexico, inspired the exhibition's title. The end of the world, implied by the word Apocalypse, […]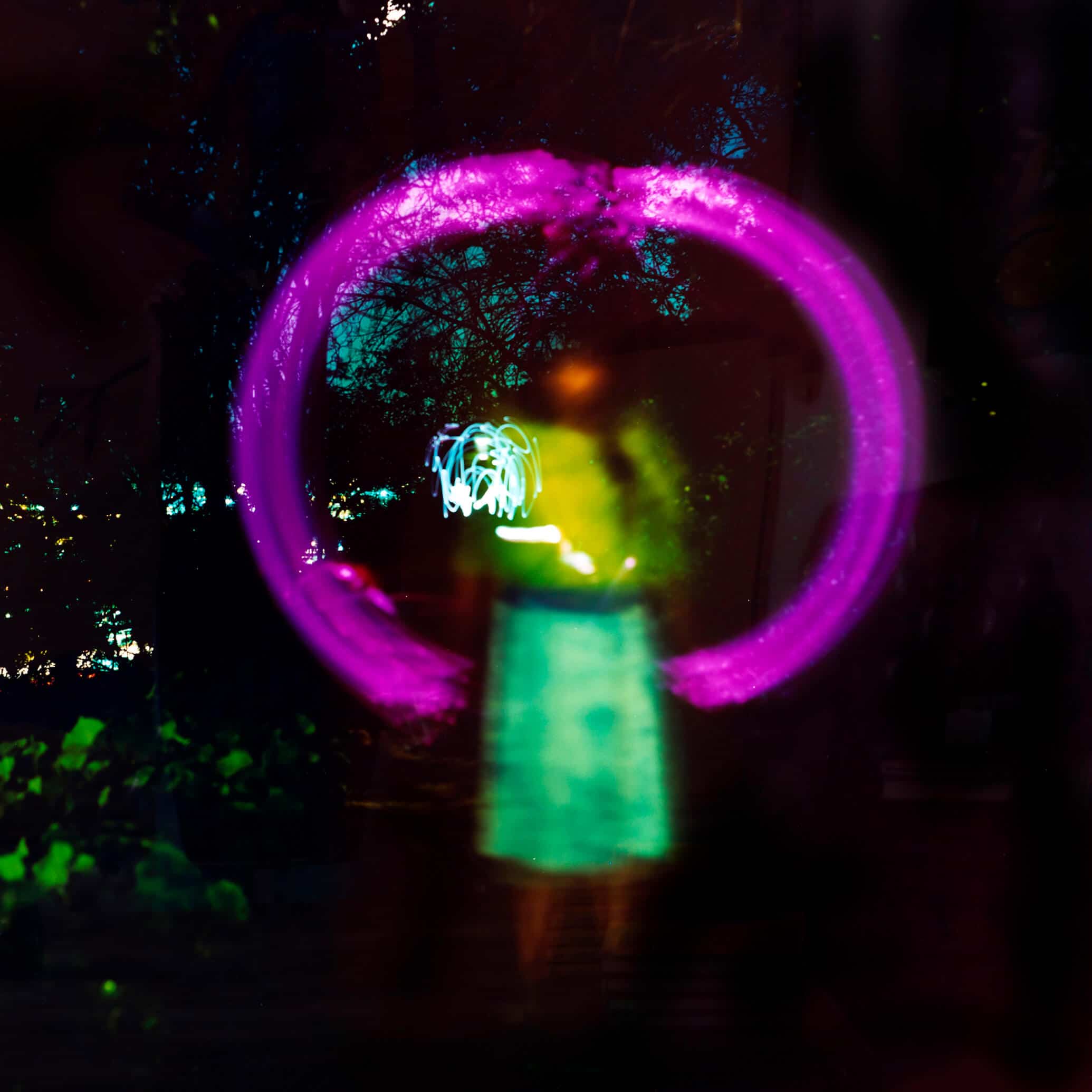 LaFountain's work plays in the intersections of photography, film, and sound. In several of her works she creates her own ceremonies in order to understand traditions. She asks: "How do I, a contemporary mixed blood woman, hold onto heritage, learn my tribal language and connect with the ways my ancestors lived? I don't have buffalo […]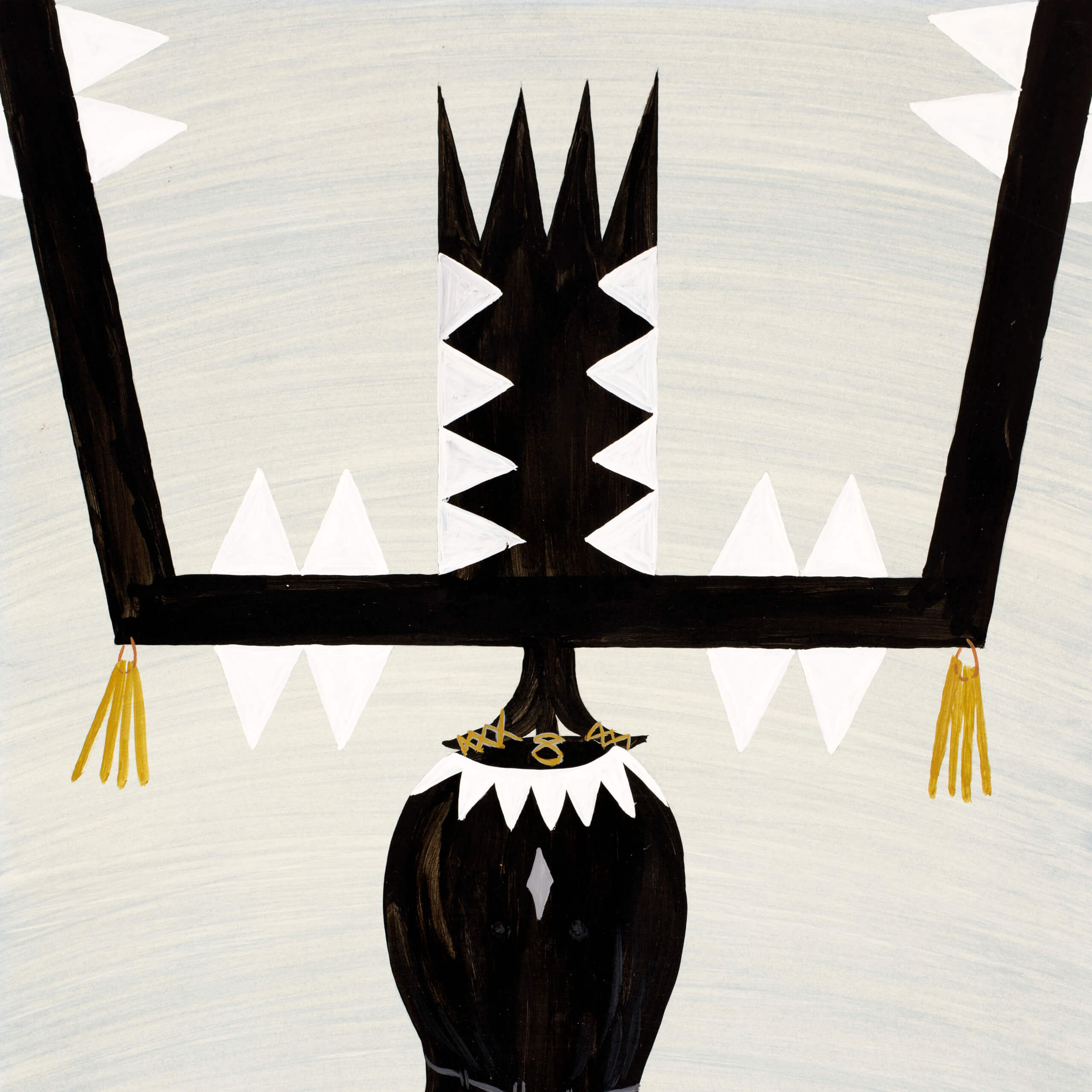 IAIA Museum of Contemporary Native Arts's (MoCNA) new permanent collection gallery highlights the exhibition Visions and Visionaries. Drawing from the strength and diversity of the permanent collection, the works enable us to see IAIA's history and the world through different eyes, as well as highlight the role of visionaries who forged new paths that we […]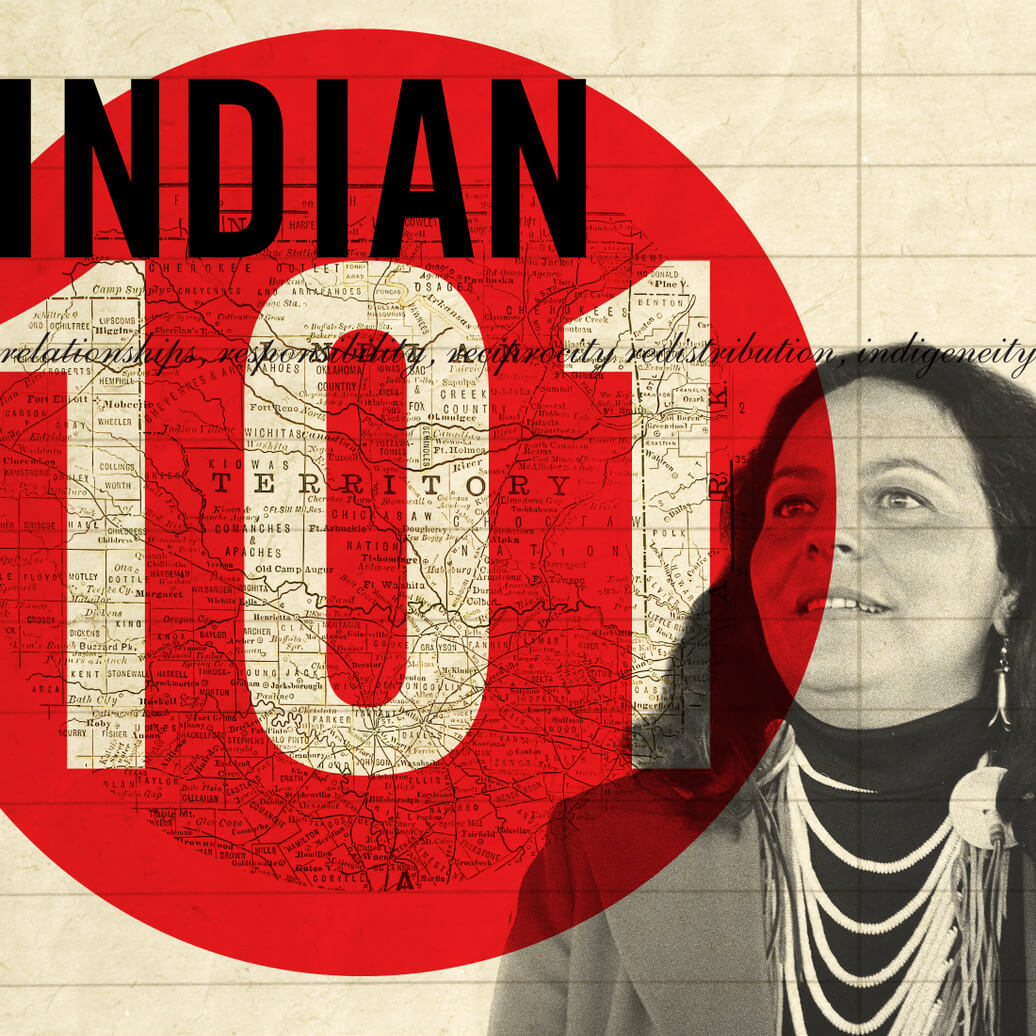 LaDonna Harris: Indian 101 (63 minutes) chronicles the life of Comanche activist and national civil rights leader LaDonna Harris and the role that she has played in Native and mainstream American history since the 1960s. Harris's activism began in Oklahoma, fighting segregation and assisting grassroots Native and women's groups. She continued her work in Washington, […]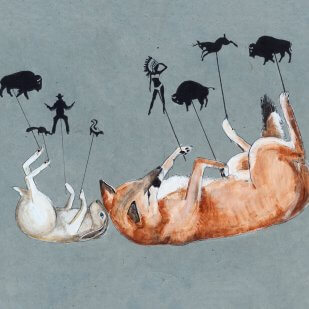 This exhibition is a collection of recent works on paper by Minneapolis-based artist Julie Buffalohead. Known for her deft use of allegory and archetype, Buffalohead's narrative drawings are dreamscapes consisting of a rich cast of characters, trickster coyotes and rabbits as well as turtles, deer, birds, and rodents. In her works animals often take the […]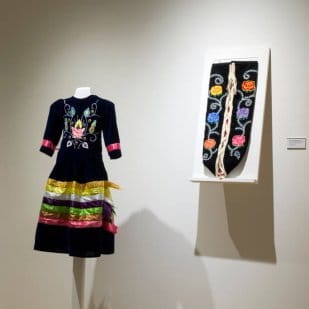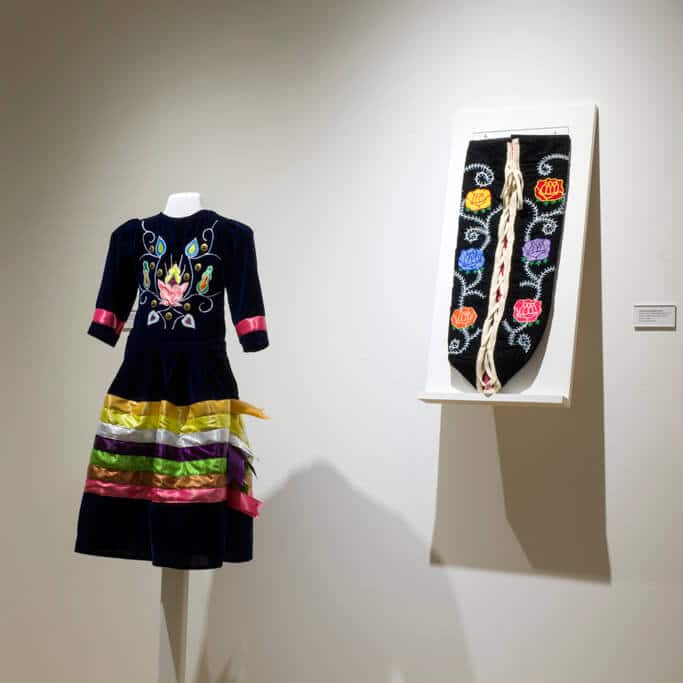 The IAIA Museum of Contemporary Native Arts is proud to present the IAIA annual BFA graduating student exhibition. The exhibition celebrates the class of 2014–2015 and showcases a diversity of styles that combine traditional skill with contemporary vision. The artists represent the future of Native art, charting a path for others to follow. Like all […]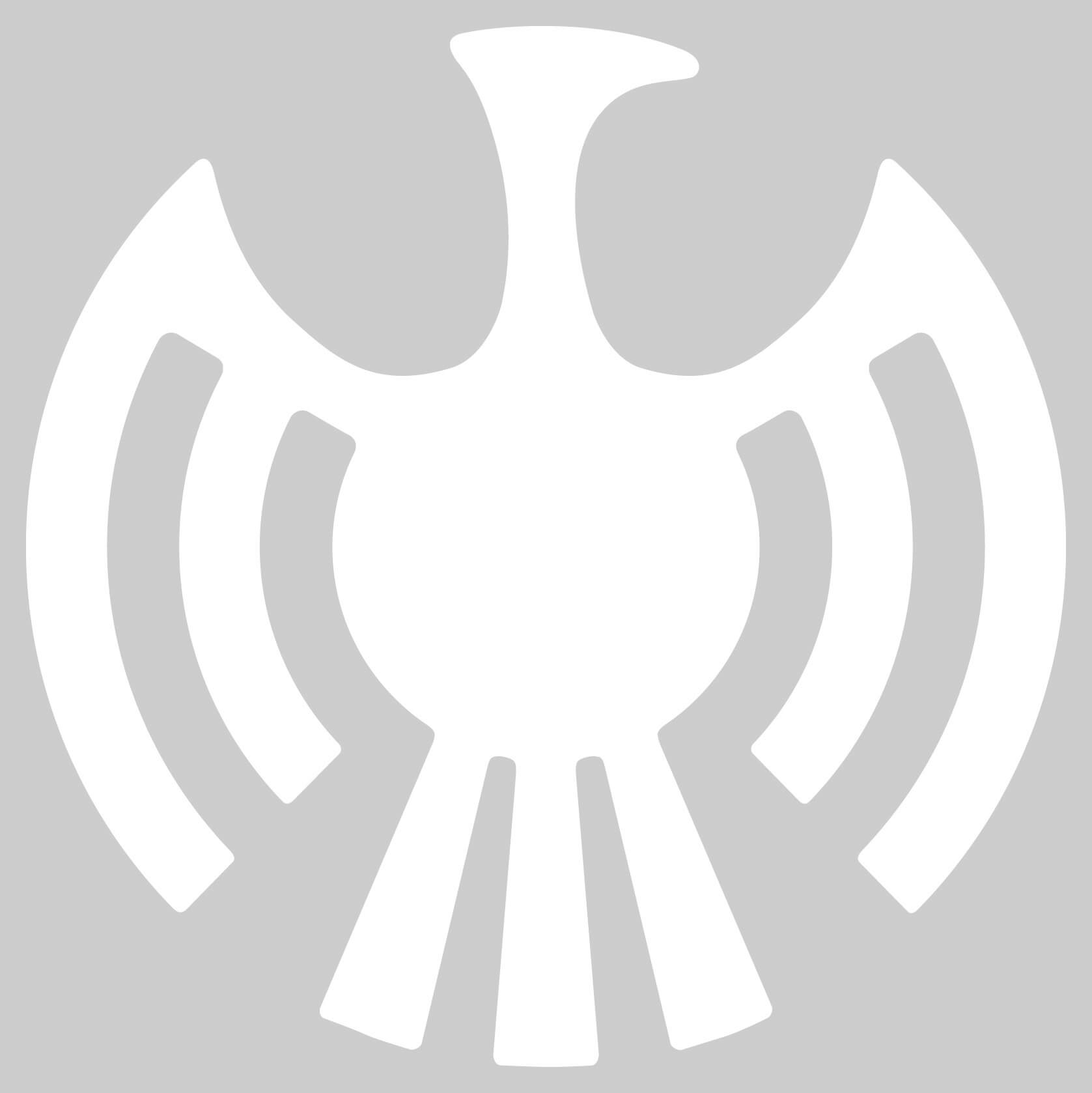 IAIA Museum of Contemporary Native Arts (MoCNA) and imagineNATIVE Film + Media Arts Festival, bring the first of two short film programs that, through an artistic lens, span the histories and envision new horizons of the First Peoples of Turtle Island, a term for North America used in oral storytelling traditions by Northeastern Woodland tribes. The […]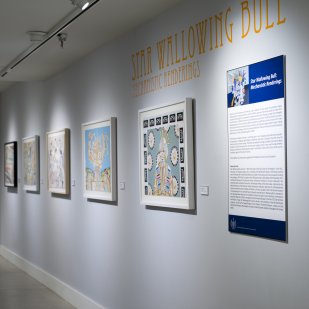 Featuring recent paintings and drawings, and a selection of new works, this exhibition will reveal Wallowing Bull's evolving aesthetic, one that reflects a growing mechanical sensibility of both form and style. Wallowing Bull is recognized for his signature color pencil drawings on paper that investigate the intersection of Native American and contemporary pop culture. Stylistically […]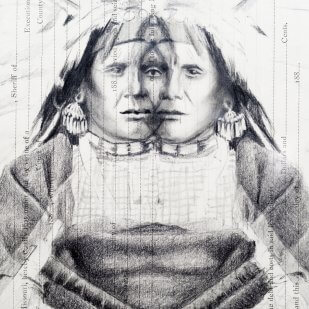 This exhibition, a mix of new and recent works, includes drawings and paintings in Chris Pappan's signature style of contemporary ledger art. The mid 1800s saw the unprecedented expansion of the American empire, and with it, catastrophic changes for Indigenous people. Beginning in the 1860s, paper was introduced to the plains via ledger books and […]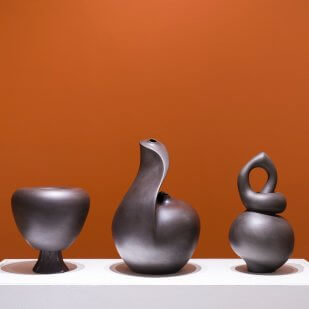 Dark Light is the first traveling exhibition of this groundbreaking Navajo (Diné) artist. McHorse, a first-generation potter, is considered among the most innovative artists working today creating vessel-based art that is undecorated and abstract, with formal qualities indebted more to modern sculpture than to Southwestern culture. With the urge to transgress and blur the boundaries […]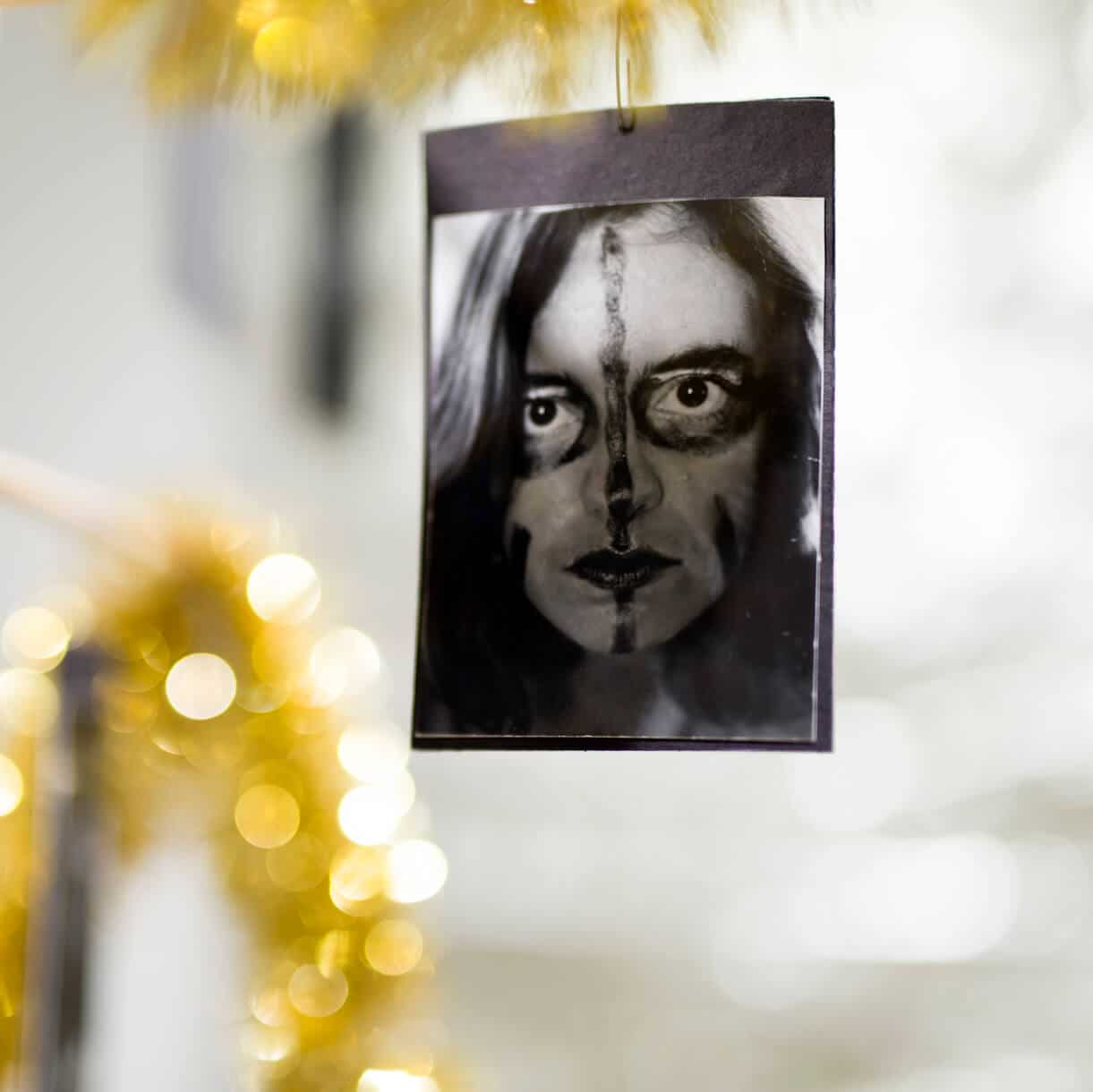 All of the works in this exhibition have something to do with war, but depict very little gore or physical violence. The armed conflicts referenced in these artworks span 500 years, from the Spanish and Pueblo conquest, to World War II, Vietnam, Wounded Knee, the Mohawk and Oka Crisis, and present-day conflicts. This selection of […]

This film program features SWAIA's Indian Market Moving Image Classification X winners. This category is one of the most recent classifications to be added to the juried market. These awards recognize an artist's dedication and skill in working with new media and innovative art forms while retaining a commitment to traditional creation and technique. 2014 […]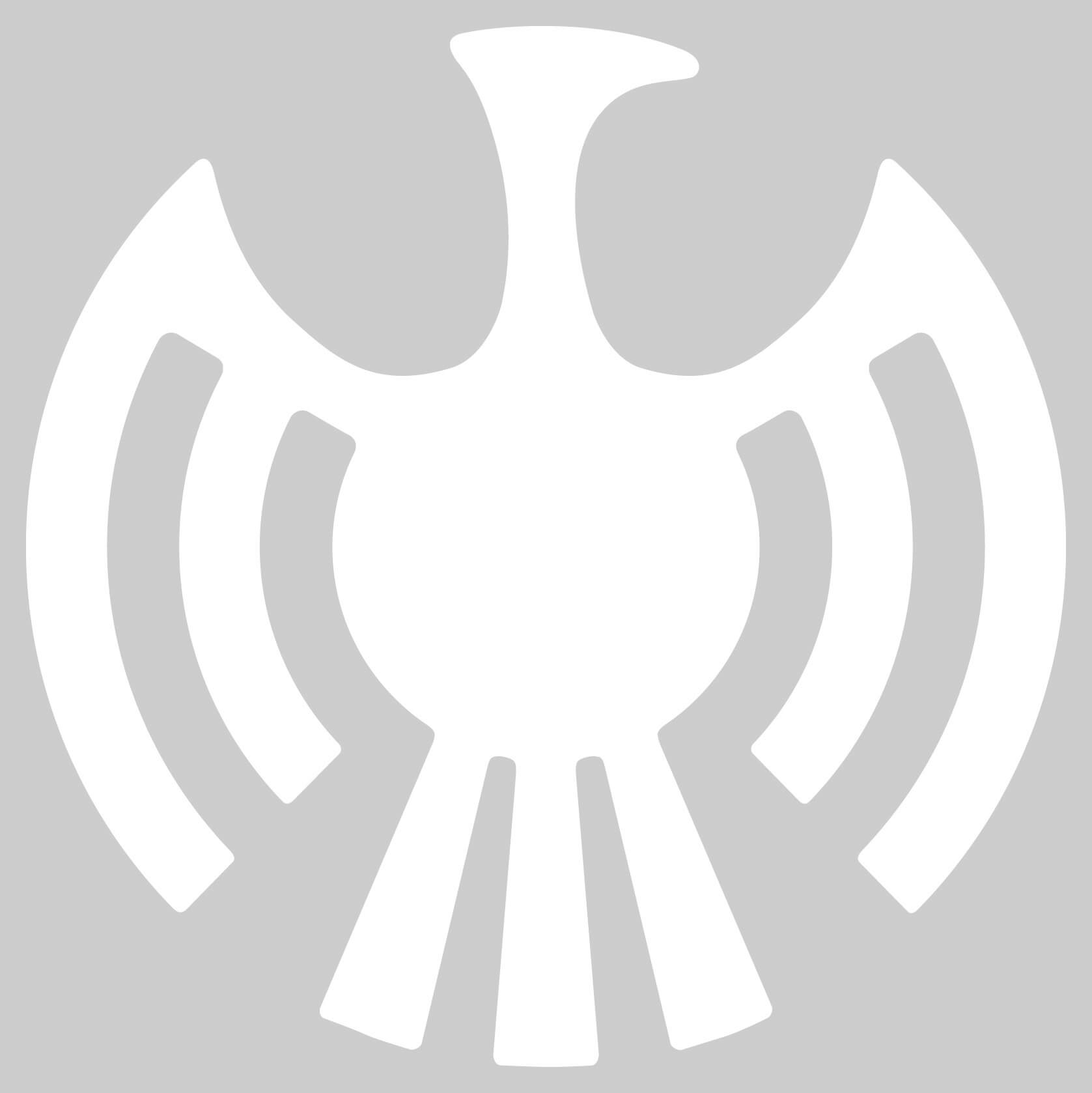 Mario Martinez's artwork always pays reverence to nature through the influences derived from his deeply rooted Yaqui cultural background and allure to Western Modernism. The visual density of his paintings in his solo exhibition The Desert Never Left "The City" reflect upon the magic and power encoded within the spiritual and natural eco-systems conceptualized from […]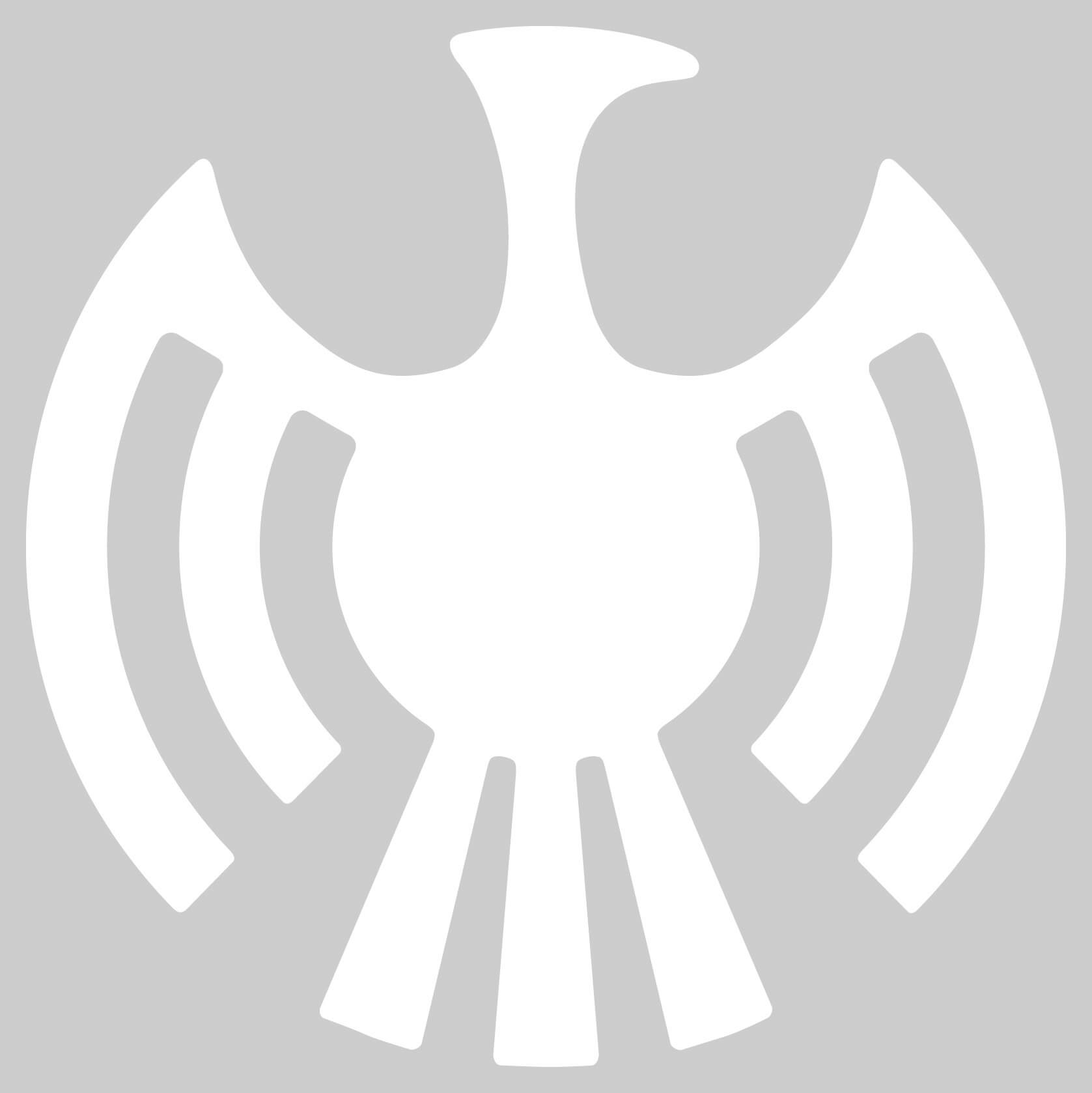 "Breach" is an exploration of historical ties to water and whale; imposed law; and a current relationship of material sustainability. Navigation lies within visual translation, acceptance, and pursuit of process. Charting exists as a logging of record; documentation and mapping of each point where the surface breaks. BREACH: LOG 14 catalogs the expedition, encounters, and […]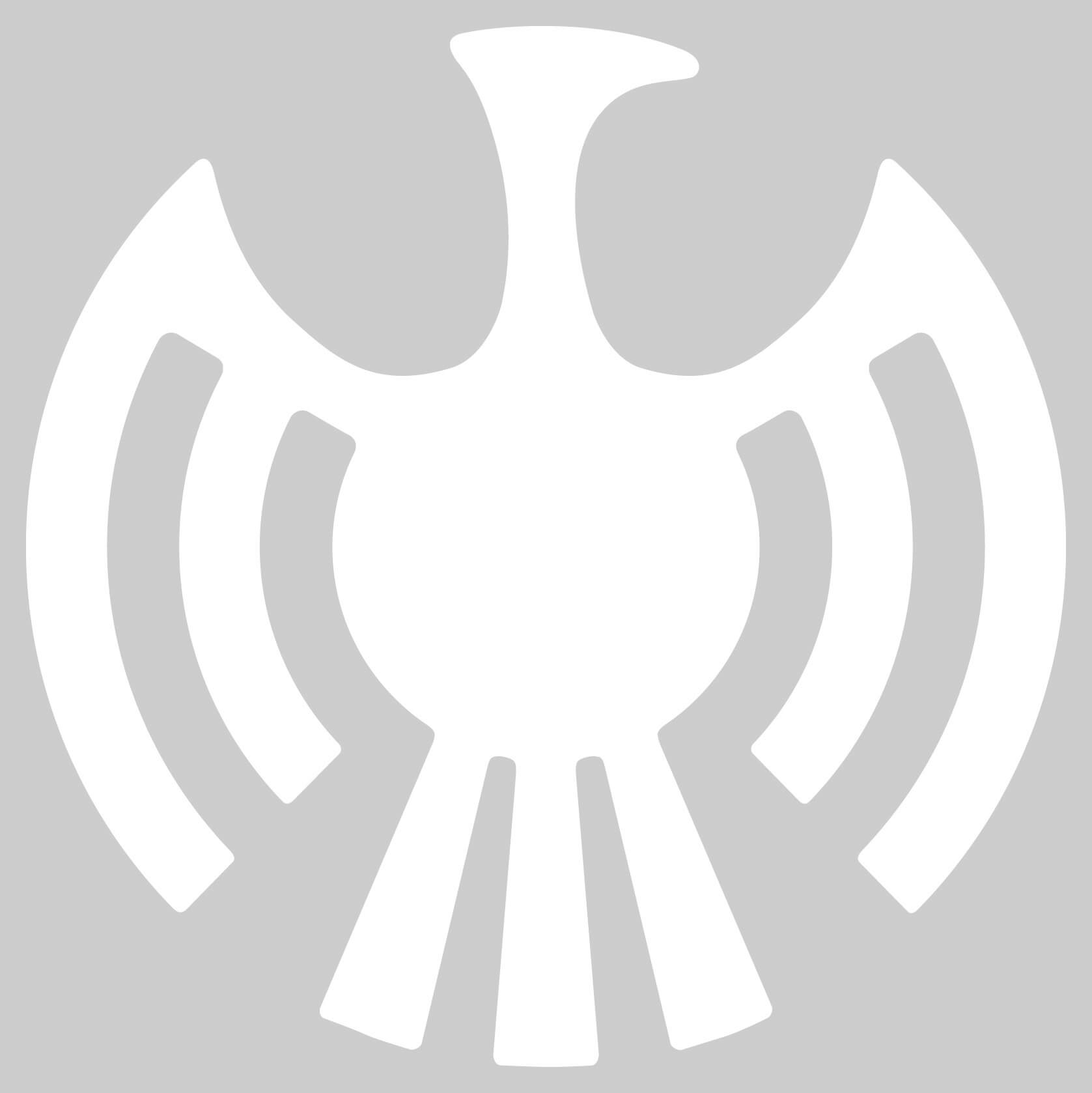 MoCNA hosts a traveling exhibition of the paintings and related works of Spokane artist Ric Gendron (pronounced zhan-drea), a dual-enrolled member of the Arrow Lakes Band of Confederated Tribes of the Colville and the Confederated Tribes of the Umatilla. Gendron is little-known established artist, and the exhibition and monograph Rattlebone feature more that 30 years […]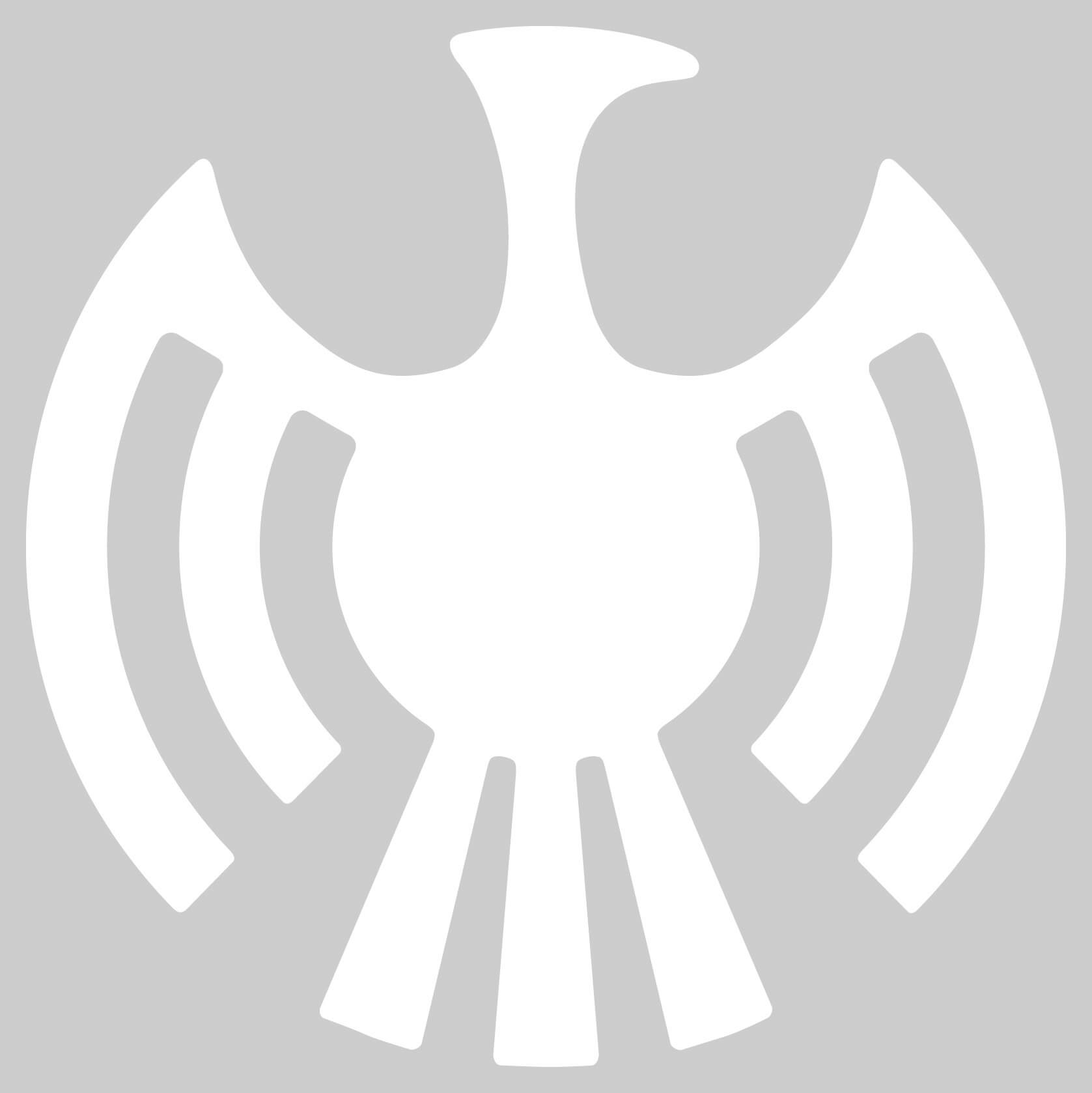 Alaskan artist Da-ka-xeen Mehner celebrates the lasting and profound relationship between Tlingit language and song in the exhibition Saligaaw (it is loud-voiced). Like many Native American families, Mehner's grandmother and grandfather were from a generation who were punished for speaking their language. Inspired by a collective tenacity of maintaining traditional language and song, Mehner's installation […]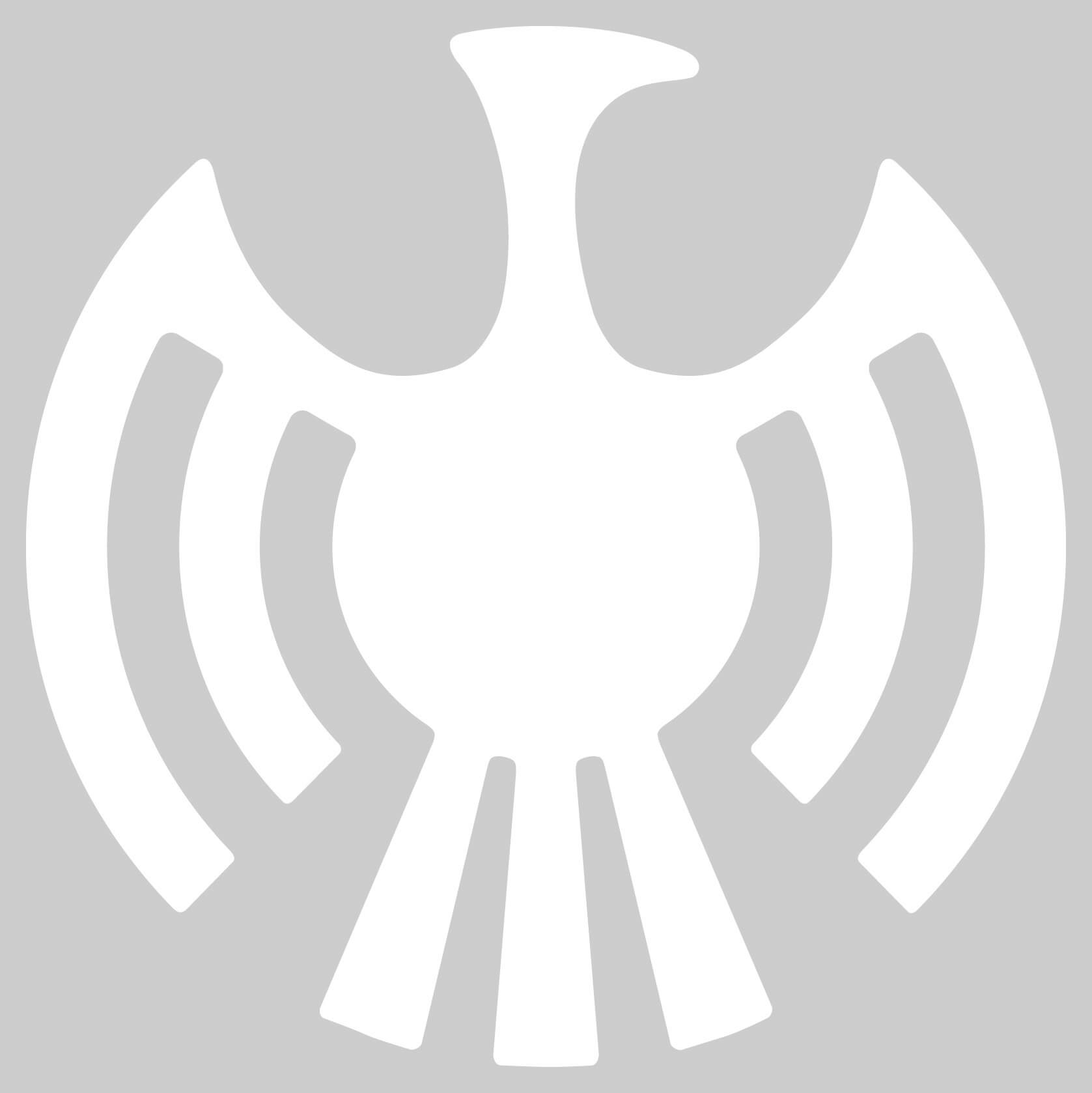 Andrea Geyer digs into the complexities of narrative and imagery to consider how they become solidified into history and art. Her series Spiral Lands concerns history's tendency to repeat itself. Created at a time when American exceptionalism was coloring the invasion of Iraq, for Geyer, the rhetoric justifying the invasion was reminiscent of that of […]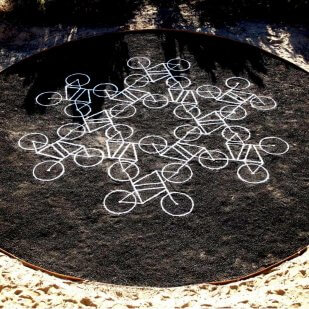 A documentary film directed by Daniel Hyde and Blackhorse Lowe. Part of the TIME project, which documents the site-specific land art project by artists Ai Weiwei and Bert Benally. A new media installation as part of Pull of the Moon, a site-specific land art project by artists Ai Weiwei and Bert Benally is featured in […]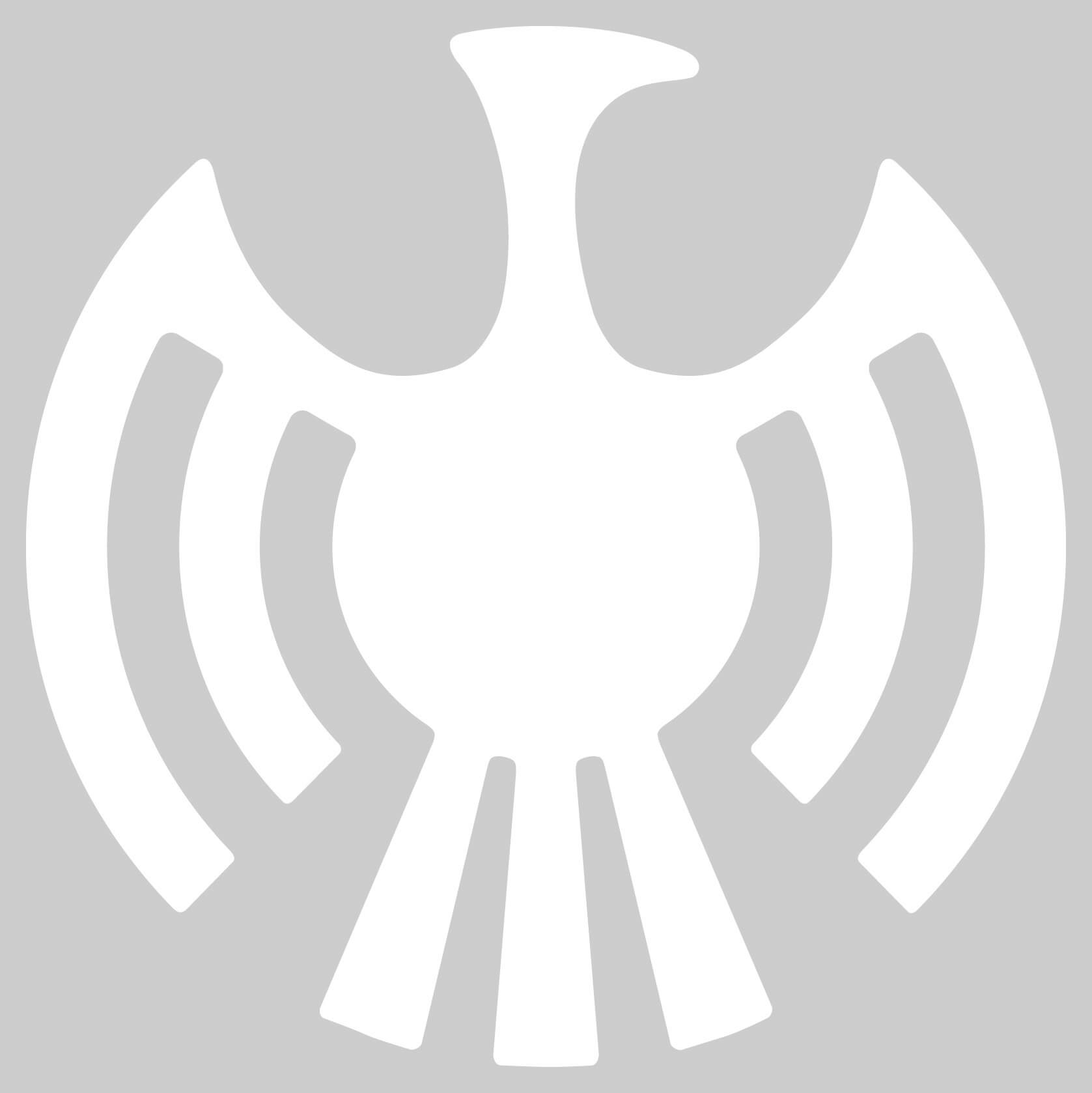 Featuring films from Sundance Institute's Native American and Indigenous Program Sikumi (On the Ice) An Iñuit hunter takes his dog team out on the frozen Arctic Ocean in search of seals and inadvertently becomes a witness to a murder. Director: Andrew Okpeaha MacLean (Inupiaq) (15 mins.) Nikamowin (Song) Deconstructing and reconstructing Cree narrative, this film […]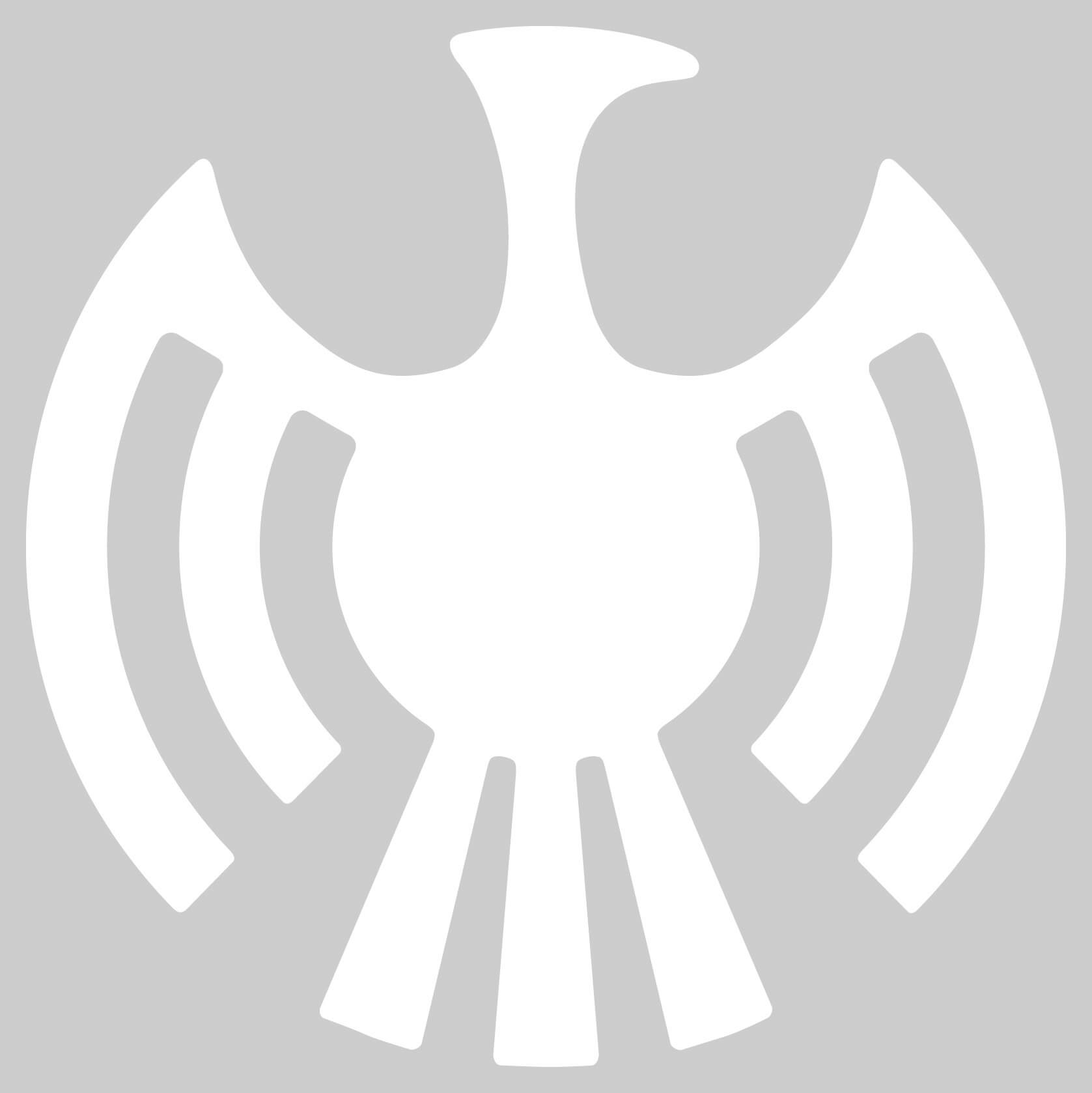 The Brandywine Workshop in Philadelphia, Pennsylvania was founded to support the creation, documentation and preservation of a legacy of culturally diverse American art and ensuring the participation of multi-ethnic artists in the field of fine art printmaking and related media technologies. The organization recently donated a collection of works by Indigenous artists to the IAIA […]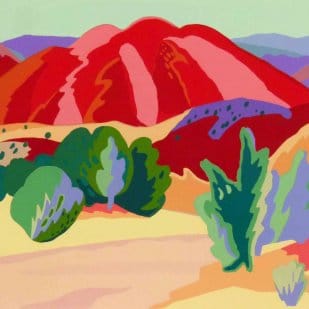 Bon à Tirer, or more commonly seen written as "B.A.T." on a fine art print, is a French term meaning good to pull. Dating back to the late 1800s, a French master printmaking atelier (studio) required a signature and the initials B.A.T. from the artist for whom the atelier was creating an edition, usually a […]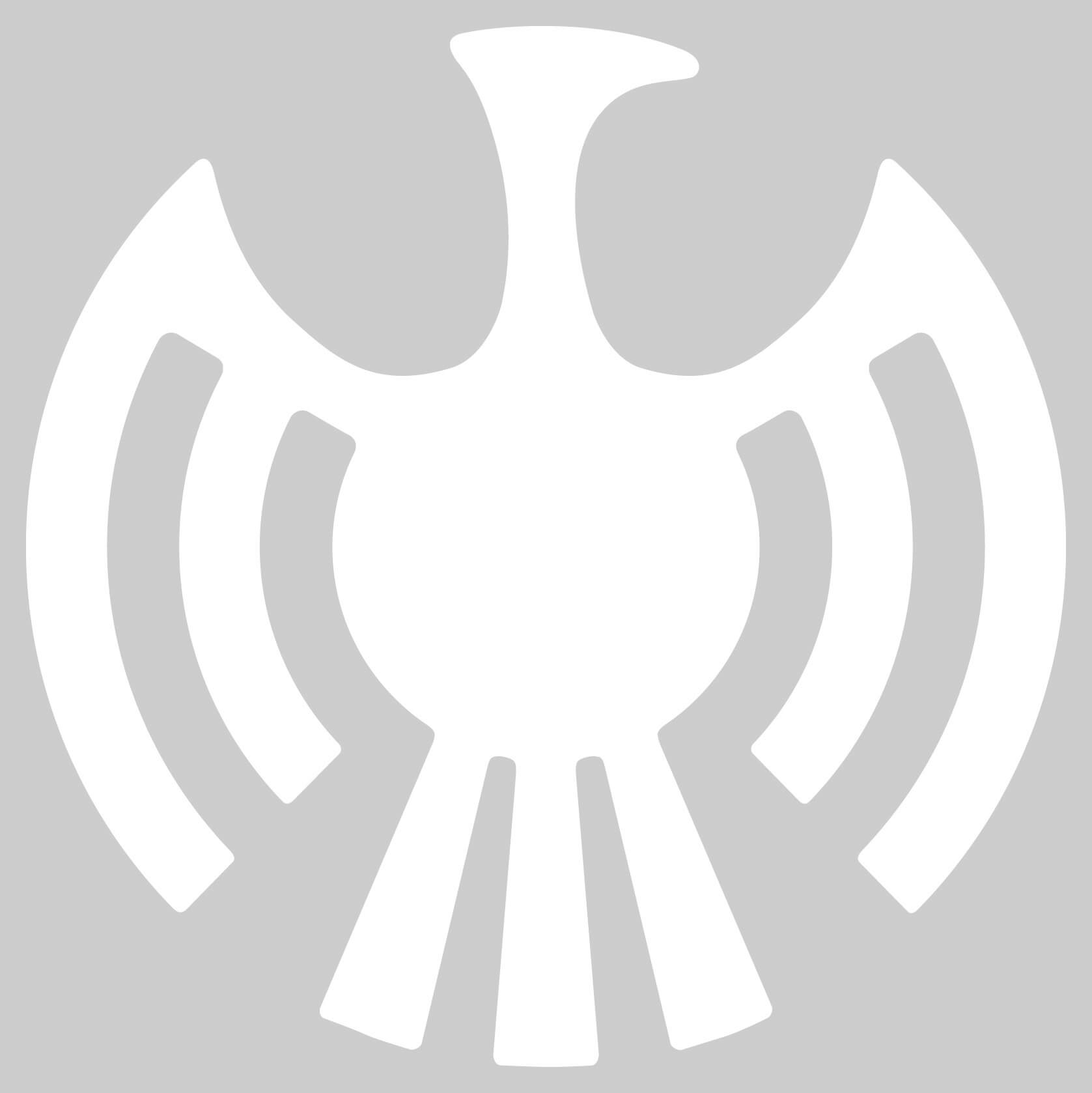 We Hold These Truths features contemporary baskets made from paper that have been inspired by traditional techniques, shapes, patterns and functions of Cherokee baskets. Shan Goshorn examines and manipulates the material and authority of paper (and the written word) as a weapon aimed against Native Americans in the form of treaties, ancestry rolls, laws, restrictions, […]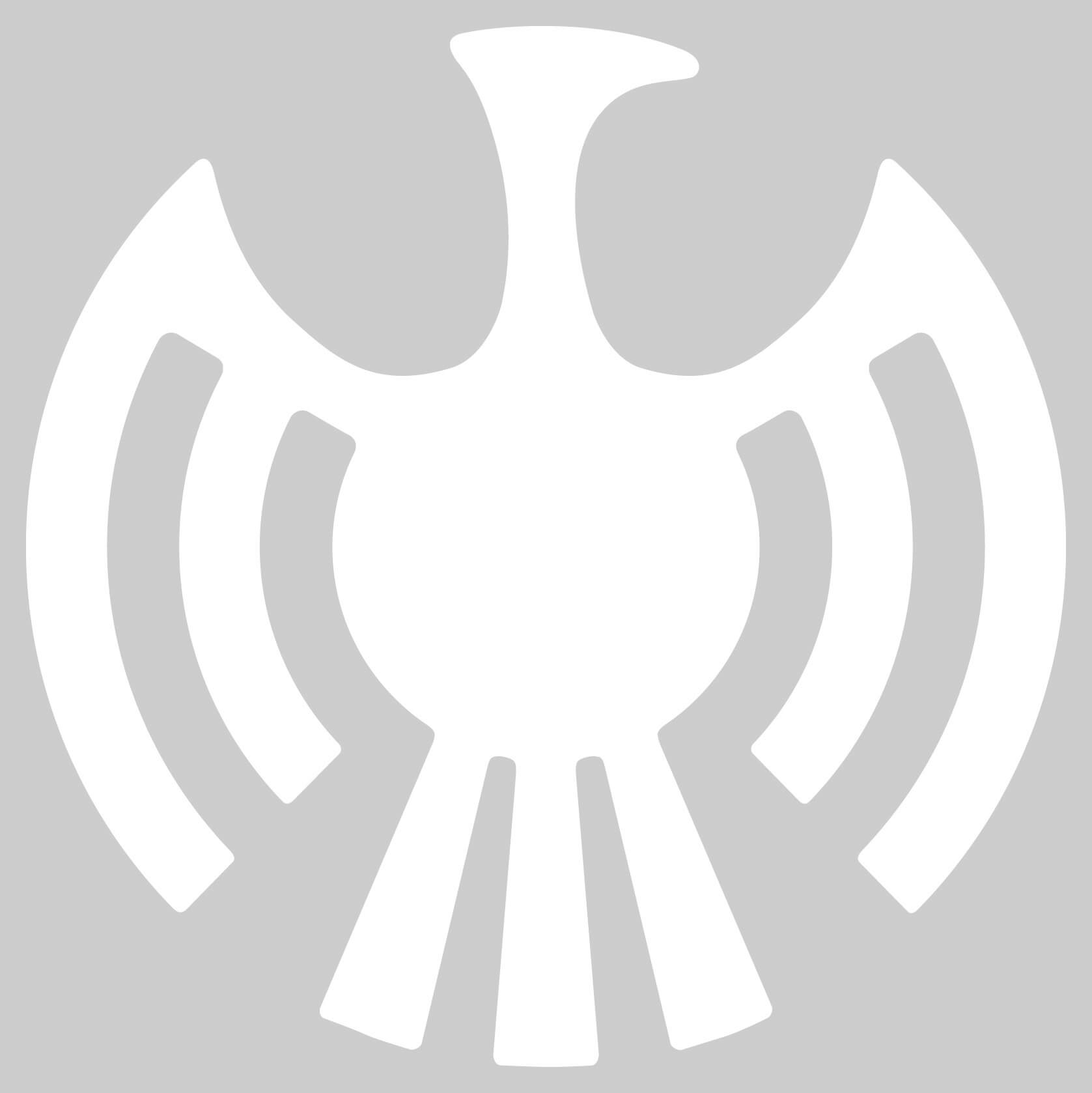 The IAIA Museum of Contemporary Native Arts is proud to present the annual Institute of American Indian Arts BFA student exhibition. This year's BFA exhibition celebrates the class of 2013/14 and showcases a diversity of styles that combine traditional skill and contemporary vision. The exhibition features a wide range of works selected by a jury and […]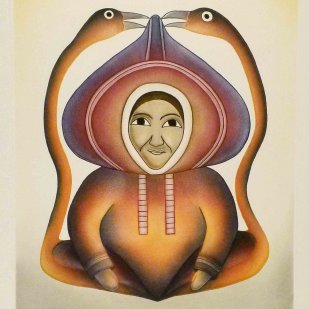 Internationally renowned graphic artist Kenojuak Ashevak (b. 1927) passed away in 2013 at the age of 85. While we mourn the loss of one of the most significant Inuit artists of the modern era, she leaves behind an unparalleled artistic legacy in prints and drawings created over 50 years of uninterrupted production. The selection of […]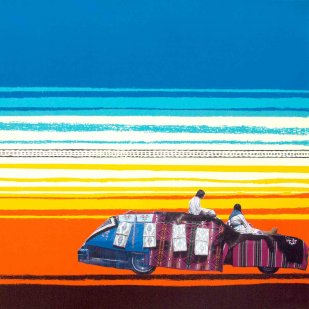 A selection of prints from the Crow's Shadow Press signifies the ever-growing portfolio of prints produced over a 20-year period since the founding of the Crow's Shadow Institute of the Arts located in Pendleton, Oregon. The exhibition encompasses the work of many outstanding artists of diverse backgrounds and media, and includes Rick Bartow, Wendy Red […]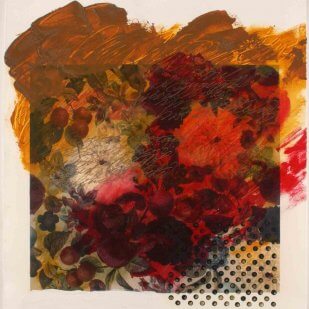 The two-person exhibition The Place Between draws from and expands upon the conceptual basis of the original multiple supported by the printmaking process and potential for creative manipulation to interpret a sense of place. Paschall's approach utilizes a base of intaglio ImagOn and lithographic prints that include crystal forms found in the geologic minerals of […]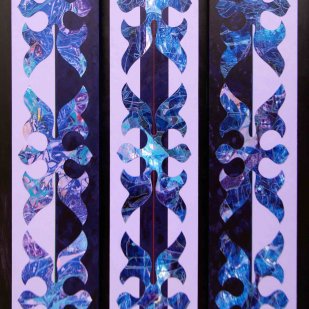 Tony Tiger's work speaks to a philosophy of contemporary Native soul. His work honors the truth and spirit of Native peoples' endurance. In the mixed-media exhibition Full Consciousness of Being, Tiger's context for expression arises from the totality of his personal observations related to intercultural experiences, while drawing on the critical influence Native people have […]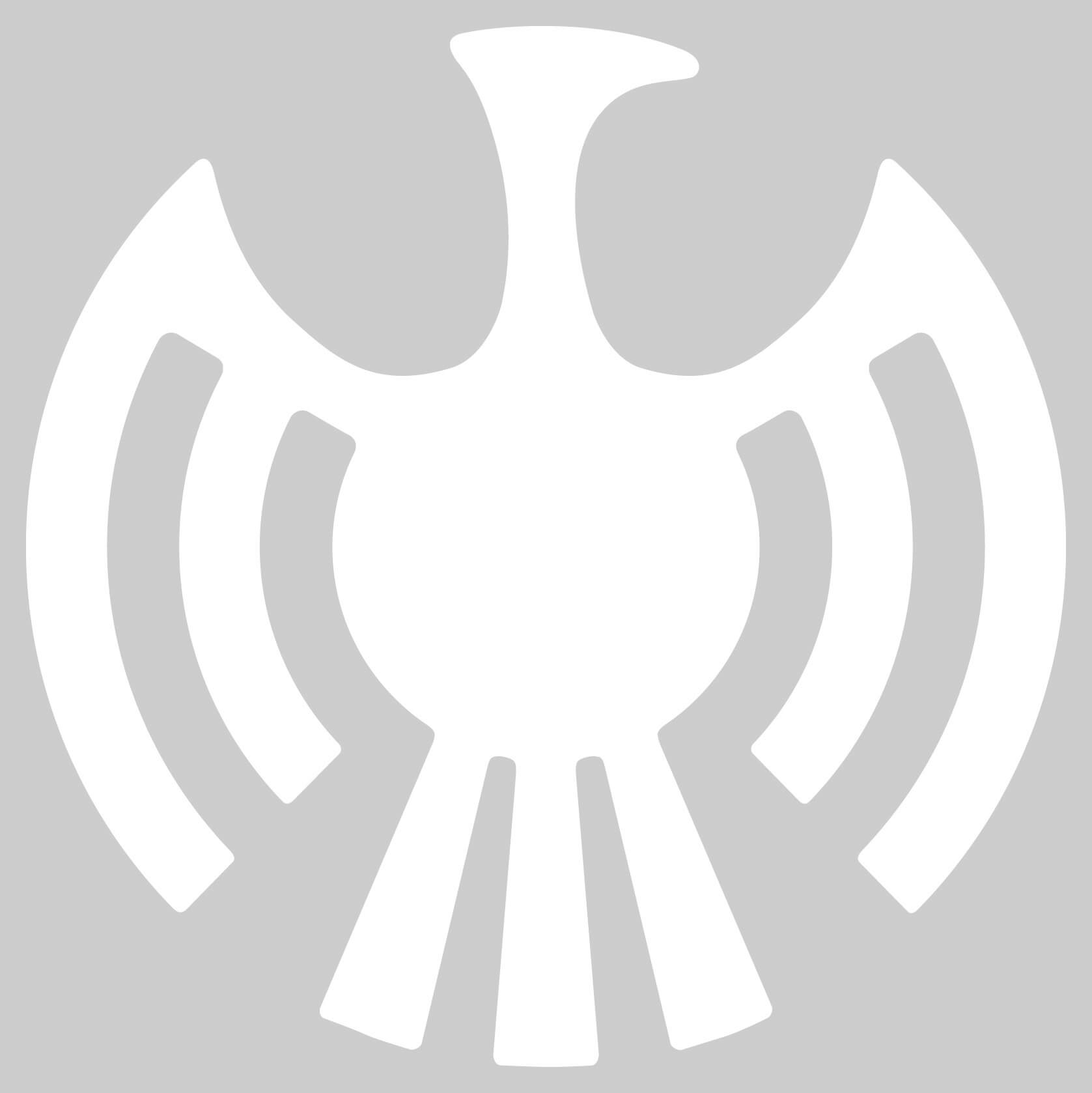 David Sloan's installation of monoprints include silkscreened images of endangered species with their Diné names over lithograph reproductions of old 1970's Navajo Times newspaper ads. Sloan's conscious intentions compare and contrast eco-philosophies of American consumer culture with traditional Diné world perspective. The disparity of the animal images on top of the propaganda style-like advertisements promoting […]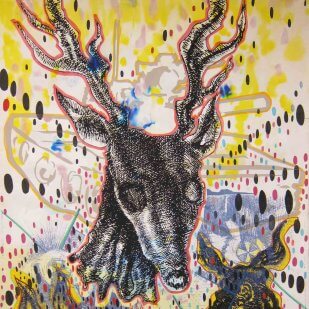 Traces of the Plains consists of works on paper.  A multimedia installation of printed matter and video, the exhibition references the trauma of war and fragility of life. Artist John Hitchcock sets familiar images of U.S. military weaponry against unfamiliar mythological and hybrid creatures originating from the Wichita Mountains in western Oklahoma to allegorically explore […]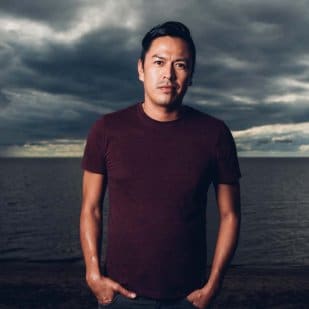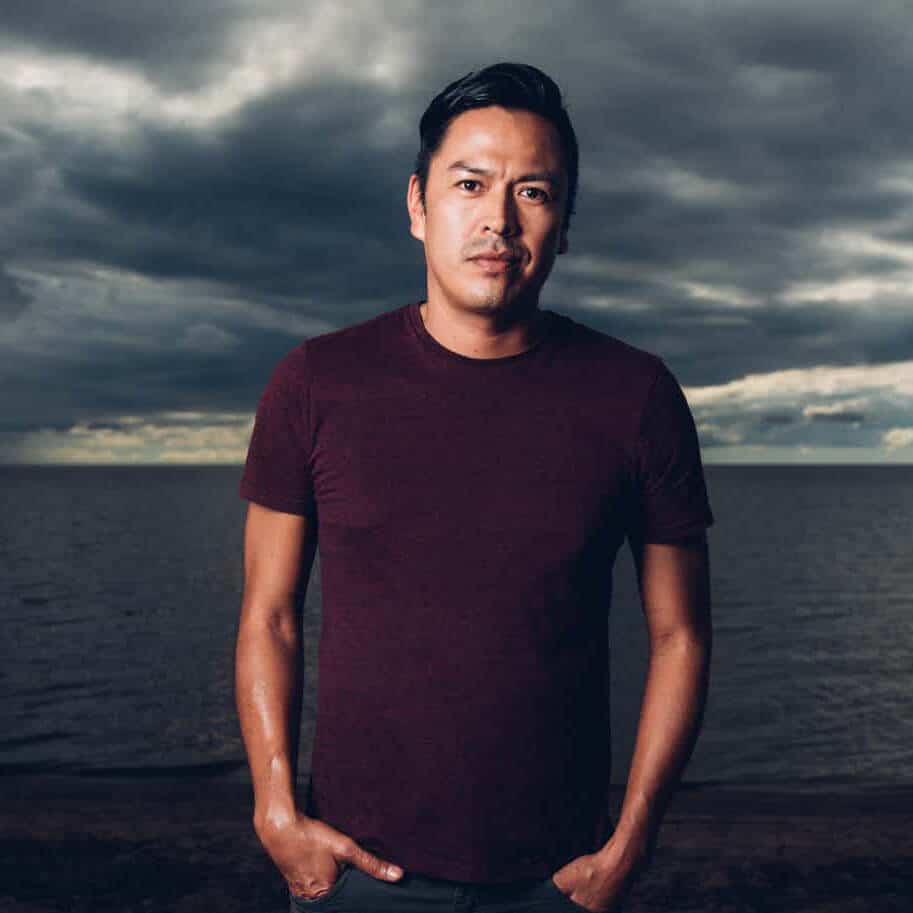 Grab is an intimate portrait of the little-documented Grab Day in the villages of the Laguna Pueblo tribe, whose people annually throw water and food items from the rooftop of a home to people standing below. A community-wide prayer of abundance, thanks, and renewal, Grab Day exists at the intersection of traditional Native and contemporary Western cultures.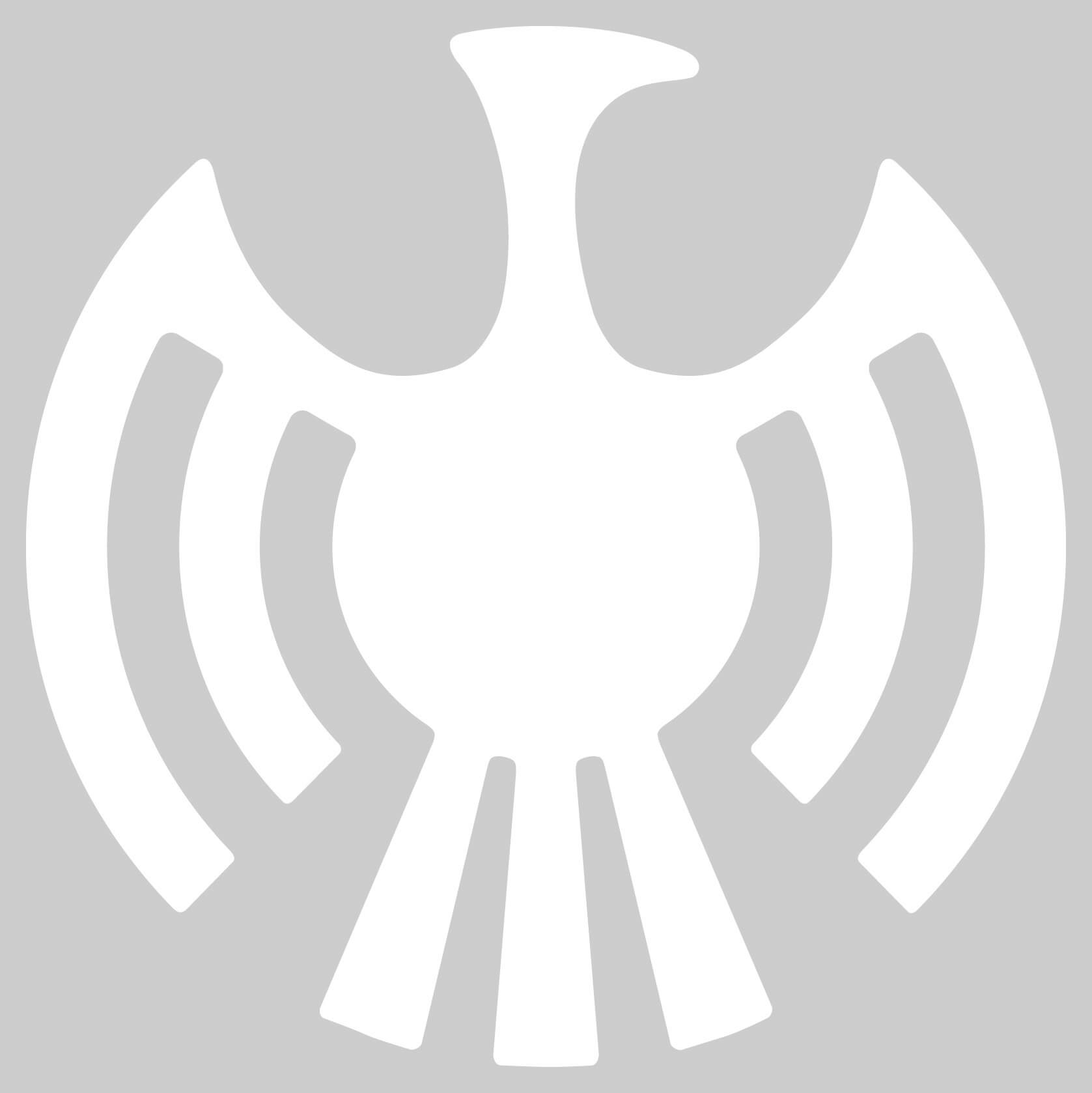 Changing Hands: Art Without Reservation 3/Contemporary Native North American Art from the Northeast and Southeast, Selected Works concludes a cycle of landmark exhibitions conceived and organized to present a comprehensive and in-depth cross section of innovative and groundbreaking work by contemporary Indigenous artists.  These creative individuals express a new vitality and spirit of experimentation in […]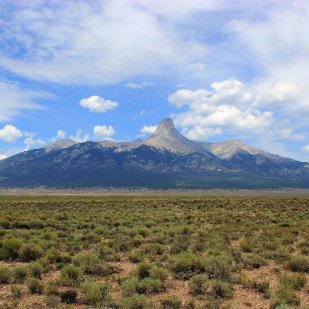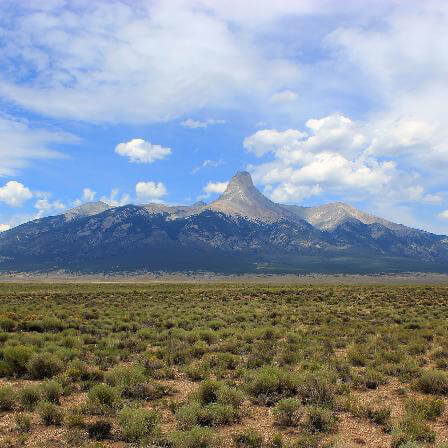 Steven J. Yazzie's work is about land, as a place of personal reflection, a framework for Indigenous cultural relevance, and a point of reference to changing politics related to urbanization. For the exhibition The Mountain, Yazzie recognizes place as an entity with multidimensional interpretations and has become an essential location for his creative investigations as […]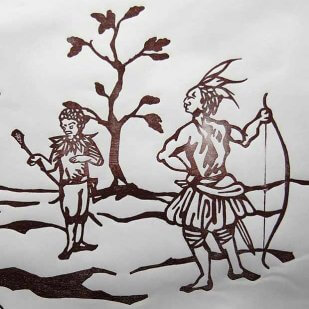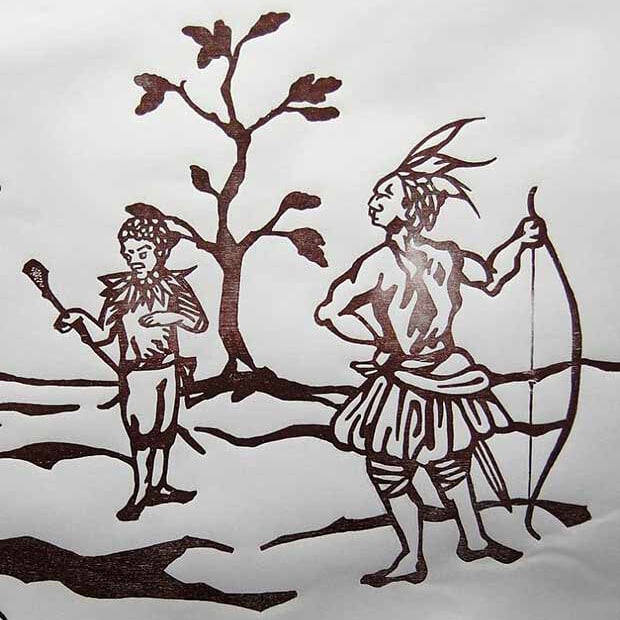 In the exhibition Divided Lines, artist Jacob Meders examines the complex misrepresentations of Indigenous peoples in North American artistic depictions prevalent in 15th and 16th century European society. By incorporating an aesthetic that emulates historic woodcuts, Meders' panoramic installation toys with the idea of assimilation, reimagining figures with a likeness to Indigenous and western European […]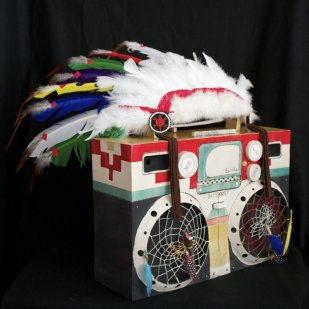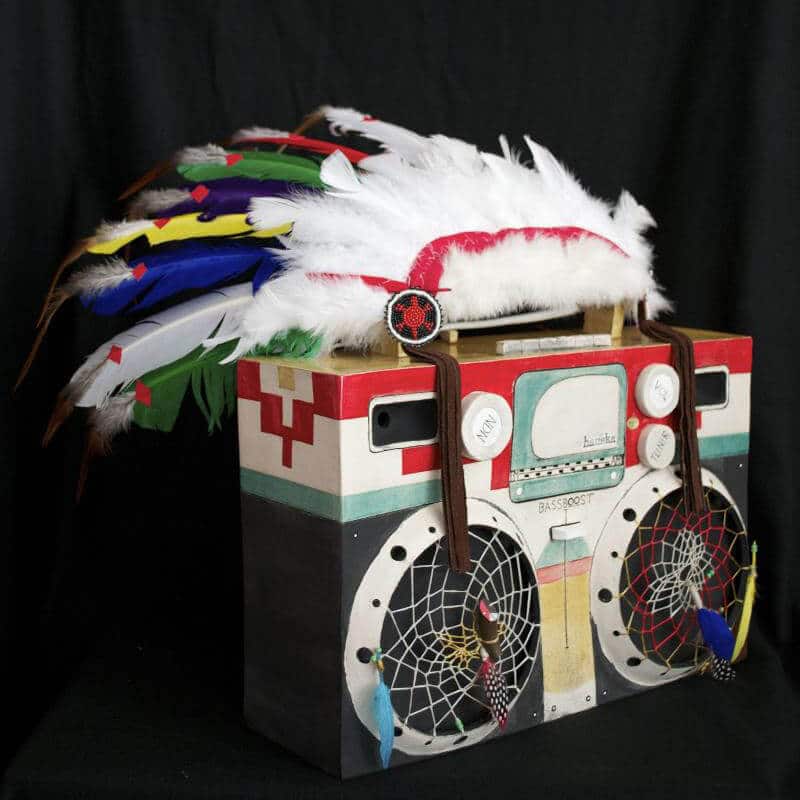 "Native American" is an umbrella term for the Indigenous population of North America. This term, being so broad, has allowed for many external interpretations, from anthropologists to Hollywood directors, to define who Native Americans are. The reality of the matter is that the continent of North America is vast, with environmental and cultural complexity that […]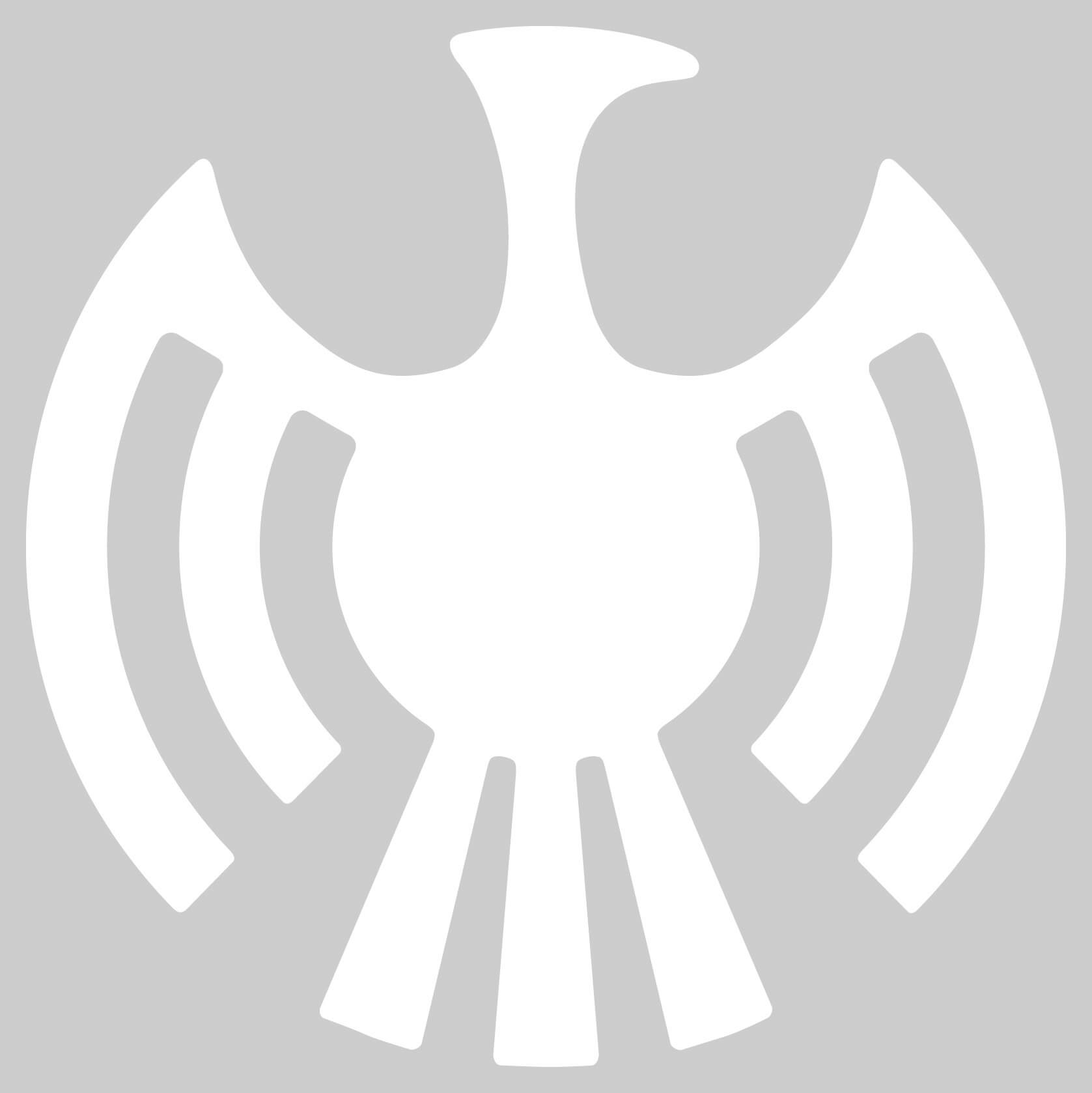 Métis artist Rosalie Favell's series, Facing the Camera (2008–present), is a growing suite of photographic portraiture that documents individuals from a growing Indigenous arts community. Through these images, Favell sees the photograph as a performance space where identity is constantly worked and reworked, represented, and perhaps hidden. Facing The Camera: The "Santa Fe Suite" was […]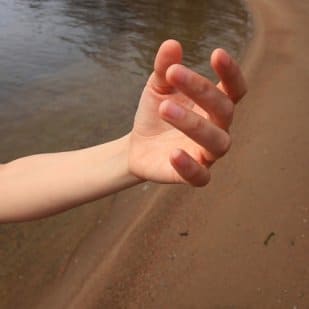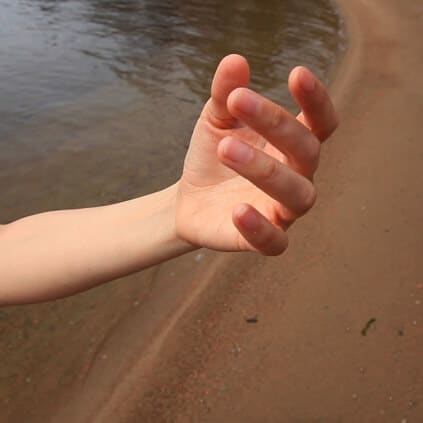 Stands with a Fist is a multi-disciplinary art exhibition that is a unique platform for cultivating, celebrating, and declaring a continual presence of visual expression created by contemporary Native women artists. The exhibition demonstrates the ways that women boldly fit into, redefine, or turn upside down the usual categories of art and art-making, while re-interpreting and drawing from their rich cultural heritage. Collectively, their work expresses a unique Indigenous relationship to the land, contemporary worldview, and sense of obligation to their culture.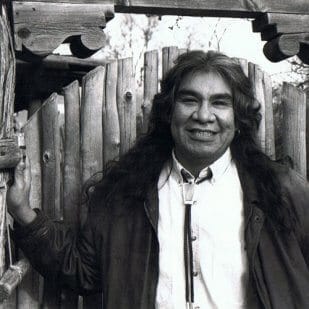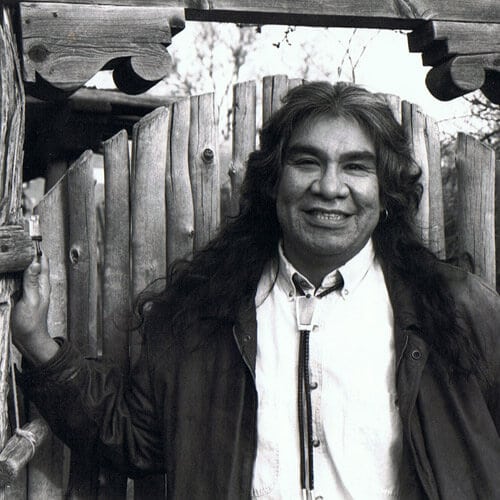 Puhumuyaw: Dan Lomahaftewa (New Moon) is an exhibition, honoring the late Hopi/Choctaw artist Dan Lomahaftewa (1951–2005), representative of a personal and spiritual narrative expressed through his artistic form of expression. Thirteen selected paintings, whether figurative or abstract, draw heavily on traditional teachings and his connection with Hopi spirituality, ritual, migration and memory.
Virtual Exhibitions
A listing of virtual exhibitions at the IAIA Museum of Contemporary Native Arts (MoCNA).
List of Events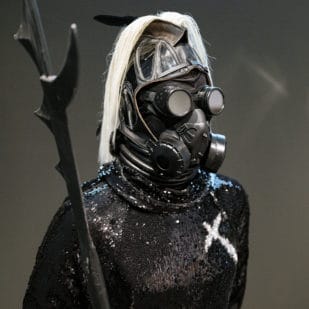 Virtual exhibitions for Indigenous Futurisms, Tom Jones, Tamara Ann Burgh and Luanne Redeye, and Experimental exPRESSion.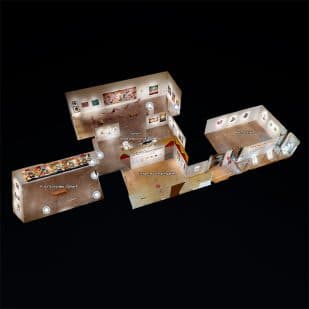 The second MoCNA Virtual Museum is now live. This VR space is a virtual replica of our physical museum located in downtown Santa Fe, New Mexico.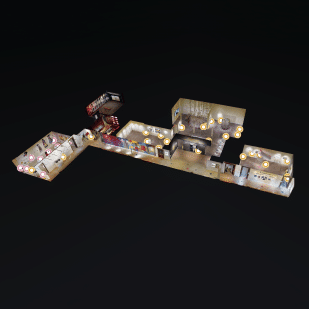 The third MoCNA Virtual Museum is now live. This VR space is a virtual replica of our physical museum located in downtown Santa Fe, New Mexico.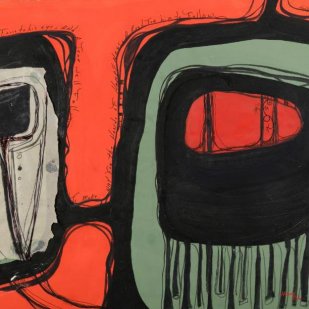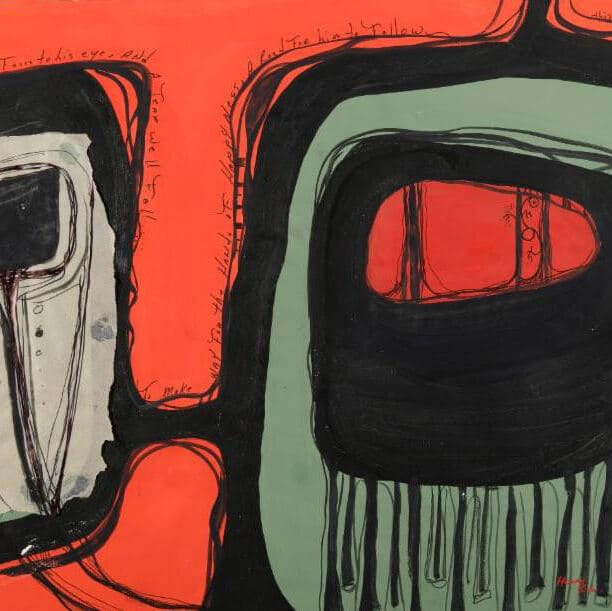 MoCNA is pleased to announce Action/Abstraction Redefined is traveling nationwide from March 2022 through May 2024.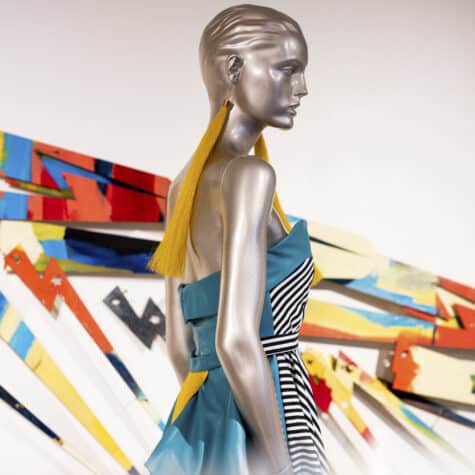 The Art of Indigenous Fashion offers insights into the approaches and perspectives of Indigenous designers beyond the visual and material qualities of their work.
Murals
A listing of current and upcoming murals at the IAIA Museum of Contemporary Native Arts (MoCNA).
Current and Upcoming Murals
A listing of murals at the IAIA Museum of Contemporary Native Arts (MoCNA).
Past Murals
A listing of past murals at the IAIA Museum of Contemporary Native Arts (MoCNA).
List of Events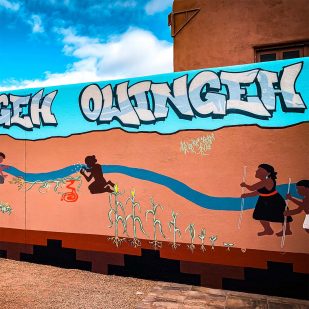 Continuance: O'Ga P'Ogeh Owingeh is a collaborative visual landmark by Three Sisters Collective, a Pueblo and Indigenous women-centered grassroots collective.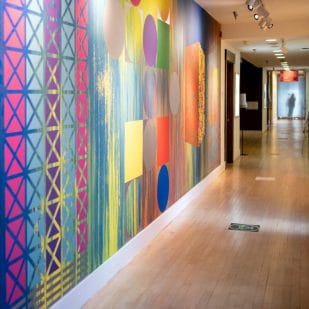 Alexander Lee's (Hakka Chinese, Tahiti) mural The Dream of the Haere-pō is a study on time and on Indigenous transformation.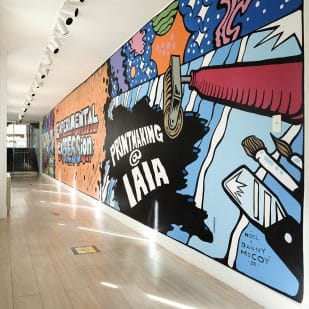 Daniel McCoy Jr.'s (Muscogee Creek/Citizen Band Potawatomi) '17 mural outside the Kieve Family Gallery is part of the Experimental exPRESSion exhibition.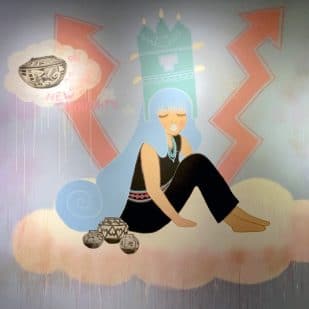 Future Vibes depicts young Pueblo women dancing into the future—to suggest that traditional knowledge continues into the present and future.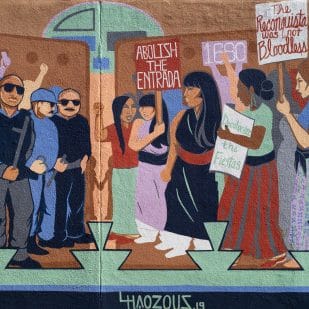 As part of the Reconciliation exhibition, artist Lynnette Haozous (Chiricahua Apache/Diné//Taos Pueblo) painted a mural depicting the last day of the Entrada.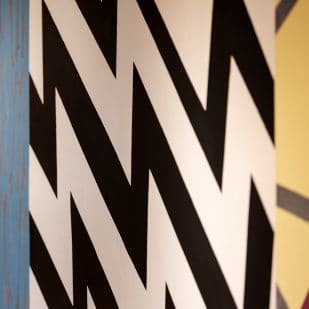 Heidi K. Brandow (Native Hawaiian/Diné) is a multi-disciplinary artist whose work is filled with whimsical characters that are often combined with poetry, stories, and personal reflections.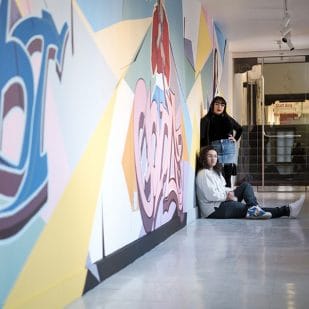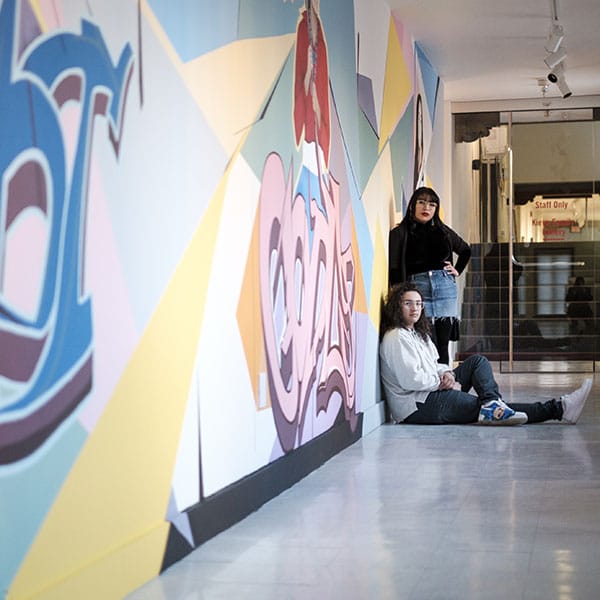 Robyn Tsinnajinnie (Navajo) and Austin Big Crow's (Oglala Lakota) mural The Holy Trinity (2018) commemorates the strong women who have resonated through their lives.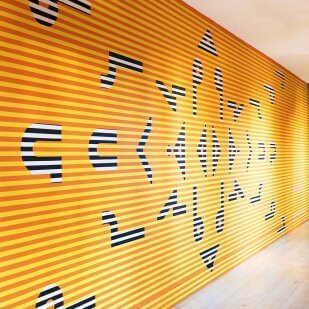 Through the use of Ojibway, Cree, and Inuit syllabics, Souliere utilizes aspects of this writing system to engage in ideas about space, color, form, symbolism, surface movement, and language. Her new mural project is an exploration into the parallels and the multifaceted ways in which simple geometric building blocks such as chevrons, circles, and rectangles have a profound affinity with Indigenous language, culture, and abstraction in Western art.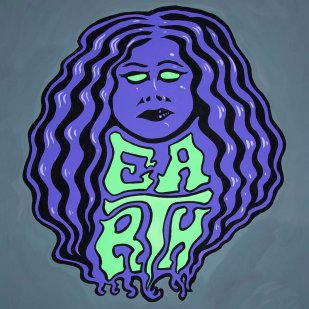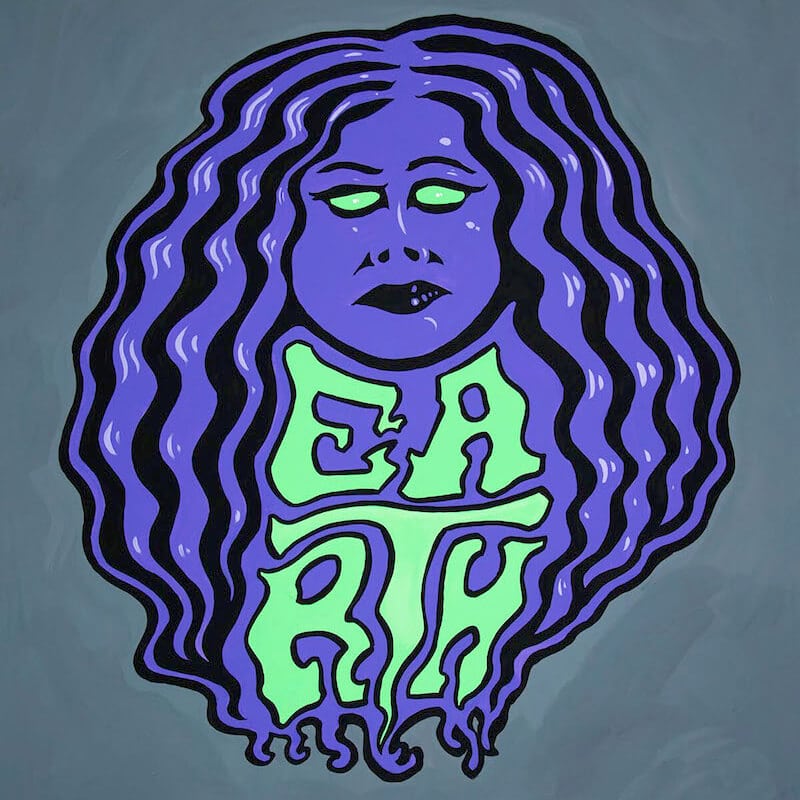 Daniel McCoy's art addresses contemporary Native American issues, past triumphs, current disasters, and is inspired by underground comics, album covers, as well as Oklahoma flat style painting. His new mural project for IAIA Museum of Contemporary Native Arts (MoCNA) further develops themes and characters of his previous works which are based in Native culture and […]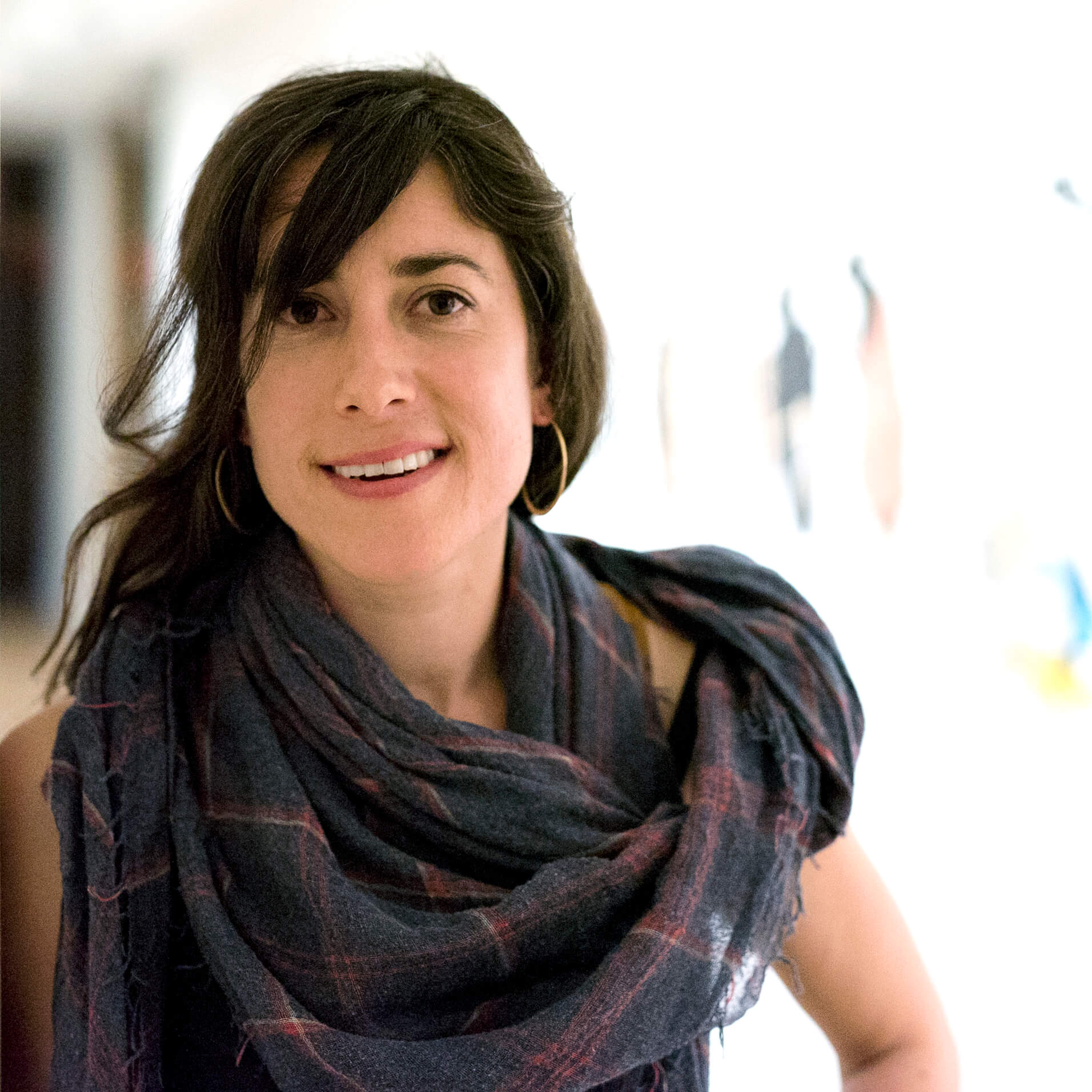 Perhaps we yearn to make our lives good and find balance because even when we feel completely challenged there is the unrelenting proof in each of us that we are survivors, that we are the result of our ancestors histories and that eventually we will become ancestors.  This collection of work interprets facets of this […]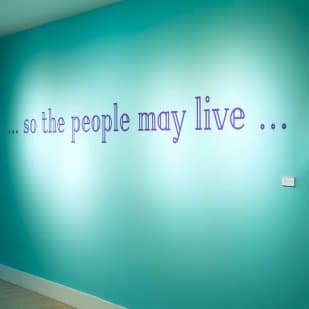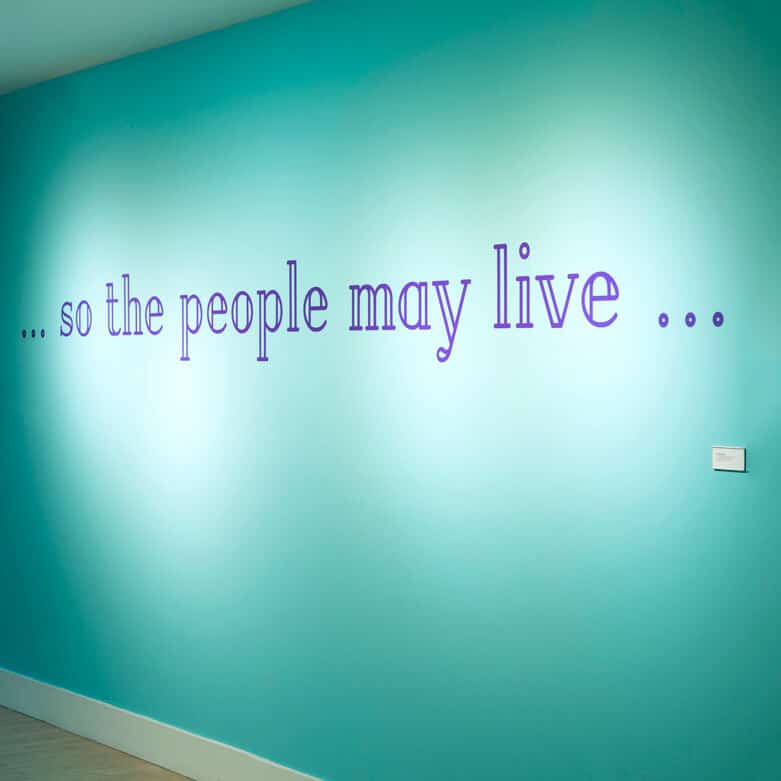 The exhibition You Are On Indian Land presents the work of leading contemporary American Indian and First Nations artists from across the North American continent. The participating artists actively engage the notion of pop-culture, misappropriation, and representation in their work. This multi-site exhibition premiered at Radiator Gallery in New York on April 17, 2015 featuring […]
Anne and Loren Kieve Gallery
The Anne and Loren Kieve Gallery rotates national and international cutting-edge contemporary Native art exhibitions two times a year (January to July and August to December). Loren Kieve (Cherokee) has served as an IAIA Trustee since 1994. Anne Kieve, an architect by training, share's Loren's love of art and support for IAIA's mission to advance contemporary Native arts.
Lloyd Kiva New Gallery
Sponsored by The Martha Ann Healy Family Foundation Lloyd Kiva New (1916–2002) was born February 18, 1916 in Oklahoma, of Cherokee and Scotch-Irish heritage. Kiva New graduated from the Art Institute of Chicago in 1938 and later served in the U.S. Navy during World War II. He worked with Southwest Indian Arts Project at the University of Arizona and was a co-founder of the Institute of American Indian Arts. Kiva New served as IAIA president from 1967 to 1978, and in many other important roles at the school through 2002. Lloyd recalled his mother with great affection and was inspired by the freedom and support she gave him to seek that which was in his heart and soul as a person, a Cherokee and an artist. He was a visionary in the fullest sense. He passed away in 2002.
Allan Houser Art Park
Allan Houser (1914-1994), is one of the most renowned Native American painters and Modernist sculptors of the twentieth century. He was the son of Sam and Blossom Haozous from Fort Sill Apache, a Chiricahua Apache tribe in Oklahoma. Houser left Oklahoma at the age of 20 to study at Dorothy Dunn's Art Studio at the Santa Fe Indian School in New Mexico. A top student, Houser had a rich history upon which to draw and made hundreds of drawings and canvases. His primary skill as a draftsman is evident in the astounding volume of work that was left behind in the Allan Houser Archive, located at the Houser family compound and sculpture garden in southern Santa Fe County, New Mexico. With over 6,000 images left behind, one can trace the remarkable output and varied subject of an artist who began all of his creations, including paintings and sculptures, with the act of hand to paper. Houser was an instructor at the Institute of American Indian Arts.
Fritz Scholder Gallery
Fritz Scholder (1937-2005) born in 1937 in Breckenridge, Minnesota, was an enrolled member of the Luiseño tribe. A student of Oscar Howe, a noted Sioux artist, Scholder pursued his art career and graduated with a master of fine arts degree in 1964. His best-known works, recognized for their insight and powerful commentary on publicly held stereotypes of Native Americans, were what propelled Scholder into a position of prominence as an artist. Scholder was an instructor in advanced painting and contemporary art history at the Institute of American Indians Arts.
Helen Hardin Gallery
Helen Hardin / Tsa-Sah-Wee-Eh (Little Standing Spruce) (1943-1984) was one of the most fascinating and engaging figures in the American Indian art world of the twentieth century. She was born in Albuquerque, New Mexico, the daughter of celebrated Santa Clara Pueblo artist, Pablita Velarde. Her art was one of definitive struggle: to capture, hold, and relish those aspects of her native heritage yet depart from the Santa Fe/Dorothy Dunn School. Her work was concerned with the intellectual and physical struggle of her very existence, the struggle of woman versus man, patron versus artist, Indian versus Anglo, tradition versus progression, an art of complexity and timeless beauty, a forward looking art yet rooted firmly in the ancient past. Hardin died before her time of cancer in 1984.
Kieve Family Gallery
In 2010 the IAIA Museum of Contemporary Native Arts (MoCNA) relocated its Collection of Contemporary Native Arts to the Barbara and Robert Ells Science and Technology Building on the IAIA campus. This move increased the museum's exhibition capacity by nearly one-third. As a result of a generous gift from Anne and Loren Kieve (Cherokee) in honor of their parents Pauline and Rudolph Kieve and Ruth and David Hughes and their love for art, the Museum opened a new wing on the second floor to showcase its permanent collection on August 21, 2015. Loren Kieve is Chairman of the Board of Trustees for IAIA. Drawing from the strength and diversity of the permanent collection, the works enable us to see the world through different eyes and highlight the role of the visionaries in IAIA's history, who forged new paths that we continue to follow.
Submission of Exhibition Proposals
Submissions are reviewed periodically by the director and curator, and will be evaluated in light of the quality, scope, and scale of the work, as well as the gallery's mandate and program priorities. Submissions are received at any time—there are no deadlines.
Submissions should include the following:
A curatorial statement and/or description of the exhibition proposed
A resumé
A selection of digital images or slides of the work to be exhibited (or past work), accompanied by a descriptive list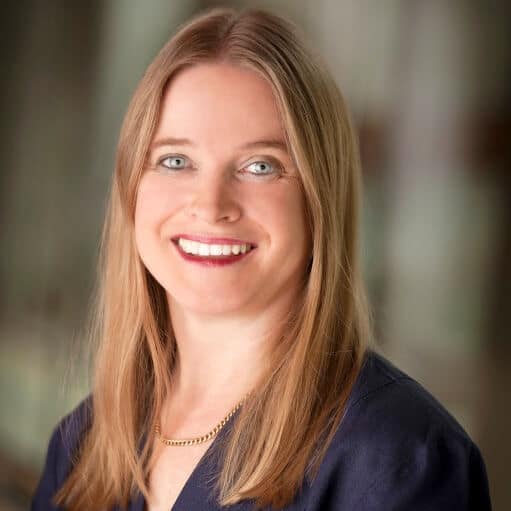 Manuela Well-Off-Man
Chief Curator
IAIA Museum of Contemporary Native Arts
P (505) 428-5922
E manuela.well-off-man@iaia.edu