IAIA has graduated more than 3,800 students, representing more than 90% of the 562 federally-recognized tribes. More than 20% of IAIA alums have earned a graduate degree. Many alums enjoy successful careers in the arts right here in Santa Fe.
Alumni Spotlight
Over this monumental anniversary year, we have been looking back at all the pivotal moments, meaningful traditions, and community connections that have formed IAIA over the past 60 years. We have a lot to be proud of, but what fills us with awe are our intelligent, creative, and resilient students and alums. IAIA is the birthplace of leaders in contemporary Indigenous arts and culture. That statement may sound lofty, but we can back it up. Check out our collection of Alumni Spotlights from the last year and a half. Our students have become contemporary art superstars, critically acclaimed poets and authors, pioneering scholars, civil rights activists, museum professionals, forward-thinking educators, and cultural leaders. They are the reason for all that we do, and their inspiration, hard work, bravery, and legacy allow IAIA to say—with great confidence—that we will continue Making History for a very long time.
Learn more about some of our amazing alums on this page, and check back in the future as we add more profiles of the movers, shakers, and changemakers who have called IAIA their educational home.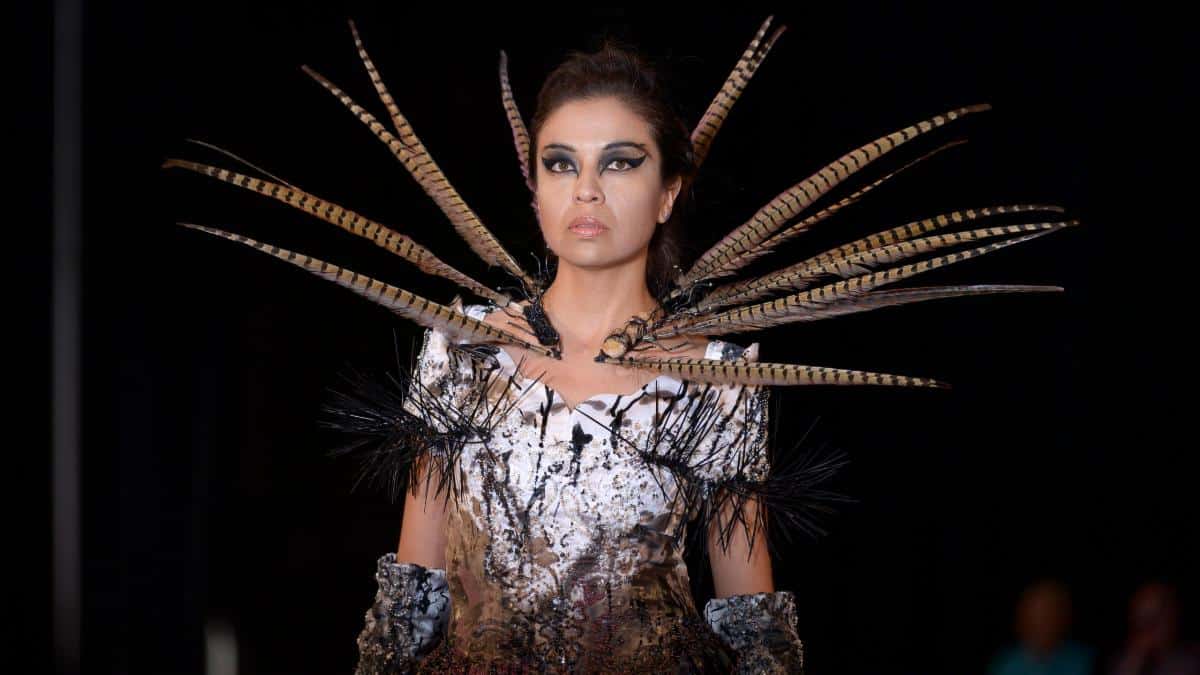 DezBaa' Henderson '21
(Diné)
Profile
For IAIA Alumna Sharon "DezBaa'" Henderson (Diné) '21, storytelling is in her DNA, and she explores this side of herself through a multitude of mediums.
When Henderson first took an interest in the film industry, she had no idea what her journey had in store. So, as she started auditioning for roles, she took screenwriting and filmmaking classes here and there to learn more about the process. Fast forward five years, and she has an MFA from IAIA's MFA in Creative Writing (MFACW) program with a double major in Screenwriting and Creative Nonfiction. However, screenwriting is just one piece of the puzzle for her as a storyteller.
Henderson now has a 
budding film career
. In the five years since she began acting on the side, Henderson is now a Screen Actors Guild (SAG) actor. She recently landed her first guest star recurring role on the upcoming AMC television thriller Dark Winds, premiering in 2022. You can also see her in Jesse Eisenberg's directorial debut, When You Finish Saving The World, starring Julianne Moore and Finn Wolfhard, which premieres virtually at the 
Sundance Film Festival
 on January 20, 2022.
Henderson also works behind the camera. After landing a role in a period piece, she voiced concerns about the attire chosen for the Navajo actors—it was not authentic. This experience led to further work as a Costume Stylist and Designer on other productions, including an ad for the 
Nike N7 Collection
 and a feature film. Her short film, Wish, was also officially selected for the Emerging Filmmakers Program in the 2021 LA Skins Fest and the Animalis Fabula Film Festival, where it was awarded 
"Best of the Fest" for Outstanding Short Narrative
 in January 2021.
Sharing knowledge and education is critical to Henderson as she learns more about the ins and outs of the film industry. She now acts as a mentor for 
True Kids 1
 and 
Film Prize Jr.
, nonprofit organizations that make film and media more accessible to the youth. In reconnecting with herself as a storyteller, she wants to aid others in finding their voices again. For Henderson, it's not about what you can do—it's about what can't you do.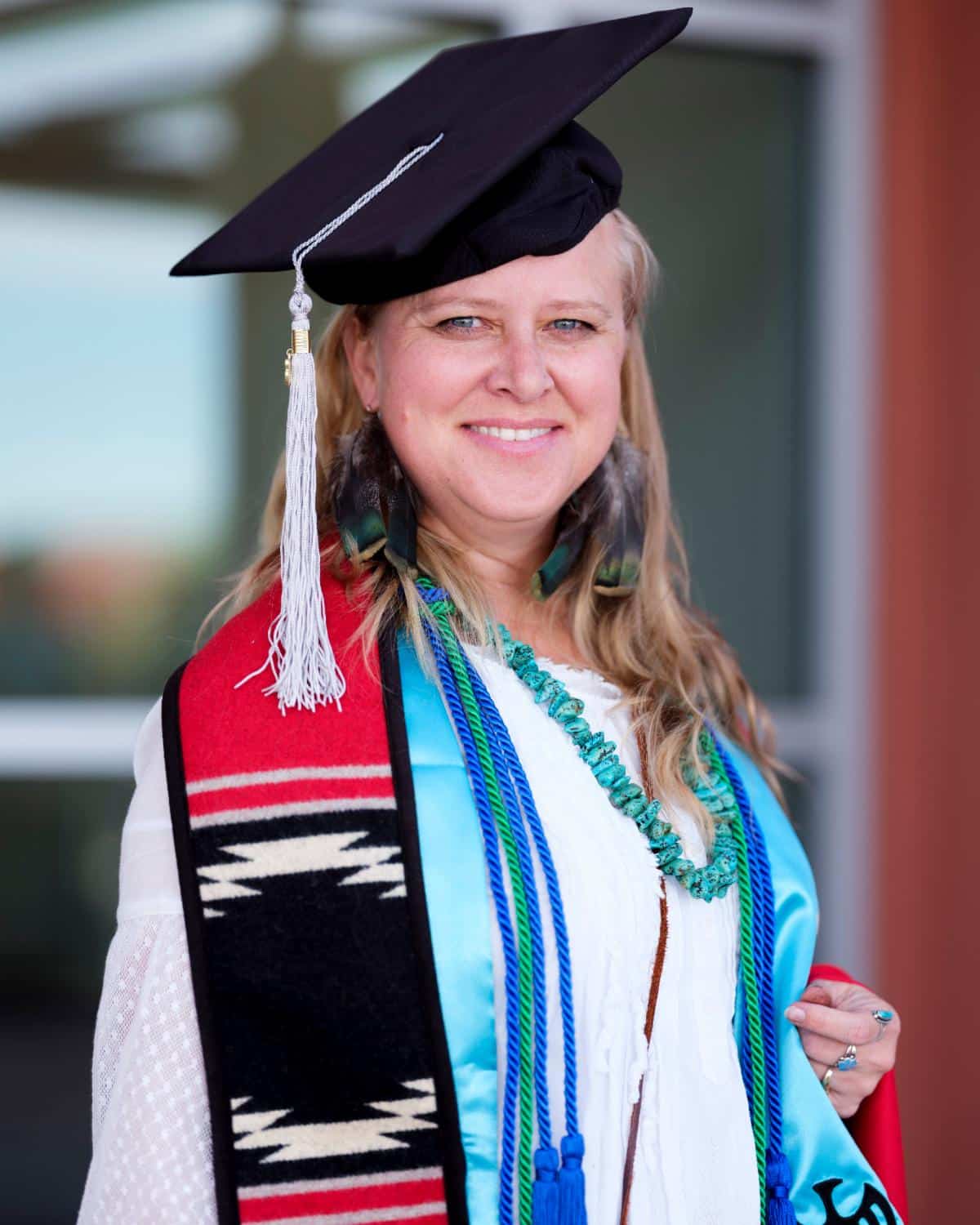 Dr. Elizabeth Kianu Stahmer, DAOM '18
(Wyandotte, Cherokee, Blackfeet)
Profile
Since graduation, IAIA alumna Dr. Elizabeth Kianu Stahmer, DAOM (Wyandotte, Cherokee, Blackfeet) '18 fell into a unique opportunity working at 
Stagecoach Foundation, Inc.
, and it wasn't long before she was cast in a lead role as the Executive Director in 2019.
Founded by Game of Thrones creator George R. R. Martin and scientific innovator David Weininger, Stagecoach Foundation is a nonprofit organization based in Santa Fe, New Mexico. The organization brings productions to the state, manages a production building and prop warehouse, develops industry training programs, and creates work opportunities for locals in the booming television and film industry.
As a graduate of the Indigenous Liberal Studies program, Dr. Stahmer credits understanding where you stand and how you engage with other people in a respectful and honorable way as a strong backbone of the program. She believes that the education she received from IAIA helped to prepare her for her current role as Executive Director—engaging with different communities requires integrity, diplomacy, and respect—and she applies this every single day in leading a nonprofit.
Under Stahmer's leadership, Stagecoach Foundation has developed high-caliber immersive training programs taught by industry leaders that truly mirror what it is like to be on a real set. So much so, that New Mexico IATSE Local 480, the local union chapter of the International Alliance of Theatrical Stage Employees (IATSE) approved these training programs and considers them as work experience. Stagecoach Foundation also recently worked with The WB television series, Roswell, and Stahmer facilitated a season finale event with producers, directors, and New Mexicans who worked on set—which includes IAIA students and alumni.
Stagecoach Foundation provides opportunities for interns and mentees from IAIA and other local schools, and some of these IAIA community members have gone on to start exciting new careers in the film industry. Dr. Stahmer looks forward to continuing to build relationships between Stagecoach Foundation and IAIA and is proud to see IAIA students and alumni gain hands-on experience as they jump into the workforce. Learn more about Stagecoach Foundation and the offered trainings and resources, at www.stagecoachfdn.org.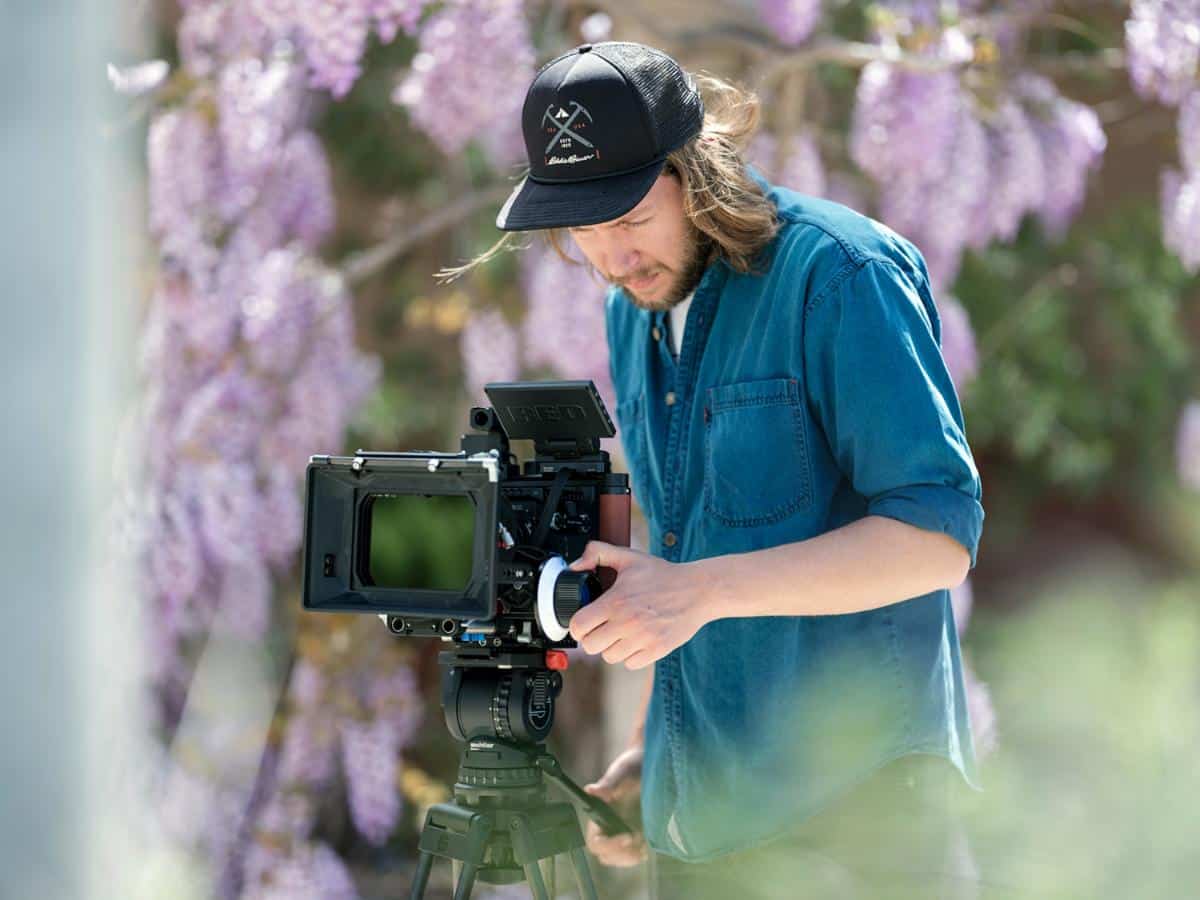 LeRoy Grafe '19
Profile
This month we turn our attention to Cinematic Arts and Technology graduate LeRoy Grafe '19. Grafe is a visual storyteller who has a style all of his own—that's clear to see while looking at a selection of stills from his cinematic work on his 
website
.
At the start of the COVID-19 Pandemic in 2020, he served as the Director of Photography (DP) for the New Mexico portion of 
Ralph Lauren's® 2020 Holiday commercial
. Again serving as DP, he worked on the upcoming YETI short film, The Ballad of Pecos Hank, which follows a storm chaser from Texas to North Dakota. The YETI short film is slated to be released soon.
When Grafe isn't traveling for cinematic work, he's at home in Santa Fe with his girlfriend and IAIA Studio Arts graduate Scarlett Cortez '20.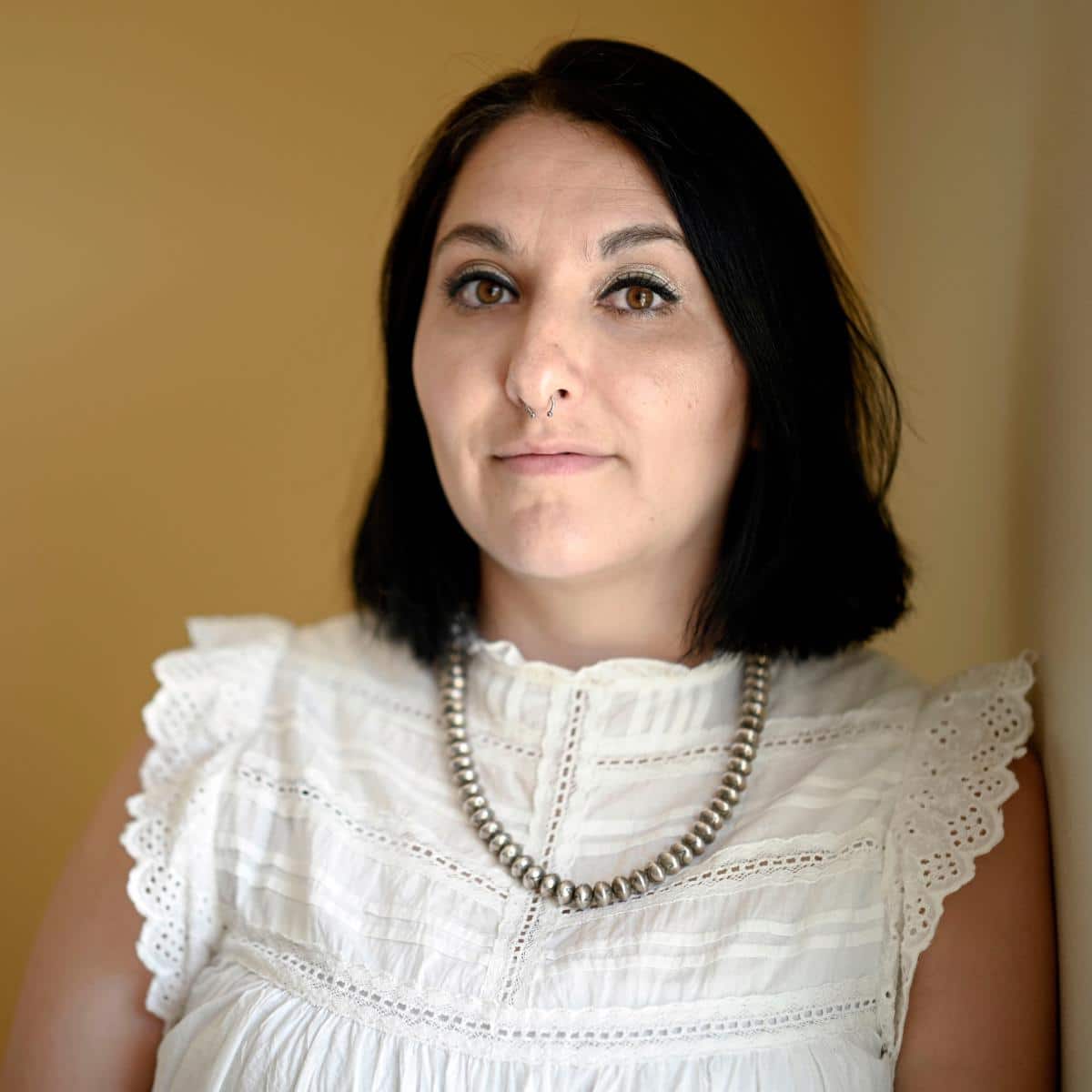 Angelica Gallegos '15
(Chicana)
Profile
When it comes to higher education, it would seem IAIA was only the beginning for IAIA Alumna Angelica Gallegos (Chicana) '15. Since graduating with a BFA in Museum Studies, Gallegos has gone on to pursue two additional degrees—an MA in History at Arizona State University, which is nearly complete, and a BFA in Chicano Studies at the University of Texas at El Paso. After completing her degree in Museum Studies, she recognized the interconnectedness of knowledge and decided to further her education to support her interests. As a first-generation college student and mother, Gallegos hopes her passion for education and lifelong learning inspires her son to discover who he is, contribute to his community, and know that he can achieve anything with hard work, determination, and compassion.
As A-i-R Assistant, Gallegos combines what she learned from IAIA with new knowledge she has acquired to contribute to the community in a meaningful way. The Museum Studies program at IAIA provided Gallegos with a better understanding of the relationship between museums, institutions, public programming, and the community. She enjoys working with the Artists-in-Residence and learning about their practice, techniques, and who they are as individuals. With the connections made between the IAIA community and artists from across the nation and Canada, the A-i-R program has allowed Gallegos to embrace her passion for community and public programming. As she goes on, she hopes to continue to apply her knowledge and skill sets for community collaboration.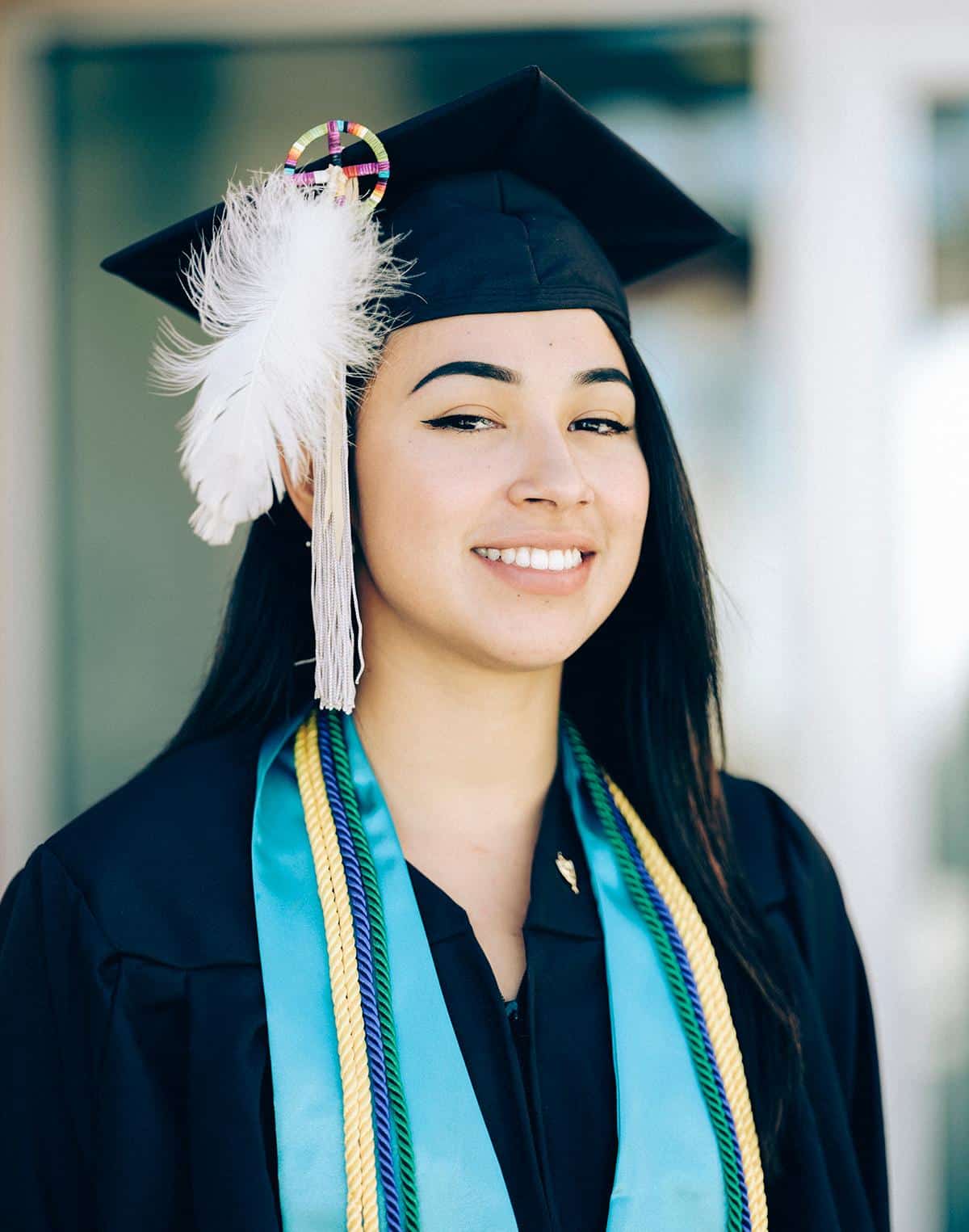 LaShawn Medicine Horn '19
(Yankton Sioux)
Profile
Over the past two years, IAIA Alumna LaShawn Medicine Horn (Yankton Sioux) '19 has been making her mark as a tattoo artist. Upon graduation from IAIA, she began a year-long apprenticeship learning the ins and outs of tattoo artistry and is now a fully licensed artist who hopes to contribute to the elevation of the art form.
A studio arts major whose primary area of study was mixed media and installation work, she set out to expand her abstract paintings to new mediums, and the human canvas presented an exciting new challenge. Her studio arts background and education serve as a solid foundation that directly translates to her career in the tattoo industry—examples of both are available on her online portfolio on 
Instagram
.
As she further evolves as a tattoo artist, her goal is to continue to merge her fine arts training with this centuries-old art form. She aims to take up space via exhibitions and pop-ups in institutions where tattoos have not traditionally been considered fine art.
Medicine Horn works out of The Dungeon Tattoo and Piercing in Santa Fe, New Mexico, where she is available for appointments.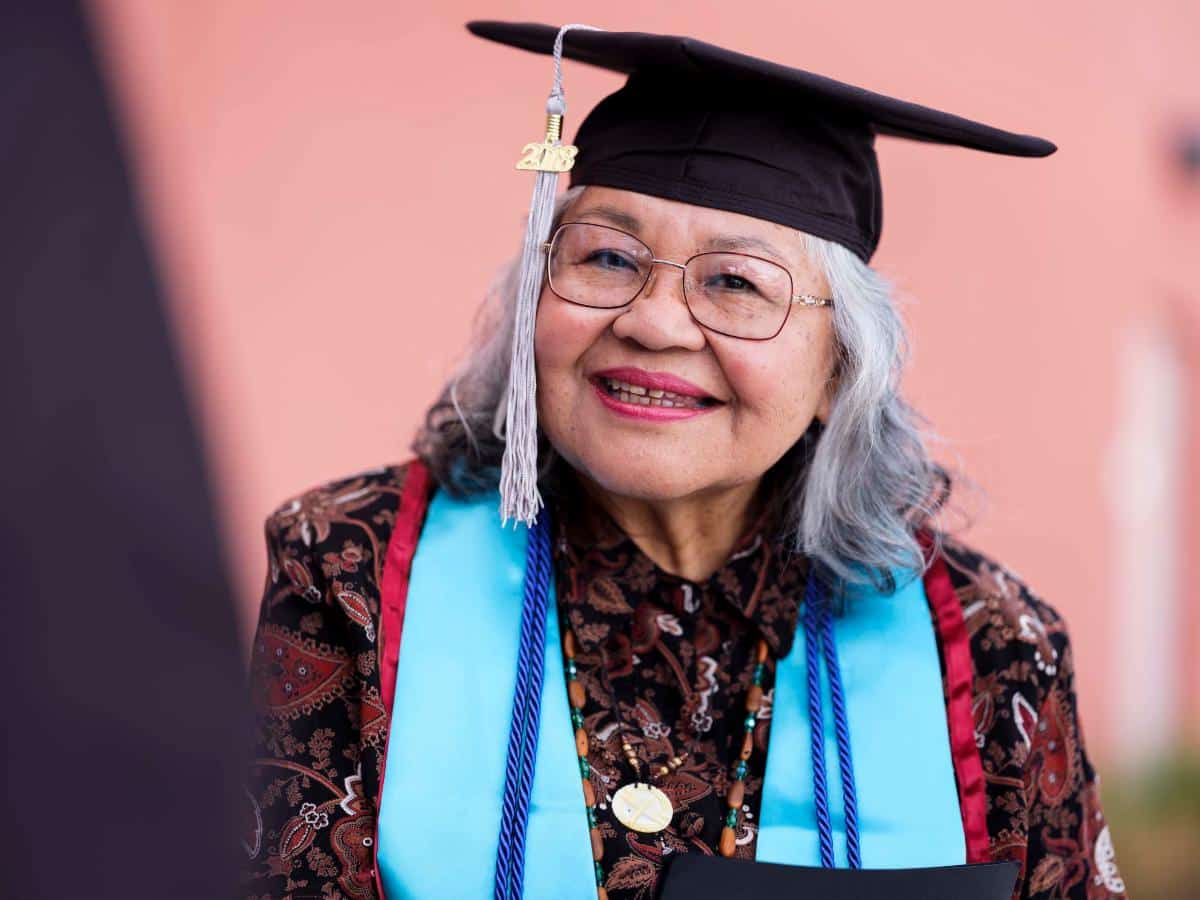 Vivian Carroll '20
(Cherokee)
Profile
IAIA Alumna Vivian Carroll (Cherokee) '20 hasn't been idle during the past year. Her play, Dust and Disobedience, is one of five short plays that will be presented through video-on-demand from August 13–22. Native American Voices is produced by 
The Adobe Theater
 in association with Two Worlds. Also, she will be appearing in one of the Native American Voices' plays, Breakfast Brunch.
The Spring issue of 
Yellow Medicine Review
 contains three of her poems. A sonnet, Squeezing Out Truth, won second place in 
Oprelle
publication's poetry contest and will be featured in their anthology, Rise Up. Additionally, her essay will appear in Nonwhite and Woman, an anthology of micro-essays, in Spring 2022 by Woodhall Press.
Give Back
Contributions, beit sharing your time, expertise, art, or donation, ensures the success of IAIA's students and its community.
Time—Committing time as a volunteer at one of the many IAIA happenings helps enrich the campus and also makes for a successful event. Whether it be at the annual Powwow, Winter Art Market, or Commencement, we welcome your help. Please let us know how you would like to share your time with us.
Expertise—With life come experience, with experience comes knowledge. Please consider sharing your expertise through a workshop, teaching a continuing education course, speaking on a panel, demonstrating skills to our students, or perhaps you have expertise in another area that is not mentioned. We'd love to have you share your knowledge with the IAIA community.
Art—As an art school, we always love receiving artwork from IAIA Alumni, work that we show in annual IAIA Scholarship Dinner and Auction, at the IAIA Museum of Contemporary Native Arts (MoCNA), the Balzer Contemporary Edge Gallery, or in the IAIA Library.
Donation—IAIA strives to be there for its students, and to do what we can see them succeed. Helping a student with scholarships is just one of many ways to help contribute to IAIA student success. If you'd like to contribute to IAIA's scholarship fund, please make a contribution today.
Alumni Association
All IAIA Alumni are automatically enrolled into IAIA's Alumni Association. Membership in the IAIA Alumni Association offers the following benefits.
Free access to the IAIA Fitness Center
Alumni checkout privileges with the IAIA Library
Alumni Newsletter
Future networking opportunities
August Alumni Luncheon
Holiday Art Market eligibility
Access to alumni lectures
Access to other alumni relations happenings
Alumni Council
The IAIA Alumni Council's mission is to foster communication and engagement between the alumni and their alma mater, support IAIA's goals, and offer a collective alumni voice.
Purpose
The Alumni Council was created to establish a mutually-beneficial relationship between IAIA and its Alumni.
Responsibilities
The responsibilities of the Alumni Council are to (a) learn about the current programs and future plans of IAIA and to communicate them to IAIA Alumni, (b) learn about the concerns of IAIA Alumni regarding IAIA and to communicate these concerns to the IAIA community, including, but not limited to the IAIA Board of Trustees, administration, faculty, staff, and students, (c) represent the IAIA Alumni in all appropriate venues, such as meetings of the Board of Trustees, IAIA strategic planning, the nomination of potential Trustees and IAIA Foundation Board meetings, (d) develop IAIA Alumni programs and activities that further the goals of both IAIA and the IAIA Alumni Council, and (e) raise the public profile of IAIA through IAIA Alumni success stories.
Members
Leanne Campbell '13, Council Member
George Cramer '17, Council Member
Moira Garcia '13, Council Member
Ryan Young '19 Council Member
Kendra Greendeer '14 Council Member
Marcus Dunn '11 Council Member
Manuel Ramirez '18 Council Member
Contact
For more information or questions, please contact alumni.council@iaia.edu.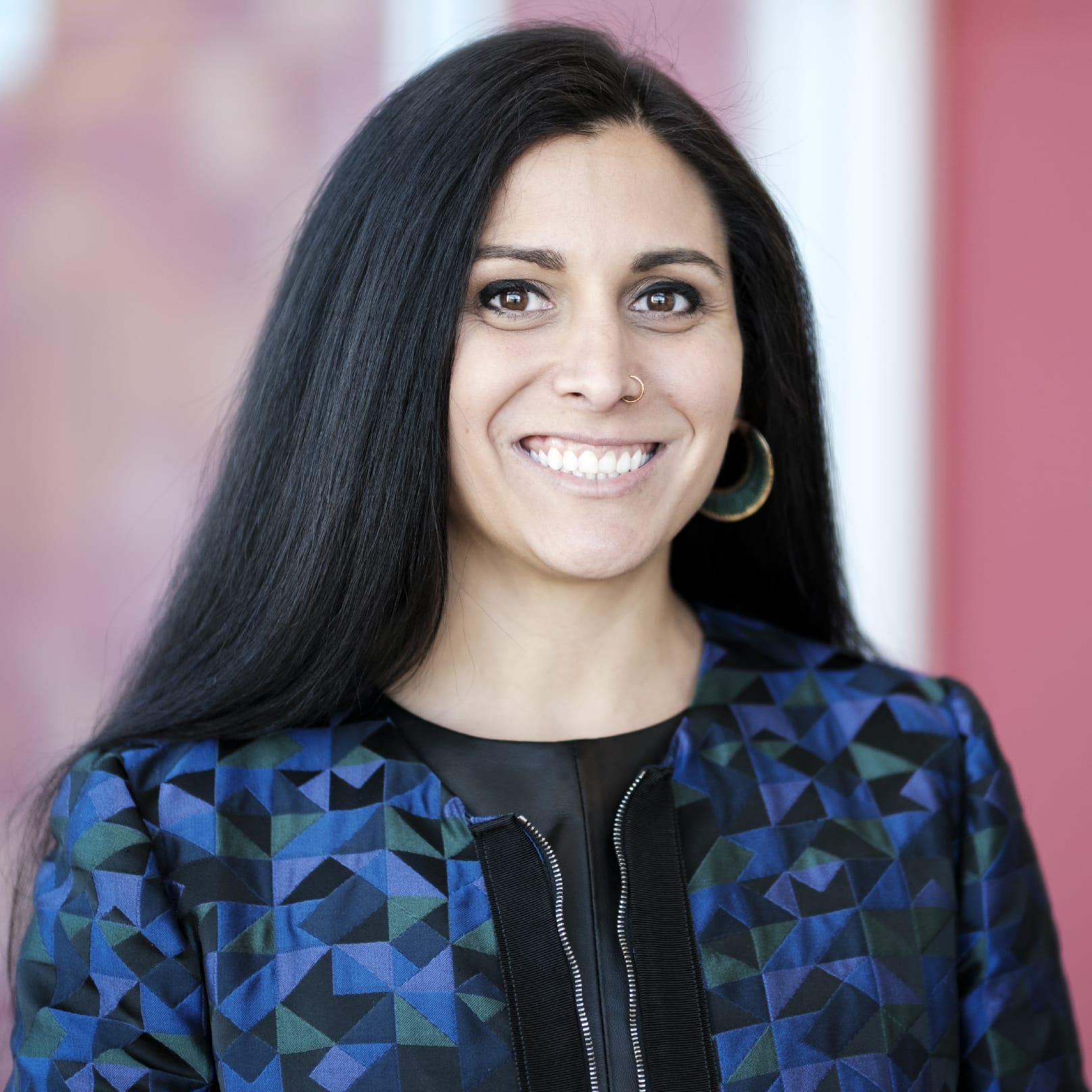 Danielle Murzynsky-Obiekwe
(Chickasaw)
Associate Director
Institutional Advancement
P (505) 428-5931
E d.murzynsky-obiekwe@iaia.edu
Update Your Information
Update your information with Alumni Relations and stay-up-to-date with current happenings.