IAIA Museum of Contemporary Native Arts (MoCNA) offers community members to take part in becoming a volunteer, docent, or intern. MoCNA also offers tours of the exhibitions for individuals, educations, and travel and corporate groups. On this web page, you can also learn more about the Vision Project and publications.
Resources
While the museum is closed temporarily, we welcome you to engage with contemporary Native art through our array of online resources. Through art-making, curriculum guides, and other fun activities, visitors of all ages are able to engage with various works of art in MoCNA's exhibitions and collections. We will be uploading new content every other week, so definitely come back!
At Home
Enjoy a series of activities for all ages, such as word search, crossword puzzles, word scramble, mazes, and trivia. Simply download, print, and enjoy!
Educational Workbooks
The MoCNA Education program has created a series of educational workbooks for each of the artists featured in the Indigenous Futurisms: Transcending Past/Present/Future exhibition. These workbooks explore topics related to the artwork and interests of each artist.
Coloring Pages
Enjoy coloring pages depicting a work of art in our collection or exhibitions. These coloring pages were created by Daniel McCoy Jr (Muscogee Creek/Citizen Band Potawatomi) '16, from MoCNA collections and exhibitions. Simply download, print, and color away. Share your creations with us on Instagram by tagging @iaiamocna. We can't wait to see your creations! Download and view 2020_iaia_mocna_daniel_mccoy_jr_coloring_pages (compressed file with all 10 coloring pages, 20.5 MB).
Publications
These publications can be purchased in the online IAIA Store.
Docents
IAIA Museum of Contemporary Native Arts (MoCNA) Volunteers and Docents provide thousands of hours of service in a variety of roles. Volunteers and docents have the opportunity to gain exposure to the workings of a major art museum and contribute valuable visitor services to a nonprofit institution. Our volunteers and docents contribute their talents, knowledge, skills, enthusiasm, and energy—and, in turn—provide an invaluable service to our community.
Volunteer
Be a part of the contemporary Native art scene; share your expertise and help support MoCNA's mission. Learn something new, meet like-minded people and have some fun!
Volunteering at MoCNA offers a unique experience working with contemporary Native art alongside internationally recognized museum professionals, IAIA students, and other community volunteers. Benefits include the chance to meet new people with similar interests, complimentary attendance to selected programs and events, advance notice of events and programs, discounted museum membership, invitation to a special volunteer recognition event, store discounts, and consideration for paid staff positions. You may enjoy access to art not readily available to the public, education and training about the history and art of the Institute of American Indian Arts, experience with museum standards and fieldwork and insights into collections care and management.
Here's a short list of things you can be involved with:
Events
Greeters at Exhibition Openings, Public Programs and Special Events
Assistance with Program and Event Set-Up, Coordination and Breakdown
Exhibitions
Gallery Preparation
Exhibitions Installation/De-installation
Research Projects
Collections
Collections Inventory
Digitization and Archiving the Collection
General Collections Helper
Assistance with Records and Archiving
Organization and Cataloging of Collected Works
Education and Outreach
Tour Guides and Gallery Conversation Starters
Membership Concierge
Admissions and Museum Shop Helpers
Production and Promotion of Public Programs
Volunteer Program Assistant
General Administration
Updating Library Catalogue and Image Archives
Assistance with Archiving Printed Materials & Press Clippings
General Office Organization
Thank you for your interest in volunteering at MoCNA. For more information, please contact Museum Educator Wayne Gaussoin (Diné, Picuris, and French Descent) at (505) 428-5907 or wgaussoin@iaia.edu.
Tours
Important Note: We are currently suspending all tours due to the COVID-19 pandemic, including Docent-led walk-in tours, as well as group and school tours, until the end of May. Please call (505) 428-5907 or email groups@iaia.edu if you have questions.
MoCNA offers group tours for educational, travel, and corporate groups. Group tours must be arranged at least three weeks prior to arrival. Please call (505) 428-5907 or email groups@iaia.edu to schedule a tour.
Walk-In Tours with our Docents
The IAIA Museum of Contemporary Native Arts provides current exhibition highlight tours every week on Mondays and Saturdays at 11 am led by our docents. With cost of admission, these walk-in tours are free to our guests and offer insight into contemporary Native American art and experience. In some cases, we might not have a docent available, so please call (505) 428-5907 during museum hours to confirm the walk-in tours are offered on a particular day or ask the museum admission desk.
Vision Project
The IAIA Museum of Contemporary Native Arts (MoCNA) Vision Project is a Ford Foundation initiative whose goals are to establish an Indigenous discourse that reflects the vibrancy and potency of the contemporary Native arts field at its most current level of activity. The Vision Project serves as a platform to chart the future direction of the field, thus acknowledging Indigenous creativity as a complex and layered space for cultural expression. Under the Museum's leadership, the Vision Project produced a book, a multimedia website, an educational resource guide, short film, and an exhibition.
Manifestations: New Native Arts Criticism
The edited volume Manifestations: New Native Arts Criticism addresses the most pressing concerns in the field of contemporary Native arts practice, including the nature of place, identity debates, pedagogy, vocabulary, professional standing, and our global presence. As the central training institution for emerging Native artists, poets, filmmakers and museum studies professionals nationally for the past fifty years, the Institute of American Indian Arts is the authority on Indigenous aesthetic practice in Native North America. Not since the Heard Museum's 1992 Shared Visions has such a comprehensive survey of our field been attempted. A product of the Ford Foundation's Advancing the Dialogue in Native Arts in Society initiative, IAIA's Manifestations publication represents the most authoritative source for emerging dialogues on Native arts practices and concerns.
Manifestationshighlights the work and biographies of sixty contemporary Native artists who have made central contributions to the contemporary Native art field. The publication features sixty biographical essays by fourteen Indigenous authors (curators, art historians, anthropologists, and academics), more than 100 full-color reproductions four contextual essays by senior theorists and scholars, and forewords by the MoCNA Director Patsy Phillips (Cherokee) and the Vision Project manager Will Wilson (Navajo).
Manifestations: New Native Arts Criticism senior editor is Dr. Nancy Marie Mithlo (Chiricahua Apache). The publication can be purchased in the Museum Store. For more information about purchasing the book, please call (505) 983-1666.
Download and view the Manifestations Curriculum Guide.
Internships
Internship opportunities available (unpaid) at the IAIA Museum of Contemporary Native Arts (MoCNA) introduce interns to various departments (exhibition, collection, administration, research, membership, etc…) and the operations of our museum. Placements are based on museum needs and requirements along with applicant's skills and interests.
MoCNA has hosted internships with students from colleges and universities nationwide and may be eligible to receive college credit.
Please submit the following:
Letter of Intent (500 words max.)
Résumé and Curriculum Vitae
Letter of Intent (500 words max.)
For more information, please contact Museum Educator Wayne Gaussoin (Diné, Picuris, and French Descent) at (505) 428-5907 or wgaussoin@iaia.edu..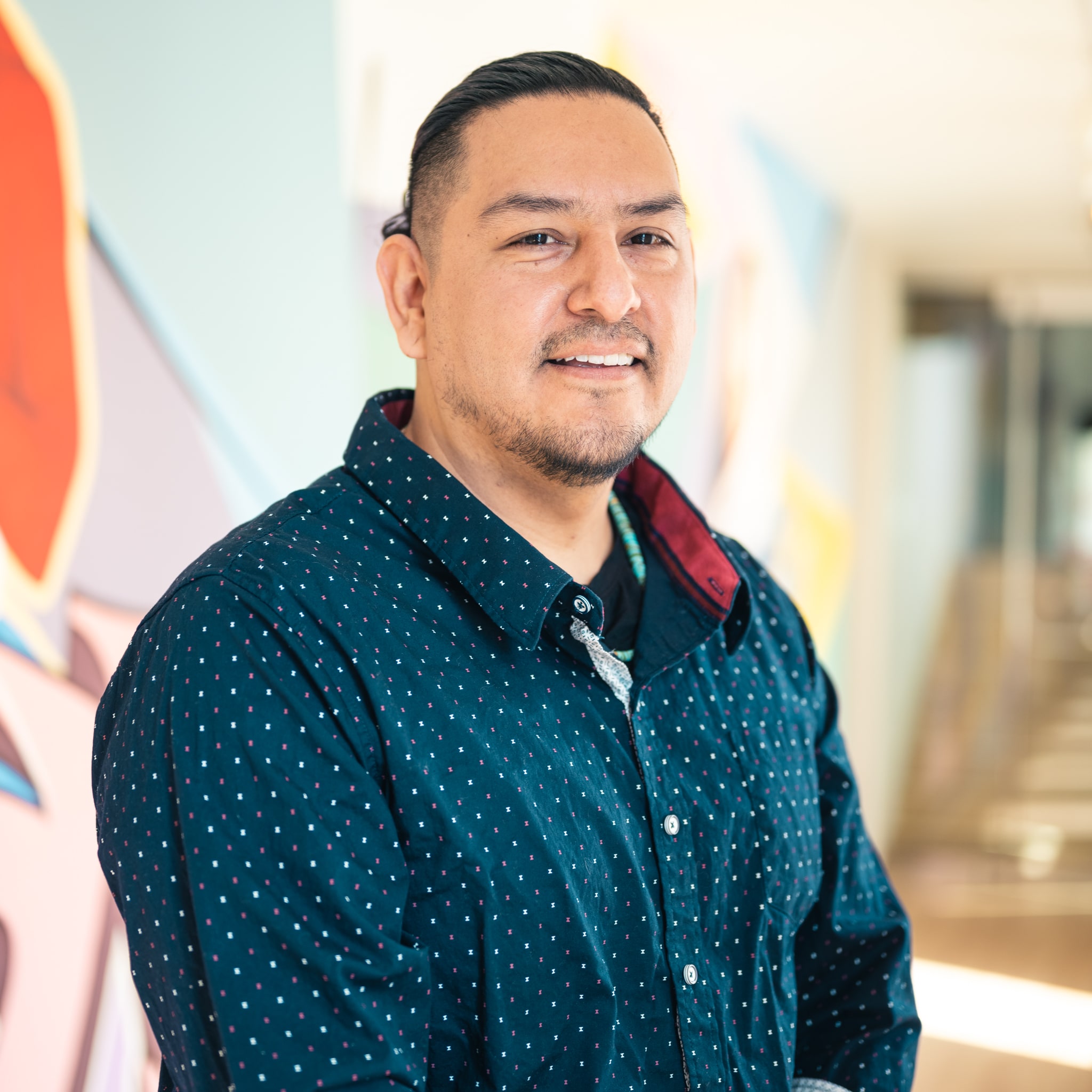 Wayne Gaussoin
(Diné, Picuris, and French Descent)
Museum Educator
Museum
P (505) 428-5907
E wgaussoin@iaia.edu