A Conversation with MoCNA's Chief Curator Dr. Manuela Well-Off-Man and Rick Rivet
Wed, May 3, 2:00 pm

–

3:00 pm

|

Free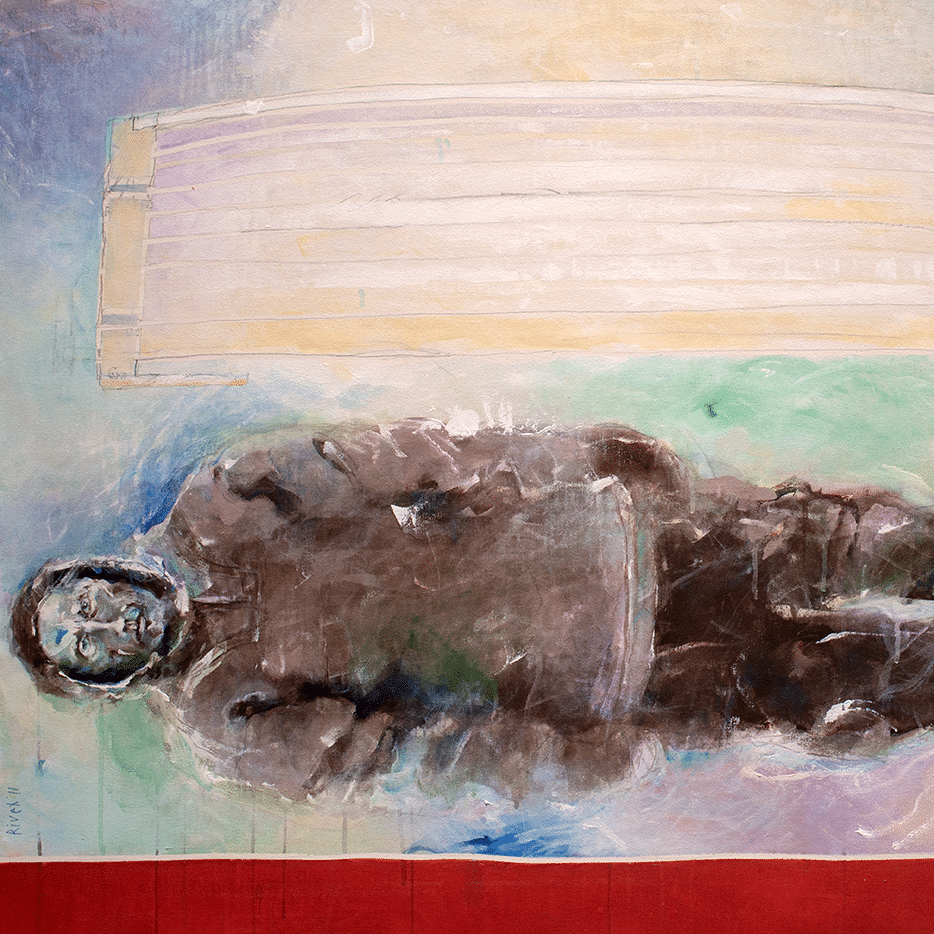 As part of the IAIA Museum of Contemporary Native Arts' (MoCNA) ongoing programming for Rick Rivet: Journeys, Mounds and the Metaphysical, please join us for an online conversation with MoCNA's Chief Curator Manuela Well-Off-Man and Rick Rivet (Sahtu-Métis). They will talk about Rivet's creative process and the recurring themes in his works. For more information or to schedule an interview, please contact Jason S. Ordaz, IAIA Director of Communications, at jason.ordaz@iaia.edu.
The livestream event happens on Wednesday, May 3, 2023, 2–3 pm (MDT). For questions, please contact MoCNA Membership and Program Assistant Nuttaphol Ma at nuttaphol.ma@iaia.edu or (505) 428-5925. Register for the livestream event.
About Rick Rivet
Born in the remote area of Aklavik, Northwest Territories, in the Canadian Arctic, and growing up in a Métis family of First Nations and European descent, Rick Rivet's (Sahtu-Métis) acrylic and mixed-media paintings are influenced by Indigenous cultures, ancient shamanic and spiritual traditions, and modern art movements such as Surrealism and Abstract Expressionism. For Rivet, the painting process is often a journey into the unconscious, and the role of the artist is similar to that of a shaman: both mediate between the spirit world and the human world.[1] Recurring themes in his works include journeys (spiritual travel and voyages through life), nature, mounds, and metaphysical experiences. Rivet holds a BA from the University of Alberta, BFA (Painting) from the University of Victoria, and MFA (Painting) from the University of Saskatchewan.
About Dr. Manuela Well-Off-Man
Dr. Manuela Well-Off-Man is an art historian and chief curator at the IAIA Museum of Contemporary Native Arts in Santa Fe, New Mexico. She previously served as curator at Crystal Bridges Museum of American Art and at the Montana Museum of Art and Culture. With more than 20 years of curatorial experience in museums and galleries, she has curated national and international contemporary Native American art exhibitions. Well-Off-Man received her Ph.D. in art history from the Ruhr University, Bochum, Germany, and her M.A. degree in art history, archaeology and pedagogy from the University of Cologne, Germany. She has authored numerous exhibition catalogue essays, magazine articles and blogs on American art.
[1] Rick Rivet, "Statement," Rick Rivet artist's website, accessed 01 Feb 2023.