Akunnittinni: A Kinngait Family Portrait—Pitseolak Ashoona | Napachie Pootoogook | Annie Pootoogook
Fri, January 22, 2016

–

Sat, December 31, 2016
Event Navigation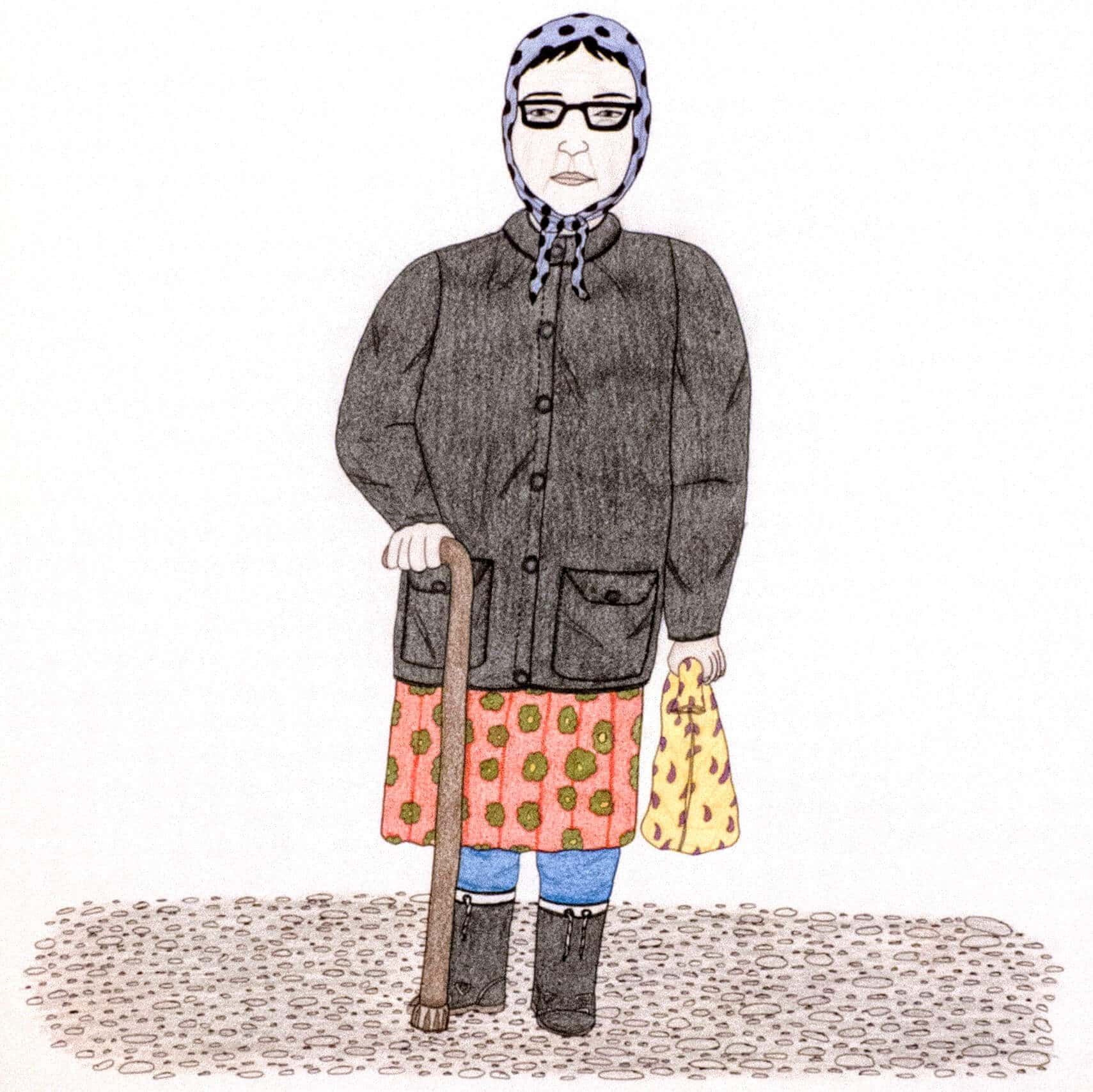 Loosely translated, the Inuktitut word Akunnittinni means "between us." This exhibition chronicles a visual dialogue between an Inuk grandmother, mother, and daughter—Pitseolak Ashoona (1904-1983), Napachie Pootoogook (1938-2002), and Annie Pootoogook (1969- ). Their artworks provide a personal and cultural history of three generations of Inuit women whose art practices included autobiographic narratives and have chronicled intimate and sometimes harsh memories and historically resonant moments. The prints and drawings on view also include sardonic references to pop culture that now infuses everyday life in Kinngait (Cape Dorset), as well as nuanced depictions of family and village life. Kinngait is a remote Arctic community located on Dorset Island near Foxe Peninsula at the southern tip of Baffin Island in the Qikiqtaaluk Region of Nunavut, Canada. The region is known internationally for their artwork, produced in places like the now famous Kinngait Studios (West Baffin Eskimo Co-operative) since the 1940s. Pitseolak Ashoona, Napachie Pootoogook, and Annie Pootoogook are among the most well regarded artists from this region.
The works on display in the South Gallery are on loan to the IAIA Museum of Contemporary Native Arts from Edward J. Guarino, a retired public school teacher from Yonkers, New York. Guarino is an author, educator, lecturer, and collector specializing in Native American and Inuit Art. He writes a monthly column on Native art and culture for the King Galleries of Scottsdale web site. His work has also appeared in Native Peoples magazine. Art from his collection has been exhibited at the IAIA Museum of Contemporary Native Arts, Brooklyn Museum, the McMichael Canadian Art Collection, the Art Gallery of Alberta and the Loeb Art Center, and Vassar College. Affectionately known as the Herb Vogel of contemporary Native art, he has collected more than 1,000 Native American paintings, drawings, and ceramic works, with an emphasis on Inuit art.
Other works have been loaned by Dorset Fine Arts, the marketing division of West Baffin Eskimo Co-operative, located in Toronto, Ontario, Canada. Dorset Fine Arts was established in 1978. Located in Cape Dorset, Nunavut, the co-operative is unique among the Arctic co-operatives for its focus on the arts and artists of the community. The Annual Graphics Collection from Cape Dorset has been released annually since 1959 and the co-operative also represents many acclaimed sculptors and drawing artists. The distinctive work produced in this region – particularly in stone cut and lithography – are produced in the Kinngait Studios, which is the oldest art print shop in Canada. Dorset Fine Arts was created to develop and serve the market for Inuit fine art produced by the artist members of the co-operative. Sales and exhibitions of prints, drawings and sculptures are made through the Dorset Fine Arts showroom in Toronto to galleries around the world.
About the Artists
Pitseolak Ashoona (1904-1983)
Pitseolak was born in 1904 on Nottingham Island in the Hudson Straights, while her family was en route from Sugluk (now Salluit) on the north coast of Arctic Quebec to the south coast of Baffin Island. She spent her childhood in several camps on the south Baffin coast. As a young woman she married Ashoona and bore seventeen children, Pitseolak is the mother of several Cape Dorset artists, the Ashoonas; Ottochie, Komwartok, Kaka and Kiawak; and Napachie Pootoogook. Still in his prime, her husband, Ashoona died during an epidemic in the Nettling Lake area, leaving Pitseolak to raise their young family on her own. She settled permanently in Cape Dorset in the early 1960's. Pitseolak was among the first in Cape Dorset to begin drawing, and the most prolific. She made close to nine thousand drawings during her twenty years in Cape Dorset. Her prints have appeared in every annual print collection since her work was first published in 1960. Her best and most authentic drawings were of "the old Eskimo ways," a way of life deeply embedded in her memory. Pitseolak was awarded several honors over the years, and her work has been the subject of several projects. In 1971, the National Film Board produced a film based on her book, Pitseolak: Pictures out of my Life. In 1974, she was elected a member of the Royal Canadian Academy and she received the Order of Canada in 1977. Pitseolak died in 1983 and is buried behind the Anglican Church in Cape Dorset. She fulfilled her promise to work on her drawings and prints until she was no longer able. Her vast legacy of original work now resides on long term loan at the McMichael Canadian Art Collection where it continues to be photographed, documented and exhibited.*
*Bio cited with permission from West Baffin Eskimo Co-operative, 1999.
Napachie Pootoogook (1938-2002)
Born at Sako, a traditional Inuit camp on the southwest coast of Baffin Island, Northwest Territories, Canada, Napachie Pootoogook was the daughter of one of Inuit art's most important figures, Pitseolak Ashoona. Along with her sculptor brothers, (Namoonai, Koomwartok, Ottochie) Kiawak and Kaka Ashoona, and her graphic artist sisters-in-law Mayureak and Sorosiluto Ashoona, Napachie belongs to a family with a strong artistic identity that has contributed significantly to the reputation of Cape Dorset art and the printmaking studio of the West Baffin Eskimo Co-operative. In the mid-1950s, while living at Kiaktuuq, she married Eegyvukluk Pootoogook (b.1931), son of an important camp leader, Pootoogook, later became one of the main printers in the Cape Dorset studio. Like her mother, Napachie began drawing in the late 1950s. Since 1960, her work has been included in almost every annual collection of Cape Dorset prints. Napachie and her husband moved to Cape Dorset in 1965, except for a two-year stay in Iqaluit in the early 1970s. Like her sister-in-law, Sorosiluto, Napachie participated in the acrylic painting/drawing workshops established by the West Baffin Eskimo Co-operative in 1976. Her interest in landscape and Western notions of spatial composition grew out of this experience. Prior to her passing, Napachie worked directly in the lithographic medium and experimented with life drawing as a preparatory stage toward the print image.*
*Bio cited with permission from Marie Routledge in North American Women Artists of the Twentieth Century: A Biographical Dictionary, 1995.
Annie Pootoogook (1969-2016)
Annie Pootoogook began drawing in 1997 under the encouragement of the West Baffin Eskimo Co-operative in Cape Dorset. She quickly developed a preference for drawing scenes from her own life, and became a prolific graphic artist in the intervening years. In 2003, Annie's first print was released: an etching and aquatint drawn on copper plate. The image titled, Interior and Exterior, is a memory of the artist's childhood, lovingly recording the particulars of settlement life in Cape Dorset in the 1970s. Her solo exhibition at The Power Plant Contemporary Art Gallery, and subsequent win of the Sobey Art Award – both in 2006, as well as her participation at Documenta in 2007, have established her as the leading contemporary Inuit graphic artist. Annie is the daughter of Napachie and Eegyvudluk Pootoogook, and the granddaughter of renowned artist Pitseolak Ashoona. Annie's artwork challenges conventional expectations of "Inuit" art. Her subjects are not Arctic animals or scenes of nomadic existence from a time before settlement life; rather, her images reflect her experiences as a female artist living and working in contemporary Canada. Like her grandmother Pitseolak before her, Annie is an instinctive chronicler of her times. She fills her domestic interiors with details such as clocks and calendars, graduation photos, and Inuktitut messages stuck to the fridge in contemporary Inuit kitchens. Amongst meticulous depictions of modern outpost camp life and scenes peopled by local Cape Dorset personalities, Annie's graphics are peppered with images of ATM cash machines, Playboy-style eroticism, the social services office, spousal abuse and the Iraqi war on television. The death of her mother Napachie in 2002 led Annie to explore themes of mortality and spirituality.*
*Bio cited with permission from Feheley Fine Arts.
Curator
Andrea R. Hanley (Navajo)
Exhibition Photographs