IAIA A-i-R: Monique Sol Sonoquie—Brown Bag it with MoCNA
Thu, March 7, 2019, 12:00 pm

–

1:30 pm

|

Free
Event Navigation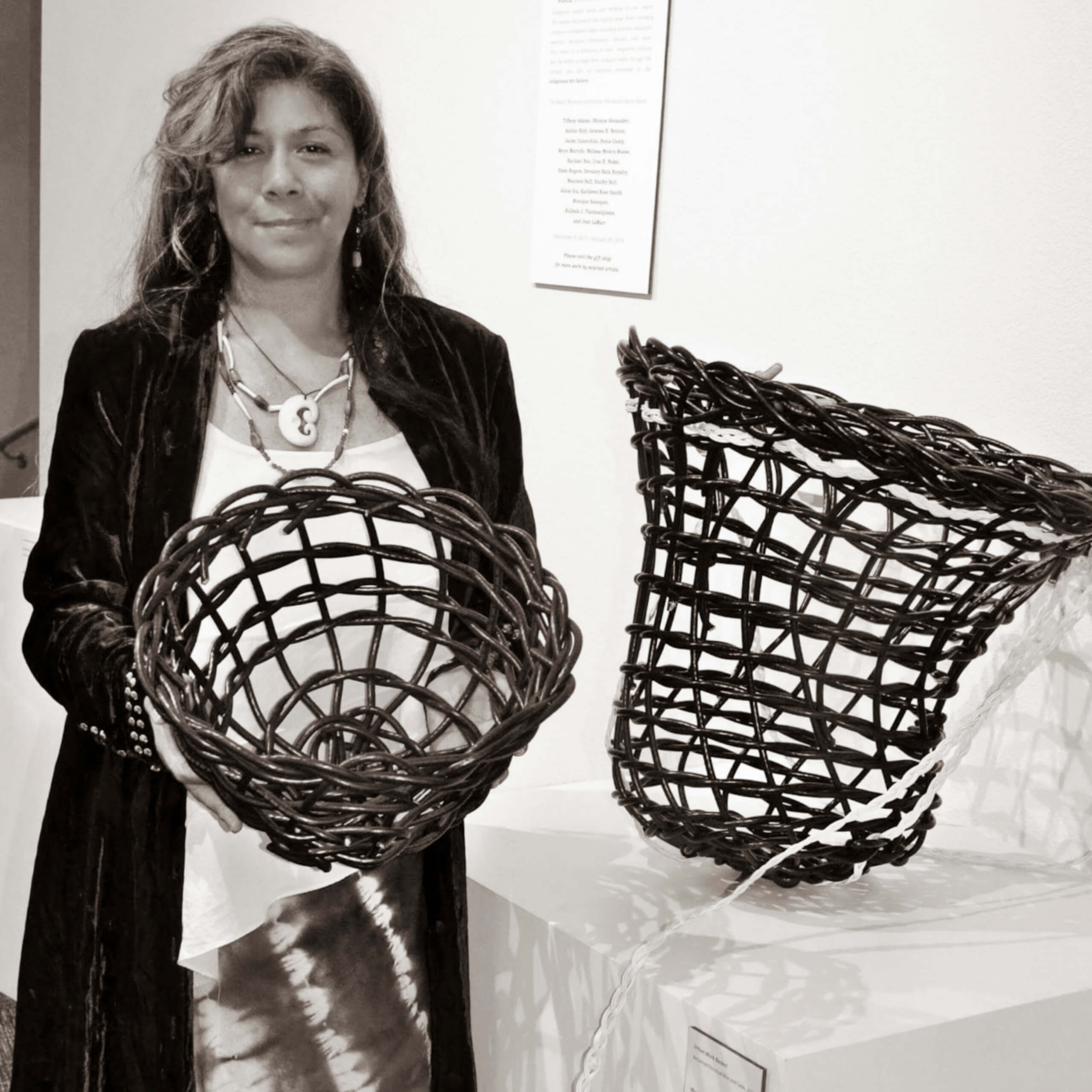 Bring your lunch and join IAIA Artist-in-Residence (A-i-R) artist Monique Sol Sonoquie (Chumash, Apache, Yaqui, Zapotec, Irish) as she discusses her art practice.
Monique Sol Sonoquie
Monique Sol Sonoquie (Chumash, Apache, Yaqui, Zapotec, Irish) is a multi-dimensional Indigenous Woman, in body, mind and spirit. As a Basketweaver, Documentary Filmmaker, Youth Advocate, Traditional Food and Medicine Gatherer, Educator, Romiromi Practitioner and EarthMother Protector, she has embodied many aspects of her rich heritages into her life and work. She is adaptable to any terrain, inspiration and affliction using her Indigenuity.
Through her California non-profit, The Indigenous Youth Foundation, Inc., and independently, she provides classroom presentations, basketweaving classes, Sacred Site preservation training, answering the calls of Elders and youth in her communities. From sponsoring Native Family Health Days, to authoring children's books, organizing murals in schools, producing cultural videos, and hosting traditional healers, Sol Sonoquie embodies the tradition of sharing that is so essentially part of our cultures.
As a Basketweaver, she gathers traditional materials such as tule, juncus, hazel, and willow sticks, and more recently with kelp and seaweeds. With limited access to gathering sites and materials due to toxins, land loss ,and climate change, she has found alternative materials to preserve culture and land.
Her new-found challenge and exploration is weaving with recycled materials, combining her passions of traditional weaving and her dedication for "Refuse, Reduce, Reuse and Recycle." During her residency at IAIA, Sol Sonoquie plans to explore and expand on representing traditional lifestyles by reclaiming post industrial waste, evolving from her recently created electronic cables baskets to life size sculptures.
Monique Sol Sonoquie is in residence January 22, 2019–March 14, 2019.
For more information please contact MoCNA Membership and Program Manager Andrea R. Hanley (Navajo) at (505) 428-5907 or ahanley@iaia.edu.