Indigenous Futurisms, Tom Jones, Tamara Ann Burgh and Luanne Redeye, and Experimental exPRESSion—Virtual Exhibition
Sat, February 1, 2020

–

Tue, December 31, 2030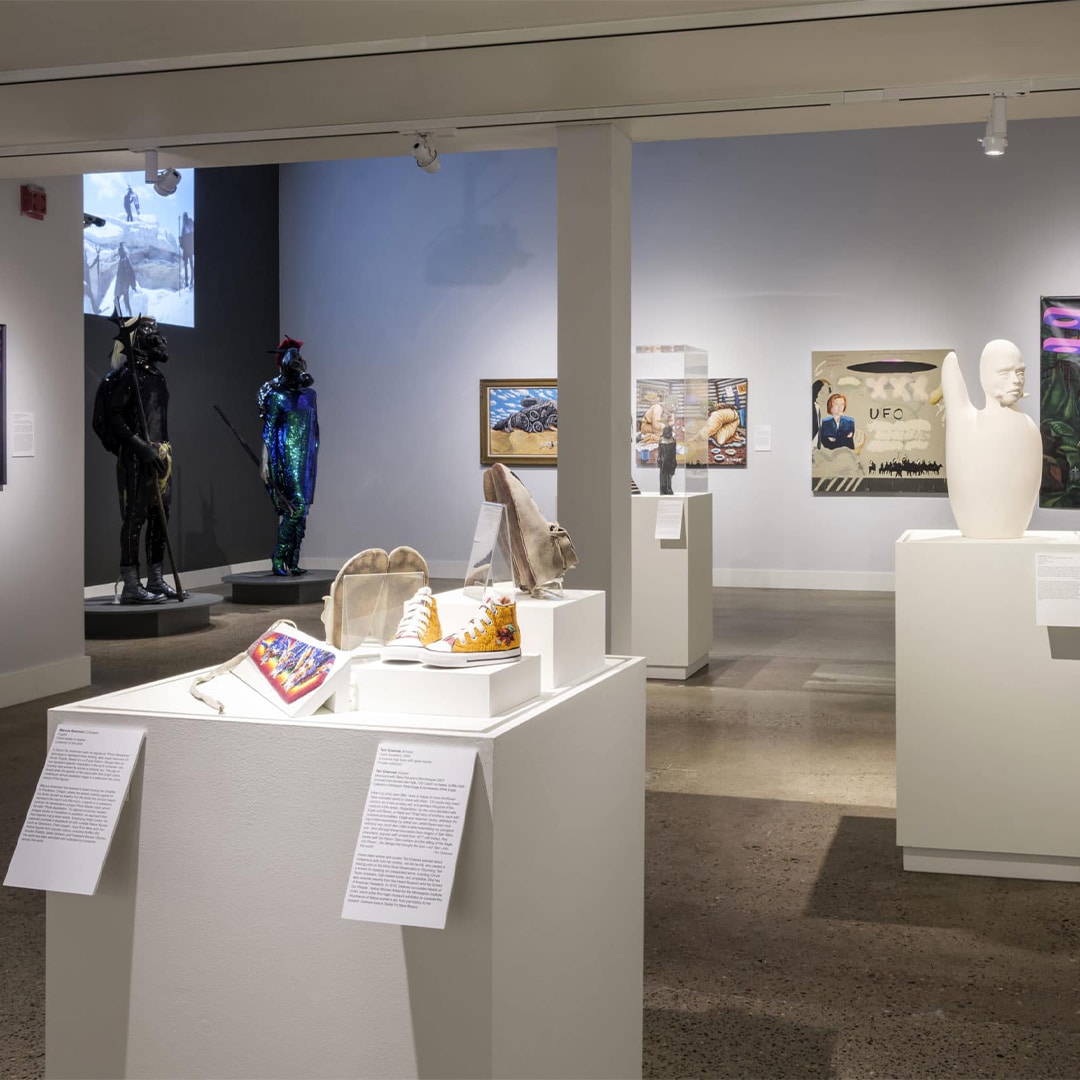 Indigenous Futurisms highlights artworks that present the future from a Native perspective, and illustrates the use of cosmology and science as part of tribal oral history and ways of life. The science fiction and post-apocalyptic narratives depicted in these artworks are often reality for Indigenous communities worldwide. The imagery and narratives also emphasize the importance of Futurism in Native Cultures. Artists use Sci-Fi related themes to pass on tribal oral history to younger audiences and to revive their Native language. The works in this exhibition create awareness about how cultural knowledge and tribal philosophies are connected to the universe, science, and the future. Indigenous Futurisms was co-curated by IAIA Art History Faculty Dr. Suzanne Fricke, Chelsea Herr (Choctaw Nation of Oklahoma), and IAIA Museum of Contemporary Native Arts Chief Curator Dr. Manuela Well-Off-Man.
Strong Unrelenting Spirits features new works from Tom Jones' series of portraits that are rooted in his Ho-Chunk identity. The works extend the boundaries of photography by incorporating beadwork directly onto the photographs. According to Jones, "the use of Ho-Chunk floral and geometric designs is a metaphor for the spirits of my ancestors who are constantly looking over us." Jones' photographs examine identity and geographic place with an emphasis on the experience of American Indian communities.
The exhibition FRAMED investigates issues of self-representation and identity and examines the "American Experience" from a Native perspective through mixed media works by Tamara Ann Burgh (Inupiat-Kawerak/Swede) and Luanne Redeye (Seneca Nation of Indians/Hawk Clan). Both artists often include family and found portrait photos in their artworks, which they alter through overpainting. Presented in seemingly nostalgic, decorative frames, which evoke American folk art and Victorian-era Iroquois beadwork, these works invite viewers to contemplate alternate histories, intergenerational trauma and authenticity.
Experimental exPRESSion: Printmaking at IAIA, 1963–1980 features fifty-one recently-acquired works on paper from the Tubis Print Collection, donated by the Nina Tubis Wooderson Trust. Notable artists in the exhibition include Peggy Deam (Suquamish), Mary Gay Osceola (Seminole), and Sandy Fife (Muskogee Creek), among other IAIA Alumni. The exhibition will be on display for two-years and closes July 2021.