MoCNA Opening Reception for Summer 2022 Exhibitions
Fri, August 19, 2022, 5:00 pm

–

7:00 pm

|

Free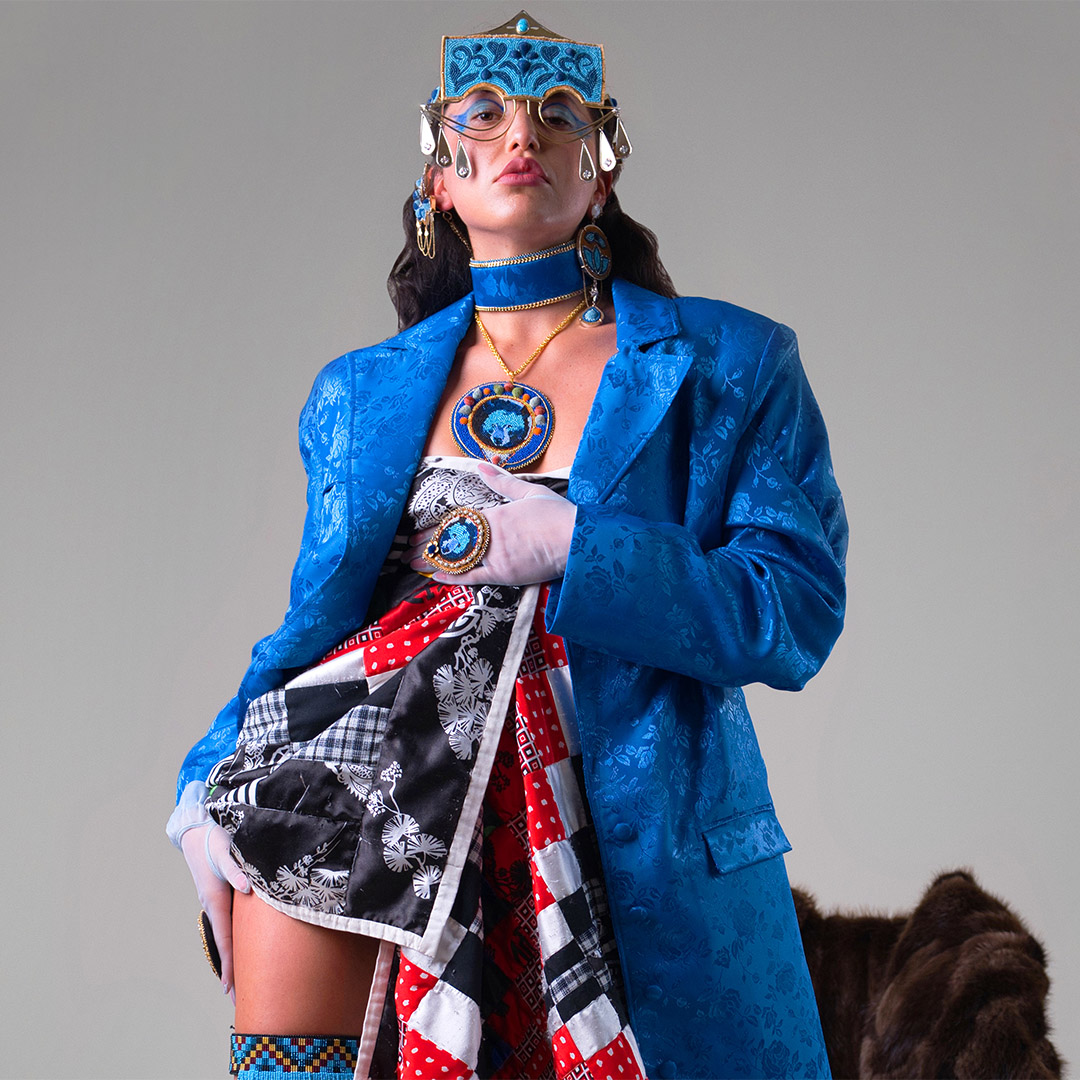 Join the IAIA Museum of Contemporary Native Arts (MoCNA) for the opening reception of our 2022 summer/fall exhibitions Art of Indigenous Fashion, Athena LaTocha: Mesabi Redux, and Matrilineal: Legacies of Our Mothers on Friday, August 19, from 5–7 pm (MDT).
About Art of Indigenous Fashion
The Art of Indigenous Fashion offers insights into the approaches and perspectives of Indigenous designers beyond the visual and material qualities of their work. Indigenous designers have been fashioning clothing and personal adornment for millennia and can be considered the original haute couture artists of the Americas. Historically, Indigenous garments are one-of-a-kind and custom made.
Blending art and fashion, some designs pose critical questions about culture and identity, reflecting the power of visual representation while reminding the viewer that Museum collection classifications do not bind native art, culture, and dress. Loosely organized by period and theme, specific designs broach historical and contemporary issues. Some designers use fashion as a platform for social activism, and some designs may challenge the viewer's notion of "Indian style."
Over twenty leading contemporary Indigenous designers from Canada and the United States have been brought together in this show, including Barry Ace (Odawa), Pilar Agoyo (Ohkay Owingeh, Cochiti, and Kewa Pueblos), Marcus Amerman (Choctaw), Jason Baerg (Métis), Pamela Baker (Squamish and Kwakiutl), Kay Bennett (Diné), Catherine Blackburn (Dene), Decontie & Brown (Donna Decontie-Brown [Kitigan Zibi First Nation of Maniwaki and Penobscot Nation] and Jason K. Brown [Penobscot Nation]), Lauren Good Day (Arikara, Hidatsa, Blackfeet, and Plains Cree), Orlando Dugi (Diné), Sho Sho Esquiro (Kaska Dena and Cree), Anita Fields (Osage), Dorothy Grant (Haida), Teri Greeves (Kiowa), Lesley Hampton (Temagami First Nation), Patricia Michaels (Taos Pueblo), Lloyd Kiva New (Cherokee), Jamie Okuma (Luiseño), Virgil Ortiz (Cochiti Pueblo), Wendy Ponca (Osage), Skawennati (Mohawk), Yolanda Skelton (Gitxsan Nation), and Margaret Wood (Navajo and Seminole).
Art of Indigenous Fashion is the first fashion exhibition organized by the IAIA Museum of Contemporary Native Arts and curated by guest curator Amber-Dawn Bear Robe (Siksika Nation), Assistant Professor in Art History and Museum Studies at IAIA, and Fashion Show Director for the Southwestern Association for Indian Arts, Santa Fe, NM. The exhibition is supported by the Ford Foundation.
About Athena LaTocha: Mesabi Redux
Athena LaTocha (Lakota and Ojibwe) created the works in her Mesabi series on-site at iron deposits in the Mesabi Mountain Range of northern Minnesota, which is known to the local Ojibwe as Misaabe-wajiw, "Giant Mountain" or "Sleeping Giant." The range is the site of the world's third-largest open-pit iron ore mine. LaTocha cast iron reliefs during a month-long residency, coordinated by the MacRostie Art Center in Grand Rapids and supported by the Minnesota Museum of Mining in Chisholm, where iron mining started in the 1880s and continues today.
The works were cast by pouring molten iron freestyle into a bed of sand. The process is an extension of LaTocha's gestural painting practice, where she pours and throws ink, earth, and other materials onto monumental sheets of paper. During the pour, while the iron is still liquid, LaTocha manipulates the molten metal with various tools much the same way she uses found objects to manipulate pools of ink. Over the course of her residency, the artist traveled daily across the Mesabi Range between Grand Rapids and Chisholm. By day and by night, she saw piles of mine waste—tailings and overburden—appearing as uncanny mountains along the highways where surface mining operations have reshaped the land and culture. As part of her process, LaTocha works within the traditional homeland of her Lakota and Ojibwe ancestors and considers the impact mining has upon nature, society, and culture.
LaTocha has a studio in Brooklyn, New York. She received a BFA from the School of the Art Institute of Chicago and an MFA from Stony Brook University in 2007. She is the recipient of a prestigious Joan Mitchell Fellowship and a Rauschenberg Residency.
About Matrilineal: Legacies of Our Mothers
Matrilineal: Legacies of Our Mothers presents the art of three generations of Mvskoke (Creek) mothers and daughters. The Fife family of artists work individually in various styles and media, including shell carving, painting, and sculptural textile work, and they collaborate as fashion designers. Founded in 1976, The Fife Collection incorporates Southeastern Indigenous motifs in an innovative clothing line.
While profoundly engaged with Indigenous cultural knowledge, the Fife family emphasizes the importance of formal education and has many ties to Santa Fe and IAIA. The late Carmen Griffin Fife, mother and grandmother of the exhibition's artists, graduated from Chilocco Indian Agricultural School in Oklahoma in 1934, then completed the arts and crafts teacher training program at Santa Fe Indian School. As a high school student, Carmen's eldest daughter, Jimmie Carole Fife, participated in the 1961 Southwestern Indian Art Project at the University of Arizona, the success of which, in part, inspired the foundation of IAIA the following year. Three of the artists—Carmen's daughters Phyllis Fife (1969) and Sandy Fife Wilson (1973), as well as Phyllis' daughter Shelley Patrick (2020)—are graduates of IAIA. Jimmie Carole's daughter, designer Maya Stewart, graduated from the London College of Fashion.
This exhibition honors the legacy of Mvskoke (Creek) matrilineal traditions, both culturally and artistically. More than 50 artworks from across multiple decades are featured in this exhibit, including new works expressing the ongoing practice of these accomplished women.
The guest-curator for Matrilineal: Legacies of Our Mothers fine art exhibition is Laura Marshall Clark, a Mvskoke (Creek) Nation member.
For more information, please contact IAIA Museum of Contemporary Native Arts (MoCNA) Chief Curator Manuela Well-Off-Man at manuela.well-off-man@iaia.edu.