The Stories We Carry—Opening Reception
Sun, October 16, 2022, 3:00 pm

–

5:00 pm

|

Free
Event Navigation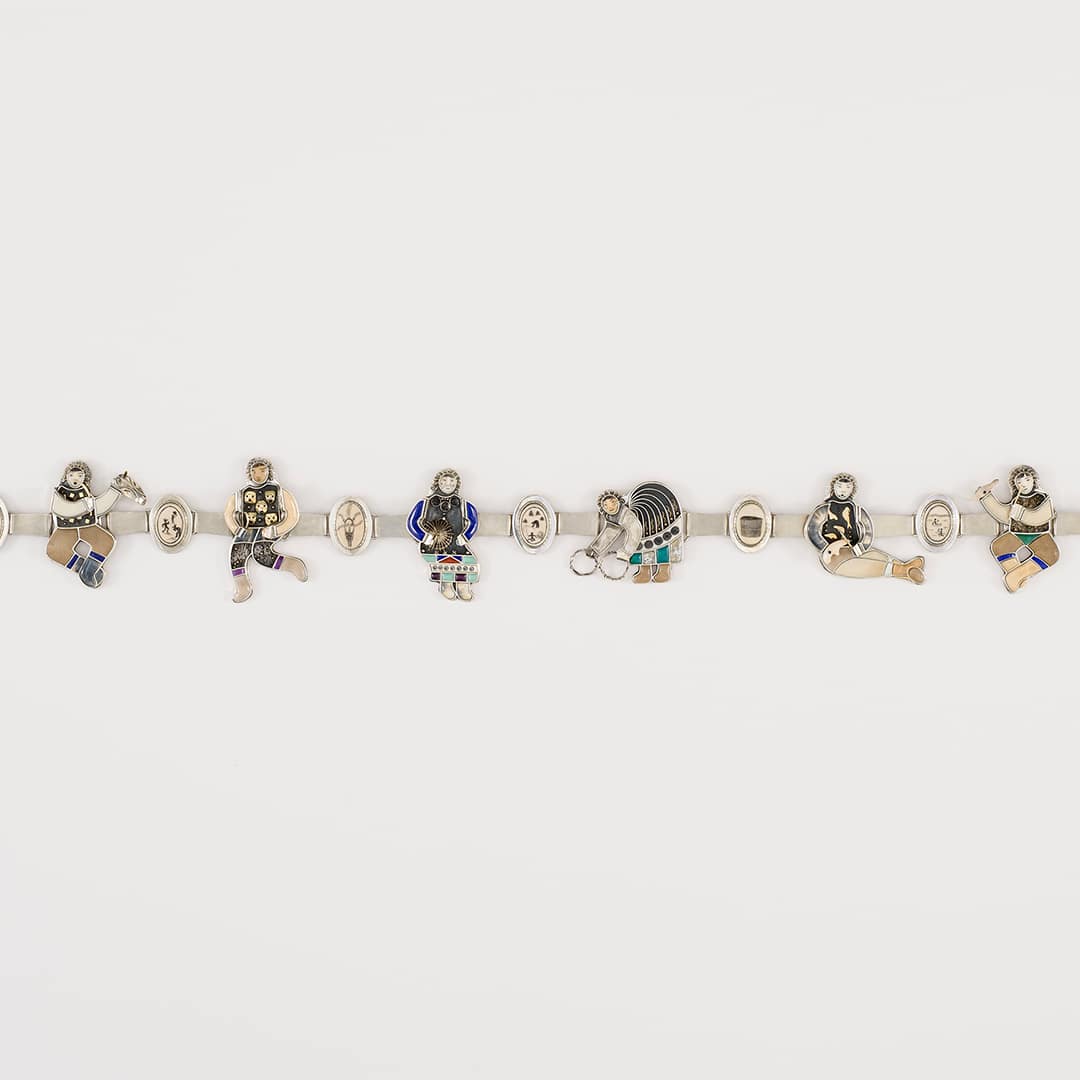 Since its founding in 1962, the Institute of American Indian Arts (IAIA) has fostered an environment where emerging Indigenous artists have the freedom and means to tell their own stories. Jewelry-making plays a significant role in storytelling; it is a deeply human practice that affords people the tools to carry their stories and identities and serves as a powerful reminder to ourselves and others of who we are.
As part of the IAIA Making History 60/50 anniversary celebration, the IAIA Museum of Contemporary Native Arts (MoCNA) presents The Stories We Carry and invites you to join us for its opening reception on Sunday, October 16, from 3:00 pm–5:00 pm. Guest curated by IAIA Assistant Professor Brian Fleetwood (Mvskoke Creek), The Stories We Carry features contemporary jewelry, created by more than 100 Indigenous artists across several decades, selected from MoCNA's permanent collection. Many of the exhibited works were made by students, faculty, alums, or artists-in-residence at IAIA. The exhibition explores the extraordinary diversity of contemporary Indigenous jewelry at IAIA.
Additionally, MoCNA will hold a cake-cutting ceremony during the opening reception to commemorate the anniversary of the day that the US Congress chartered IAIA as a college dedicated to studying, preserving, and disseminating Indigenous art forms. In addition to celebrating the profound work and artists featured in this exhibition, this reception and cake-cutting ceremony will be a prelude to the day-long IAIA Making History Symposium at our college campus on Monday, October 17, from 8:30 am–5:00 pm.
For more information, please contact MoCNA Membership and Program Assistant Nuttaphol Ma at nuttaphol.ma@iaia.edu or (505) 428-5925.
List of Artists
Larry Ahvakana (Iñupiaq) '69
Richard Aitson (Kiowa/Apache) '70
Norman Albert (Diné) '84
Marcus Amerman (Choctaw) '83
Roger Amerman (Choctaw)
Joseph Antone (Tohono O'odham) '72
Dennis Apple (Lakota Sioux)
Keith Baldwin (Diné) '86
Victor Beck, Sr. (Diné)
Nicolas Begay (Diné) '21
Nathan Scott Begaye (Diné/Hopi) '80
Heidi BigKnife (neé Rankin) (Shawnee) '92
Russell Box, Jr. (Ute) '86
April Dawn Brass (Swampy Cree)
Bennie Buffalo (Southern Cheyenne) '68
Paige Busick (Chickasaw), current student
Juan Caté (Kewa/Santo Domingo Pueblo)
Serena Charlie-Hena (Ohkay Owingeh/Diné) '80
Phyllis Chavez (Kewa/Santo Domingo Pueblo) '86
George Clark (Diné)
Mike Concha (Taos Pueblo) '67
Lorenzo Coriz (Kewa/Santo Domingo Pueblo) '68
Raymond Coriz (Kewa/Santo Domingo Pueblo) '73
Ralph Cornelius (Oneida-Wisconsin) '88
George Crawford (Blackfeet/Piikani) '67
Jaycee Custer (Diné) '21
Bernice Dahl (Inupiaq) '96
Richard Glazer Danay (Mohawk)
Denise Davenport (Mesquakie) '85
Donna Eagle (Oglala Lakota) '73
Earl Eder (Yanktonai Sioux) '66
Marshall Ellis (Oneida of Wisconsin) '77
Carly Feddersen (Confederated Tribes of the Colville Reservation) '16
Brian Fleetwood (Mvskoke), faculty '15–present, '12
Gabriel Galvan (Zia Pueblo) '69
Andrew Anthony Garcia (Ohkay Owingeh/Diné) '78
Wayne Nez Gaussoin (Picuris Pueblo/Diné) '09, A-i-R '21
Paulette Greene (Nakota) '75
Robert Gress, Jr. (Crow) '87
Mark Herndon, faculty '05–'15
Debra Herrera (neé Riddle) (Modoc/Paiute) '98
Robin Hill (Seneca), current student
Herbert Him (Zuni Pueblo) '73
Mark Swazo Hinds (Pueblo of Tesuque) '81
Mark Holiday (Diné) '02
Lyle Honanie (Hopi) '71
James Honyaktewa (Hopi) '68
Manuel Hoyunga (Hopi) '72
Bruce Ignacio (Ute) '70
Barbara Jettice (Spokane)
Edward Joe (Cowichan) '01
Kenneth Johnson (Muscogee/Seminole) A-i-R '18
Deborah Jojola (Pueblo of Isleta) '82
Jennifer Juan (Diné) '98
Eunice M. Kahn (Diné) '80
Kevin Kahn (Diné) '78
Thomas Merle Keyes (Caddo Nation of Oklahoma) '96
Gilbert Kellywood (Ohkay Owingeh) '67
Melvin Kiogima (Ottawa) '73
Kim Knife Chief (neé Price) (Pawnee/Otoe/Kaw) '03
David LaPlantz, faculty '67–'68
Melva Largo (Diné) '82
Sam Leader Charge (Sighangu Brulé)
Charles Loloma (Hopi), faculty '62–'65
Estella Loretto (Jemez Pueblo) '72
Anthony Lovato (Kewa/Santo Domingo Pueblo) '78, A-i-R '17
J. Lucero (Jemez Pueblo) '70
Mike Madelena (Jemez Pueblo)
Charles Marchand (Colville)
Franco Martinez (Wasco/Pitt River/Warm Spring Paiute) '85
Raymond Martinez (Ohkay Owingeh) '68
Christine McHorse (neé Nofchissey) (Diné) '68
Peter Mesteth (Oglala Lakota) '69
Jerome Nakagawa (Diné/Japanese), current student
Peter Nez (Diné) '73
Ed Archie NoiseCat (Salish) A-i-R '15
Jerry Norton (Native Alaskan) '65
Ron Olguin (Pueblo of Isleta) '84
Veronica Orr (Colville/Lytton Band of Pomo Indians) '64
Eddie Pacheco (Kewa/Santo Domingo Pueblo) '72
Nelson Pacheco (Kewa/Santo Domingo Pueblo) '73
Ramos Pacheco (Kewa/Santo Domingo Pueblo) '68
Jennifer Parriette (Lakota Sioux/Ute) '82
Thomas Pecos (Jemez Pueblo) '70
Jennifer Peters, current student
D'Kota Potter (Jemez Pueblo), current student
Gabrielle Pourier (Lakota Sioux) '80
Kevin Pourier (Oglala Lakota) '80, A-i-R '14
Teresa Kaulaity Quintana (Kiowa Tribe of Oklahoma) '13
Charlene Reano (Kewa/Santo Domingo Pueblo) '92
Jeremy Red Eagle (Sisseton Wahpeton Oyate), current student
Delfino Reyna (Taos Pueblo) '67
Richard Kendall Rice (Mescalero Apache/Potawatomi) '72
Mary Ann Rogers (Blackfeet) '70
Dee Ross (Athabascan) '80
Jessie Ryker-Crawford (White Earth Chippewa) '00
Randall Sahmie (Hopi-Tewa)'69
Fritz Scholder (Luiseño), faculty '63-'67
Emily Schuyler (Oneida Nation of the Thames), current student
Steven Sockyma (Hopi)
Sonwai (neé Verma Nequatewa) (Hopi)
Carolyn Suina (Cochiti Pueblo) '68
Ramus Suina (Cochiti Pueblo) '68
Isaac Tait (Nisga'a)
James Tenorio (Kewa/Santo Domingo Pueblo) '69
Marciano Tenorio (Kewa/Santo Domingo Pueblo) '73
Ray Tracey (Diné)
Roger Tsabetsaye (Zuni Pueblo) '63
Richard J.Tsosie (Diné)
Jack Turquoise (Diné) '69
Velma Wahtomy (Shoshone/Bannock) '74, '80
Lori Waisanen (Iñupiaq) '96
Denise Wallace (Chugach Aleut) '82
Harold Walters (Comanche/Diné) '64
Jodi Webster (Ho-Chunk/Prairie Band Potawatomi), A-i-R '19
Lutz Whitebird (Southern Cheyenne) '78
Sola Williams (Jamaican)
Billie Jo Wounded Face (Gros Ventre/Mandan) '69
Johnny Yazzie (Diné) '77
Rose Yazzie (Diné) '72
Stanley Yazzie (Diné) '84
Tiara Yazzie (Diné), current student
Virginia Zamora (Ecuadorian), current student