Rick Bartow: Things You Know But Cannot Explain—A Retrospective Exhibition
Fri, August 19, 2016

–

Sat, December 31, 2016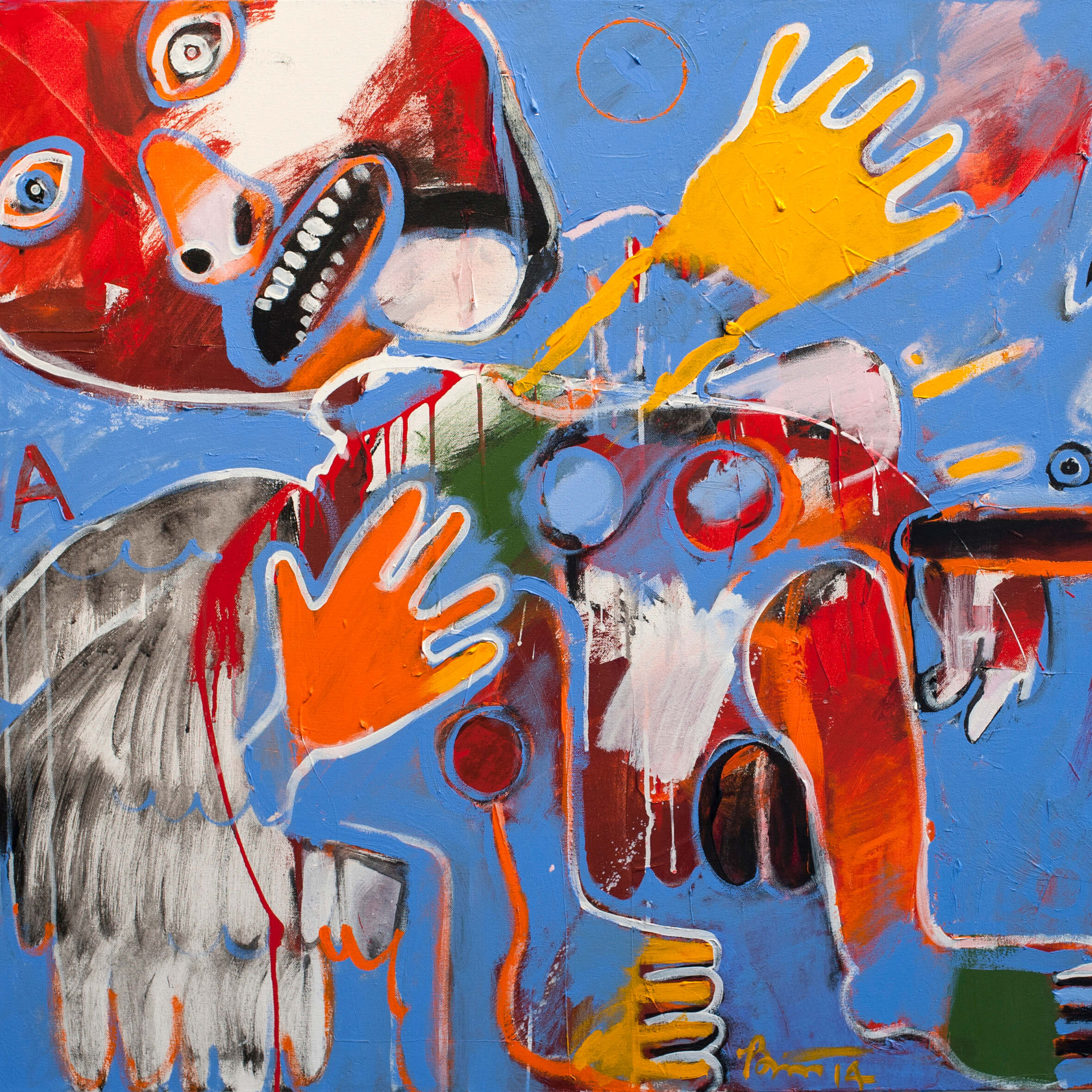 Organized by the Jordan Schnitzer Museum of Art at the University of Oregon, the exhibition represents 40 years of work by the Native American artist.
More than 120 paintings, drawings, sculptures, and prints will be on view in "Rick Bartow: Things You Know But Cannot Explain," a major retrospective exhibition organized by the Jordan Schnitzer Museum of Art (JSMA) at the University of Oregon.
"Things You Know But Cannot Explain" is curated by Jill Hartz, JSMA Executive Director, and Danielle Knapp, JSMA McCosh Associate Curator. Drawn from public and private collections as well as the artist's studio, the exhibition and accompanying catalog explore themes central to the artist's work and life: "Gesture," "Self," "Dialogue," "Tradition," and "Transformation," as well as "New Work," featuring exciting examples of Bartow's production since his stroke in August 2013 that evidence a new freedom of scale and expression.
"Rick Bartow's work was all about relationships, how the worlds of nature, humans, and spirit connect, influence, and balance one another," says Hartz. "This nearly forty year retrospective aims to reveal the layers of Bartow's world view and his astonishing command of materials. It has something to say to everyone."
"Bartow was truly a master at his craft. He expertly transitions between media and techniques, and had a tremendous command of color," says Knapp. "His knowledge of artistic, literary, and musical traditions from all over the world was balanced with the autobiographical elements he incorporated into his artwork."
Bartow, one of the nation's most prominent contemporary Native American artists, was born in Newport, Oregon, in 1946 and in 2016, died from congestive heart failure. He was a member of the Wiyot tribe of Northern California and had close ties with the Siletz community. He graduated in 1969 from Western Oregon University with a degree in secondary arts education and served in the Vietnam War (1969-71). His work is permanently held in more than 60 public institutions in the U.S., including Yale University Art Gallery, CT; Brooklyn Museum, NY; and Peabody Essex Museum, MA. He has had 35 solo museum exhibitions and his art has been referenced in over 250 books, catalogs, and articles.
In 2012, commissioned by The Smithsonian's National Museum of the American Indian, Bartow created "We Were Always Here," a monumental pair of sculptures, over 20 feet high, which was installed on the National Mall in Washington, D.C.. Froelick Gallery, Portland, OR, has represented Bartow for 20 years.
Personal experiences, literature and art from around the globe informed Bartow's art. Throughout his career, he consistently explored self-portraiture and animal imagery, often blurring the lines between the two; many describe his work as transformational and visual storytelling. Accustomed to narrative, Bartow was a life-long musician having written lyrics and music found on several CD collections. Up until his death, he sang and played lead guitar with "The Backseat Drivers" every week in Newport.
Accompanying the exhibition is a fully illustrated catalog with essays by Hartz and Knapp, as well as Lawrence Fong, former JSMA Curator of American and Regional Art. The catalog is made possible with support from The Ford Family Foundation, Arlene Schnitzer, and Philip and Sandra Piele.
Support for the exhibition is provided by the Ford Family Fund of the Oregon Community Foundation, the Harold and Arlene Schnitzer CARE Foundation, the Coeta and Donald Barker Changing Exhibitions Endowment, a grant from the Oregon Arts Commission and the National Endowment for the Arts, a federal agency, and JSMA members.
The exhibition is traveling to other venues in addition the IAIA Museum of Contemporary Native Arts; including the Heard Museum, Phoenix; Washington State University Museum of Art, Pullman; and The Autry National Center, Los Angeles.