Sámi Intervention/Dáidda Gážada—Opening Reception
Fri, August 16, 2019, 5:00 pm

–

7:00 pm
Event Navigation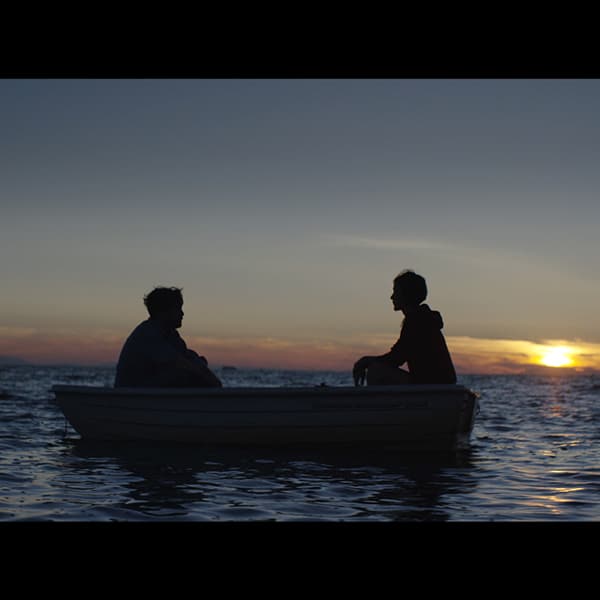 Loosely translated, dáidda gážada in the Sámi language, means, "to make questions with art as a medium." Through video and installation art, this exhibition creates a narrative of visual sovereignty and cultural and intellectual connections with contemporary Sámi, who are Indigenous peoples from parts of Norway, Sweden, and northern Finland. Indigenous histories and narratives are recorded, retold, characterized, re-imagined, and re-envisioned throughout time. Geographical, cultural, political, and resilient forces inform indigenous knowledge and imagination in every part of the world including Scandinavia. Dáidda Gážada explores alternative futurities, the complex realities of Sámi/American Indian/First Nations identity, and the changing terms of Sámi art and political agency. The exhibition highlights the work of Sámi artists Carola Grahn (Sámi/Sweden), Joar Nango (Sámi/Northern Norway), and Elle-Máijá Tailfeathers (Blackfoot, Kainai First Nation (Blood Reserve)/Sámi/Northern Norway) in collaboration with local Diné artist Autumn Chacon.
Autumn Chacon
Autumn Chacon (Diné) is a multi-media and new-media artist from Albuquerque, New Mexico. From an early age she has worked as an active community organizer for the advancement of Native American Rights, Environmental Justice, Media Rights, and Access.  Using new media, Chacon considers herself a modern day storyteller and strives to tell old stories in new and abstract ways, often collaborating with other Indigenous artists in the process. Chacon is a self-taught artist and her practice reflects her activist values. Often using electronic sound and radio frequencies Chacon creates environments. Her electronic installations allows audiences to interact with the works. She has exhibited both her sound and performance both nationally and internationally. Her work has been featured in exhibitions at the Art Gallery of Ontario, Paved Arts, and Raven Row.
Carola Grahn
Carola Grahn (Sámi/Sweden) is a visual artist from Jokkmokk Sápmi, based out of Malmö, Skåne County, Sweden. Grahn works primarily with materializations of text, installation strategies, and sculptural media. Her affective text and sculptural installations lend poetic dialogue to the contexts of place, labour, and identity that are attuned to the slippages of language and representation in art while complicating cultural and gendered social constructions of the North. Grahn is an internationally-known artist in northern Scandinavia and abroad, whose work has been shown at Leonard & Bina Ellen Art Gallery (Montreal, CA), Southbank Centre (London, UK), Carleton University Art Gallery, 20 (Ottawa, CA), Art Gallery of Southwestern Manitoba (Brandon, CA), Office of Contemporary Art Norway, Tråante (Norway), Havremagasinet, (Sweden), Art Centre KulttuuriKauppila (Finland), Bildmuseet (Sweden), Galleri Jinsuni, Seoul (Korea) amongst other places. Grahn has been the guest editor of Hjärnstorm magazine, and she has written for Afterall and published the conceptual novel Lo & Professorn. Grahn's work is also represented in the Swedish Art Council's collection, and she is one of the founders of Sámi Girl Gang.
Elle-Máijá Tailfeathers
Elle-Máijá Tailfeathers (Blackfoot, Kainai First Nation (Blood Reserve)/Sámi/Northern Norway) is a filmmaker, writer, and actor based in Vancouver, British Columbia. Tailfeathers is the 2018 Sundance Institute Merata Mita Film Fellow and is an alumna of the Berlinale Talent Lab, the Hot Docs Accelerator Lab, the CFC/NFB/Ford Foundation Open Immersion Virtual Reality Lab, the Whistler Film Festival Aboriginal Film Fellowship, and the International Sámi Film Institute Indigenous Film Fellowship. She is a recipient of the Vancouver Mayor's Arts Award and a Kodak Image Award for her work as an emerging filmmaker. Her short documentary, Bihttoš, was included in the TIFF Top Ten Canadian Shorts and was also nominated for a Canadian Screen Award and a Leo Award for Best Short Documentary. Tailfeathers received a Canadian Screen Award, a UBCP/ACTRA VWIFF Award, and was nominated for a Leo Award and an American Indian Motion Picture Award for her performance in On the Farm. Her narrative feature-length directorial debut, The Body Remembers When the World Broke Open, co-written and co-directed with Kathleen Hepburn, will premiere at the Berlin International Film Festival in the Generation Program. Most recently, she directed and produced the feature-length documentary, c̓əsnaʔəm, the city before the city, in partnership and collaboration with the Musqueam First Nation. She is currently directing a feature-length documentary about the opiate crisis in her home community of Kainai with the support of the National Film Board of Canada as well as the Hot Docs Cross Currents Fund. She will also appear onscreen in Jeff Barnaby's Blood Quantum slated for release in 2019.
Joar Nango
Joar Nango (Sámi/Northern Norway) is from Áltá, Sápmi, Norway and lives and works in Romssa, Tromsø, in Northern Norway. He is a Sámi architect and practicing artist. He works with site-specific installations, video, and self-made publications, which explore the boundary between architecture, design, and visual art. His work relates to questions of Indigenous identity, often through investigating the oppositions and contradictions in contemporary architecture. Recently he has been exploring what he refers to as The Modern Sámi Space. Amongst other things, he has made a self-published zine series entitled Sámi Huksendáidda: the Fanzine, the clothing-design project Sámi Shelters, and a mixtape on Indigenous Hip-Hop called Land and Language. He is a founding member of the architecture collective FFB, which works with temporary installations in urban contexts. Nango's work has been exhibited internationally in Canada, Ukraine, Finland, China, Russia, Colombia, and Bolivia, including spaces,161 Gallon Gallery, Gallery Deluxe Gallery, GallerySAW, and the Western Front. More recently his work was featured in documenta 14 in both Athens, Greece, and Kassel, Germany. He is currently involved in setting up a network of Sámi architects across Sápmi and is building a mobile library of indigenous architecture.