Action/Abstraction Redefined opens at the Saint Louis Art Museum
The IAIA Museum of Contemporary Native Arts (MoCNA) is proud to announce the successful opening of its national traveling exhibition,
Action/Abstraction Redefined
(A/AR), at the Saint Louis Art Museum in Missouri on June 23. This exhibition opening marks a significant moment for MoCNA and its mission to advance contemporary Native art through exhibitions, collections, public programs, and scholarship.
As one of the principal art museums in the United States, the Saint Louis Art Museum (SLAM) attracts over half a million visitors each year. Being able to showcase the A/AR exhibition at this major institution provides a welcome opportunity to reach a wider audience and introduce viewers to Native Modernism and the Institute of American Indian Arts, which has encouraged experimentation and risk-taking among its Indigenous students for decades.
A/AR explores the impact of major twentieth-century art movements such as Abstract Expressionism, Color Field painting, and Hard-Edge painting on modern Native American art from the 1940s to the 1970s and challenges preconceived notions about Native American art. The exhibition highlights innovative works by artists like IAIA Instructor Fritz Scholder (Luiseño, 1937–2005), George Morrison (Chippewa, 1919–2000), and IAIA Student T.C. Cannon (Kiowa and Caddo, 1946–1978), who ventured beyond the confines of expected Native art, pushing boundaries and redefining the concept of abstraction. In preparation for the exhibition at SLAM, the curatorial team added 25 artworks from MoCNA's permanent collection and works from private and public collections to accommodate the larger space and expand the narrative of midcentury Native abstraction.
The exhibition will be on view at the Saint Louis Art Museum from June 25–September 4, 2023. It will then continue its journey to the Schingoethe Center in Illinois, where visitors can enjoy it from October 2, 2023–January 7, 2024. Finally, the Arkansas Museum of Fine Arts will host the exhibition from February 14–May 12, 2024.
Generous support for Action/Abstraction Redefined is provided by Art Bridges. Photograph courtesy of Saint Louis Art Museum.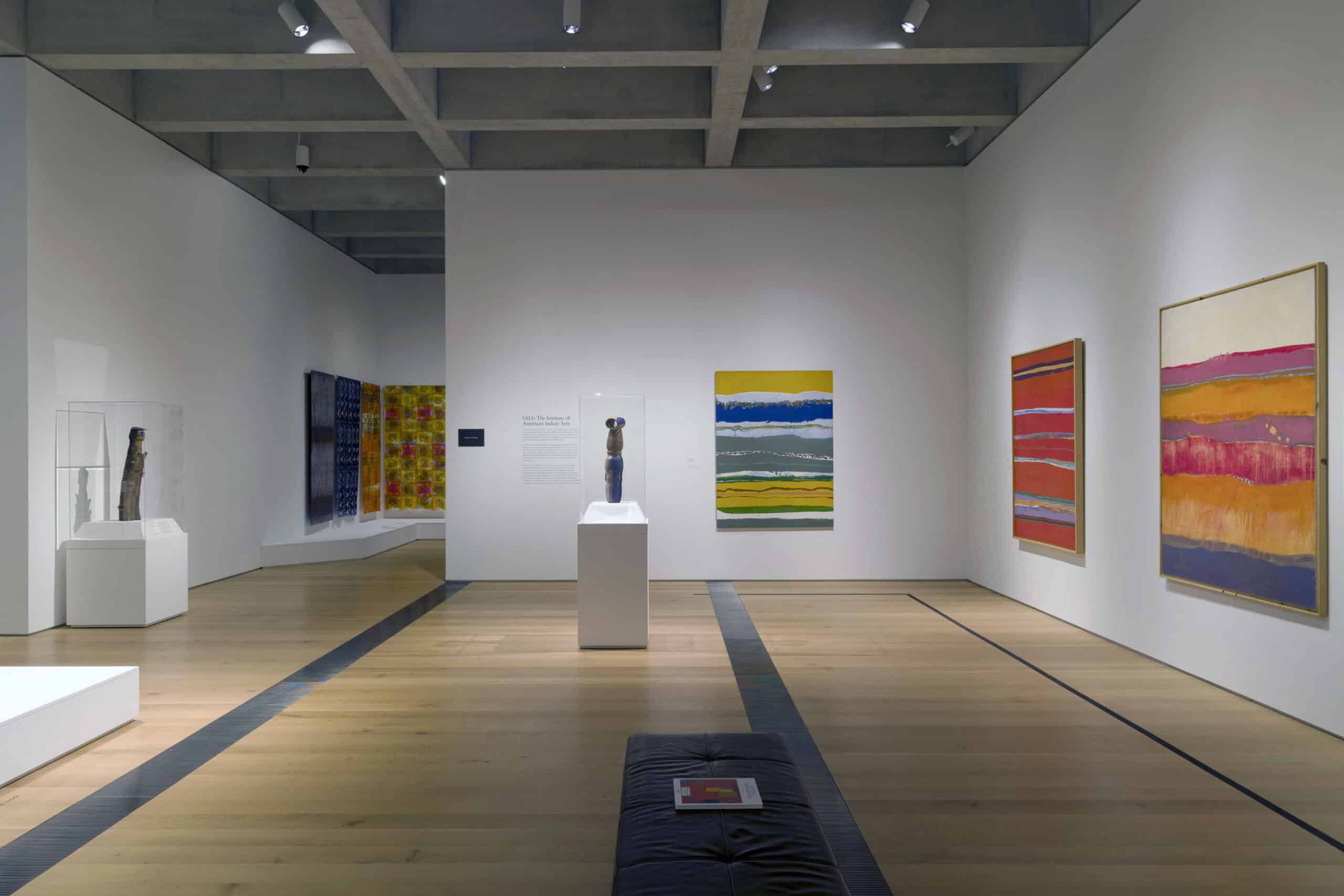 Gallery
View a collection of photographs from the exhibition. Photographs courtesy of Saint Louis Art Museum.