Building Buzz for IAIA's Newest Academic Program
Following on the heels of our new low-residency Master of Fine Arts programs in Studio Arts and Cultural Administration, the Institute of American Indian Arts (IAIA) is proud to announce the addition of another program to IAIA's expansive academic roster, this time focused on Health and Wellness Management, the Bee Well Program. The Bee Well Program will first offer a BS in Bee Therapy, which is, in fact, the first nationwide, further fulfilling IAIA's mission to "empower creativity and leadership in Indigenous arts and cultures through higher education, lifelong learning, and community engagement." The academic track will include classes such as Ultraviolet Vibrational Spectroscopy, Bee Hear Now Meditation, Floral Arrangement 101, and Ecstatic Waggle Dance I, II, and III—in collaboration with our Performing Arts program. A full course listing will be announced late April.
The Bee Well program will be housed in a building called the HIVE (Healthy Individuals Vibing Energetically), in honor of our nonhuman insect relatives. Construction of the building is slated for late spring on the northeast end of campus. In the spirit of reciprocity and gratitude, our community pollinators will be offering free honey in association with IAIA Land-Grant on April 31.
"The vision for the Bee Well Program, not dissimilar to the actual vision and five eyes that bees have, has five core values—bee present, bee well, bee productive, bee positive, and get busy like a bee. I'm excited for our Bee Well program to get off the ground, and I am confident the program will be accredited—there is no need for a plan bee."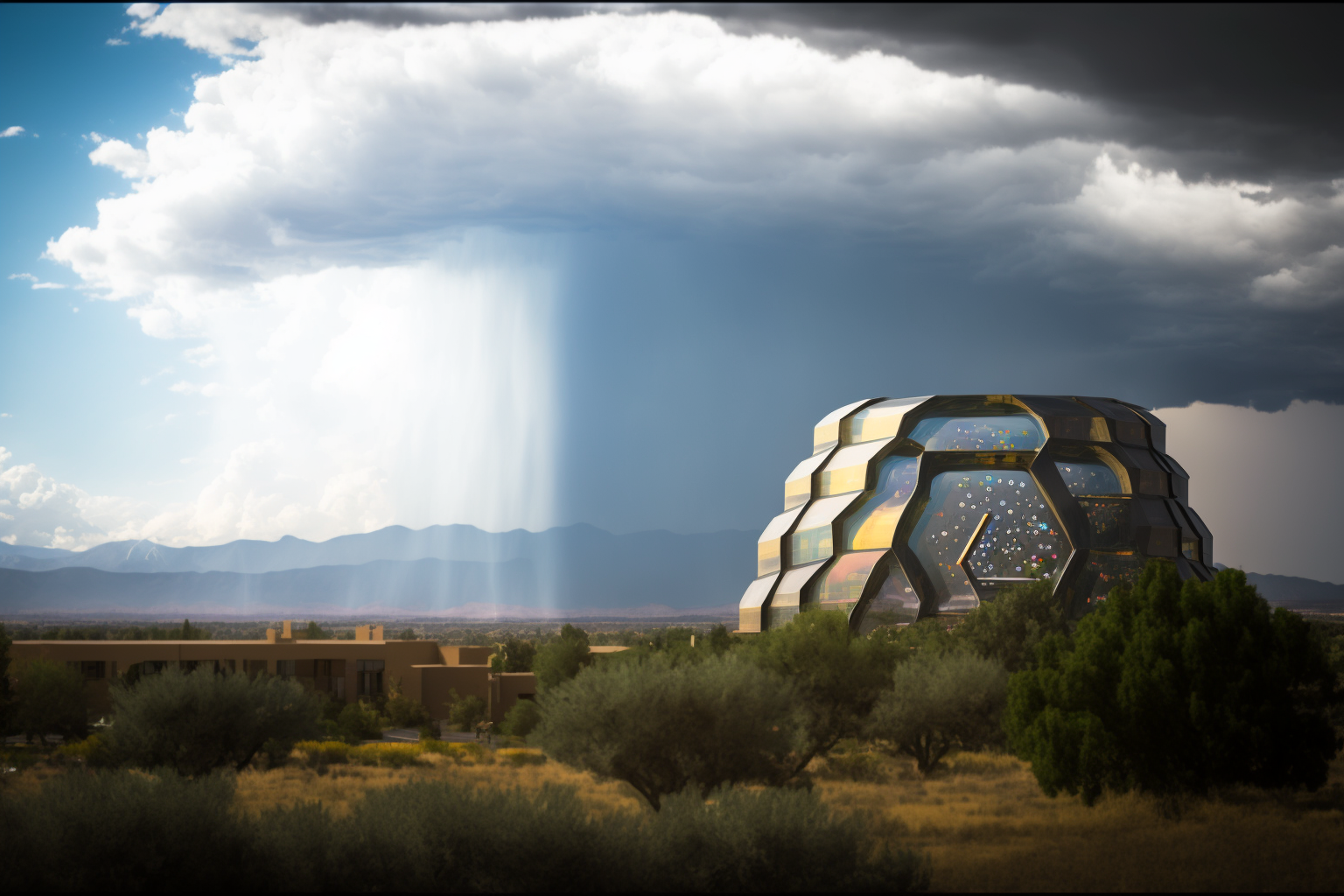 To celebrate the launch of our new program, IAIA is pleased to offer two 4:01-minute recordings of symphonic bee music to help our students focus on their studies, available digitally and through a special-edition vinyl record, "The Bee Side," available at the IAIA Campus Bookstore. The record drops on Record Store Day, April 22.
The day of the drop, the performers will be available for a fan meet-and-greet and special bee sting therapy session upstairs in the Center for Lifelong Education (CLE) Residence Center. (We ask that individuals sensitive to bee stings wear a beekeeper suit for entry, with respect to IAIA's health and safety regulations. As a precaution, the Office of Santa Fe Emergency Response will be present with EpiPens.)
As part of their senior thesis work, Bee Well students will undertake a semester of study at the new colony at *IAIA's Indigenous Arts Space Academy (IASA), the program that launched last year on April 1, 2022—April Fools' Day!
Un-bee-lievable? We are only pollen your leg! But seriously, stop by the IAIA Campus Bookstore on Monday, April 3, at 10 am beecause we are giving away 41 free honey sticks from our very own Thunder Bees and 41 IASA stickers (while supplies last).
Image Captions (Top to Bottom): Official Logo for the IAIA Bee Well Program; Architect rendering of the HIVE building on the IAIA campus; IAIA student vibing energetically with the bees during the Bee Hear Now Meditation course; Honey Sticks, Official Logo, and Special Edition Pen. 
*Note: Bee Well Students with a "B" average and above, or 3.0 GPA, are eligible to enroll in the IASA program. Artstranaut training is subject to prior approval from the Bee Well Program Queen of Students.
April Fools' Day!
We hope you enjoyed our 2023 April Fools' Day announcement. For questions or comments, please contact communications@iaia.edu.
Institute of American Indian Arts
The Institute of American Indian Arts (IAIA) is the only college in the world dedicated to the study of contemporary Native American and Alaska Native arts. IAIA offers undergraduate degrees in Cinematic Arts and Technology, Creative Writing, Indigenous Liberal Studies, Museum Studies, Performing Arts, and Studio Arts; graduate degrees in Creative Writing, Studio Arts, and Cultural Administration; and certificates in Broadcast Journalism, Business and Entrepreneurship, Museum Studies, and Native American Art History. The college serves approximately 500 full-time equivalent (FTE) Native and non-Native American students from around the globe, representing nearly a hundred federally recognized tribes. Named one of the top art institutions by UNESCO and the International Association of Art, IAIA is among the leading art institutes in our nation and is accredited by the Higher Learning Commission (HLC).