MoCNA Social Engagement Artist-in-Residence Talk
Wed, March 20, 2019, 12:00 pm

–

1:30 pm

|

Free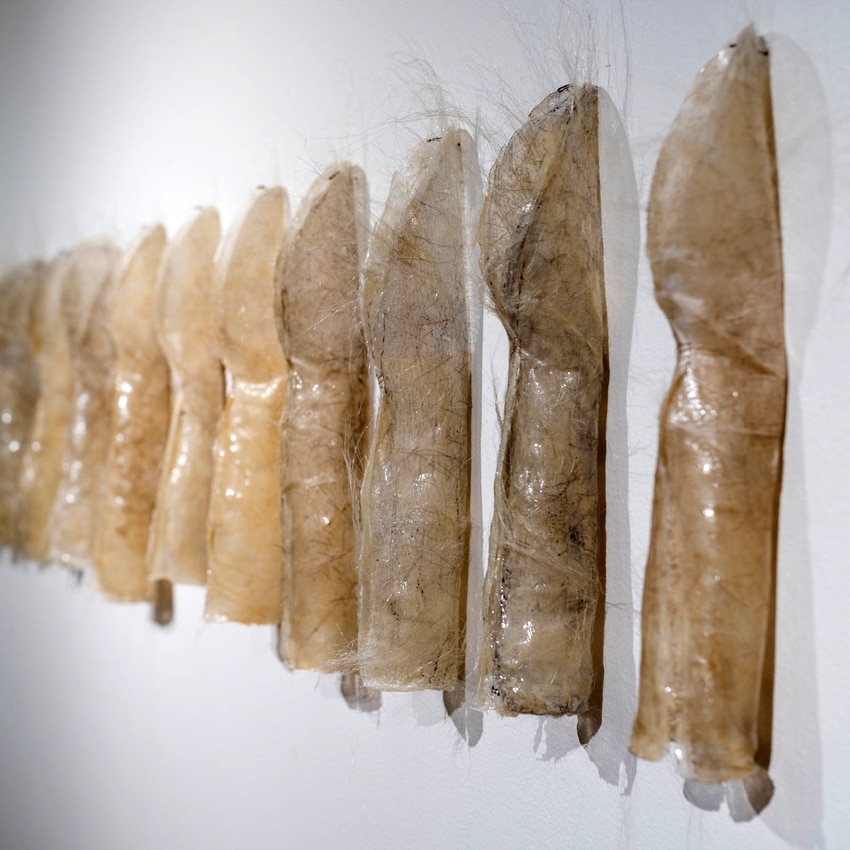 Bring your lunch and join artists Sonya Kelliher-Combs (Inupiaq and Athabascan) and Terrol Dew Johnson (Tohono O'odham) as they discuss their practice and their current Social Engagement Art Residency at IAIA Museum of Contemporary Native Arts (MoCNA).
Sonya Kelliher-Combs
Sonya Kelliher-Combs is inspired by the relationship of her ancestors to their environment—how they used skin, fur, and membrane in material culture. The subjects of her work are patterns of history, family, and culture. Using synthetic, organic, historical and modern materials and techniques, she builds upon the traditions of her people, the Inupiaq and Athabascan. Personal and cultural symbolism forms the imagery and speak to history, culture, family, and the life of our people—they also speak about abuse,
marginalization, and the struggles of Indigenous people. Kelliher-Combs' work has been in numerous individual and group exhibitions both locally and nationally, including Changing Hands 2: Art without Reservation and SITELINES: Much Wider Than a Line. She is a recipient of the United States Arts Fellowship, Joan Mitchell Fellowship, Eiteljorg Fellowship for Native American Fine Art, Rasmuson Fellowship, the Anchorage Mayors Arts Award, and Alaska Governor's Individual Artist Award. Her work is in the collections of MoCNA, Anchorage Museum, Alaska State Museum, University of Alaska Museum of the North, Eiteljorg Museum, and the National Museum of the American Indian, Smithsonian Institution.
Terrol Dew Johnson
Terrol Dew Johnson has achieved national acclaim for pioneering abstract constructions that transcend familiar forms and materials in a way that invites reflection on a long-established practice. Each vessel cradles the history of his ancestral culture and speaks to its survival in the face of contemporary challenges. Johnson's baskets and fiber art elegantly demonstrate this all-encompassing philosophy of life in the desert. He learned to weave baskets when he was ten years old and is now recognized as one of the leading Native-American basketweavers in the United States. He has won numerous awards at Santa Fe Indian Market, O'odham Tash, and the Southwest Indian Art Fair. His work is in the collections of the Smithsonian Institution, the Heard Museum, and the Museum of Modern Art, New York. Johnson's exhibition, Meeting the Clouds Halfway: Terrol Dew Johnson and Aranda\Lasch was featured at MoCNA and was organized by the Tucson Museum of Contemporary Art. Johnson is a community leader and advocate for Native communities. In 1996, Johnson co-founded Tohono O'odham Community Action (TOCA), a grassroots community organization dedicated to creating positive programs based on the O'odham Himdag, the Desert People's Way.
For more information please contact MoCNA Membership and Program Manager Andrea R. Hanley (Navajo) at (505) 428-5907 or ahanley@iaia.edu.