2022 Santa Fe Plaza Concert Series' Indigenous Showcase
Mon, August 15, 2022, 6:00 pm

–

8:00 pm

|

Free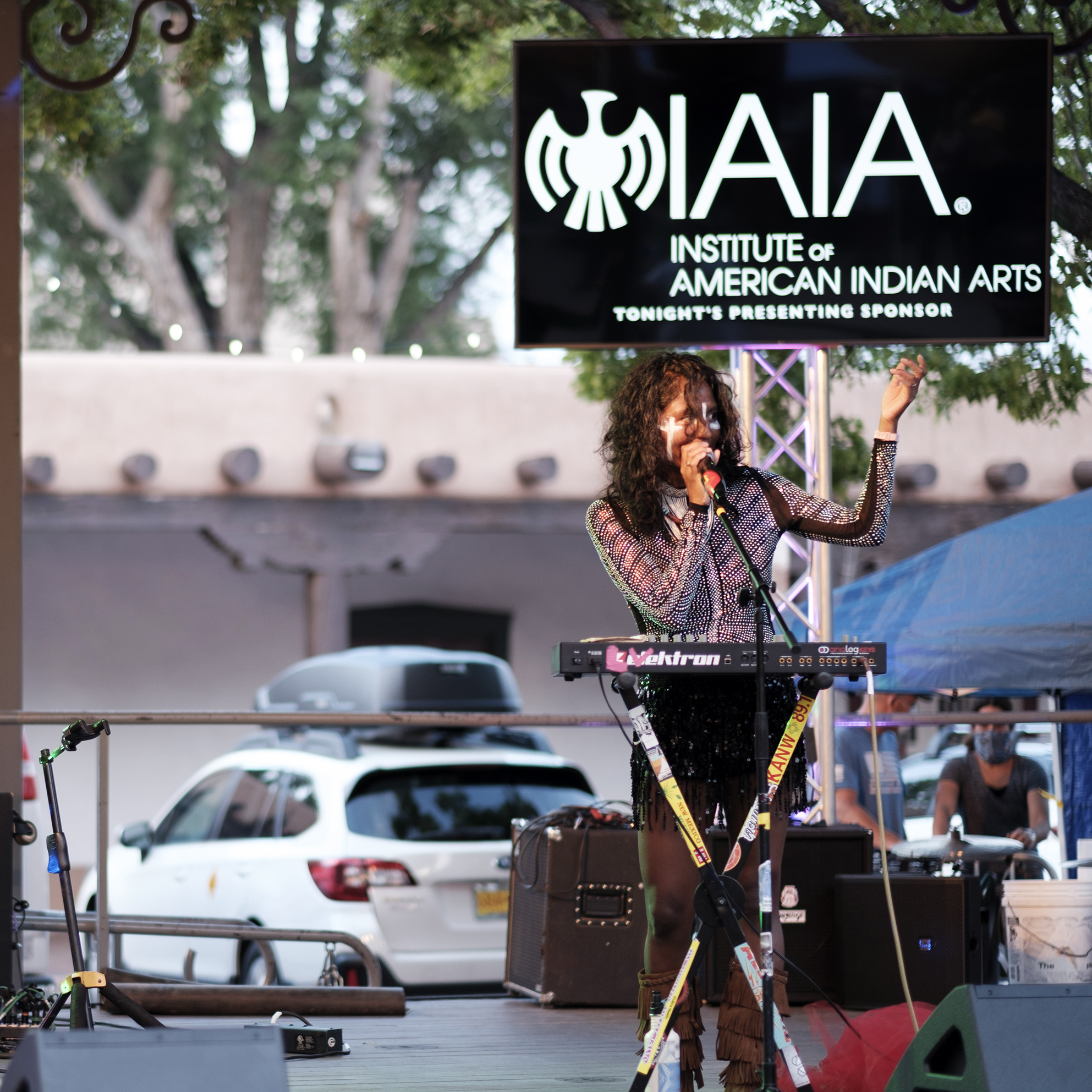 Live music is back in Santa Fe, and the Institute of American Indian Arts (IAIA) is sponsoring a show for the Santa Fe Plaza Concert Series, the Indigenous Showcase, which will feature local Indigenous musicians Joe Tohonnie Jr. and the White Mountain Apache Crown Dancers, Lyla June, and Ailani. This free show will take place at the Santa Fe Plaza, located in the heart of downtown Santa Fe, New Mexico, on Monday, August 15, 2022, at 6:00 pm.
Joe Tohonnie, Jr., born and raised on the White Mountain Apache reservation in the Whiteriver community of North Central Arizona, draws inspiration for performing from his culture. His grandfather, Stacey Classey, was a medicine man who sang traditional Apache songs, while his father, Joe Tohonnie Sr., shared traditional Navajo songs with him. Both Apache and Navajo influences of songs have brought Tohonnie, Jr. full circle to find his own voice. In honor and respect for these two tribal influences, he chose to find a peaceful resolution instead of conflict. In addition, Joe's Dzilth Ligai White Mountain Apache Crown Dancers are his family, and they protect him in many ways. It is with great respect that they honor their traditional values and their integrity with who they are and what they represent.
Lyla June is an Indigenous musician, scholar, and community organizer of Diné (Navajo), Tsétsêhéstâhese (Cheyenne), and European lineages. Her dynamic, multi-genre presentation style has engaged audiences across the globe toward personal, collective, and ecological healing. She blends studies in Human Ecology at Stanford, graduate work in Indigenous Pedagogy, and the traditional worldview she grew up with to inform her music, perspectives, and solutions. Her current doctoral research focuses on Indigenous food systems revitalization.
Ailani is a teen singer-songwriter from the Pueblos of New Mexico. Her album Endearment was written and self-produced. It is now available on all major music platforms.
Now stewarded by AMP Concerts, the Santa Fe Plaza Concert Series—formerly the Santa Fe Bandstand—is an annual free summer concert series inviting Santa Feans and visitors alike to gather and enjoy great live music together in the 400-year-old historic heart of Santa Fe. AMP Concerts, founded in 2004, provides innovative and inspiring arts programming to diverse audiences across New Mexico with concerts, movies, and community events. AMP believes that music creates community, preserves culture, acts as medicine, and facilitates human connection.
Gallery