2023 Santa Fe Plaza Concert Series—Robert Mirabal with Levi Platero
Tue, August 15, 6:00 pm

–

8:00 pm

|

Free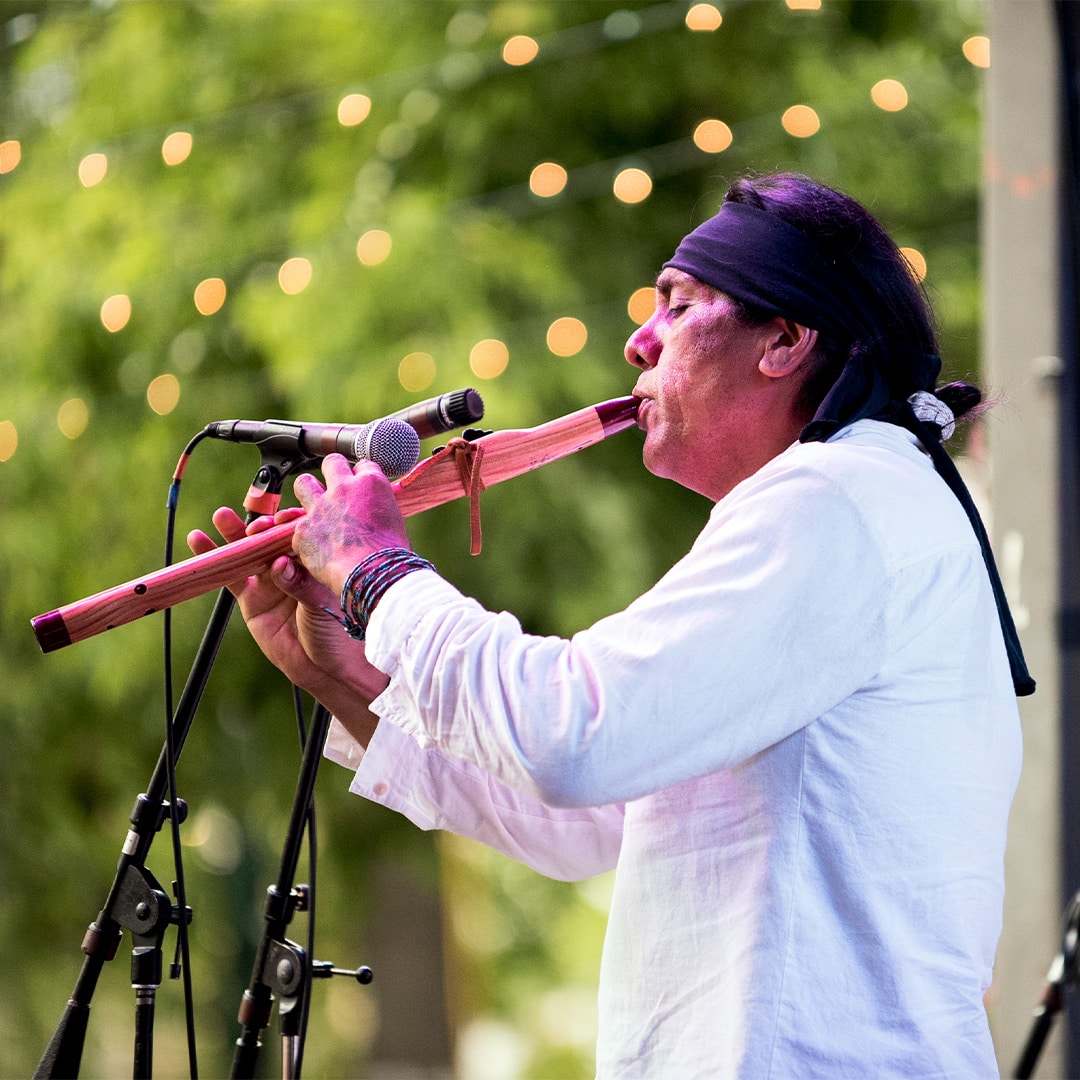 Live music is back in Santa Fe, and the Institute of American Indian Arts (IAIA) is the presenting sponsor for Lensic 360's Santa Fe Plaza Concert Series event with Robert Mirabal (Taos Pueblo) and Levi Platero (Navajo) on Tuesday, August 15, 2023, at 6:00 pm. IAIA MFA in Creative Writing students Andrew Blue Sky (Oneida Nation) '24 and Santana Shorty (Navajo) '24 will also be reading between the two musical acts.
The Santa Fe Plaza Concert Series invites Santa Feans and visitors alike to gather and enjoy great live music together at the Santa Fe Plaza, located in the 400-year-old historic heart of downtown Santa Fe, New Mexico for free!
About Robert Mirabal
Robert Mirabal has been described as a Native American "Renaissance man." It is a fitting description for this musician, composer, painter, master craftsman, poet, actor, screenwriter, author, horseman, and farmer. But in Mirabal's case, the whole is much greater than the sum of its parts.
An accomplished, renowned Native American flute player and maker from Taos Pueblo in New Mexico, Robert's flutes have been displayed at the Smithsonian Institute's Museum of the American Indian. An award-winning musician, Mirabal performs worldwide, sharing flute songs, tribal rock, dance, and storytelling. Mirabal has twice been named the Native American Music Award's Artist of the Year, and has received the Songwriter of the Year award three times. He is also a two-time Grammy Award winner. His break-through PBS musical production, Music From a Painted Cave, remains a benchmark of Native American traditional/rock fusion and storytelling.
Robert, like many of us, took a break over the past couple of years from the road. He spent his time farming and cultivating the land in his beloved Taos, while working on new music woven together a timely message of agriculture, our relationship to the earth, food justice and the pueblo way. Following a jaw-dropping performance at New Mexico's ¡Globalquerque! festival coupled with a daytime workshop that literally left the audience in tears, there is no doubt that Mirabal is ready to return to the world stage with a renewed urgency, a powerful presentation and a band that takes no prisoners.
About Levi Platero
Steeped in musical lessons as far back as teaching himself guitar at nine years old from a launchpad of the three Kings and Stevie Ray Vaughn, Levi Platero's leads and songwriting reflect a lifetime of absorbing music. On "Work Hours," Platero's guitar work and songwriting style bring a breath of fresh air to a time-worn topic and make it new.
"I haven't really had a lot of jobs in my life, other than being a musician. So in that way I've been lucky. But about two years ago was one of those times when I had to do it. I had a job at a hardware store for about six months, and I hated it. I just remember thinking, 'I don't have enough hours to earn what I need, but these hours I have still feel way too long.' I'm a Navajo bluesman who grew up in a Gospel circuit, I have this huge cultural background I'm very proud of but, at the end of the day, I'm also a blues guy and I'm trying to fit in. Trying to bring all those diverse influences and different styles of music I love into a blues context."—Levi Platero
Platero is from the Navajo Nation in the Southwest region of the United States. With his family band The Plateros they emerged on the music scene in 2004 as a blues rock power trio compared to the likes of Stevie Ray Vaughan, Los Lonely Boys, and ZZ Top. After a decade of touring the US with his family band, and a 1-year run as a member of Indigenous, Levi decided it was time to get back to his own music as a solo artist.
He then recruited a new band, began touring, and released a self titled EP featuring the single "Take Me Back" which went on to win the 2016 NAMA (Native American Music Award) for Best Blues. Levi Platero is a great example of a guitar player with the gift of guitar playing intuition of a much more experienced player. His quiet nature is unleashed in a style that mixes a spectrum of Texas blues and vintage rock to modern guitar heroes such as Eric Johnson and Steve Vai. With a captivating live show he ranges from flurries of guitar acrobatics all the way down to soulful expressiveness.