Amanda Beardsley: Future Vibes
Thu, February 13, 2020

–

Sun, July 18, 2021

|

Free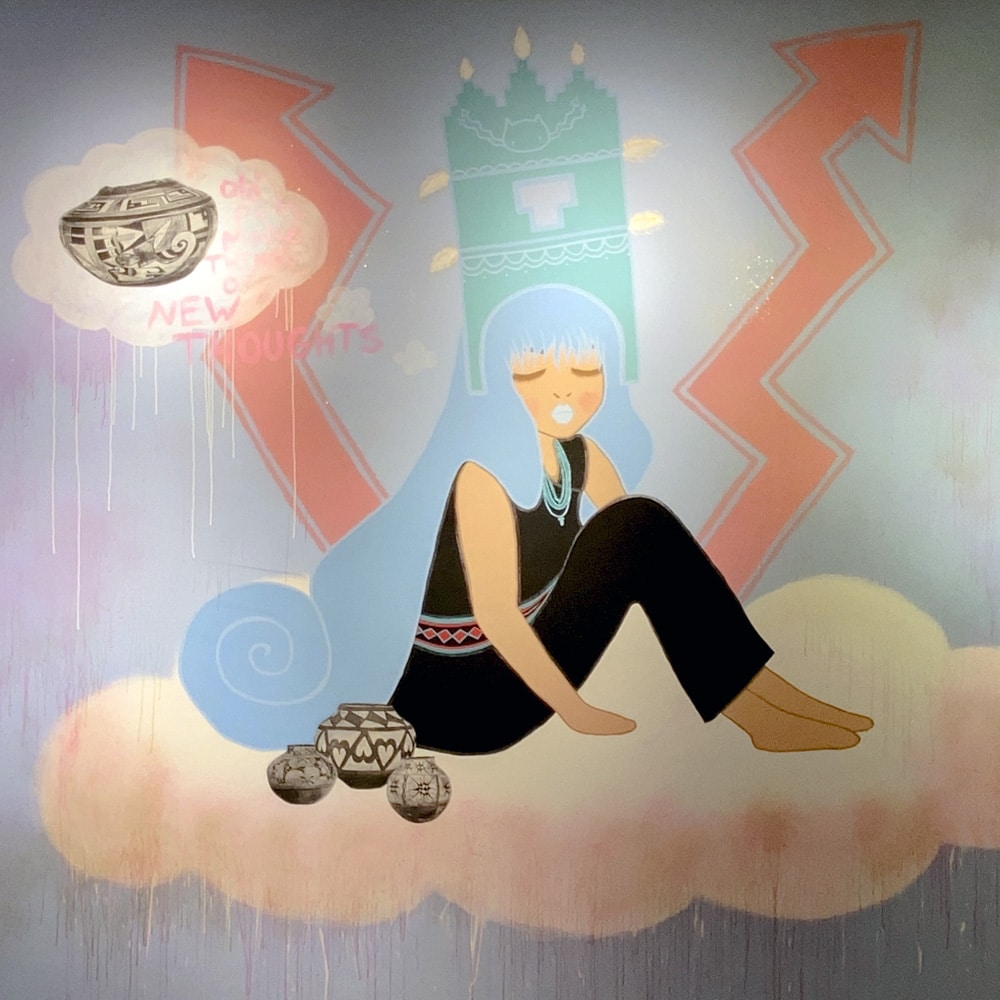 Amanda Beardsley's (Hopi/Laguna/Choctaw) mural Future Vibes depicts young Pueblo women dancing into the future—to suggest that traditional knowledge continues into the present and future. Beardsley explains, "To visualize Indigenous Futurism, we must revitalize the wisdom that emerged from our ancestors' early experiences and the long road they traveled to attain the knowledge that the absolute law of reciprocity would be their guiding principle and that life will go on forever."
The subject matter of her mural brings together women with strong cultural values. Beardsley states, "The world is often described as a dark place at most times, however, I choose to create my art with bright vibrant colors to juxtapose the two ongoing worlds. The Future Vibes mural will be bright, colorful, fun, happy, and bring new ideas to the future."
Beardsley's mural accompanies the IAIA Museum of Contemporary Native Arts' (MoCNA) new exhibition Indigenous Futurisms: Transcending Past/Present/Future.
For accommodations, contact the ADA office seven days in advance at adaoffice@iaia.edu or (505) 424-5707.
About Amanda Beardsley
Amanda Beardsley (Hopi/Laguna/Choctaw) received her BFA from the Institute of American Indian Arts (IAIA) in 2016. She participated in the 2019 exhibitions Mothership Alumni: Low Rez Art Exhibit and Nativesque, and she painted Across the Universe, an artist room in the Nativo Lodge in Albuquerque, New Mexico. Her works will be featured in a solo exhibition at the Indian Pueblo Culture Center in Albuquerque from February 7, 2020 to April 30, 2020.