Indigenous Futurisms: Transcending Past/Present/Future
Thu, February 13, 2020

–

Sun, January 3, 2021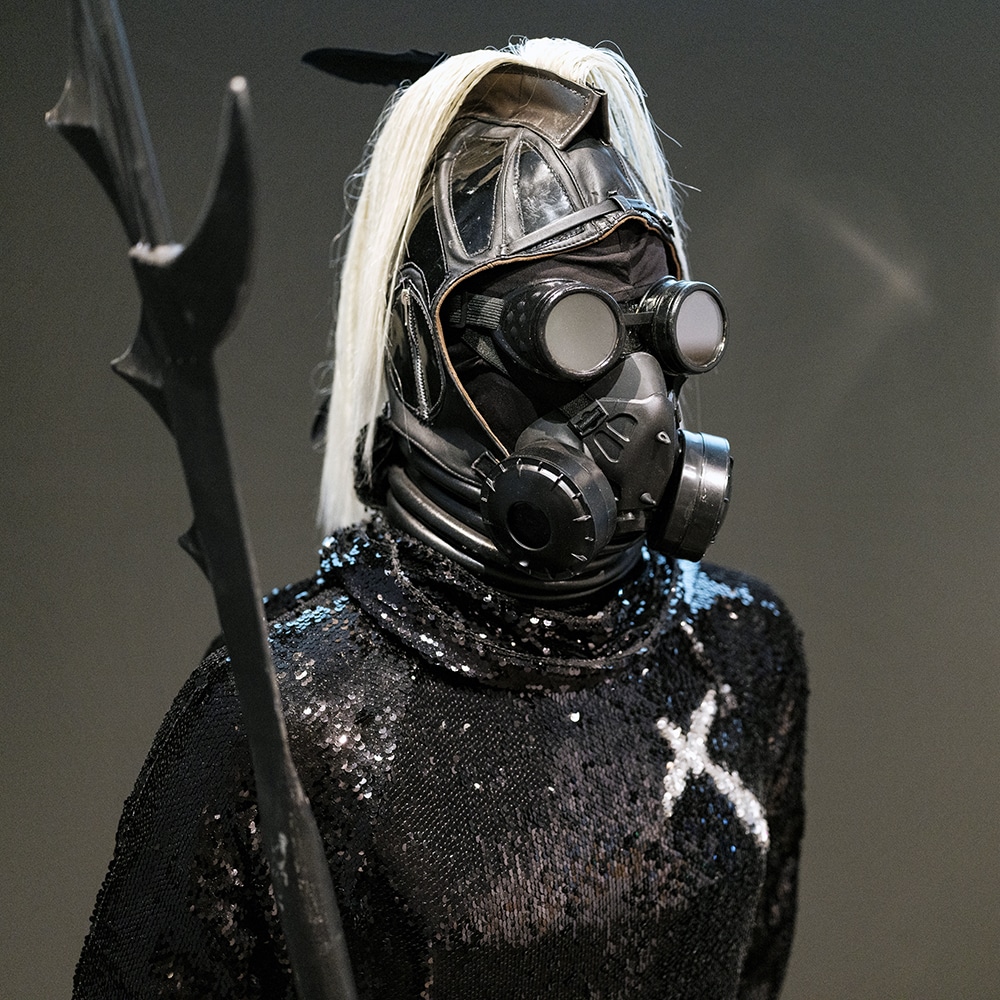 Indigenous Futurisms highlights artworks that present the future from a Native perspective, and illustrates the use of cosmology and science as part of tribal oral history and ways of life. The science fiction and post-apocalyptic narratives depicted in these artworks are often reality for Indigenous communities worldwide. The imagery and narratives also emphasize the importance of Futurism in Native Cultures. Artists use Sci-Fi related themes to pass on tribal oral history to younger audiences and to revive their Native language. The works in this exhibition create awareness about how cultural knowledge and tribal philosophies are connected to the universe, science, and the future. Indigenous Futurisms was co-curated by IAIA Art History Faculty Dr. Suzanne Fricke, Chelsea Herr (Choctaw Nation of Oklahoma), and IAIA Museum of Contemporary Native Arts Chief Curator Dr. Manuela Well-Off-Man.
Visit the Virtual Reality (VR) exhibition.
Participating Artists
Marcus Amerman (Choctaw) '84
Bryon Archuleta (Ohkay Owingeh/Santa Clara Pueblos)
Sonny Assu (Liǥwilda'x̱w of the Kwakwaka'wakw Nations)
Nicholas Galanin (Tlingit/Unangax̂)
Teri Greeves (Kiowa)
Luzene Hill (Eastern Band of Cherokee)
Frank Buffalo Hyde (Onondaga/Nez Perce) '95
Steven Paul Judd (Kiowa/Choctaw)
Kite (Oglala Lakota)
Elizabeth LaPensée (Anishinaabe/Métis)
Daniel McCoy Jr. (Muscogee Creek/Citizen Band Potawatomi) '03
James McCloud (Paiute)
Ehren Kee Natay (Kewa/Diné)
Shelley Niro (Mohawk)
Virgil Ortiz (Cochiti Pueblo)
Devin Ronneberg (Native Hawaiian descent)
Sarah Sense (Chitimacha)
Ryan Singer (Diné)
Skawennati (Mohawk)
Hoka Skenandore (Oneida/Oglala Lakota/Luiseño/Chicano) '06
Neal Ambrose Smith (Salish/Métis/Cree)
Robert Dale Tsosie (Navajo/Picuris Pueblo) '91
Jeffrey Veregge (Port Gamble S'Klallam)
Rory Wakemup (Boise Forte Band of the Minnesota Chippewa) '10
Will Wilson (Diné)
Santiago X (Coushatta)
Debra Yepa-Pappan (Jemez Pueblo) '92
3D Stereoscopic
The Indigenous Futurisms: Transcending Past/Present/Future exhibition is still on view at the IAIA Museum of Contemporary Native Arts (MoCNA), but, we are still closed, physically, to the public due to the Coronavirus (COVID-19) pandemic. However, we have a few selected 3D stereoscopic photographs that will transport you, virtually, into the exhibition space—essentially as if you were there. To view the photographs in the third-dimension, use a pair of anaglyph red/cyan 3D glasses.
Don't have a pair of 3D glasses? Request a free pair of 3D glasses, and additionally, you can download and print a do it yourself (DIY) handout to make a pair at home. Download and view the IAIA 3D Glasses Template.
Gallery