Art for a New Understanding: Native Perspectives, 1950s to Now—Films
Fri, January 25, 2019

–

Fri, July 19, 2019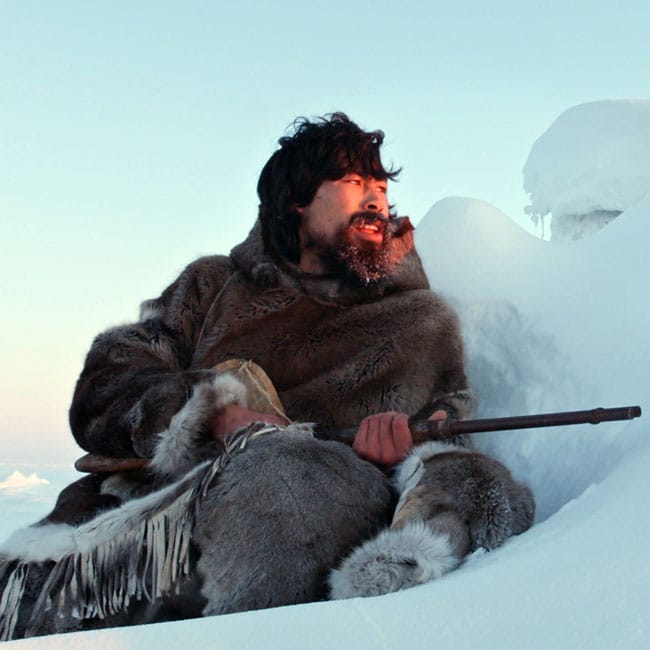 IAIA Museum of Contemporary Native Arts (MoCNA) presents two feature-length films directed by Zacharias Kunuk in the Helen Harden Media Gallery, in conjunction with the exhibition Art for a New Understanding: Native Perspectives, 1950 to Now. Featuring an Inuit crew and actors, Isuma, Canada's first Inuit production company co-founded by Zacharias Kunuk, shoots on-site in Igloolik, Nunavut, in far northern Canada. Through the medium of film, Isuma shares ancient traditions and knowledge.
"Our productions give an artist's view for all to see where we came from," said Kunuk, "what Inuit were able to do then and what we are able to do now."
As you watch, notice how the sets, props, and clothing bring viewers back in time. Kunuk and his collaborators engage locals to sew clothing, make harpoons and igloos, and work with sled dogs. As the older community members enact customs for the camera, younger members film the processes and learn vital skills. The actors speak Inuktitut (the Inuit language), emphasizing the vital role that language plays in the culture. Stay for as long as you like. Scenes in these films may not be suitable for all audiences.
Atanarjuat: The Fast Runner (2001)
Zacharias Kunuk (Inuk), Director, 161 mins
Atanarjuat: The Fast Runner retells an Inuit story about Atanarjuat, whose marriage to two women makes him an enemy of the small community leader's son. In a now-famous scene, a nude Atanarjuat flees on foot across the frozen land. The film was a great success, when it premiered at Cannes Film Festival, it won the Caméra d'Or (Golden Camera), and, later, became the highest grossing Canadian film in 2002. The film was produced by Isuma, a film production company co-founded by Kunuk in 1990.
Maliglutit (Searchers) (2016)
Zacharias Kunuk (Inuk), Director, 94 mins
Maliglutit (Searchers), Kunuk's most recent feature-length production, centers around the kidnapping of an Inuit woman and her daughter by a band of outlaws. While the film is inspired by the 1956 John Ford western, Searchers, which imagined cowboys and Comanche as enemies, Kunuk casts Inuit actors as both the heroes and villains.
Let's Dance! (2004)
Anna Tsouhlarakis (Navajo), Director, 15:30 mins
For Let's Dance!, Anna Tsouhlarakis learned thirty different dances from thirty people of various cultural and social backgrounds while in residence at the Skowhegan School of Painting and Sculpture in Maine. By dancing with others to music they select, Tsouhlarakis emphasizes the social exchange of learning new dances, creating a kind of "time-out" from identity politics. Let's Dance! defies the expectation of a costumed Native dancer performing for non-Native audience members. Dance, the artist seems to say, is a form of self-expression that is both personal and culturally specific—and for everyone. MoCNA provides an interactive accompanying Tsouhlarakis's video by providing space in the Helen Hardin Gallery as well as dance instructions, the museum invites guests to participate and dance with each other, supporting Tsouhlarakis's social engagement approach.