Art of Indigenous Fashion, Matrilineal: Legacies of Our Mothers, and Athena LaTocha: Mesabi Redux—Virtual Exhibition
Fri, August 19, 2022

–

Sat, January 1, 2033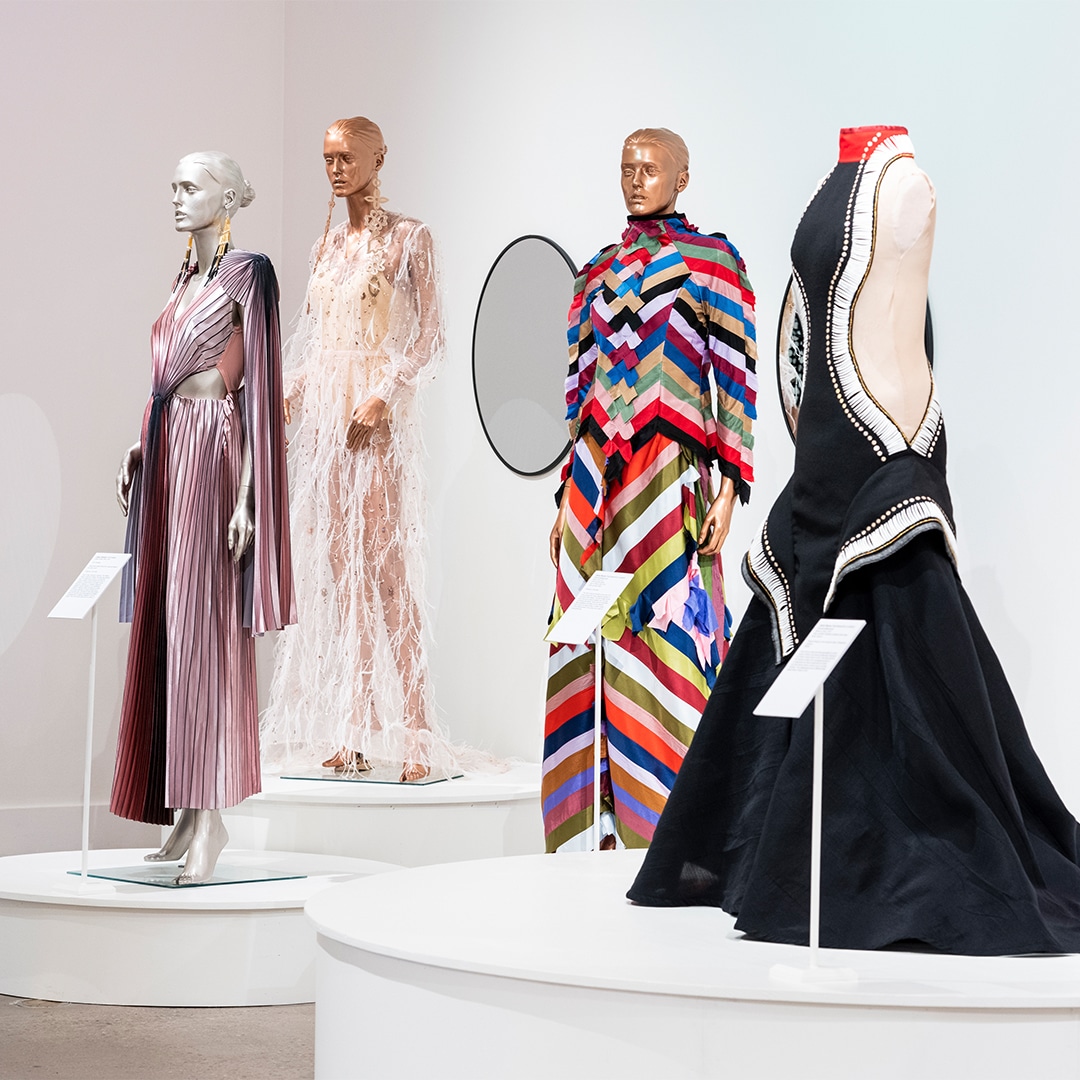 The Art of Indigenous Fashion offers insights into the approaches and perspectives of Indigenous designers beyond the visual and material qualities of their work. Indigenous designers have been fashioning clothing and personal adornment for millennia and can be considered the original haute couture artists of the Americas. Historically, Indigenous garments are one-of-a-kind and custom made.
Blending art and fashion, some designs pose critical questions about culture and identity, reflecting the power of visual representation while reminding the viewer that Museum collection classifications do not bind native art, culture, and dress. Loosely organized by period and theme, specific designs broach historical and contemporary issues. Some designers use fashion as a platform for social activism, and some designs may challenge the viewer's notion of "Indian style."
Over twenty leading contemporary Indigenous designers from Canada and the United States have been brought together in this show, including Barry Ace (Odawa), Pilar Agoyo (Ohkay Owingeh, Cochiti, and Kewa Pueblos), Marcus Amerman (Choctaw), Jason Baerg (Métis), Pamela Baker (Squamish and Kwakiutl), Kay Bennett (Diné), Catherine Blackburn (Dene), Decontie & Brown (Donna Decontie-Brown [Kitigan Zibi First Nation of Maniwaki and Penobscot Nation] and Jason K. Brown [Penobscot Nation]), Lauren Good Day (Arikara, Hidatsa, Blackfeet, and Plains Cree), Orlando Dugi (Diné), Sho Sho Esquiro (Kaska Dena and Cree), Anita Fields (Osage), Dorothy Grant (Haida), Teri Greeves (Kiowa), Lesley Hampton (Temagami First Nation), Patricia Michaels (Taos Pueblo), Lloyd Kiva New (Cherokee), Jamie Okuma (Luiseño), Virgil Ortiz (Cochiti Pueblo), Wendy Ponca (Osage), Skawennati (Mohawk), Yolanda Skelton (Gitxsan Nation), and Margaret Wood (Navajo and Seminole).
Art of Indigenous Fashion is the first fashion exhibition organized by the IAIA Museum of Contemporary Native Arts and curated by guest curator Amber-Dawn Bear Robe (Siksika Nation), Assistant Professor in Art History and Museum Studies at IAIA, and Fashion Show Director for the Southwestern Association for Indian Arts, Santa Fe, NM. The exhibition is supported by the Ford Foundation.
For more information, please contact IAIA Museum of Contemporary Native Arts (MoCNA) Chief Curator Manuela Well-Off-Man at manuela.well-off-man@iaia.edu.