ARTiculations in Print—Kenojuak Ashevak (1927–2013)
Sat, January 25, 2014

–

Thu, July 31, 2014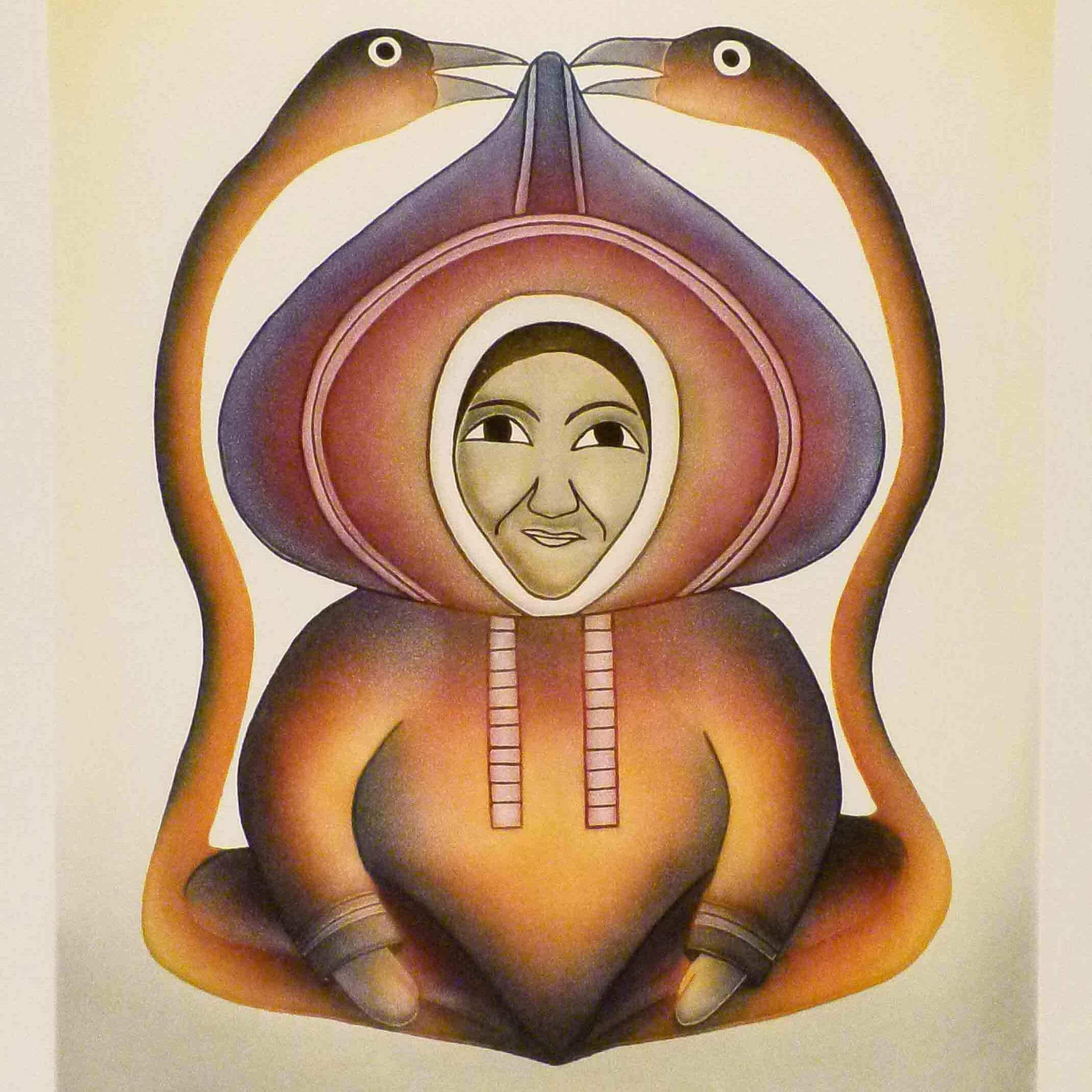 Internationally renowned graphic artist Kenojuak Ashevak (b. 1927) passed away in 2013 at the age of 85. While we mourn the loss of one of the most significant Inuit artists of the modern era, she leaves behind an unparalleled artistic legacy in prints and drawings created over 50 years of uninterrupted production.
The selection of works from the Edward J. Guarino Collection highlight the diversity of Ashevak's print practices and the development of her iconic style over a long and prolific career. Although she frequently experimented with different print techniques and materials, her bold graphic style has remained a constant feature of her work. Remarkably, Ashevak is known for producing her vibrant compositions of Arctic flora and fauna without the use of a sketchpad or eraser. Rather, she deftly created her complex arrangements of owls, ravens, fish and other creatures of the North using a single line from start to finish. This technique is perfected in works such as Ravens Entwined (2004).
Although Ashevak was born in an igloo and spent her youth living on the land, she and her husband Johnniebo eventually settled in the small Baffin Island community of Kinngait (Cape Dorset) when their children were enrolled in school. In 1959, she became a founding member of Kinngait Studios, the artistic branch of the West Baffin Eskimo Cooperative, with a group of other emerging Inuit sculptors and graphic artists interested in formalizing and professionalizing their collective art practices. As a skilled seamstress, Kenojuak was already well known for her sealskin appliqué clothing and beadwork when she began experimenting with drawing in the studio, and her first print, Rabbit Eating Seaweed (1959), was based off the design of a two-tone purse she had earlier created in fur and skin. That print was included in the first ever Cape Dorset Annual Print Collection in 1959, and her work has since been included in nearly all of the subsequent annual collections.
Most every honor that Canada can bestow upon an artist has been conferred to Ashevak. She is a member of the Order of Canada and the Order of Nunavut; the recipient of a Governor General's award and two honorary degrees; and has been recognized with a Lifetime Achievement Award by the National Aboriginal Achievement Foundation. She has been the subject of a National Film Board documentary film—Eskimo Artist: Kenojuak (1963)—and her iconic print The Enchanted Owl (1960) was issued as a commemorative stamp in 1970. For her innumerable contributions to the field of Inuit art, she will forever be held in the highest esteem by both the art world and her people.
—Heather Igloliorte
About the Author
Inuk curator and art historian Heather Igloliorte is an Assistant Professor of Art History at Concordia University in Montreal, Canada.