Continuance: O'Ga P'Ogeh Owingeh
Fri, December 17, 2021

–

Mon, August 1, 2022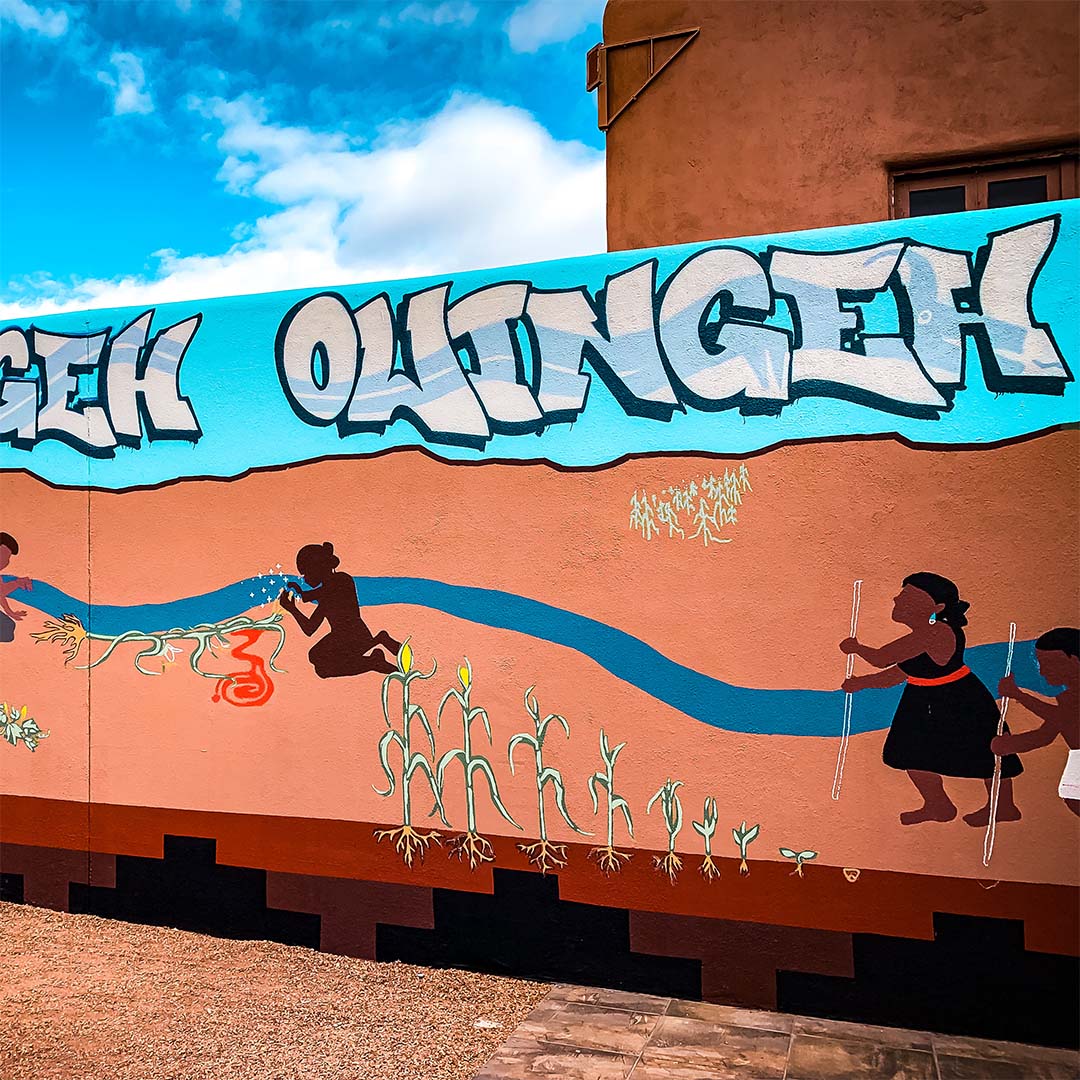 Opening December 17, 2021, Continuance: O'Ga P'Ogeh Owingeh is a collaborative visual landmark by Three Sisters Collective, a Pueblo and Indigenous women-centered grassroots collective. Continuance highlights the past, present, and future of the Indigenous people living here in O'Ga P'Ogeh Owingeh or "White Shell Water Place."
The mural's story begins with the sunrise over the Sangre de Christo Mountains on the eastern portion of the wall, closest to where O'Ga P'Ogeh Owingeh was located. The White Shell Water was a freshwater spring located in this area, particularly where the Cathedral and Cathedral Park stand today. Before colonization, Tewa people were stewards of the land now known as Santa Fe, sharing place with surrounding communities and tribes passing through.
As the river winds west, we see Tewa ancestors planting corn and preparing the land for their lineage to live and thrive. Continuing, we see a strong cornstalk that has been pulled up by its roots, denoting Spanish and American colonization and their effort to uproot Indigenous lifeways and values. A faceless spirit holds and mourns this link to the ancestors, though the pollen floats on into the future.
We see a young woman spirit in the modern age at the cornstalk's roots, praying to revitalize and continue what has been thought to be lost. Her community comes from all directions to join her as matriarchs of the future watch and guide this resurgence, even after blood has been spilled and the river runs thin.
The evening ends over the Jemez mountains which holds a tribute to DeAnna Autumn Leaf Suazo (Taos Pueblo/Diné). When the day starts again on the east side, the light shines on the ruins of Santa Fe, as the ancestors of the future begin again, planting corn and preparing the land for their lineage to live and thrive.
Statement by Autumn Gomez (Comanche/Taos)
About Three Sisters Collective (3SC)
Three Sisters Collective (3SC) is a Pueblo and Indigenous women-centered grassroots collective based in Santa Fe, NM, that began in the summer of 2017. The collective seeks to re-center a Pueblo and Indigenous presence through arts, education, and actions that promote positive representations of this area's first inhabitants.
image credit: "Continuance: O'Ga P'Ogeh Owingeh" Mural, Allan Houser Art Park. Image by: Winoka Yepa (Diné)