IAIA A-i-R: Beams, Patton, Pruitt, and Riley—Welcome Dinner
Mon, November 21, 2022, 5:00 pm

–

7:00 pm

|

Free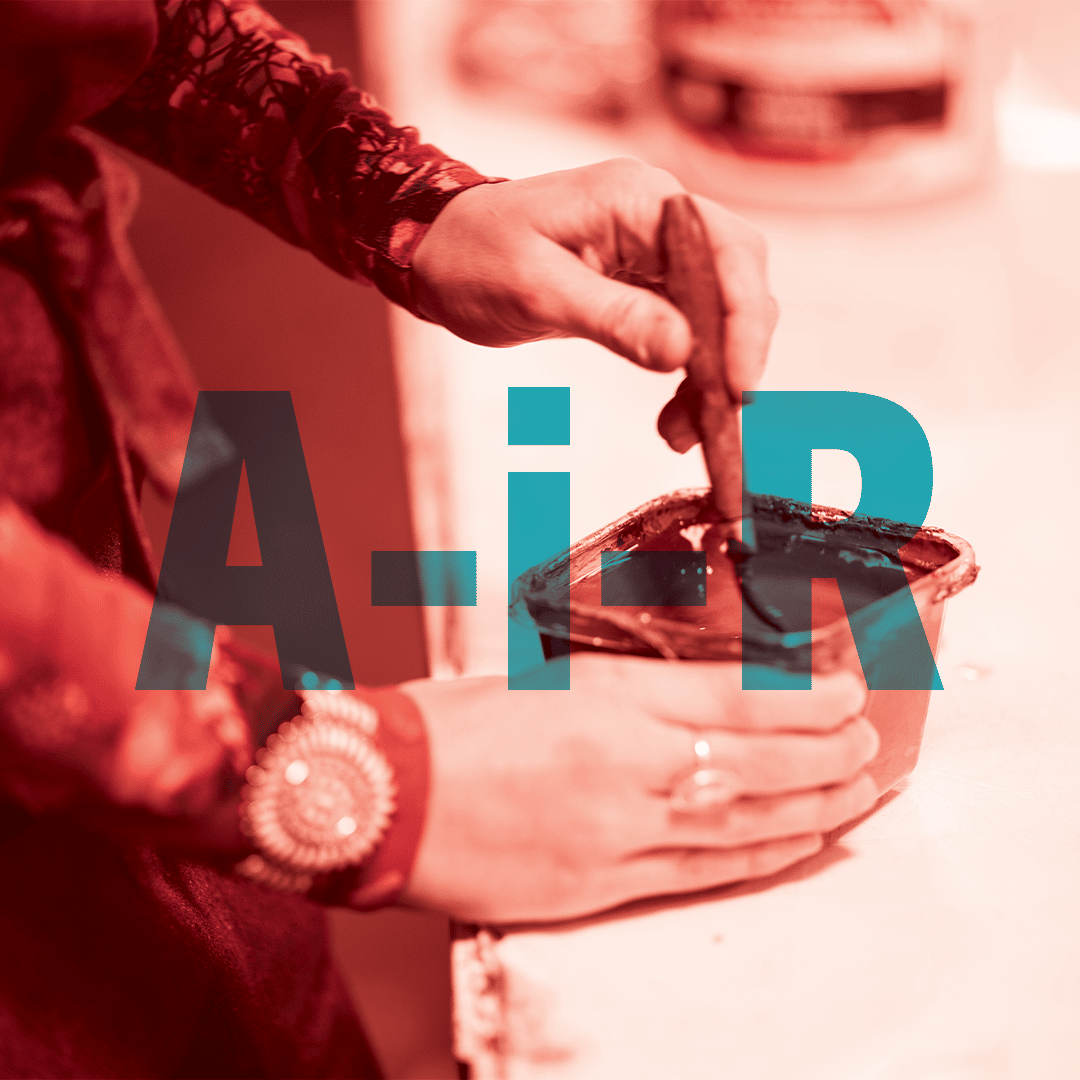 Join IAIA Artists-in-Residence (A-i-R) for a free dinner in the Academic Building on the IAIA campus from 5:00 pm–5:45 pm, followed by a tour of the artists' studio spaces from 5:45 pm–7:00 pm. David Beams (Choctaw) will be in the Allan Houser Haozous Sculpture and Foundry Building. Mikayla Patton (Oglala Lakota) will be in the Artist-in-Residence Studio, and Pat Pruitt (Laguna Pueblo and Chiricahua Apache) will be in the Jewelry Studio in the Academic Building. Anne Riley (Fort Nelson First Nation) will be in the Performing Arts and Fitness Center Costume Shop. Free and open to the public.
For more information, contact Daina Warren at daina.warren@iaia.edu or Erin Cooper at erin.cooper@iaia.edu.
David Beams
November 1–December 15, 2022
Multimedia artist David Beams (Choctaw) '16 recently received his MFA from Boise State University. Working in performative installation, his current art practice explores labor and the intertwining histories—including his personal history—of a contemporary Native American experience with Euro-American influences. In 2018, Beams had a solo exhibition of monumental sculpture at MoCNA, and in 2017 he participated in the AHA Festival of Progressive Arts in Santa Fe, NM.
Mikayla Patton
November 1–December 15, 2022
Mixed-media artist Mikayla Patton (Oglala Lakota) '19 was born and raised on the Pine Ridge Reservation of so-called South Dakota. Her artistic praxis includes printmaking, paper making, beading, sculpture, and installation. Patton is interested in the history, physicality, and symbolism of paper and sustainable methods of paper making. Through the combination of traditional and contemporary artistic methods (e.g., beading, stitching with leather cord, and laser etching), her works combine feminist narratives and Lakota traditions in delicate minimalist artworks. Patton's work has been exhibited in the U.S. and U.K. She has been awarded numerous fellowships, including the Goodman Aspiring Artist Fellowship from the Museum of Indian Arts and Culture, the Ronald and Susan Dubin Fellowship from the Indian Arts and Research Center in Santa Fe, and the Ucross Native American Fellowship for Visual Artists. In 2022, Patton was recognized by Southwest Contemporary magazine as one of "12 New Mexico Artists to Know Now."
Pat Pruitt
November 1–December 15, 2022
Paguate, NM-based artist Pat Pruitt (Laguna Pueblo and Chiricahua Apache) is an award-winning contemporary metalsmith working exclusively with nonprecious metals like titanium and steel. His introduction to jewelry making began with informal apprenticeships with esteemed Laguna silversmiths Charlie Bird and Greg Lewis. They taught him to work with traditional materials like silver and copper and traditional techniques like repoussé. Combining the skills he learned from his mentors and his background in mechanical engineering and machining, Pruitt developed a uniquely clean, industrial, graphic jewelry design style that combines hard edges and iridescent colors with inspiration from his Indigenous heritage. He has a particular affinity for working with stainless steel to make custom jewelry for the piercing industry. In addition to his work as an artist, he is a consultant in the jewelry industry when alternative metals are concerned, and his peers consider him to be a leading expert in these metals. Pruitt's work can be found in the permanent collections of The British Museum (London, UK), the Museum of Art and Design (New York, NY), the Heard Museum (Phoenix, AZ), the Albuquerque Museum (Albuquerque, NM), the Peabody Essex Museum (Salem, MA) and the National Museum of Scotland (Edinburgh, UK) among others.
Anne Riley
November 7–December 6, 2022
Anne Riley (Fort Nelson First Nation) is an Indigiqueer multidisciplinary artist living as a Slavey Dene/German guest on the unceded territories of the xʷməθkʷəyə̓ m (Musqueam), Sḵwx̱wú7mesh (Squamish) and səlí̓lwətaʔɬ (Tsleil-waututh) Nations. Their work explores different ways of being and becoming, touch, and Indigeneity. In 2018–2021 they created a two-year multi-site public art installation, A Constellation of Remediation, with T'uy't'tanat-Cease Wyss, where the artists planted Indigenous remediation gardens on vacant lots around Vancouver. Recently, Riley participated in the Drift: Art and Dark Matter residency and exhibition project at the Agnes Etherington Art Centre in Kingston, Ontario, Canada, where they and other artists engaged in dialogues with physicists and created artworks in response.
If you are an individual with a disability in need of any type of auxiliary aid or service to attend this event, please contact IAIA's ADA Office at least seven calendar days prior to the event or as soon as possible at adaoffice@iaia.edu or (505) 424-5707.