IAIA A-i-R: Sainz, Wall, Naataanii, Johnson—Open Studios
Thu, November 15, 2018, 5:00 pm

–

7:00 pm

|

Free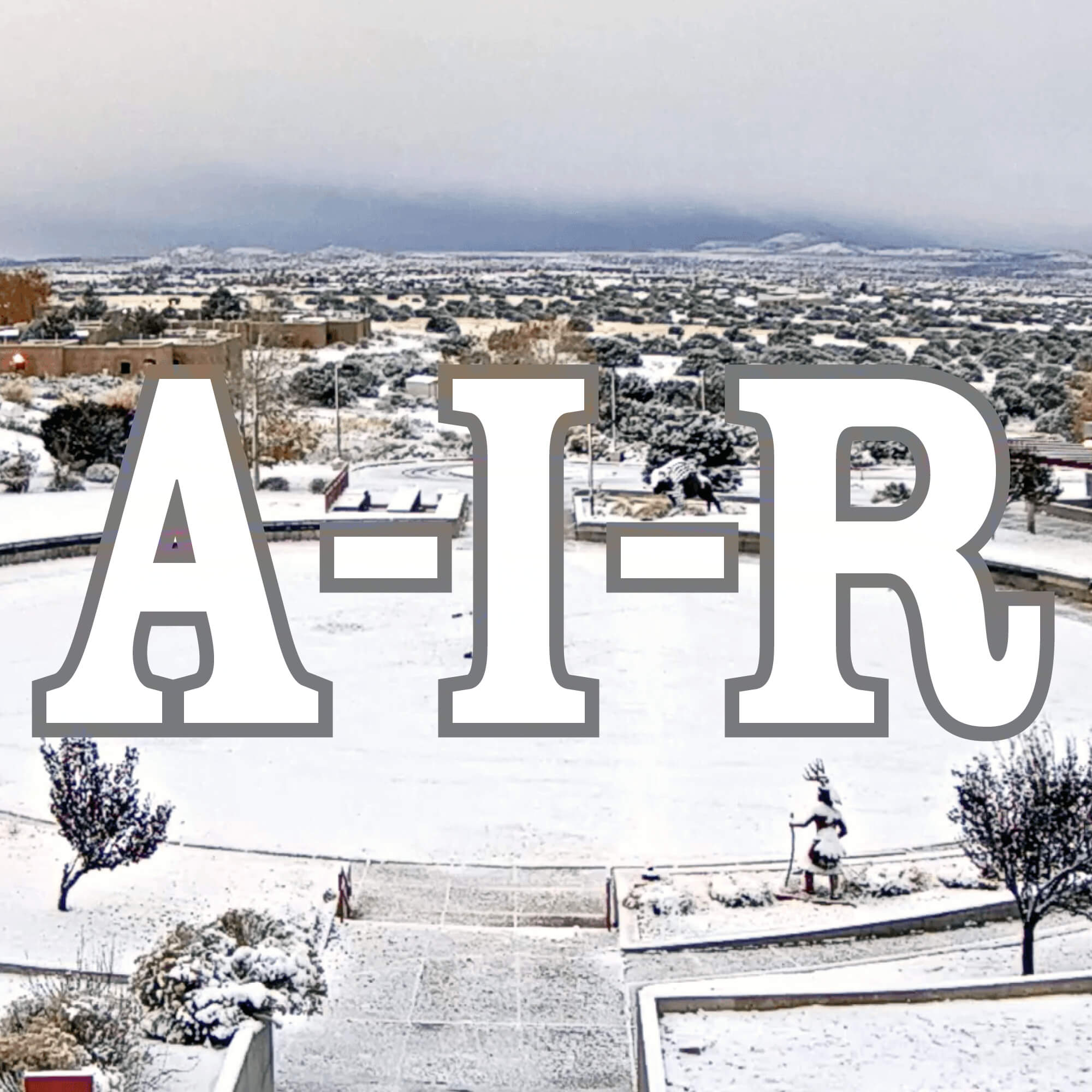 Join IAIA Artist-in-Residence (A-i-R) artists Melanie Sainz, Adrian Wall, TahNibaa Naataanii, and Kenneth Johnson in the Academic Building on the IAIA campus from 5:00 pm–7:00 pm for tours of the artists' studio spaces. Free and open to the public.
Adrian Wall
October 21, 2018–December 15, 2018
Adrian Wall (Jemez Pueblo) is a sculptor, and he has been sculpting since his late teens and has always had an affinity towards stone sculpture. Wall received his BFA from IAIA in 2014.
While Wall's primary medium is stone, he works with many materials, including clay, bronze, and glass. He has won several major awards in sculpture competitions across the United States and is a member of the Indigenous Sculptors Society, an accomplished group of Native American Sculptors dedicated to the advancement of stone sculpture. His work can be found in the collections of the Eiteljorg Museum, the Indian Pueblo Cultural Center Museum, and the Hauku Museum.
Wall has been the recipient of several fellowships including the National Museum of the American Indian Visiting Artist Fellow, the School for Advanced Research Rollin and Mary Ella King Native Artist Fellowship, and the Southwest Association for Indian Arts Fellowship. The subjects of Wall's sculptures most often relate to his Pueblo heritage. Stylistically, Wall is well known for blending figurative detail with abstract forms.
Kenneth Johnson
October 30, 2018–December 30, 2018
Kenneth Johnson (Musogee Creek/Seminole) is a custom jewelry designer who is quick to smile and is known for his attention to detail in his jewelry creations. He specializes in stamp work, repoussé, and engraving precious metals using Southeastern Native motifs.
He also enjoys using his experience in the arts and organizing talent for community development projects such as the ongoing Mvskoke Canoe Paddle Project and, in the past, the Santa Fe Indian Market collaborative concho belt, silverware, and necklace projects.
Raised in Oklahoma, Johnson is from the Muscogee (Creek) and Seminole tribes, and has received recognition for creating iconic commissions for U.S., Canadian, and Oklahoma Supreme Court Justices, U.S. Congressmen, Native American Tribal Chiefs, museums, and distinguished individuals.
He is a former Southwestern Association for Indian Arts Board Member, is currently Chair of the Mvskoke Arts Association, and is a new Board member of the Ralph T. Coe Center for the Arts in Santa Fe. Johnson currently makes his home and art in Santa Fe, New Mexico. His residency is generously supported by the National Endowment for the Arts.
TahNibaa Naataanii
October 30, 2018–December 11, 2018
TahNibaa Naataanii (Navajo) is of the Many Hogan Clan and born for the Coyote Pass Clan. Her maternal and paternal grandfathers are the Mexican Clan and the Steep Rock Clan. She is from Table Mesa and Toadlena, New Mexico.
As a young girl, her paternal grandmother gave her the Navajo name TahNibaa Aglohiigiih. When translated it means TahNibaa the Weaver. Navajo Weaving was introduced to her by her mother, Sarah H. Natani, when she was seven years of age and in the second grade. She learned how to weave stripes first, then graduated to weaving squares and diamonds. Naataanii wove throughout her teenage years, and after she graduated from high school, her weaving ceased for a moment as she joined the U.S. Navy. After her Naval tour, she longed to hear the tapping of the weft and, shortly after, began to weave once again. She is discovering that she is falling in love with her work each day.
Naataanii enjoys raising sheep, working with raw and processed wool, enjoys weaving traditional-style Shoulder Blankets, contemporary designs, and exploring the creative process. When she weaves, she feels the wisdom of her Great Matriarchs and "Asdzaa Maaiideeshgiizhnii" who make her a 5th generation weaver.
Melanie Talmadge Sainz
November 1, 2018–December 13, 2018
Melanie Talmadge Sainz (Ho-Chunk) art is a reflection of the creative inspiration and mentoring from generations past. Sainz equally credits her formal art instruction and her tribe's encouragement to uphold cultural preservation through the arts. Her work exemplifies elements of her people as an adaptive culture. Among Sainz's favorite materials are porcupine quills combined with traditional and adapted techniques and materials that she has discovered, collected, processed, and integrated into her work. Long before the arrival of the European explorers and traders in Wisconsin, her Ho-Chunk ancestors were using materials that nature provided to adorn themselves, their clothing, and their surroundings. In Ho-Chunk, Sainz says that they do not possess the word for "art," but that they do understand the importance of beauty in the connection to the natural world.
Sainz was an art educator in public and private schools and art museums for thirty years. Although she stepped away from full-time teaching status, her art career is now balanced between creating, exhibiting, and teaching art with emerging Native artists in the Great Lakes area to achieve their goals.
"My art keeps me centered—it is my therapy. I find comfort and peace with my art. While engaged in art making, I often think of my conincaaga (grandmother) Rose Whiterabbit Miner and my naani (mother) Bernadine Miner Talmadge. They were talented artists and successful entrepreneurs. I thank them for their love, influence, time, and patience as they were my first art teachers and they continue to be my role models" says Sainz. For Sainz, art allows her to continue to tell a story with an authentic voice and she believes that her commitment to her cultural art forms will strengthen the creative culture of Ho-Chunk people.