Inherent Memory and 2022–2023 IAIA BFA Exhibition: Beyond Reflections—Reception
Fri, May 12, 5:00 pm

–

7:00 pm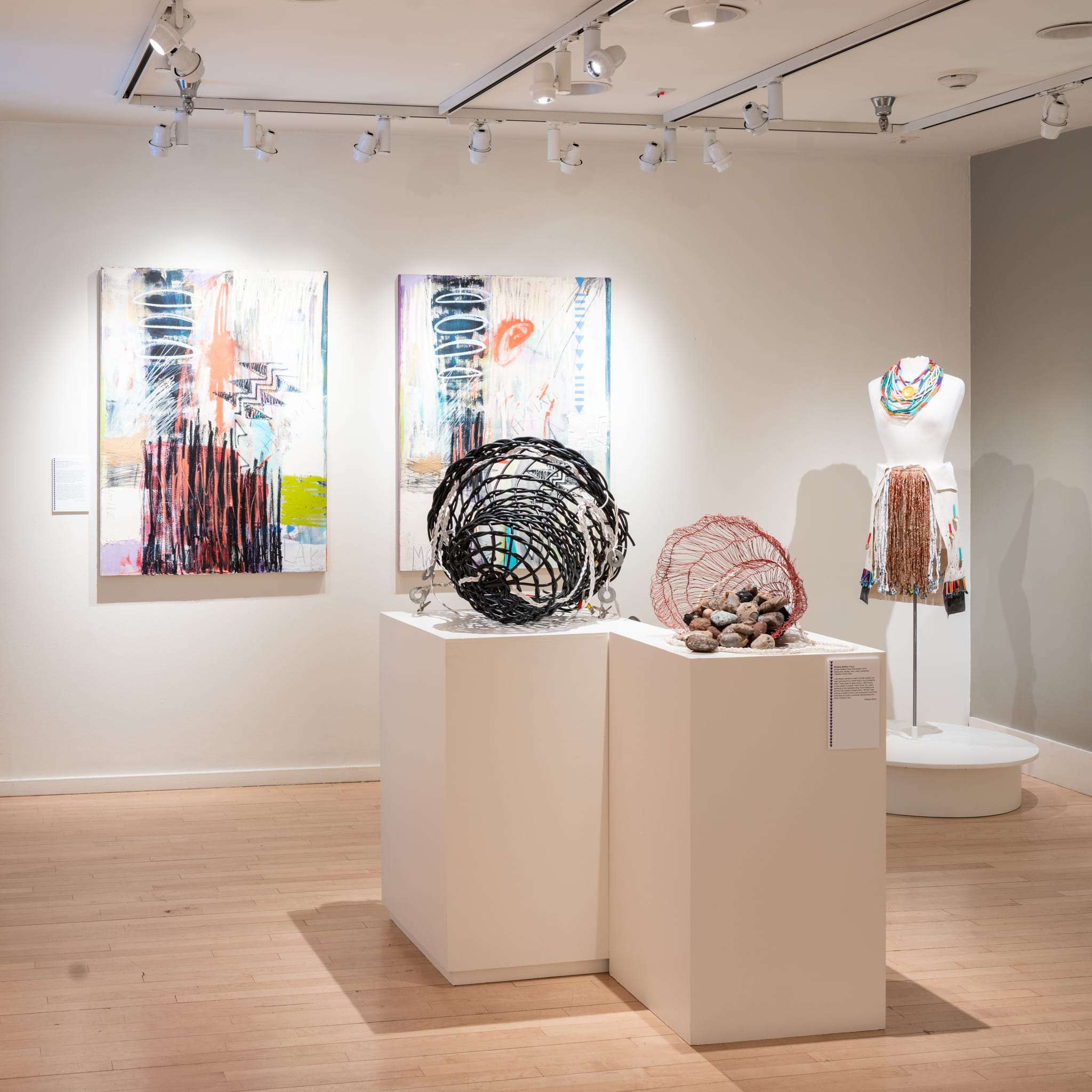 Mark your calendar and join us for a public reception outside in the Allan Houser Art Park at the IAIA Museum of Contemporary Native Arts (MoCNA) for Inherent Memory, on display in the South Gallery, and the 2022–2023 IAIA BFA Exhibition: Beyond Reflections, on display in the North Gallery and Honor Gallery.
Inherent Memory features contemporary Indigenous basketry-related art created by Indigenous women and nonbinary artists from California and the Great Basin, including painting, sculpture, multimedia, basketry, poetry, video, and photography. This exhibition aims to raise awareness of contemporary Indigenous art from these areas and to educate museum audiences about Great Basin Tribal arts and culture, including the importance of basketry. Inherent Memory will showcase the work of 19 artists from this underrepresented area.
The exhibition is guest curated by Melissa Melero-Moose (Northern Paiute/Modoc), visual artist and curator for the Great Basin Native Artists.
The 2022–2023 IAIA BFA Exhibition: Beyond Reflections recognizes the talent and artistic devotion of the Institute of American Indian Arts (IAIA) Studio Arts BFA students. Presenting a variety of media and motives for their artwork, Beyond Reflections captures the artists' exploration of identity, mental health, social activism, culture, and curiosities of the world around us. Each artist draws from their personal and collective experiences to create exceptional work. From exploring self-acceptance through portraiture, coming-of-age stories through film, or futuristic fashion designs, Beyond Reflections goes beyond exhibiting—it is a celebration of the talent and courage of the artists.
The exhibition is co-curated by IAIA museum studies student Ixel Lindstrom (Maya and Ojibwe) and IAIA Museum of Contemporary Native Arts (MoCNA) Curatorial Assistant Erika Knecht, who worked closely with Student Preparator MayAnn Etsitty (Ute Mountain Ute) to organize Beyond Reflections.
For more information, please contact IAIA Museum of Contemporary Native Arts (MoCNA) Chief Curator Manuela Well-Off-Man at manuela.well-off-man@iaia.edu.