Puhumuyaw: Dan Lomahaftewa
Tue, January 11, 2011

–

Thu, March 31, 2011
Event Navigation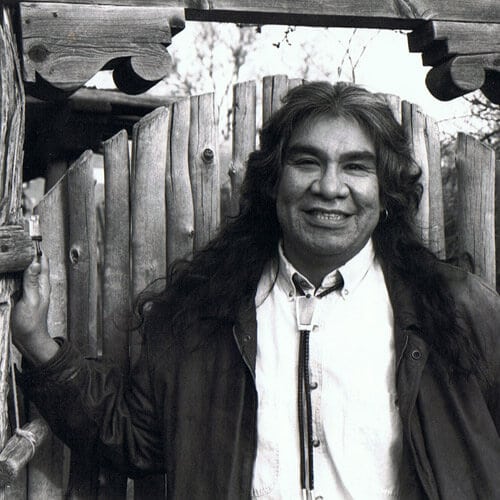 Puhumuyaw: Dan Lomahaftewa (New Moon) is an exhibition, honoring the late Hopi/Choctaw artist Dan Lomahaftewa (1951–2005), representative of a personal and spiritual narrative expressed through his artistic form of expression. Thirteen selected paintings, whether figurative or abstract, draw heavily on traditional teachings and his connection with Hopi spirituality, ritual, migration and memory. Dan Lomahaftewa (1951-2005) infuses life to his visions of the spirit world and his interpretation of time and reality become manifested through symbolism, color, and his distinct translation of ancient aesthetics and beauty.
The titles to some of his paintings, such as Summer Dreams of the Past, Memory Portal, From the Time of Emergence, and Migration Memories, invoke a presence for the past to be witnessed, and is crucial to an Indigenous world view he sought to enlighten. Linda Lomahaftewa, Lomahaftewa's sister, says, "Part of the Hopi migration was we traveled through the whole world, and you see different pieces of Hopi throughout the whole migration path," was significant to his interpretations and creative process.
Although Lomahaftewa was raised and immersed in Hopi culture, he also acknowledged his Choctaw roots and exemplified both traditional and contemporary aspects of the two cultures through which he experienced the world. Insightful of a sense of balance, Lomahaftewa interwove intercultural forms of equilibrium as an expression of beauty. His niece Tatiana Lomahaftewa Singer says, "I don't think that he didn't think about [being] Choctaw, [but I] think that he was probably coming to that, a place in his life where he was going to start addressing that." By keeping an open mind, his paintings came from another world and flowed through him. "He changed them into Hopi figures," says Linda Lomahaftewa, referring to how his travel, research, and respect for other cultures came to be so influential to his work.
Puhumuyaw, translated as "New Moon," was Lomahaftewa's Hopi name. Puhumuyaw evokes a portal for time to bring forth and nurture creation through memories of what was once in the night sky and a reflection of what is coming back into sight. Puhumuyaw: Dan Lomahaftewa (1951–2005) is a modest representation of his substantial career he continues to share with us. In honoring and recognizing his contributions as an artist and cultural mediator, Dan Lomahftewa can be revered to as Tuuhisa (too-he-saw), a Hopi word that describes an extremely accomplished, thoughtful and respected visionary.
Essay by Dedric Lupe and Dylan Ironshirt.