Summer and Fall Exhibitions—Opening Reception
Thu, August 17, 2017, 5:00 pm

–

7:00 pm

|

Free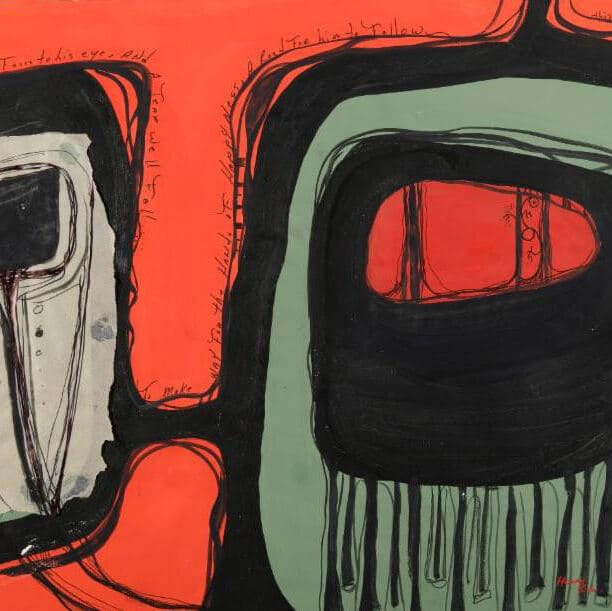 January 27, 2017–January 1, 2018
Daniel McCoy's art addresses contemporary Native American issues, past triumphs, current disasters, and is inspired by underground comics, album covers, as well as Oklahoma flat style painting. His new mural project for IAIA Museum of Contemporary Native Arts (MoCNA) further develops themes and characters of his previous works which are based in Native culture and Americana. The mural will also have an underlying message on environmental issues.
May 5, 2017–January 21, 2018
New Acquisitions: 2011–2017 highlights newly acquired work over the past six years from MoCNA's Permanent Collection and demonstrates the museum's commitment to collect works that are visionary and a testament to IAIA's innovative spirit. The selected artworks complement each other through aesthetic, color, and form, but also share an expansive vision collectively. The selections include various types of media such as mix media collage, painting, photography, printmaking, and sculpture. The exhibition features works by Brandee Caoba (Ohkay Owingeh descent), Jim Denomie (Ojibway), John Hagen (Unungan (Aleut)/Inupiaq), Merritt Johnson (Mowhawk and Blackfoot descent), Tom Jones (Hochunk), Tony Lee (Navajo), Monty Little (Diné), Alex Pena (Comanche/Non-Native), and Jaune Quick-To-See-Smith (French-Cree/Shoshone/Salish).
May 19, 2017–January 28, 2018
Desert ArtLAB is an interdisciplinary art collaborative, established by museum curator and educator April Bojorquez (Chicana/Rarámuri) and artist and educator Matthew Garcia (Chicano). The collaborative reconceptualizes desert/dryland ecologies not as post-apocalyptic growth of wasteland, but as an ecological opportunity. The exhibition Ecologies of Resistance illustrates the artistic process of the collaborative's site-specific ecological installation in the high desert of Southern, CO, through the use of artifacts, archival materials, and botanical samples. The collaborative is transforming a plot of blighted land into a thriving dryland ecosystem that also serves as an edible indigenous landscape. Informed by social sculpture, the collaborative believes artists have the ability to altruistically transform and shape their environments and society. Regrowing indigenous ecologies in community space allows for the revitalization of ecological practice and a reimagining of an indigenous dryland cosmology and aesthetic.
July 3–October 27
The IAIA Museum of Contemporary Native Arts (MoCNA) is pleased to present the digital works of filmmaker Sky Hopinka (Ho-Chunk Nation of Wisconsin/Pechanga Band of Luiseño Indians). Hopinka's work is both multifaceted conceptually and formally, with involved tiers of images and narratives. Beautiful and mysterious, thick with color and gesture, his films are filled with notions and confluences around tribal identity, language and land. Most recently Hopinka's work could be seen in the Whitney Museum of Art's 2017 Biennial. Says Hopinka, "identity is important to my work, as within myself are layered strata of information, presence, confusion, and history. In similar ways my videos use figures and text that are layered and dense in image and sound, and those tactics are used to assist questioning the simple movements and complications of knowledge, access, and artifact. I am a part of this story, as a tribal member and as the maker, and I take steps to acknowledge my presence and involvement. These layers are an imperfect puzzle that are not about the precision of the connections, but rather the generation of overlapping swathes of emotion, indescribable understanding, and burdened insouciance, for the viewer and myself."
July 7, 2017–January 21, 2018
Connective Tissue: New Approaches to Fiber in Contemporary Native Art features contemporary Native American artists who integrate various forms of fiber art media and methods to achieve their visions and to make their statements. They share an interest in the materiality and technique of fiber art. Their works are created using natural or synthetic fibers or techniques, and have different themes or concepts at their core. Contemporary artists who work in fiber art are very much aware of the rich traditions and history of this art form and medium. Consequently, one of the most common conceptual tools in fiber art involve the revival, innovation, or distortion of those traditions. Fiber as a medium appeals to many of these artists since the material's tactility and versatility enables them to experiment and to produce unique, powerful artworks. Fiber also engages because of its attachment to gender stereotypes and cultural heritage, as well as the material's associations with domesticity and homeliness. Placed out of context or integrated in artists' own creations the medium invites social-critical and political statements.
July 28, 2017–July 28, 2019
Action Abstraction Redefined features paintings and works on paper from the IAIA Museum of Contemporary Native Arts (MoCNA) permanent collection created in the 1960s and 1970s. The artists in this exhibition challenged stereotypical expectations of Indian art by experimenting with American modern art movements such as Abstract Expressionism, Color Field and Hard-edge Painting combined with art influences from their own cultural heritage.