IAIA 2022–2023 Undergraduate Scholarship Application
The mission of the Institute of American Indian Arts (IAIA) is "To empower creativity and leadership in Native Arts and cultures through higher education, life-long learning, and outreach."
IAIA was established in 1962 as a high school with an innovated approach to arts education. In 1984, IAIA gained accreditation by the Higher Learning Commission (HLC) to offer college degrees. IAIA currently serves over 863 students from various national and international communities. IAIA offers both two-year and four-year degrees in Cinematic Arts, Creative Writing, Indigenous Liberal Studies, Museum Studies, Performing Arts, and Studio Arts. 
Scholarship Requirements
Competitive Scholarships have varying criteria funded by external donors and require applicants to submit an essay for consideration. If selected, students generally only receive one IAIA Named or AICF-TCU Competitive Scholarship (excluding the AICF-Full Circle). Scholarships typically require a 2.0 cumulative grade point average (CGPA) or higher and must be accepted in an undergraduate certificate, associates or bachelors degree program. Eligible students must be enrolled at least half-time (6+ credit hours).
| | |
| --- | --- |
| Essay Topic | What challenges have you overcome to attend college? Include any challenge(s) in the past year. |
| Rubric | Download and view the 2022–2023 IAIA Scholarship Rubric. View a the sample essay ( 2022_2023_iaia_miguel_trujillo.docx). |
| Required | Essay must not exceed 300 words and must address the essay topic. Hint: Use the word count feature in Microsoft Word. |
| Required | Do not put your name anywhere in the essay. This helps preserve the anonymity of your submission. |
| Required | Essays must be submitted in a Microsoft Word (.doc or .docx format). |
| Required | Essays must be submitted online by the deadline on Monday, August 22, 2022, 8 am (MST). Essays submitted to IAIA staff or faculty will not be accepted. |
| Required | Students may only submit one essay. Submissions after your first essay will not be accepted or considered. |
| Preferred | 12pt font, Double-spaced, 1-inch margins |
Scholarship Award Process and Timeline
| Date | Time | Process |
| --- | --- | --- |
| Fri., May 6 | | Scholarship process open for 2022–2023—start application |
| Weekdays & Weekends | | Essay Assistance by Appointment (www.iaia.edu/learninglab) |
| Tues., June 7 | 12–12:30 pm | IAIA Scholarship Process Q&A with Financial Aid Staff (ZOOM video meeting) |
| Tues., July 5 | 4–5 pm | IAIA Scholarship Process Q&A with Financial Aid Staff (ZOOM video meeting) |
| Tues., Aug. 2 | 4–5 pm | IAIA Scholarship Process Q&A with Financial Aid Staff (ZOOM video meeting) |
| Mon., Aug. 15 | | First Day of Classes |
| Sat., Aug. 20 | 12–1 pm | IAIA Scholarship Process Q&A with Financial Aid Staff (ZOOM video meeting) |
| Sun., Aug. 21 | 12–1 pm | IAIA Scholarship Process Q&A with Financial Aid Staff (ZOOM video meeting) |
| Mon., Aug. 22 | 8 am | IAIA Scholarship Application and Essay Due |
| Tues., Aug. 30 | 1 pm | AICF Student Profile and AICF Application |
| Wed., Aug. 31 | Midnight | 2022–2023 FAFSA Due (only if not already submitted) |
| Fri., Sept. 9 | | Award recipients notified via email |
| Fri., Sept. 30 | | Scholarship process opens for 2023 New Students Only |
"Chasing this dream of mine would not have seemed possible without the contributions made, for a person like myself. From this opportunity I hope to someday meet those who have donated, to thank them for helping me attain a level of pride as a Native scholar and hope in a better future for my daughter. This scholarship gives me the momentum to push through the challenges that would otherwise keep me from attending college."
Scholarship App Deadline Aug. 22, 2022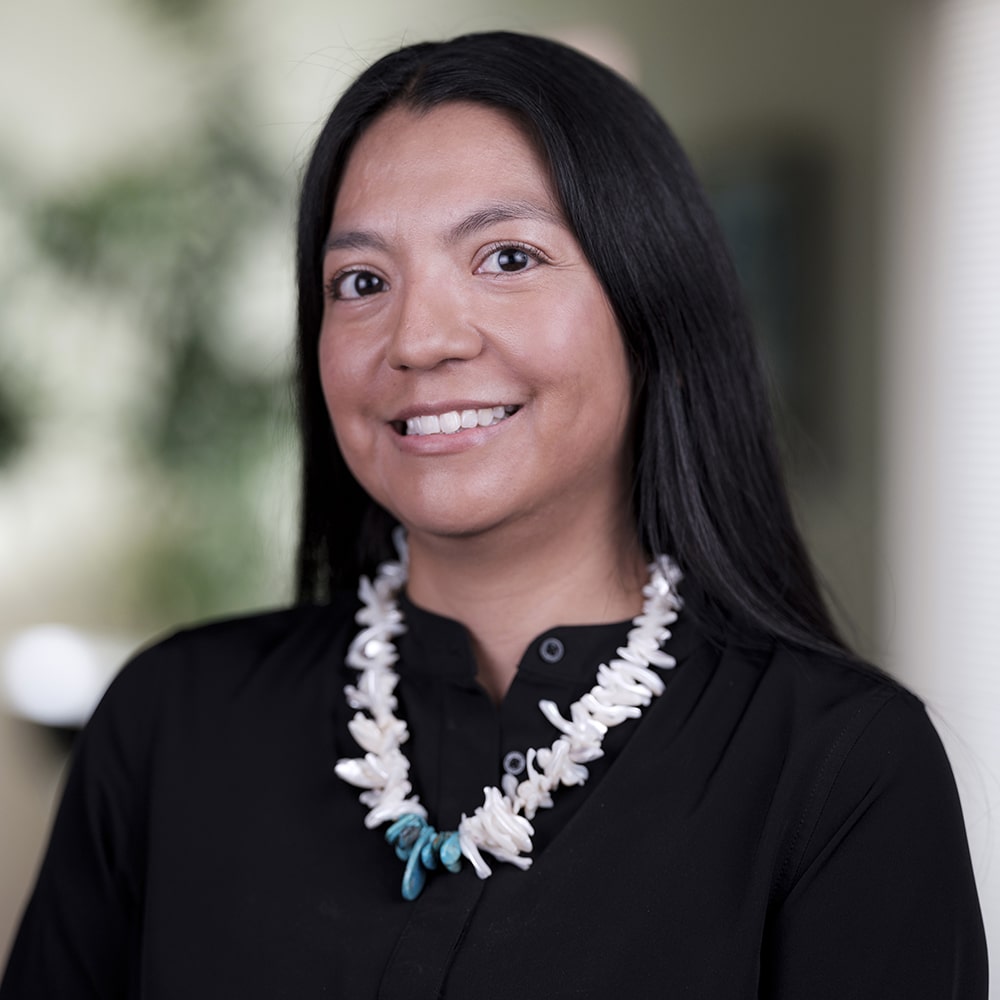 Leah Boss
(Laguna/Hopi/Akimel O'Odham)
Financial Aid and Scholarship Advisor
Student Success Center
P (505) 424-5737
E [email protected]