IAIA and CCA Partner for a Screening of Selections from the 1977 Native American Video Tape Archive
As part of the national 1976 Bicentennial Celebration, the Bureau of Indian Affairs (BIA) sponsored a project, The Native American, a Cultural Projection. The project consisted of an exhibition of contemporary American Indian Art, a spoken and written literature program, and a videotape documentary project. The video project involved reaching out to Indigenous tribes, selecting individuals, and flying them to Washington D.C. for a one-week hands-on video production and editing workshop. The newly minted videographers were split into teams who traveled throughout Indian Country, working with tribes to capture their communities' essential cultural activities and traditions and document historical and contemporary information about their lives.
The project resulted in 41 unique documentaries from 27 tribal communities that vary in content as tribal members determined what should be filmed. The master tapes and any original documentary or source tapes were cataloged, indexed, and given to the Institute of American Indian Arts for preservation, forming the Native American Video Tape Archives (NAVTA).
On Thursday, October 6 at 6:00 pm, IAIA and the Center for Contemporary Arts (CCA) will present Self-Documented: The 1977 Native American Video Tape Archive, a public screening of excerpts from these rarely-seen videos. Subsequently, a discussion about the films and project will be led by a community scholar panel, including IAIA Archivist Ryan Flahive and National Endowment for the Humanities (NEH) Scholar Dan Bigbee, Jr. (Comanche). Bigbee studied video and photography at IAIA in the mid-seventies and worked on the original NAVTA archiving team.
The panel will include collaborators from the original project, Tom Fields and George Tiger, and descendants of individuals who appear in the videos, Macario Guttierrez (Pojoaque Pueblo and Nambe Pueblo), whose mother demonstrates traditional pottery coiling in one video, and Sokogan Chippewa Community Chairman Robert VanZile, who will discuss his grandmother's narrative in the final clip of the evening.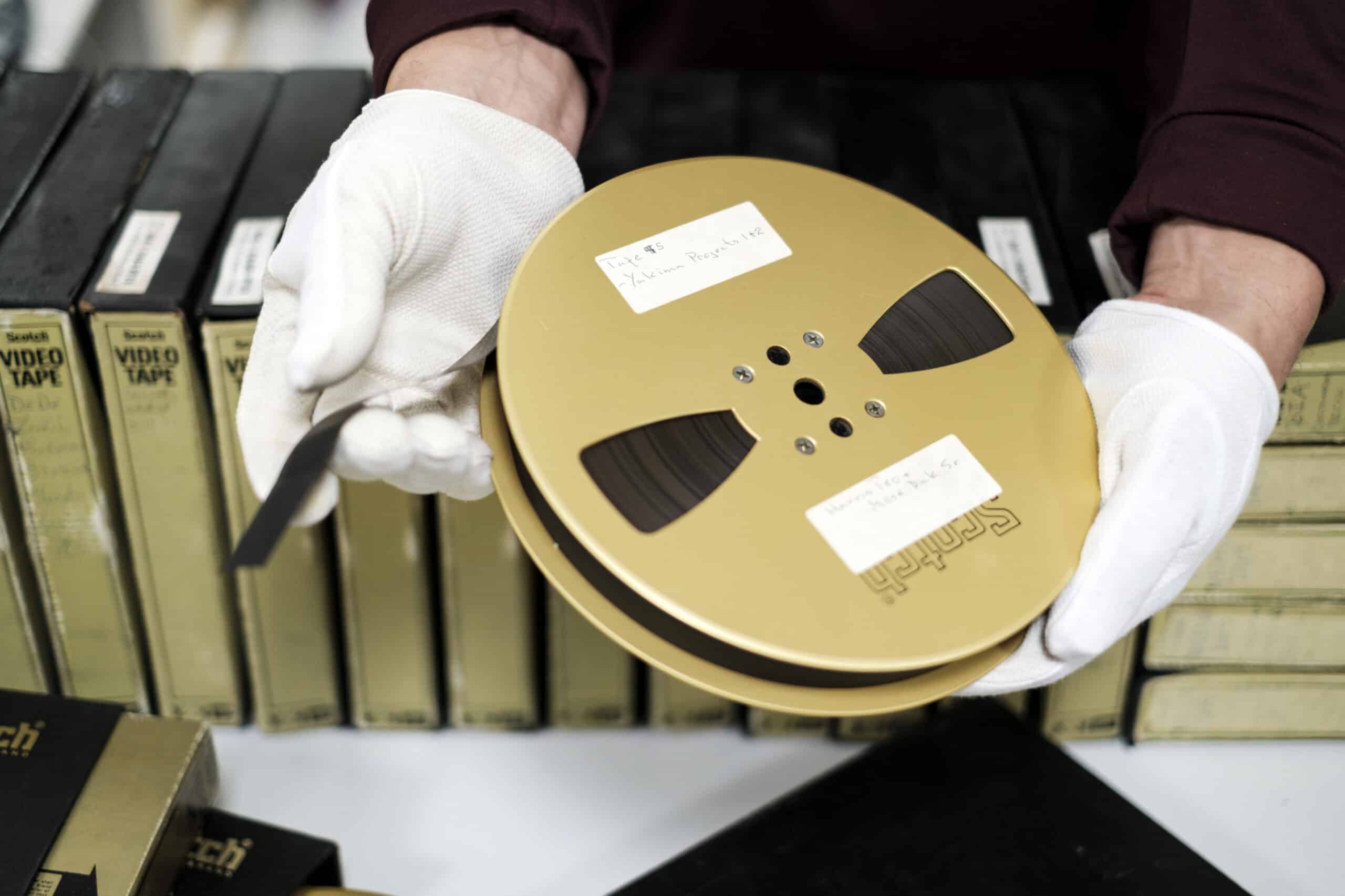 The tapes are an "early snapshot of the effects of self-determination legislation," says IAIA Archivist Ryan Flahive, referring to the Indian Self Determination and Education Assistance Act of 1975 (also known as the Indian Education Reform Act) that reversed early twentieth-century federal efforts to assimilate Indigenous people and terminate the legal standing of numerous tribes. Additionally, the Act put authority and grant funds into the hands of tribal nations to develop educational and social services for their people as they saw fit.
Flahive received a grant through the National Endowment for the Humanities, by way of the Association of Tribal Archives Libraries and Museums, to digitize, preserve, and share the 45-year-old master tapes in what he describes as a "digital and visual repatriation project."
Because the original videos were shot on half-inch reel videotape and the masters were produced on one-inch tape—formats that are no longer in use and require rare analog equipment to play—they were sent to a specialist who works with outmoded film and video materials. "I struggled to find anyone who could transfer the videos," says Flahive. "No one had watched those master tapes since about 1982."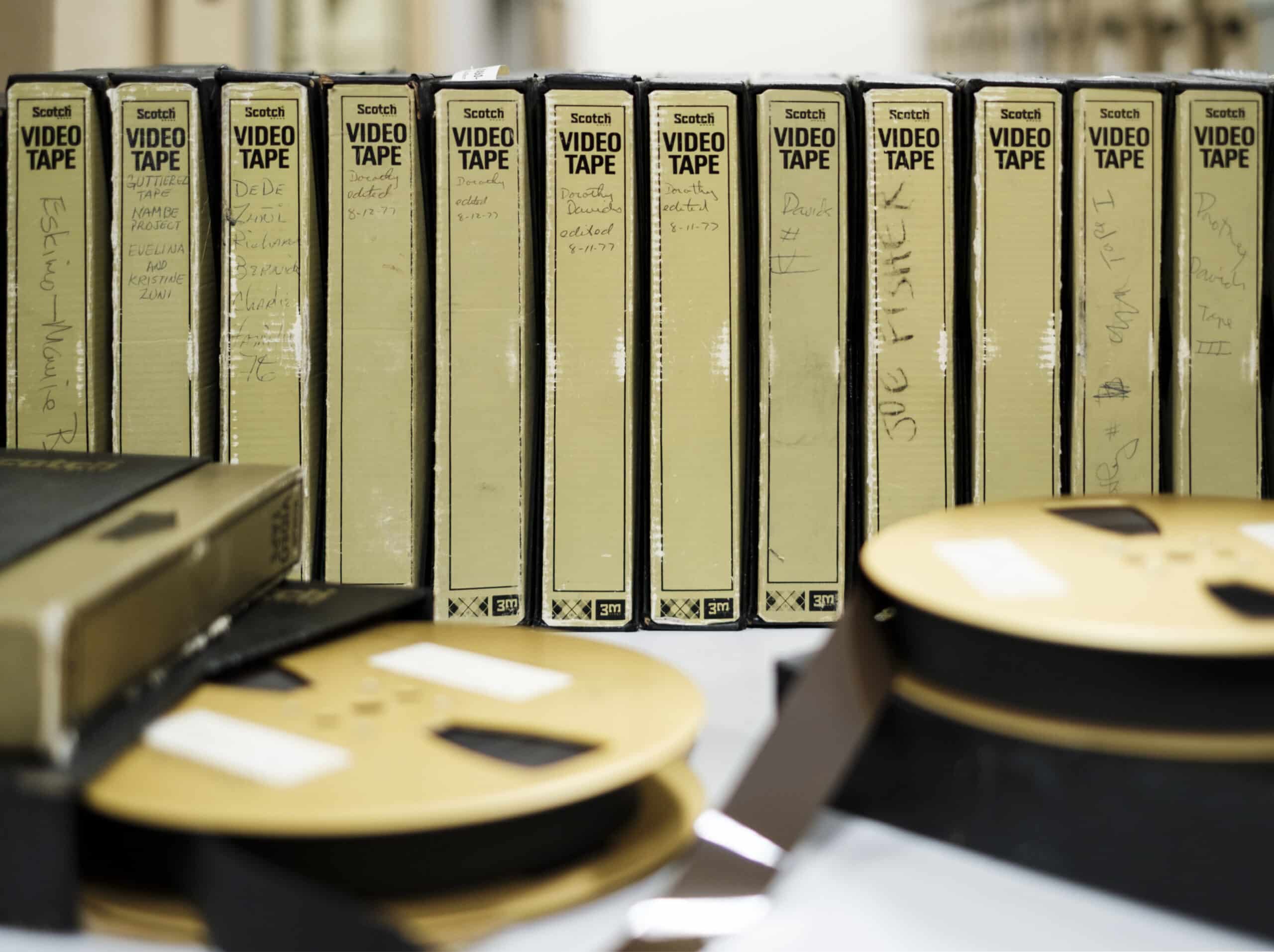 Once the tapes were digitized, the project shifted focus. Project Coordinator and senior IAIA student Zonnie Miera (Cochiti Pueblo and Diné) contacted all 27 tribal nations featured in the videos to discuss the NAVTA project. Miera sent copies of the restored videos and engaged communities in conversations to determine what the tapes demonstrate, who is in them, and if it would be appropriate and desirable to share the videos with broader audiences. "I feel honored to be a part of this impactful archival project," says Museum Studies major Miera. "The immense gratitude for the project we received from the tribal nations' community scholars was profoundly moving and educational."
This unique program coincides with CCA's current exhibition, Self-Determined: A Contemporary Survey of Native and Indigenous Artists, which includes work by IAIA community members, including the late professor Jeff Kahm (Plains Cree), IAIA alums Chaz John (Winnebago Tribe of Nebraska, and Mississippi Band Choctaw) and  Hoka Skenandore (Oneida, Oglala Lakota, Luiseño), and past and present IAIA artists-in-residence Jordan Ann Craig (Northern Cheyenne), Demian DinéYazhi' (Diné), Carly Feddersen (Confederated Tribes of the Colville Reservation), RYAN! Feddersen, (Confederated Tribes of the Colville Reservation), Anna Hoover (Unangax̂), Ursala Hudson (Tlingit), Ian Kuali'i (Native Hawaiian and Apache), Erica Lord (Tanana Athabascan, Inupiaq), and Dyani White Hawk (Sičáŋǧu Lakota).
CCA is located at 1050 Old Pecos Trail, Santa Fe, NM 87505. The cost of admission to Self-Documented: The 1977 Native American Video Tape Archive is $15, and tickets may be purchased online.
Institute of American Indian Arts
The Institute of American Indian Arts (IAIA)—the birthplace of contemporary Indigenous American art—has been the educational home for esteemed and innovative artists, writers, filmmakers, performers, and leaders since 1962. IAIA continues to grow on its stunning 140- acre campus in Santa Fe, New Mexico. Named one of the top art institutions globally by UNESCO and the International Association of Art and accredited by the Higher Learning Commission, IAIA offers undergraduate degrees in Cinematic Arts and Technology, Creative Writing, Indigenous Liberal Studies, Museum Studies, Performing Arts, and Studio Arts; graduate degrees in Creative Writing, Studio Arts, and Cultural Administration; and certificates in Broadcast Journalism, Business and Entrepreneurship, Museum Studies, and Native American Art History. The college serves approximately 500 full-time Native and non-Native American students from around the globe, representing nearly a hundred federally recognized tribes.
From its humble beginnings on the Santa Fe Indian School campus, IAIA began collecting and exhibiting its students' artworks, forming a collection that became the foundation of the world's premier museum representing contemporary Indigenous arts and cultures—the IAIA Museum of Contemporary Native Arts (MoCNA). MoCNA continues expanding its renowned collection of nearly 10,000 artworks, curating numerous progressive and innovative exhibitions, both traveling and at our museum in downtown Santa Fe.
The theme Making History encompasses IAIA's and MoCNA's 2022 events celebrating our rich history and looking forward to our vibrant future. We ask everyone to join us in celebrating IAIA's sixtieth and MoCNA's semicentennial anniversaries throughout this monumental year as we continue Making History.