IAIA's Featured Article in the SWAIA Booth Directory—"A Portal to Indigenous Fashion"
For the Official Santa Fe Indian Market Artist Directory & Booth Guide, IAIA Communications Writer Neebinnaukzhik Southall (Chippewas of Rama First Nation) '19 wrote "Portal to Indigenous Fashion," focusing on the vital connections among the Institute of American Indian Arts (IAIA), the Southwestern Association for Indian Arts (SWAIA), and the world of Native fashion, with a special spotlight on recent IAIA grad Jontay "Kahm" Kahmakoatayo (Plains Cree) '23, who will showcase his Regalian Bodies collection on the SWAIA runway.
IAIA is a proud sponsor of SWAIA Santa Fe Indian Market, with many of our IAIA Alums and broader community represented strongly in Indian Market and other SWAIA events. Read the full article online and pick up a printed magazine during Indian Market.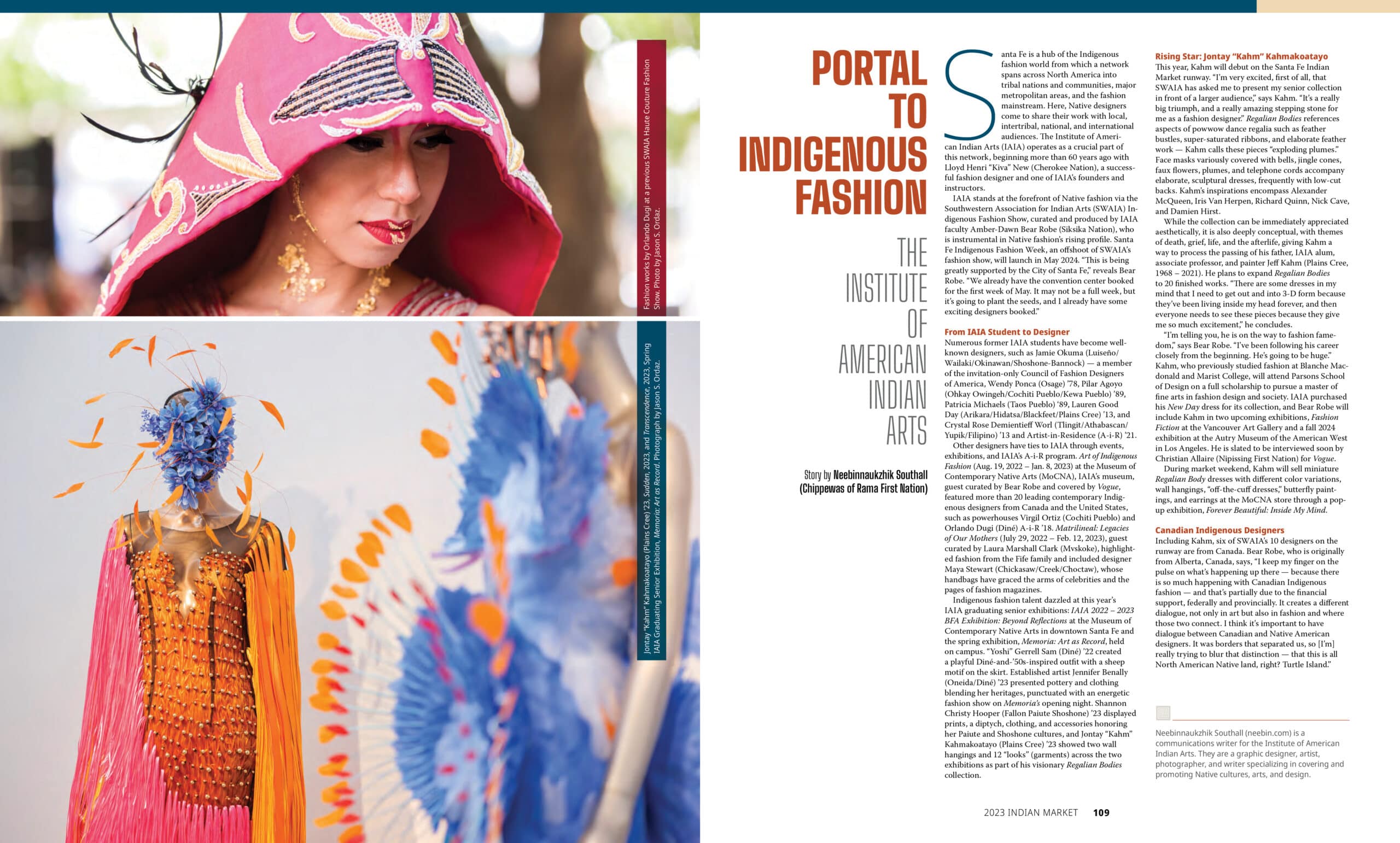 Santa Fe is a central hub of the Indigenous fashion world, from which a network spans across North America into tribal nations and communities, major metropolitan areas, and the fashion mainstream. Here, Native designers come to share their work with local, intertribal, national, and international audiences. The Institute of American Indian Arts (IAIA) operates as a crucial part of this network, beginning over 60 years ago with Lloyd Henri "Kiva" New (Cherokee Nation), a successful fashion designer and one of IAIA's founders and instructors.
IAIA walks at the forefront of Native fashion via the Southwestern Association for Indian Arts (SWAIA) Indigenous Fashion Show, curated and produced by IAIA faculty Amber-Dawn Bear Robe (Siksika Nation), who is instrumental in Native fashion's rising profile. Santa Fe Indigenous Fashion Week, an offshoot of SWAIA's fashion show, will launch in May 2024. "And this is being greatly supported by the city of Santa Fe," reveals Bear Robe. "We already have the convention center booked for the first week of May. It may not be a full week, but it's going to plant the seeds, and I already have some exciting designers booked for that year."
Numerous former IAIA students have become well-known designers, such as Jamie Okuma (Luiseño, Wailaki, Okinawan, and Shoshone-Bannock)—a member of the invitation-only Council of Fashion Designers of America, Wendy Ponca (Osage) '78, Pilar Agoyo (Ohkay Owingeh, Cochiti Pueblo, and Kewa Pueblo) '89, Patricia Michaels (Taos Pueblo) '89, Lauren Good Day (Arikara, Hidatsa, Blackfeet, and Plains Cree) '13, and Crystal Rose Demientieff Worl (Tlingit, Athabascan, Yupik, and Filipino) '13 and A-i-R '21. Other designers have ties to IAIA through events, exhibitions, and IAIA's Artist-in-Residence (A-i-R) program. Art of Indigenous Fashion (August 19, 2022–January 8, 2023) at the IAIA Museum of Contemporary Native Arts (MoCNA), IAIA's museum, guest curated by Bear Robe and covered by Vogue, featured "over twenty leading contemporary Indigenous designers from Canada and the United States"[1], such as powerhouses Virgil Ortiz (Cochiti Pueblo) and Orlando Dugi (Diné) A-i-R '18, and Matrilineal: Legacies of Our Mothers (July 29, 2022–February 12, 2023), guest curated by Laura Marshall Clark (Mvskoke), highlighted fashion from the Fife family and included designer Maya Stewart (Chickasaw, Creek, and Choctaw descent), whose handbags have graced the hands of celebrities and fashion magazine pages.
Indigenous fashion talent dazzled at this year's IAIA graduating exhibitions, IAIA 2022–2023 BFA Exhibition: Beyond Reflections at MoCNA and the 2023 Spring IAIA Graduating Senior Exhibition Memoria: Art as Record on the campus. "Yoshi" Gerrell Sam (Diné) '22 created a playful Diné-and-'50s-inspired outfit with a sheep on the skirt; established artist Jennifer Benally (Oneida and Diné) '23 presented pottery and clothing blending her heritages, punctuated with an energetic fashion show on Memoria's opening night; Shannon Christy Hooper (Fallon Paiute Shoshone) '23 displayed prints, clothing, and accessories honoring her Paiute and Shoshone cultures; and Jontay "Kahm" Kahmakoatayo (Plains Cree) '23 showed two wall hangings and twelve looks across the two exhibitions as part of his visionary Regalian Bodies collection.
This year, Kahm will debut on the SWAIA runway. "I'm very excited, first of all, that SWAIA has asked me to present my senior collection in front of a larger audience," says Kahm. "And it's a really big triumph, and it's a really amazing stepping-stone for me as a fashion designer to break out into the fashion industry, all in all." Regalian Bodies references aspects of powwow dance regalia such as feather bustles, super-saturated ribbons, and elaborate feather work—Kahm calls his pieces "exploding plumes." Face masks variously covered with bells, jingle cones, faux flowers, plumes, and telephone cords accompany elaborate, sculptural dresses, frequently with low-cut backs. Kahm's inspirations encompass Alexander McQueen, Iris Van Herpen, Richard Quinn, Nick Cave, and Damien Hirst. While the collection can be immediately appreciated aesthetically, it is also deeply conceptual with themes of death, grief, life, and the afterlife, giving Kahm a way to process the passing of his father, IAIA Alum and Associate Professor and painter Jeff Kahm (Plains Cree, 1968–2021). He plans to expand Regalian Bodies to twenty looks. "There are some dresses in my mind that I need to get out and to 3-D form because they've been living inside my head forever, and then everyone needs to see these pieces because they give me so much excitement, even just thinking about it, just making it, and then seeing it on a person or on a mannequin, is just so breathtaking, sometimes."
"I'm telling you, he is on the way to fashion famedom. I am following his career—from the beginning. He's going to be huge," says Bear Robe. Kahm, who previously studied fashion at Blanche Macdonald and Marist College, will attend Parsons on a full-ride scholarship to pursue an MFA in Fashion Design and Society. IAIA purchased his New Day dress for the collection, and Bear Robe will include Kahm in two upcoming fashion exhibitions, Fashion Fiction at the Vancouver Art Gallery and a Fall 2024 exhibition at the Autry Museum of the American West. He is slated to be interviewed for Vogue by Christian Allaire (Nipissing First Nation). During market weekend, Kahm will sell miniature Regalian Body dresses with "different color variations," wall hangings, "off-the-cuff dresses," butterfly paintings, and earrings at the MoCNA Store through a pop-up exhibition, Forever Beautiful: Inside My Mind.
Including Kahm, six of SWAIA's ten designers on the runway are from Canada. "…I keep my finger on the pulse on what's happening up there—because there is so much happening with Canadian Indigenous fashion—and that's partially due to the financial support, federally, provincially. It creates a different dialogue, not only in art but also in fashion and where those two connect," explains Bear Robe, who is originally from Alberta. "…I think it's important to have the dialogue between Canadian and Native American designers. The border that crossed us, we didn't—it was borders that separated us, so [I'm] really trying to blur that distinction, and that this is all Native North American land, right? Turtle Island."
2023 SWAIA Indigenous Fashion Show—Jontay Kahm (Plains Cree) '23
The Institute of American Indian Arts (IAIA) is proud to acknowledge recent graduate Jontay "Kahm" Kahmakoatayo (Plains Cree) '23 for his debut in the 2023 SWAIA's Indigenous Fashion Show. And, congratulations to Amber-Dawn Bear Robe (Siksika Nation), Art History Professor at the Institute of American Indian Arts, for producing an incredibly successful fashion show.
Photographs by Jason S. Ordaz, Director of Communications, Institute of American Indian Arts, 2023.