Indigenous Liberal Studies Department Builds for the Future
The Indigenous Liberal Studies (ILS) Department at the Institute of American Indian Arts (IAIA) has been awarded a $650,000 grant over three years through the Andrew W. Mellon Foundation Higher Learning program. The grant will support the department's multiple projects to revitalize and renew Indigenous Liberal Studies, including expanding the size and scope of its programs and strengthening its relationships with other departments. Since receiving the grant in December 2022, the ILS department has hired additional faculty members, enhanced the curriculum in traditional arts coursework, and initiated efforts to further integrate ILS foundations and principles across IAIA's curriculum. A critical goal of this work is developing a more vibrant and thriving program that can lay the groundwork for advanced degrees in Indigenous Liberal Studies. Toward this end, ILS will work with Canada-based Reciprocal Consulting to develop a strategic plan that will expand the existing undergraduate program and support the creation of master's and doctorate programs that align with the needs of Native Nations and Indigenous students.
"This generous grant from the Mellon Foundation comes at a critical juncture for the department as we recover from the destabilizing effects of the pandemic," emphasizes ILS Department Chair and Associate Professor Dr. Frances Kay Holmes (Mvskoke Creek ancestry). "This funding will allow us to strengthen our existing curriculum and clarify the foundation that ILS has in Native arts. The goal of moving towards graduate programs that will serve Indian Country only makes sense. Native Studies programs were established in the early '70s to serve Native communities. The knowledge informing the programs across the country comes from the community—these programs should be in the communities, at tribal colleges."
Reciprocal Consulting Inc. is a majority Indigenous-owned-and-operated research, evaluation, and consultation firm that specializes in working with First Nations, Métis, and Inuit organizations and communities. The work conducted by their team—which is comprised of 15 full-time and part-time individuals who have excellent academic and professional qualifications—includes evaluation and research projects, program design and development, values-centered strategic planning, and teaching and training on topics such as Indigenous anti-racism and culturally responsive evaluation. Reciprocal Consulting Inc. has conducted 375 projects, which have allowed the organization to gain skills through personal connections within communities and guidance from Elders and families, all of which have led to the strengthening of degrees at both undergraduate and graduate levels.
Mellon grant funding has made it possible to hire a new visiting faculty member, Corlette Gail Tahhahwah (Comanche, Kiowa, and Apache). Tahhahwah, who started work in July, comes to IAIA with an MA in Law from the University of Oklahoma and a BA in Native American and Indigenous Studies from Fort Lewis College. Tahhahwah will teach ILS courses and work to implement the grant's goals. ILS also hired assistant professor Alexis Ellsworth-Kopkowski, a University of Arizona PhD candidate in American Indian Studies minoring in Public Health. Ellsworth-Kopkowski also holds an MA in Information Resources and Library Science and a Bachelor of Science in Applied Indigenous Studies from Northern Arizona University.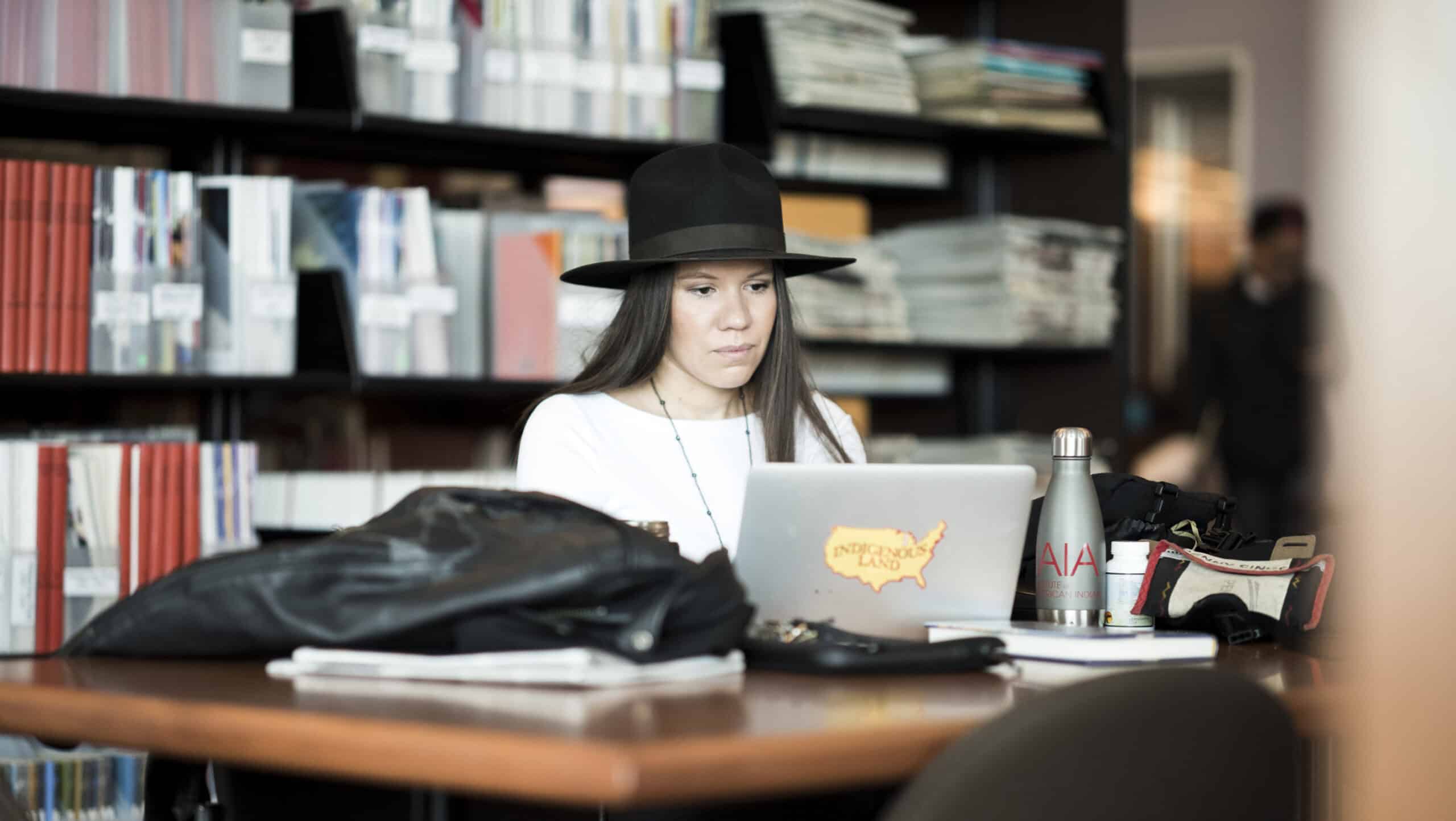 "IAIA is a truly international school with a student body representing on average 100 distinct Tribal Nations. Through the expanding influence of our ILS Department, our students learn with and from one another, share experiences, and build a foundation of knowledge to proactively and collectively address the challenges and opportunities of contemporary Indigenous life."
The Indigenous Liberal Studies department at IAIA was established in 2007. In 2017, the previously existing Essential Studies department merged with ILS, bringing most of its General Education (GE) courses under the purview of ILS. GE courses are required of all IAIA students and include the IAIA Experience, Math, Science, and Technology. Today, ILS offers a Bachelor of Arts in Indigenous Liberal Studies, a minor in Indigenous Liberal Studies, and an Associate of Arts in Native American Studies. Major course requirements include Contemporary Issues, Tribal Governance, and Traditional Arts, among others. ILS courses not only focus on issues of relatedness, sovereignty, and history but also emphasize the development of the key skills of critical thinking and writing in ways that support expressing Indigenous ways of being. Each ILS student pursuing a BA in Indigenous Liberal Studies completes a senior capstone research project that they present to the community. The skills learned from these courses and her ILS capstone class laid a foundation for Amber Morningstar Byars (Choctaw Nation of Oklahoma) [pictured above] to complete her law degree at the University of Arizona James E. Rogers College of Law in 2022.
The ILS program is developing ways to integrate Indigenous pedagogies, culturally relevant content, and diverse learning methods within many of its GE course offerings. For example, in 2022, ILS revised a mathematics course in this manner, which led to increased enrollment and greater classroom engagement. This term, a Coil Basketry course weaves together art, math, science, and ecology through a collaborative effort of several IAIA faculty members: Assistant Professor of Mathematics Andrea Otero will demonstrate pattern design using geometry; Professor of Ethnobotany Dr. Thomas Antonio will reveal the science behind the plants used in the class; and artist Leah Mata-Fragua (Northern Chumash) will explain associated environmental concerns. During October, visiting artist Abe Sanchez (Purepecha) will join IAIA faculty members in instructing students how to create coil basketry.
The Mellon grant has also allowed for other joint professional opportunities for IAIA faculty members to build collaboration across departments. For instance, Studio Arts Department Chair Daisy Quezada Ureña (Mexican American), Museum Studies Department Chair Mattie Reynolds (Choctaw Nation of Oklahoma), and ILS Chair Kay Holmes traveled to London to attend the Unsettling American Art History: Perspectives from Native American & Indigenous Studies symposium. In this artistically stimulating context, they met with museum curators and directors, with whom they reciprocally provided advice on the appropriate wording to describe various exhibitions.
With the generous grant from the Mellon Foundation, the ILS program can continue to amplify and sharpen its academic offerings, place Indigenous foundations at the forefront, build stronger Indigenous leaders, and develop relationships with educated allies. As IAIA Provost Felipe J. Estudillo Colón, MA (Laguna Pueblo) emphasizes, "IAIA is a truly international school with a student body representing on average 100 distinct Tribal Nations. Through the expanding influence of our ILS Department, our students learn with and from one another, share experiences, and build a foundation of knowledge to proactively and collectively address the challenges and opportunities of contemporary Indigenous life."
Contact
For more information or to schedule an interview, please contact Jason S. Ordaz, IAIA Communications Director, at jason.ordaz@iaia.edu.
About The Andrew W. Mellon Foundation
The Andrew W. Mellon Foundation is the nation's largest supporter of the arts and humanities. Since 1969, the Foundation has been guided by its core belief that the humanities and arts are essential to human understanding. The Foundation believes that the arts and humanities are where we express our complex humanity, and that everyone deserves the beauty, transcendence, and freedom that can be found there. Through our grants, we seek to build just communities enriched by meaning and empowered by critical thinking, where ideas and imagination can thrive. Learn more at mellon.org.
Institute of American Indian Arts
The Institute of American Indian Arts (IAIA) is the only college in the world dedicated to the study of contemporary Native American and Alaska Native arts. IAIA offers undergraduate degrees in Cinematic Arts and Technology, Creative Writing, Indigenous Liberal Studies, Museum Studies, Performing Arts, and Studio Arts; graduate degrees in Creative Writing, Studio Arts, and Cultural Administration; and certificates in Broadcast Journalism, Business and Entrepreneurship, Museum Studies, and Native American Art History. The college serves approximately 500 full-time equivalent (FTE) Native and non-Native American students from around the globe, representing nearly a hundred federally recognized tribes. Named one of the top art institutions by UNESCO and the International Association of Art, IAIA is among the leading art institutes in our nation and is accredited by the Higher Learning Commission (HLC).