MoCNA Receives Generous Unrestricted Award from MacKenzie Scott and Dan Jewett
The IAIA Museum of Contemporary Native Arts (MoCNA) is excited to announce that MacKenzie Scott and Dan Jewett made a $3 Million unrestricted donation to the museum (this is in addition to the generous award of $5 Million from MacKenzie Scott to the Institute of American Indian Arts in 2020). Identified as one of "286 Teams Empowering Voices the World Needs to Hear," Scott and Jewett want "to de-emphasize privileged voices and cede focus to others." They acknowledge that "People struggling against inequities deserve center stage in stories about change they are creating. Arts and cultural institutions can strengthen communities by transforming spaces, fostering empathy, reflecting community identity, advancing economic mobility, improving academic outcomes, lowering crime rates, and improving mental health." The Scott team evaluated smaller arts organizations creating these benefits with artists and audiences from culturally-rich regions and identity groups that donors often overlook. They recognize communities that are "agents of change."
"We are deeply appreciative for the second amazing unrestricted gift in the past year from Mackenzie Scott and Dan Jewett.  This is a tribute to Patsy Phillips and her staff at IAIA's Museum for their stellar leadership and programming. These funds will assist us in continuing to advance contemporary Native arts and cultures."
"MoCNA is an 'agent of change' and we value the acknowledgement and recognition from these important donors. This is the largest gift the museum has ever received. Museum staff works tirelessly to produce and manage outstanding exhibitions, programs, publications, and collections. These funds will support MoCNA's goals to continue to showcase and advance the most progressive contemporary Indigenous arts and cultures through experimental and innovative expression. This gift allows the staff to think strategically to plan for our future and will continue to embolden the museum to support and empower others."
"Dr. Martin's and Patsy Phillips' leadership has repeatedly placed our museum at the cutting edge of Native artistic and intellectual expression. This thoughtful gift will help us expand that vision that is so important to Indigenous culture today."
About
The IAIA Museum of Contemporary Native Arts (MoCNA) is the country's only museum for exhibiting, collecting, and interpreting the most progressive work of contemporary Native artists. MoCNA is dedicated solely to advancing the scholarship, discourse, and interpretation of contemporary Native art for regional, national, and international audiences—as such, it stewards 9,000 Contemporary Indigenous artworks (created 1962 to present). MoCNA is at the forefront of contemporary Native art presentation and strives to be flexible, foresighted, and risk-taking in its exhibitions and programs. MoCNA is located in the heart of downtown Santa Fe, New Mexico.
Current and Upcoming MoCNA Exhibitions
A listing of current and upcoming exhibitions at the IAIA Museum of Contemporary Native Arts (MoCNA).
List of Events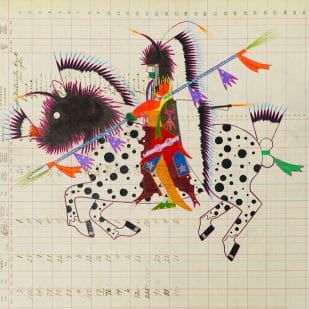 Manifesting Our Destinies highlights artwork that reflects the diverse backgrounds of this year's IAIA graduating BFA students.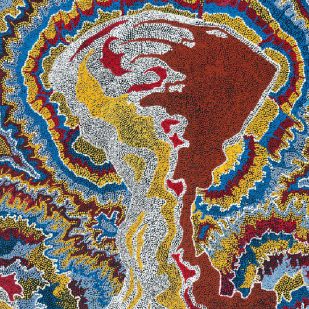 Exposure documents international Indigenous artists' responses to the impacts of nuclear testing, nuclear accidents, and uranium mining on Native peoples and the environment.
IAIA Museum of Contemporary Native Arts