Rooted in Traditional Indigenous Ways of Knowing—A Collaboration Between IAIA and the Jane Goodall Institute USA
The Jane Goodall Institute (JGI) USA is partnering with the Institute of American Indian Arts (IAIA) to increase programming for both IAIA's Land-Grant programs and the JGI's Roots & Shoots youth program in Indigenous communities. The exciting new partnership with the JGI's Roots & Shoots program will offer a summer internship for one IAIA student and five to eight mini-grants for Indigenous youth. The private launch event for the partnership will be livestreamed from the IAIA campus on Thursday, May 12, 2022. The event will feature several special guest speakers, including Dr. Jane Goodall herself.
"The goal of the partnership is to raise the visibility of Land-Grant and JGI's Roots & Shoots and expand programming, courses, and workshops with local Pueblos and Indigenous communities. We have an opportunity to strengthen our collaborations with local communities, continue to help preserve the knowledge of traditional agriculture, and inspire and empower Indigenous youth to make the world a better place for all living things," says IAIA President, Dr. Robert Martin (Cherokee Nation).
As a USDA 1994 Land-Grant institution, IAIA's Land-Grant programs provide agricultural and nutritional education to Indigenous communities, IAIA students, faculty, and staff, and Indigenous communities nationwide through culturally based outreach and education programs. Through IAIA Land-Grant programs, community members gain the skills and knowledge to successfully achieve their agricultural endeavors, ensure food security through sustainable practices, and enhance their health and wellness.
One of the Land-Grant programs, Indigenous Youth Agriculture, engages youth in innovative, hands-on group and individual learning experiences that instill a love of gardening, develop an appreciation for the environment, and cultivate the mind while being sensitive to diverse cultural practices. The program is rooted in Indigenous Traditional Ecological Knowledge (TEK) in combination with the scientific principles of sustainable agriculture systems and is based on teachings on the role and sanctity of ancient seeds, ancestral ways of growing (with an emphasis on growing practices in the American Southwest), and pre-contact foods. In addition to gaining skills and understanding about plants and gardening, youth also learn about the roles they play in food systems, and how to make healthy choices benefiting their well-being. The goal is to nurture our youth's potential for developing into thriving and contributing members of their communities.
The Land-Grant program recently established honeybee hives on campus and hired several IAIA student-workers to help grow a community of pollinators. The bees (affectionately named "Thunder Bees" after IAIA's Thunderbird icon) work with our gardens to provide nutrition, food sustenance, products for student art projects, and agricultural balance for our broader community.
As pollinators, the bees also play a vital role in maintaining equilibrium within the ecosystem. Pollination directly impacts food production, and it helps maintain ecological biodiversity. Sustainability is one of the core values at IAIA and introducing this population of bees is helping to support the revitalization of biodiversity on the IAIA campus and surrounding community in line with IAIA's Climate Action Plan. Land-Grant staff host webinars focused on three distinct areas—ecological impact, nurturing and revitalizing local landscapes, and developing new habitats for pollinators.
Land-Grant programming brings goodness to IAIA students, staff and faculty, and Northern New Mexico communities. The good, meaningful, and decades-long work that Dr. Jane Goodall does aligns with our mission "to empower creativity and leadership in Native Arts and cultures through higher education, lifelong learning, and outreach."
Sign up to receive updates about IAIA Land-Grant programs, the partnership with the Goodall Institute USA, and the livestream event on May 12.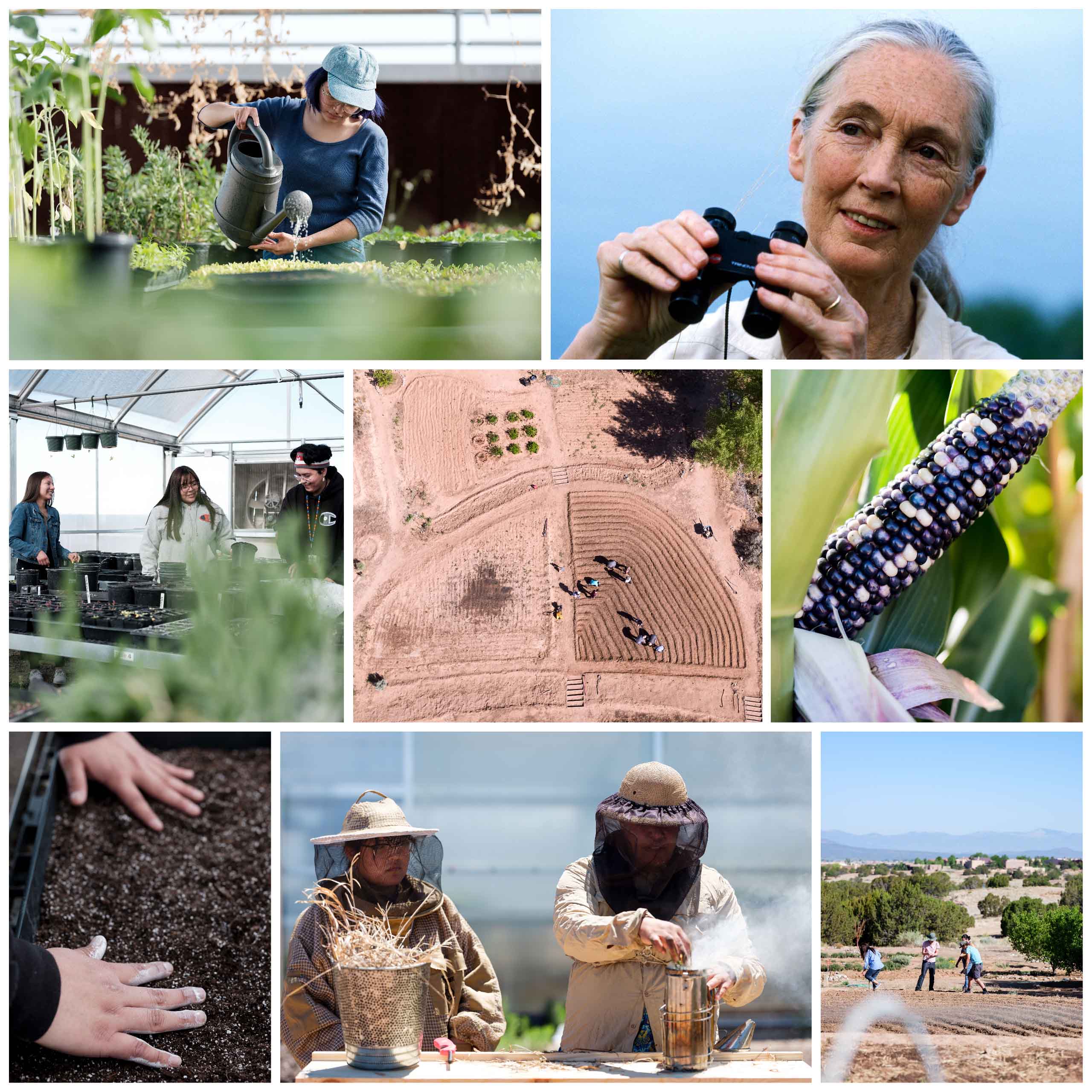 A Girl with a Dream Becomes a Woman with a Mission
In July 1960, at the age of 26, Jane Goodall traveled from England to what is now Tanzania, Africa and ventured into the little-known world of wild chimpanzees.
Equipped with little more than a notebook, binoculars, and her fascination with wildlife, Jane braved a realm of unknowns to give the world a remarkable window into humankind's closest living relatives. Dr. Jane has not only shown us the urgent need to protect chimpanzees and other animals from extinction; she has also redefined species conservation to include the needs of local people and the environment through the Jane Goodall Institute (JGI) USA. Today she travels the world, speaking about the threats facing chimpanzees and other species along with environmental issues, urging each of us to take action on behalf of all living things and the planet we share.
Dr. Jane believes that every individual can make a difference and that today's young people are some of the most compassionate, creative, change-makers our world has ever seen. Young people driven to take action are one of her reasons for hope, which is why she created the JGI's Roots & Shoots program in order to empower and encourage youth of all ages to pursue their passion, mobilize their peers, and become the compassionate citizens and leaders our world needs in order to ensure a better future for people, other animals, and the environment.
JGI's Roots & Shoots
In 1991, local youth gathered on Jane Goodall's front porch in Tanzania and expressed how they felt powerless against the problems in the world around them. As the students told stories and offered ideas, Jane realized the solution was right in front of them: their power to create change. The JGI Roots & Shoots program was born.
JGI's Roots & Shoots provides the resources to encourage and motivate young people to take action on issues that matter to them. Today, the tools and support offered through the Jane Goodall Institute (JGI) USA  program empower youth in all 50 states and over 60 countries to use their voices and ideas to address the issues that matter most to them in their communities. Through Jane's hopeful message and the JGI's Roots & Shoots model, youth around the world are encouraged to put their ideas into action. Since 1991, millions of students have taken on the challenge of making the world a better place for people, other animals, and the environment we share. JGI's Roots & Shoots youth are not only the future–they are the present—and they are changing the world.
No matter the issue, being a part of JGI's Roots & Shoots means choosing to be a change-maker and making the difference you want to make.
Media Contacts
For more information, please contact Jason S. Ordaz, IAIA Director of Communications, at jason.ordaz@iaia.edu, or Shawn Sweeney, Associate Vice-President of Communications and Partnerships, JGI USA, at ssweeney@janegoodall.org.
Image credits: Dr. Jane Goodall portrait, photograph courtesy of the Jane Goodall Institute USA/Bill Wallauer; all other photographs by Jason S. Ordaz.
Subscribe to IAIA to learn more about the IAIA and JGI partnership.