Action + Activation: Art for a New Understanding—Panel Discussion
Thu, June 6, 2019, 3:00 pm

–

4:00 pm

|

Free
Event Navigation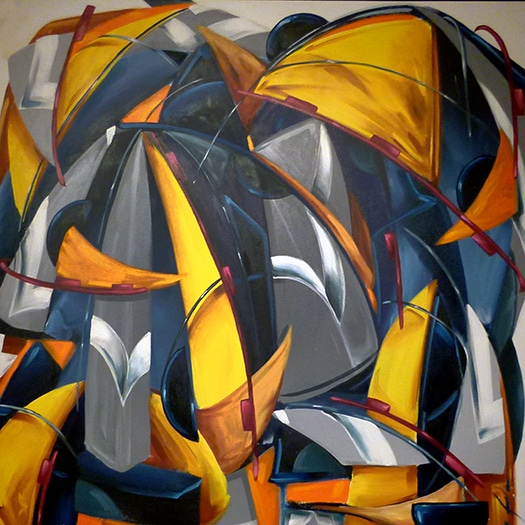 Please join us for a dynamic discussion featuring artists from IAIA Museum of Contemporary Native Arts' (MoCNA) newest exhibition, Art for a New Understanding: Native Perspectives, 1950s to Now, organized by Crystal Bridges Museum of American Art. The exhibition features paintings, photography, sculptures, video, performance, and installation art, created by Indigenous US and Canadian artists, who bring a deeply informed international perspective on contemporary Native arts and narrative. The Action + Activation: Art for a New Understanding—Panel Discussion will feature artists Marie Watt (Seneca Nation), Yatika Fields (Cherokee/Creek/Osage Nations), and Walter Scott (Kahnawake). Moderated by MoCNA's Chief Curator Manuela Well-Off-Man, the panel will address issues related to Native artist driven community action and present a generation of new tribal narratives.
Artists
Marie Watt (Seneca Nation) is a contemporary installation and fiber artist. Her work draws from history, biography, Iroquois proto-feminism, and Indigenous principles, and addresses the interaction of the arc of history with the intimacy of memory. Blankets, one of her primary materials, are everyday objects that can carry extraordinary histories of use. Selected collections include the National Gallery of Canada, the Smithsonian Institution's National Museum of the American Indian, and Renwick Gallery of American Art, Albright-Knox Gallery, Tacoma Art Museum, Fabric Workshop and Museum, Facebook, Seattle Art Museum, and United States Library of Congress.
Yatika Starr Fields (Cherokee/Creek/Osage Nations) travels around the world and draws inspiration from his experiences, citing demonstrations, prayer marches, and occupations of land that have been successful in drawing attention to, and in some cases, thwarting harmful actions. He currently lives in Tulsa, and grew up in Tahlequah, in northeastern Oklahoma, whose nature and landscape continues to influence his work today. He has completed murals as large as one hundred fifty feet long and forty feet high in cities such as Portland, Oregon, Oklahoma City, Phoenix, Santa Fe, and Bentonville, Arkansas.
Walter Kaheró:ton Scott (Kahnawake), b. 1985, is a contemporary artist, currently based in Montreal and Toronto. Scott's interdisciplinary practice includes drawing, writing, video, performance, and sculpture. Through his work, Scott explores contemporary questions of representation, cultural production, popular culture, and narrative construction. Scott has shown in solo and group exhibitions in Japan, North America, Europe, and the United States. His most recent exhibitions include Slipping on the Missing X at Macaulay & Co Fine Art and Betazoid in a Fog at the Remai Modern. In 2016, Scott was Artist-in-Residence at the Art Gallery of Ontario. Scott received his Masters in Fine Arts from University of Guelph in 2018.
For more information, please contact MoCNA Membership and Program Manager Andrea R. Hanley (Navajo) at (505) 428-5907 or ahanley@iaia.edu.