Cannupa Hanska Luger Stereotype: Misconceptions of the Native American
Thu, August 15, 2013

–

Tue, December 31, 2013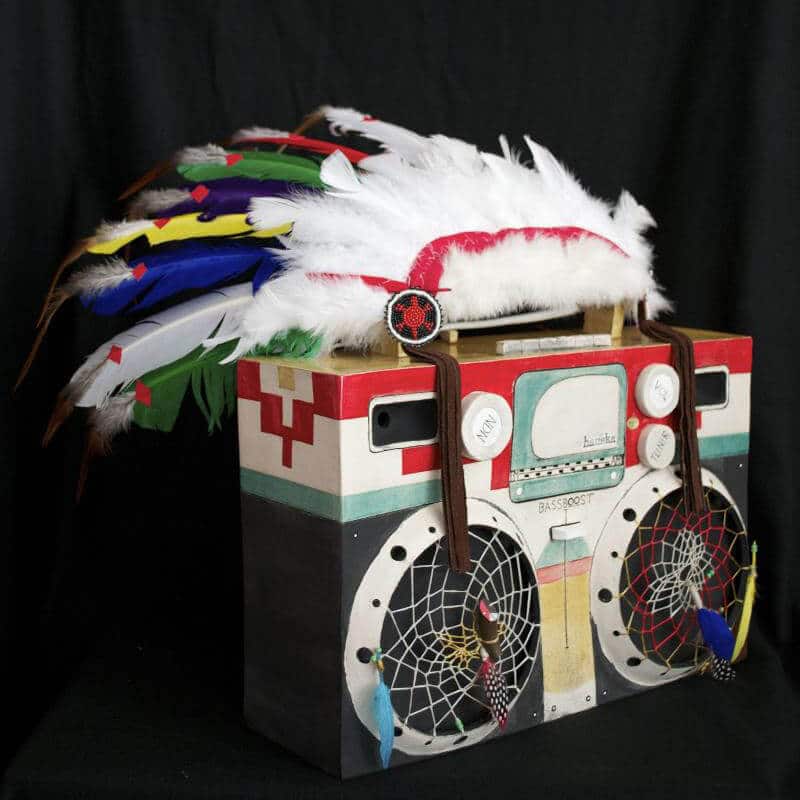 "Native American" is an umbrella term for the Indigenous population of North America. This term, being so broad, has allowed for many external interpretations, from anthropologists to Hollywood directors, to define who Native Americans are.
The reality of the matter is that the continent of North America is vast, with environmental and cultural complexity that ranges from arctic tundra to semi-tropic wetlands. These lands contain culturally rich and autonomous societies that bare very little resemblance to one another over such a large geographical expanse.
The use of boom boxes or better yet, ghetto blasters as a vessel for response to some of the stereotypes placed upon these cultures replicates and re-creates an icon of pop-culture. This icon is an obvious play on words, as it is also a type of "stereo." The ceramic construction of the vessels represents a melding of cultures. Applying clay traditions to archaic technologies for an altogether modern aesthetic, each boom box will create a space for observation of Native American stereotypes, exposing the absurdity of fixed labels and identities.
About the Artist
Born in North Dakota on the Standing Rock Reservation in a small town known as Fort Yates, Cannupa Hanska Luger comes from a place of "…not knowing." His mother, Kathy "Elk Woman" Whitman, is faith, his father, Robert "Bruz" Luger, is hard work, and he remains the middle distance. His genetics are derived from Mandan, Hidatsa, Arikara, Lakota, Austrian, Norwegian and trace elements of suns and moons and dust.  As an artist's child he understands the ebb and flow of the life that artists choose and he too feels compelled to do the same.