Jacob Meders: Divided Lines
Thu, August 15, 2013

–

Tue, December 31, 2013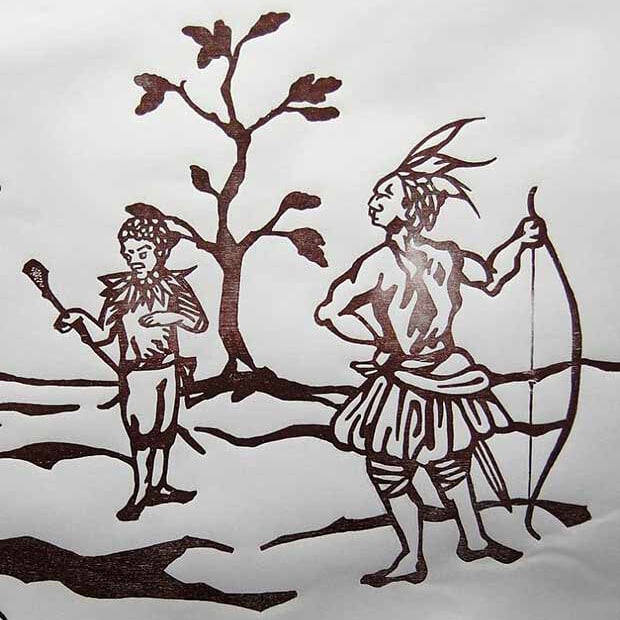 In the exhibition Divided Lines, artist Jacob Meders examines the complex misrepresentations of Indigenous peoples in North American artistic depictions prevalent in 15th and 16th century European society.
By incorporating an aesthetic that emulates historic woodcuts, Meders' panoramic installation toys with the idea of assimilation, reimagining figures with a likeness to Indigenous and western European cultures as one body. Divided Lines challenges the perceived superiority of European identity and society shaped from a Western artistic tradition that has been maintained over time.
About The Artist
Jacob Meders is a member of the Mechoopda Indian Tribe of Chico Rancheria, California. He graduated in 2007 with his BFA in painting and a minor in printmaking at Savannah College of Art and Design in Savannah, Georgia and in 2011 received his MFA in printmaking at Arizona State University. He presently lives in Phoenix, Arizona.  Meders' work focuses on altered perceptions of place, culture, and identity built on the assimilation and homogenization of Indigenous peoples. Through the printmaking process, Meders reexamines varied documentations of Native Americans that hold on to stereotypical ideas and how they have affected the culture of the native people. Using book-forms and prints as a symbol of western knowledge and the linear mind, Jacob deploys them as a vehicle to challenge new perceptions of Native Americans.