Dark Light: The Ceramics of Christine Nofchissey McHorse
Sat, January 24, 2015

–

Fri, July 31, 2015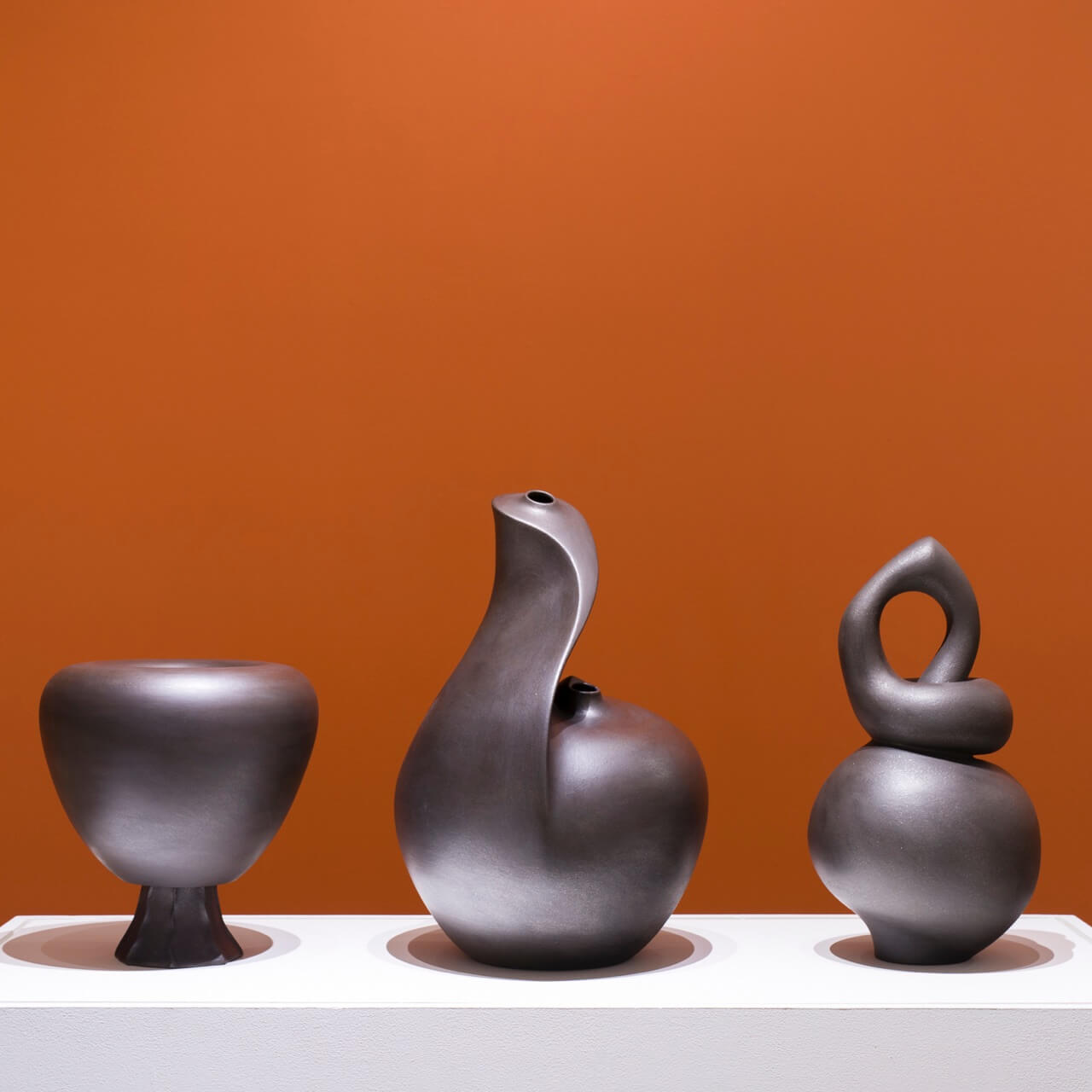 Dark Light is the first traveling exhibition of this groundbreaking Navajo (Diné) artist. McHorse, a first-generation potter, is considered among the most innovative artists working today creating vessel-based art that is undecorated and abstract, with formal qualities indebted more to modern sculpture than to Southwestern culture.
With the urge to transgress and blur the boundaries between pottery and sculpture, in 1996 McHorse decided to leave utility and tradition behind and pursue shapes that had been haunting her for some time. A year later she made a pot that marked a breakthrough in her practice; instead of leaving it the natural tan color of the clay she placed it in a garbage can filled with burning leaves and closed the lid. By reducing the oxygen, the pot's surface turned black. The flecks of mica from her locally sourced clay glittered dramatically against the black ground, creating an advancing and receding surface of dark and light. Her work is a revelation and represents a new direction in Native American ceramics. This survey exhibition includes works from McHorse's Dark Light series from 1997 to the present.
The exhibition is organized by the non-profit Ceramic Arts Foundation, New York in association with Clark+DeVecchio in Santa Fe. A fully-illustrated 100-page monographic catalogue accompanies Dark Light. This book was awarded the bronze metal by the Independent Publishers Association in the Fine Art category-competing against over two thousand other publications.
About the artist:
McHorse was born in 1948 in Morenci, Arizona and lives and works in Santa Fe, New Mexico. She received her formal education at the Institute of American Indian Arts, where she studied between 1963 and 1968. McHorse has received numerous awards from the SWAIA Santa Fe Indian Market, and the Inter-Tribal Indian Ceremonial, Gallup, as well as the Museum of Northern Arizona. Her work is included in the public collections of the Denver Museum of Natural History; Museum of New Mexico; Smithsonian Museum of American Art; Navajo Nation Museum; and the Rockwell Museum of Western Art. A first generation Navajo ceramic artist, she married Joel McHorse, a Taos Pueblo Indian, and learned to make pots through his grandmother, Lena Archuleta. Archuleta taught her to work with micaceous clay, a rare, but naturally occurring clay high in mica content found in the Taos area. McHorse is one of the most admired and successful Native potters, working with traditional techniques but making the kind of reductive, sculptural pots that one would have expected Brancusi to make, were he alive today. McHorse has the unique distinction of winning Best in Show for both pottery and sculpture at the annual SWAIA Santa Fe Indian Market.
About the Curators:
Mark Del Vecchio (b. 1958) managed a business providing ceramic slides for educators before joining the Ceramic Arts Foundation (then The Institute for Ceramic History) in 1981. He was the organizing director for Modernism and Ceramics, CAF's second international ceramic symposium at the Waldorf Astoria in New York. In the same year, in partnership with Garth Clark, he opened Garth Clark Gallery in Los Angeles, and then moved to New York in 1983 to direct GSG's new gallery on West 57th Street. Del Vecchio was an organizing director of the Ceramic Millennium: Leadership Conference for the Ceramic Arts in Amsterdam in 1999, a conference attended by 3,500 delegates from 56 nations, which included a large ceramic arts and film festival. An active speaker internationally, Del Vecchio has also written numerous catalog essays and articles, and published the critically acclaimed book Postmodern Ceramic, a widely-used text in the art schools. His honors include lifetime achievement awards (Museum of Arts and Design, New York, Friends of Contemporary Ceramics) and an honorary doctorate from the Kansas City Art Institute.
Garth Clark (b. 1947 Pretoria, South Africa) is the leading writer and commentator on modern and contemporary ceramic art and an increasingly outspoken critic of the crafts movement. He is a graduate of the Royal College of Art, London in 1976. Clark has been the recipient of numerous awards and honors for his scholarship including The College Art Association's 2005 Mather Award for distinguished achievement in art journalism; lifetime achievement awards from the Museum of Art and Design New York; National Council on Education for the Ceramics Arts, among others, and honorary doctorates from Staffordshire University, England; and Kansas City Art Institute, Missouri. In 1998, Clark was made a Fellow of the Royal College of Art, London. Garth Clark has written, edited and contributed to over sixty books on ceramic art and authored over two hundred essays, reviews and monographs that have been have been translated into dozens of languages. Clark was the co-owner with Mark Del Vecchio of the Garth Clark Gallery in New York and Los Angeles from 1981 to 2008. Now resident in Santa Fe, Clark is at work on several books and traveling exhibitions including on Lucio Fontana and Ai Weiwei's ceramics. In 2012 he published the books Ceramic Reader (with Ezra Shales), an anthology on Marcel Duchamp's 1917 readymade Fountain, and Shifting Paradigms in Contemporary Ceramics.