(Canceled) Evelyn Vanderhoop—"Bringing to Life" Ceremony for the Diving Whale Robe
Fri, March 17, 2:00 pm

–

3:00 pm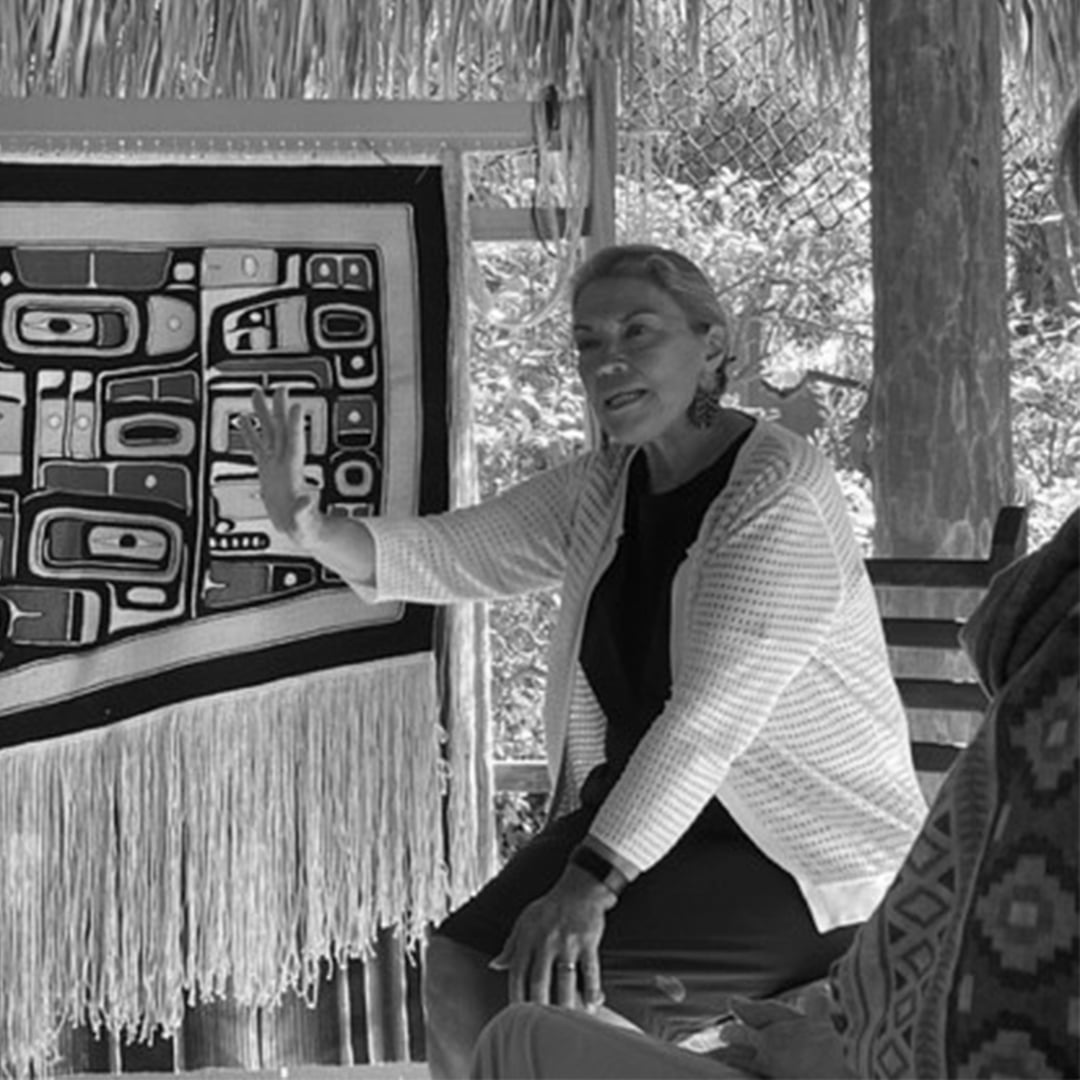 Important Note: Due to inclement weather, this event is canceled.
Please join us in welcoming renowned weaver Evelyn Vanderhoop (Haida) for a public talk on the tradition of weaving a Naaxiin (Chilkat) robe. Vanderhoop's talk will be followed by the ceremonial dance of her latest creation, the Diving Whale Robe. This momentous "Bringing to Life" ceremony celebrates the completion of Vanderhoop's Naaxiin (Chilkat) robe—a laborious process that took her two years to weave.
The talk will be held on Friday, March 17, from 2–3 pm at the IAIA Museum of Contemporary Native Arts (MoCNA) Helen Hardin Media Gallery, followed by a ceremonial dance in the Allan Houser Art Park. The museum is located at 108 Cathedral Place, Santa Fe, NM. A light reception will follow the performance.
For questions, please contact IAIA Museum of Contemporary Native Arts Membership and Program Assistant Nuttaphol Ma at nuttaphol.ma@iaia.edu or (505) 428-5925.
About Evelyn Vanderhoop
Evelyn Vanderhoop comes from a long line of Haida weavers, including her grandmother Selina Peratrovich and her mother, Delores Churchill. She has also studied weaving with Cheryl Samuel.
An accomplished weaver in the Naaxiin (more commonly called Chilkat) tradition, Vanderhoop studied the origin of this technique by reading journals of the early explorers and their accounts of the first contact with the Haida as well as learning from the stories of her ancestors. She has studied the old robes in museums worldwide and learned their complexities. Vanderhoop has mastered the art of the Naaxiin technique, where weaving moves horizontally and vertically, creating curves, slopes, and circles with multiple braids enclosing the formline shapes.
Parallel careers as a weaver and watercolor artist have marked Vanderhoop's success. She studied watercolor painting in Europe, and one of her paintings was chosen by the United States Postal Service as a reference for a stamp to commemorate Native American dance. Vanderhoop has also been selected as an artist in residence at the Smithsonian Institution's National Museum of the American Indian in Washington, D.C.